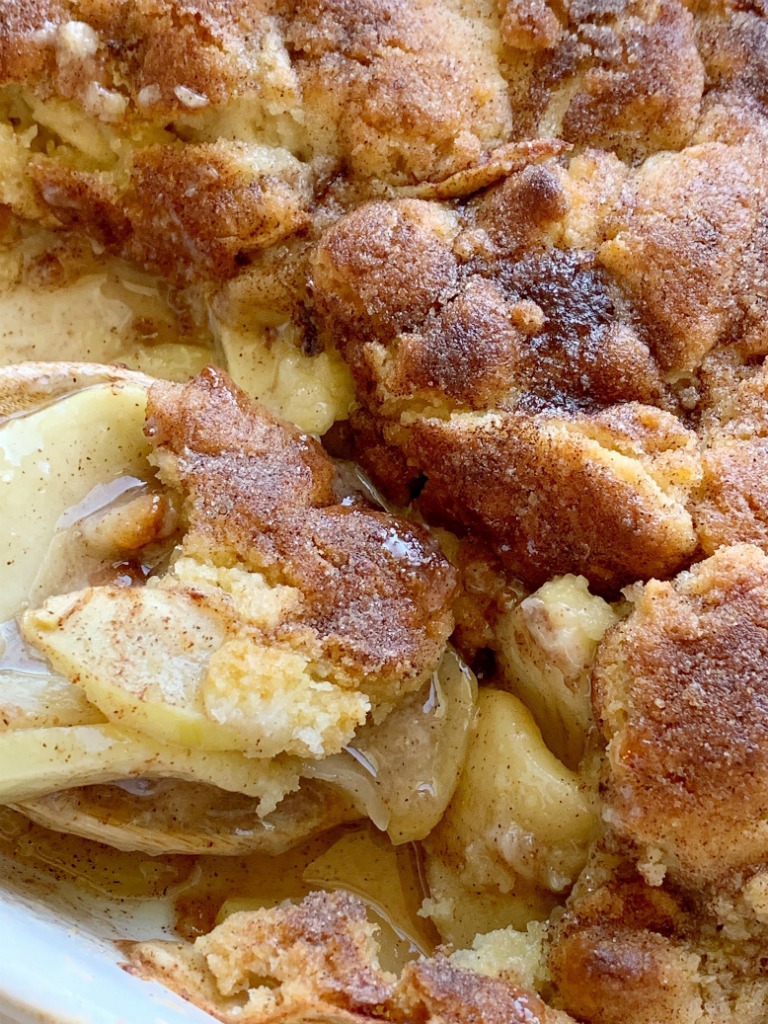 APPLE COBBLER RECIPE
Anytime there is warm fruit with a crisp or cobbler topping involved, I am instantly a fan. Crisps, cobblers, and crumble recipes are one of my very favorite dessert recipes. 
Snickerdoodle apple cobbler just might be my favorite. Warm tart & sweet apples, topped with a snickerdoodle cookie topping. The cinnamon and sugar are the perfect topping for the apples.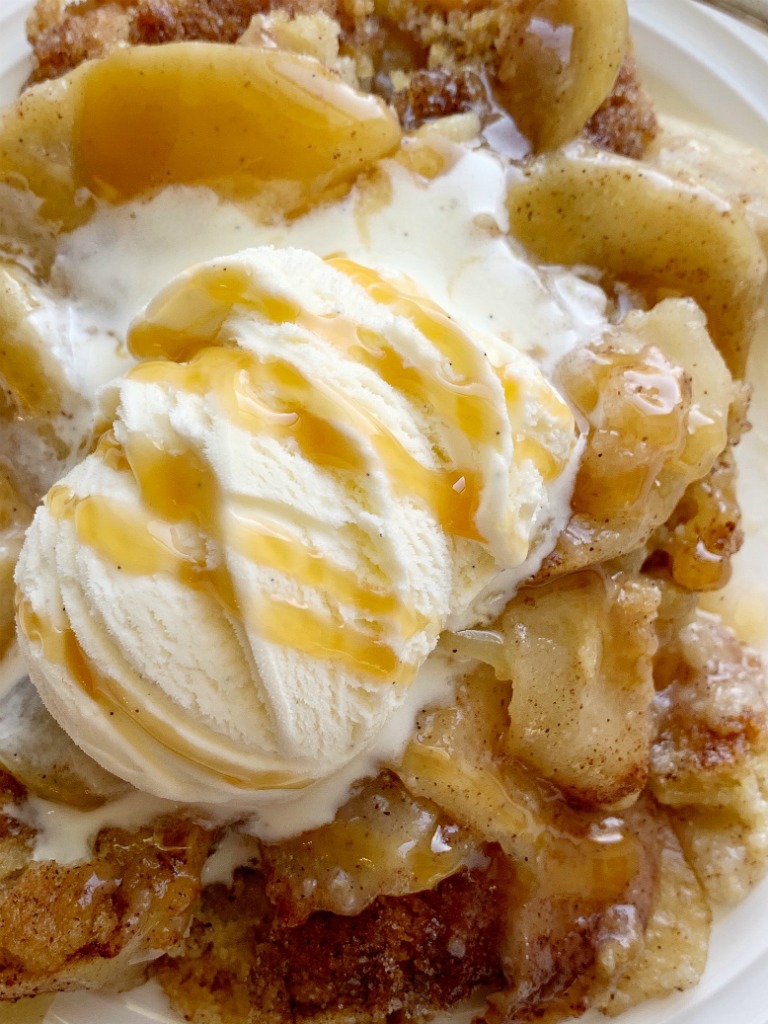 HOW DO I MAKE APPLE COBBLER?
First you want to prepare the easy snickerdoodle cookie topping. Simply dump a bag of snickerdoodle cookie mix (Betty Crocker makes one), 1 large egg, and softened butter. Mix it all together. It will be crumbly and look dry, and that's ok. I found it easiest to use a handheld mixer for this. 
Peel and slice some granny smith apples. The easiest way to do this is with one of those fancy peel n' slice apple peelers. It cores the apple and peels it. It also cuts the apple into a thin size which makes it perfect for an apple cobbler. You can also use one of the apple slicers. Peel the apple first (I use a vegetable peeler) and then use the apple slicer on it, and then cut each slice into thin slices or small chunks. 
Add fresh lemon juice, sugar, flour, and cinnamon to the peeled and sliced apples. Mix it all together and dump it into a 9×13 baking dish. You might think that there is too much apples, but trust me, it's ok. The apples cook down during the bake time. 
Grab some of the prepared cookie dough and try to smoosh it flat between your palms (does not have to be perfect) and lay it on top of the apples. Continue this with the rest of the cookie dough, making sure to top the apples as best as you can. 
Let it bake in the oven and then serve warm with vanilla ice cream. The ice cream is a must! It's the perfect balance to the soft cookie topping and the warm & gooey apples slices. 
MY TIPS FOR MAKING THIS APPLE DESSERT RECIPE
I like to loosely cover the baking dish with tin foil during the last 10-15 minutes of the cook time. This will prevent the cookie topping from getting too browned. But naturally, it will look more browned because of the cinnamon topping. 
Make sure and cut the apples into thin slices or small chunks. Slices or chunks will work for this recipe, just make sure they are small chunks or thin slices so they will soften in the cook time. 
If you use anything other than the Granny Smith apples, chances are they will much sweeter, so be sure and reduce the amount of sugar if needed/wanted.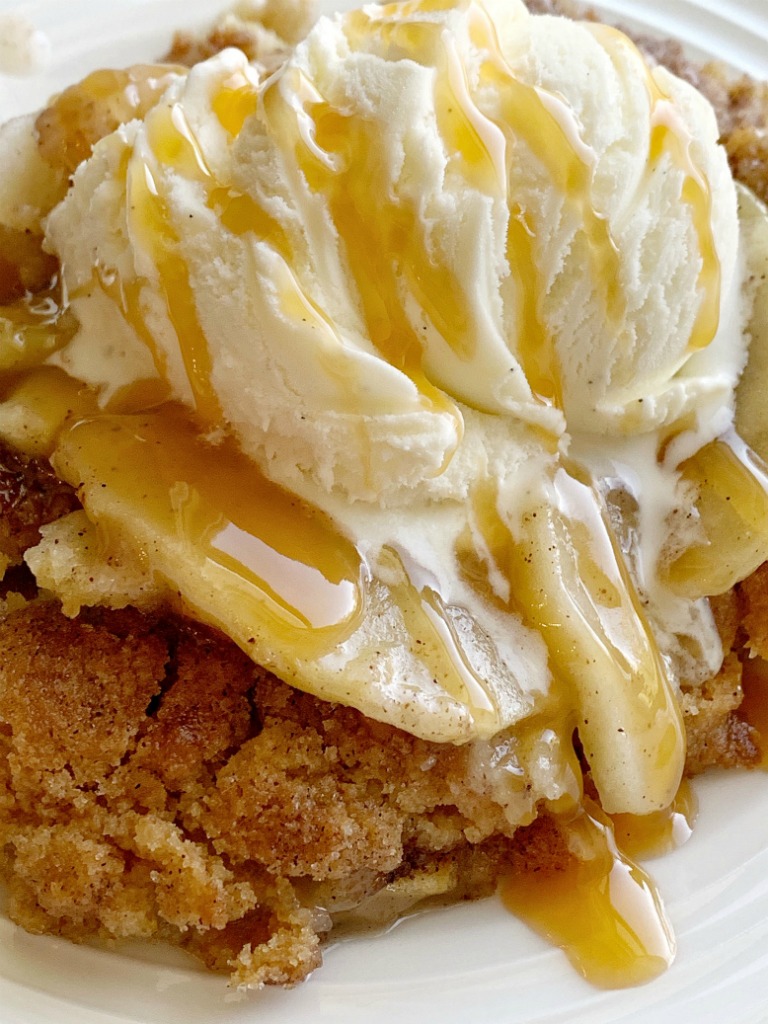 WHAT APPLES ARE BEST FOR AN APPLE COBBLER?
Granny Smith apples are the best, and honestly, the only kind you should ever use in an apple cobbler or crisp. They are tart so they compliment all the sweeter components of the apple cobbler so well. 
TRY THESE OTHER APPLE DESSERT RECIPES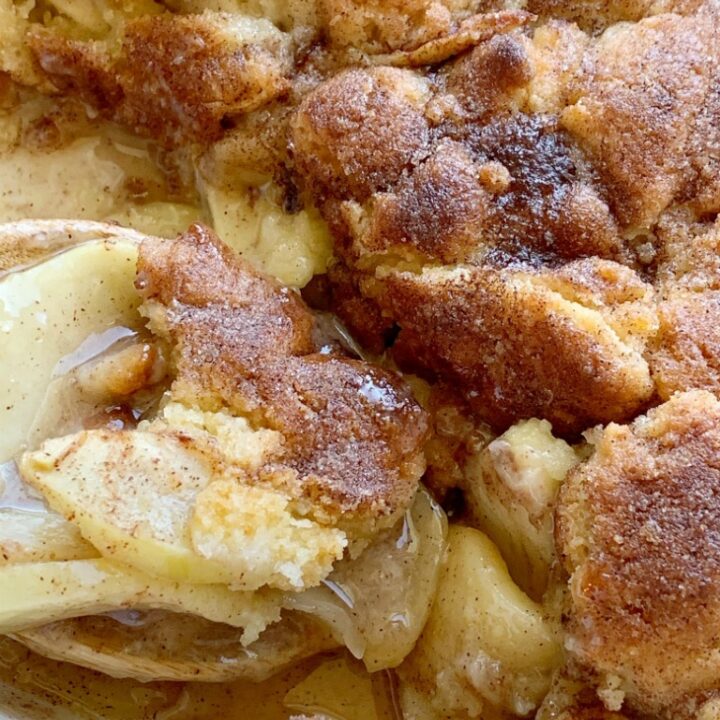 Snickerdoodle Apple Cobbler
Apple Cobbler with a sweet snickerdoodle cookie topping! Warm granny smith apples with cinnamon and sugar, topped with an easy snickerdoodle cookie topping. Serve with vanilla ice cream for the best apple cobbler ever.
Ingredients
Snickerdoodle Cookie Topping
1 pouch (17.5 oz) sugar cookie mix
1/2 cup (1 stick) butter, softened
1 large egg
2 tablespoons granulated sugar
1 teaspoon ground cinnamon
Apples
10 cups thinly sliced (or chopped small) Granny Smith apples peeled & cored
1/2 cup granulated sugar
3 tablespoons all-purpose flour
2 teaspoons lemon juice fresh or bottled
1 teaspoon ground cinnamon
Instructions
Heat oven to 375° and spray a 9x13 baking dish with cooking spray. Set aside.

PREPARE THE SNICKERDOODLE COOKIE DOUGH - Combine the snickerdoodle cookie mix, softened butter, and egg into a mixing bowl. Use a wooden spoon or handheld mixer (I found this to be the easiest) and mix until a soft, somewhat crumbly dough forms. Set aside.

In a small bowl, combine the granulated sugar and cinnamon. Stir to mix it all together. Set aside.

PREPARE THE APPLES- Peel & core the granny smith apples and then cut into thin slices or small chunks. It's easiest to use an apple peeler to do this. I peel the skin off first (with a veggie peeler) and then use an apple slicer to cut it. I then cut each slice into smaller, thinner apple slices.

Add the peeled and sliced apples into a large bowl. Add the sugar, flour, lemon, juice, and cinnamon. Stir to coat the apples. Pour the apples into the prepared baking dish and spread out evenly, gently pressing them down into the pan.

Take a handful of cookie dough and press it between your palms to form a flat shape. Lay the cookie dough over the apples, continue with the rest of the cookie dough trying to make sure it covers the apple layer. Like a crust.

Bake for 35-40 minutes. If wanted, loosely lay a piece of tin foil over the dish in the last 15 minutes of the cook time to prevent the cookie topping from browning too much.

Serve warm with a scoop of vanilla ice cream. A caramel drizzle over top is yummy too!
Notes
The sugar cookie mix comes in a pouch and it's Betty Crocker brand. You will find it in the baking aisle by the boxed cake mixes.    10 cups of apples is equal to 8-10 granny smith apples. If they are really large, then 8 apples should do the trick. If they're smaller I would get about 10 apples. Maybe a few extra just in case 🙂    If you use any other apple than granny smith, you may want to reduce the sugar slightly in the apple recipe. Maybe use 1/3 cup. The granny smith apples really are the best apple to use for this recipe.    DO NOT prepare the cookie mix according to the package instructions. You are just dumping the dry cookie mix into the bowl and then adding the ingredients as listed in the recipe.    The links to Amazon within the post are not paid links. They are products that I have bought myself, I use all the time, and I genuinely love them. I want to share great products with y'all. Not share products because I might make a few cents.
recipe adapted years ago from Betty Crocker