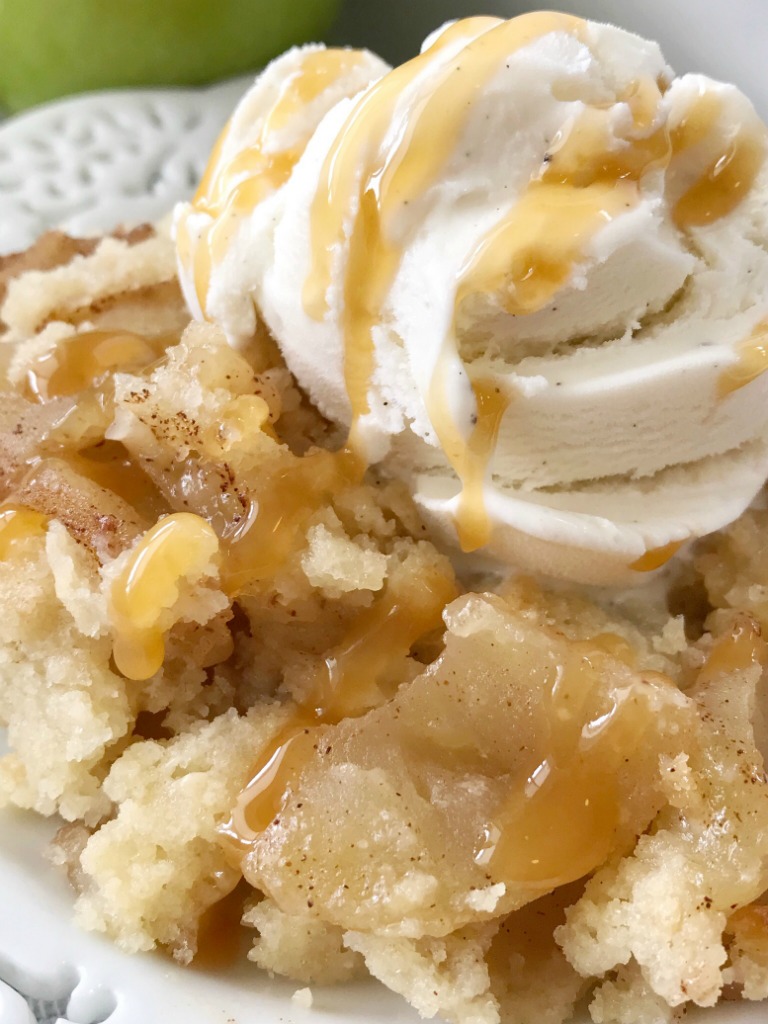 APPLE CRISP RECIPE
If you were to ask me what my all-time favorite dessert is, it would be a fruit crisp or banana cream pie. Without hesitation those are my favorites. 
I love crisps of all kinds. The tender, soft sweetened fruit with the crumbly topping and a scoop of vanilla ice cream. It's perfection if you ask me 🙂 
Today's recipe is a quicker and easier, more classic version of an apple crisp. Most apple crisps have a thick, crumble oat topping. This one has a sugar cookie type topping that is thinner and resembles more of a shortbread/sugar cookie taste. It's so basic but I always come back this version because it's so good.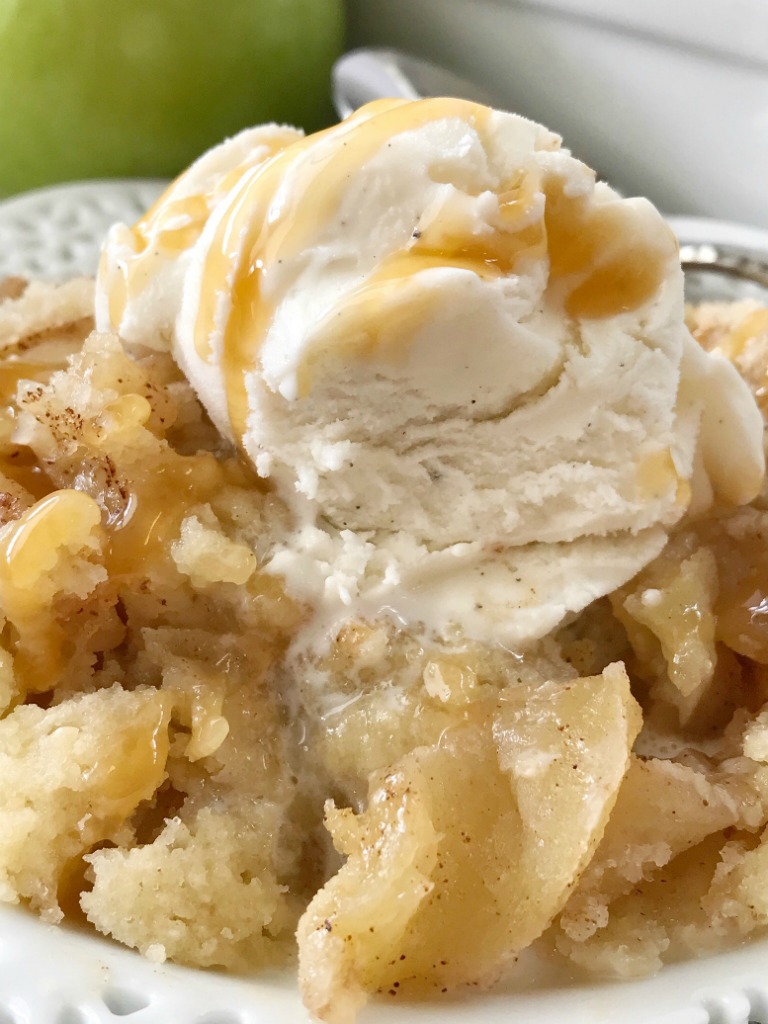 WHAT APPLES ARE BEST TO USE FOR AN APPLE CRISP?
You want a tart apple for crisp, crumble, and cobbler recipes. The tart apple balances out the sugar and sweetness from the sugar topping and the sugar that's added to the apples.
I always use Granny Smith apples. You want a tart apple that is crisp. Like Granny Smith or other good varieties are Pink Lady, Gala, Fuji apples. Although, Granny Smith is preferred and will yield a great tart/sweet balance to your apple crisp.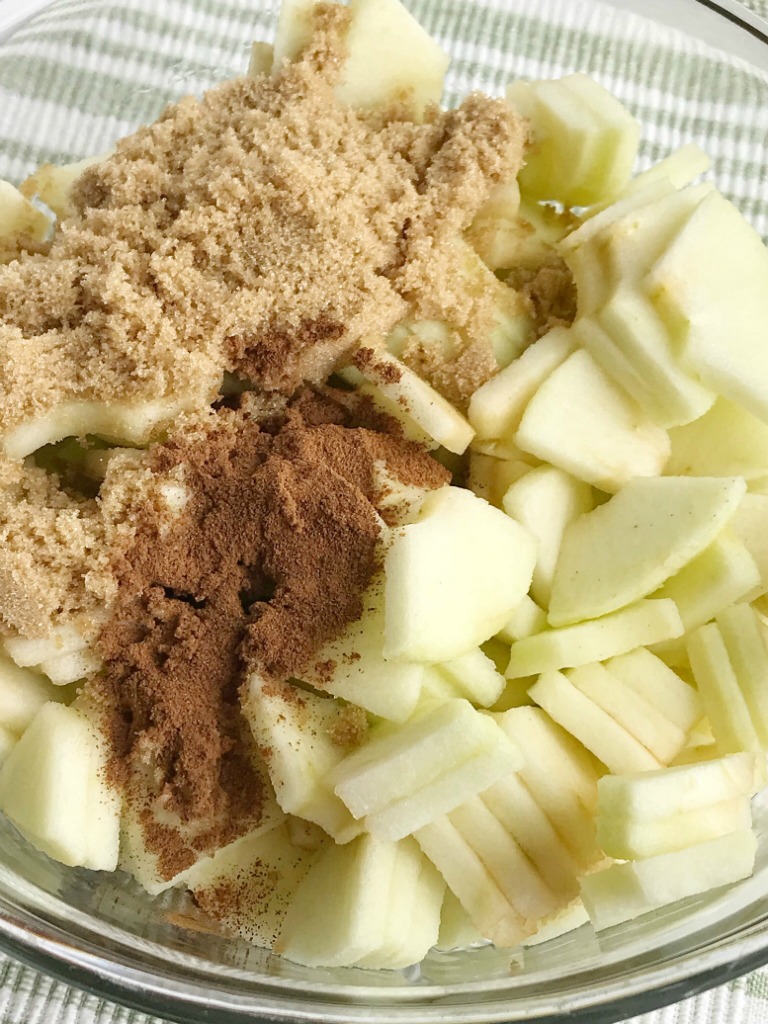 HOW TO MAKE A SIMPLE APPLE CRISP
Peel the apples and cut into thin slices or chunks. You can see above that I cut mine into thin square slices. I use one of these apple peelers and corers that I found on Amazon. It peels the apple & cuts it. It cuts into a spiral pattern so I always take my knife and cut into smaller pieces.
You can also just use a vegetable peeler to peel the apple and then cut into small pieces. 
Add some brown sugar and cinnamon to the apples. Place them into the pan and pour a little bit of water over them. This prevents them from drying out and creates a little "juice" while baking. 
Prepare the simple sugar topping. Flour, sugar, and butter is all you need. It reminds me of a shortbread or sugar cookie taste. 
Bake and then serve warm with a scoop of vanilla ice cream and caramel topping drizzle. The caramel drizzle really takes this apple crisp to the next level. I highly recommend it.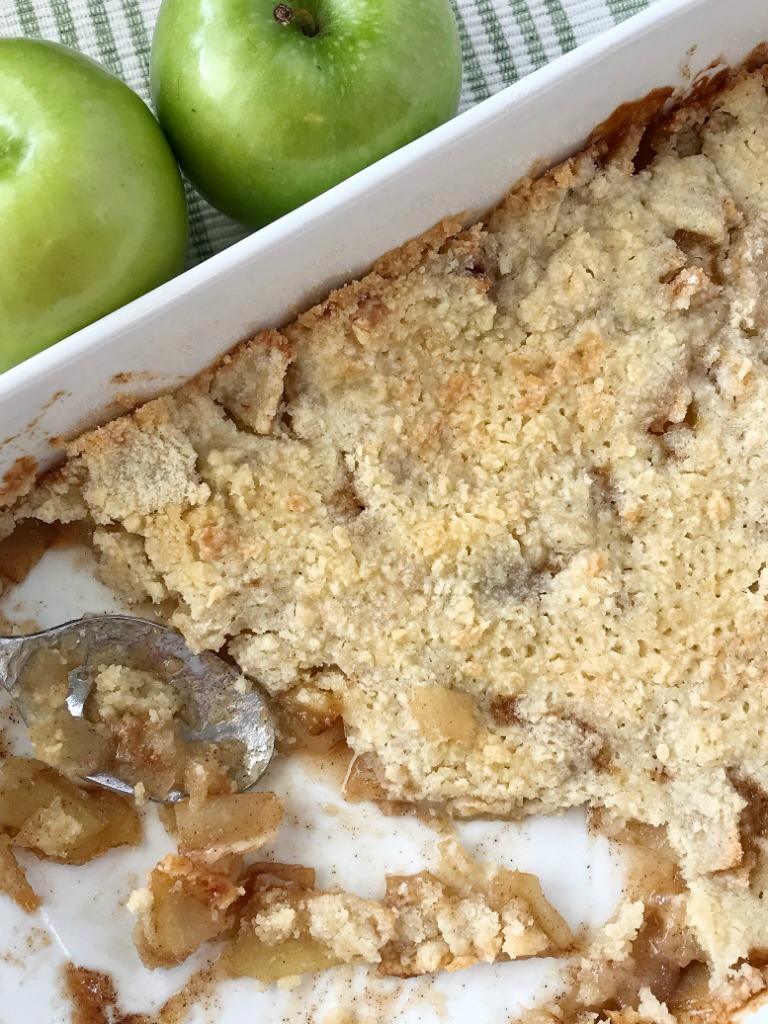 TIPS FOR MAKING APPLE CRISP
It is really important to cut the apple into thin slices or pieces. If they are too big or too thick, they will not get soft during the cook time. There is nothing worse than a crunchy apple in an apple crisp. Unless of course you like that texture, then go for it!
I highly recommend the ice cream caramel topping drizzle. I am not even a caramel fan but now I won't have apple crisp without the caramel. 
For a thinner crisp use a 9×13 baking pan. For a thicker crisp use a 9×9 baking pan. No matter what size pan you use this recipe will serve 6 people. More if there are kids eating it as their portions will be smaller. 
Eat this warm with a scoop of ice cream!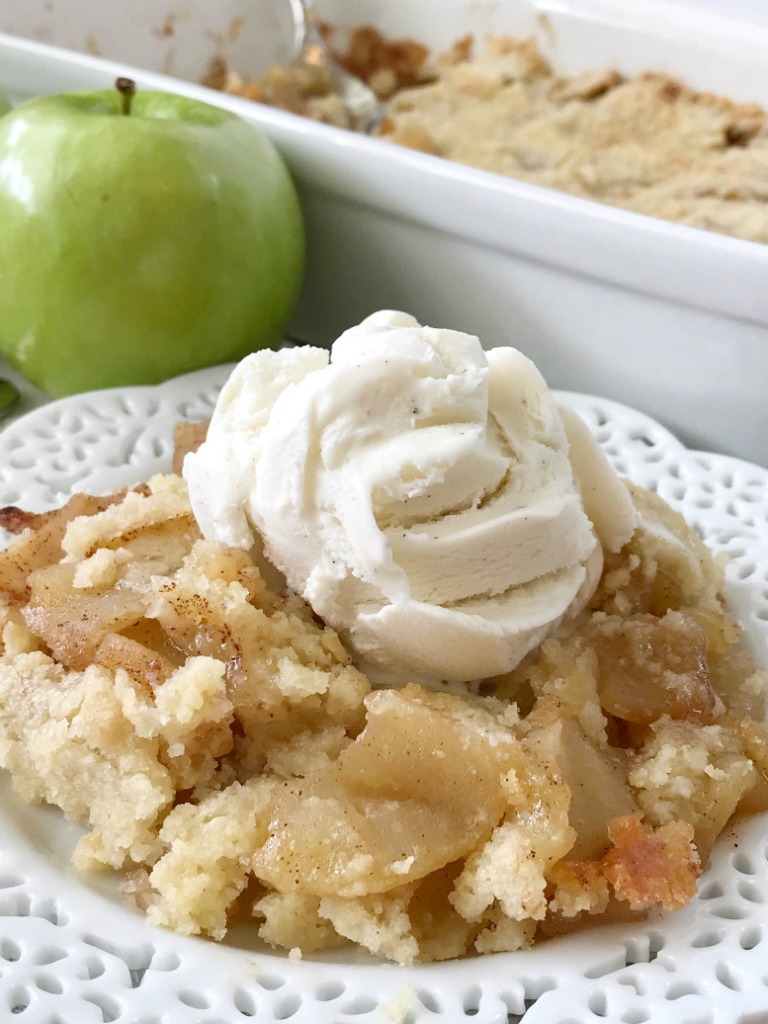 TRY THESE OTHER APPLE DESSERT RECIPES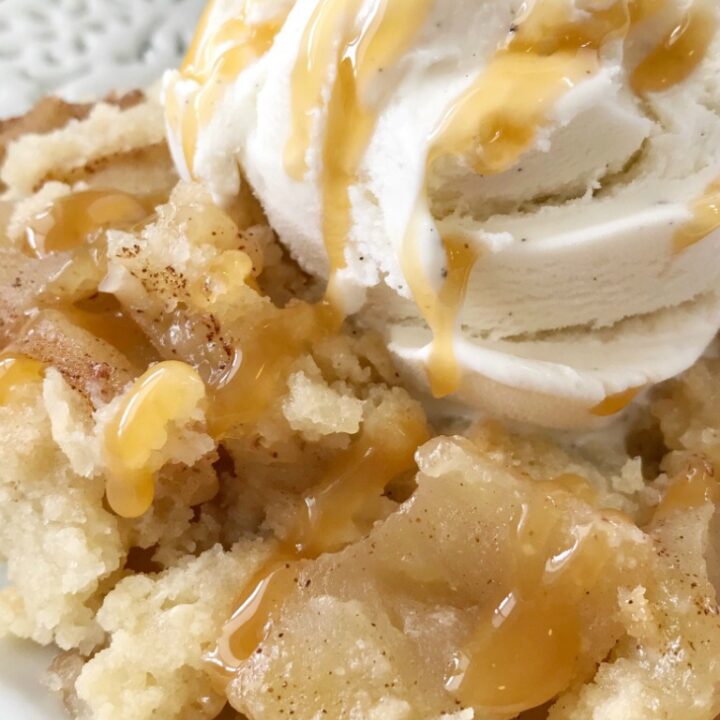 Simple Apple Crisp
Simple apple crisp is a quick & easy apple crisp recipe. Soft apples with a sugar shortbread topping. Simple ingredients and easy enough for anyone to make. Serve with a scoop of ice cream for the best dessert.
Ingredients
4 granny smith apples (peel and cut small/thin)
1/4 cup light brown sugar
1/2 teaspoon ground cinnamon
1/4 cup water
1 cup all-purpose flour
2/3 cup granulated sugar
1/2 cup (1 stick) butter, softened
Instructions
Heat oven to 375 degrees. Spray a 9x13 baking pan (for a thinner crisp) OR a 9x9 baking pan (for a thicker crisp) with cooking spray and set aside.

In a bowl combine the peeled, and thinly cut apples with the brown sugar and cinnamon. Stir together to mix well and place apples into the prepared pan and evenly spread out. Pour the water over the apples.

Combine the flour, granulated sugar, and softened butter in a mixing bowl. Use your clean hands or a pastry cutter to mix it together. The mixture should be crumbly and resemble wet sand. Sprinkle it evenly over the apples.

Bake for 40-45 minutes. The top should be golden brown and the apples bubbling at the edge of the pan. Serve warm with a scoop of vanilla ice cream and caramel ice cream topping drizzle.
Notes
If you use the 9x13 baking pan size then 40 minutes should be a good cook time. For the 9x9 baking pan you will more than likely need the full 45 minutes or possibly 50 minutes. 
Nutrition
Calories: 374kcal
Save this recipe and PIN IT to PINTEREST