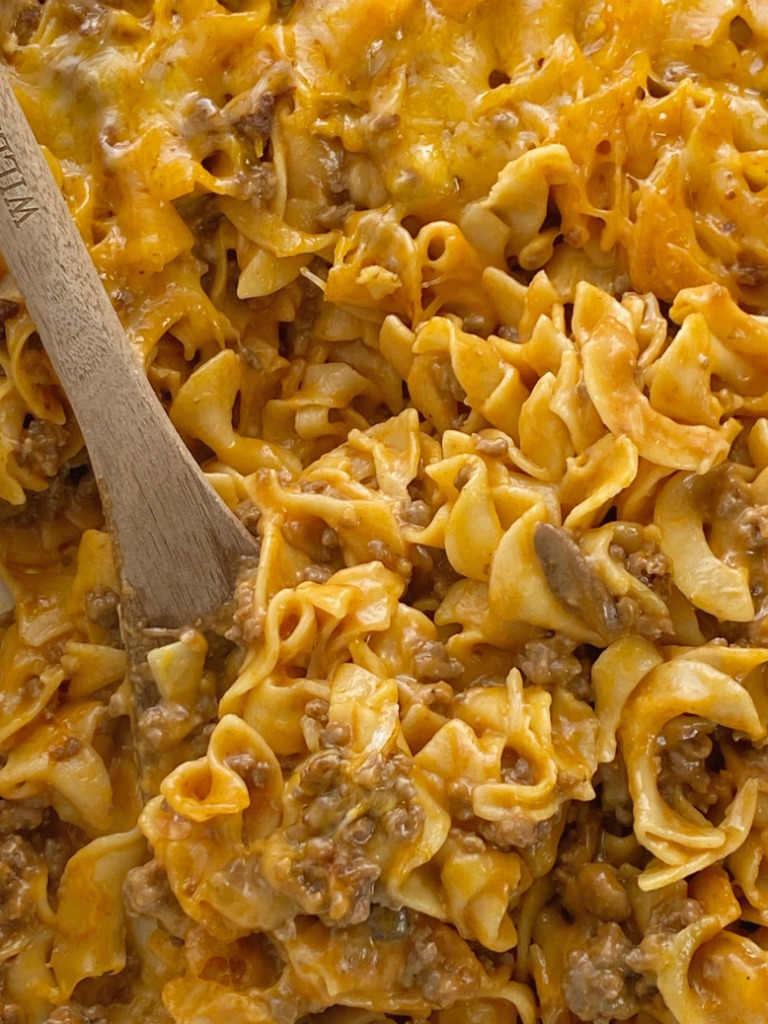 GROUND BEEF COUNTRY CASSEROLE
This ground beef country casserole is a one dish comfort food casserole with ground beef, egg noodles, golden mushroom soup, tomato soup, cheese, and spices. 
If you love using shortcuts like condensed golden mushroom soup and tomato soup then you will love this casserole. If you just can't get past the idea of mushroom + tomato soup then it's probably not for you. If you prefer easy casserole recipes that don't involve canned soups then try my recipe for creamy beef noodle bake. 
I'll be honest and say that I have been surprised by this ground beef casserole. I posted it when I first started this food blog of mine back in 2015. It quickly became the most popular recipe and has gone viral on Pinterest several times. 
INGREDIENTS NEEDED FOR GROUND BEEF COUNTRY CASSEROLE
Ground Beef
Garlic Powder, Salt, & Pepper
Egg Noodles – Cook these according to package instructions. 
Tomato Soup
Golden Mushroom Soup – This is a condensed soup, like cream of mushroom soup, but it's a tomato based one. The color is darker like tomatoes. If you can't find it then use regular cream of mushroom soup. But the tomato based golden mushroom soup really compliments the tomato soup and provides a lot of flavor. 
Dried Minced Onions – If you prefer fresh onion then finely dice an onion and add it in with the ground beef. I would use a yellow or white onion for this recipe.
Whole Milk – It's best to use a higher fat milk like whole milk for this recipe. 2% would also work just fine. 
Worcestershire Sauce 
Parmesan Cheese – It's best to grate your own from a wedge of parmesan cheese. The cheaper grated parmesan cheese in the green can is much saltier than fresh shredded. 
Shredded Colby Jack Cheese – You could substitute this with any cheese you prefer.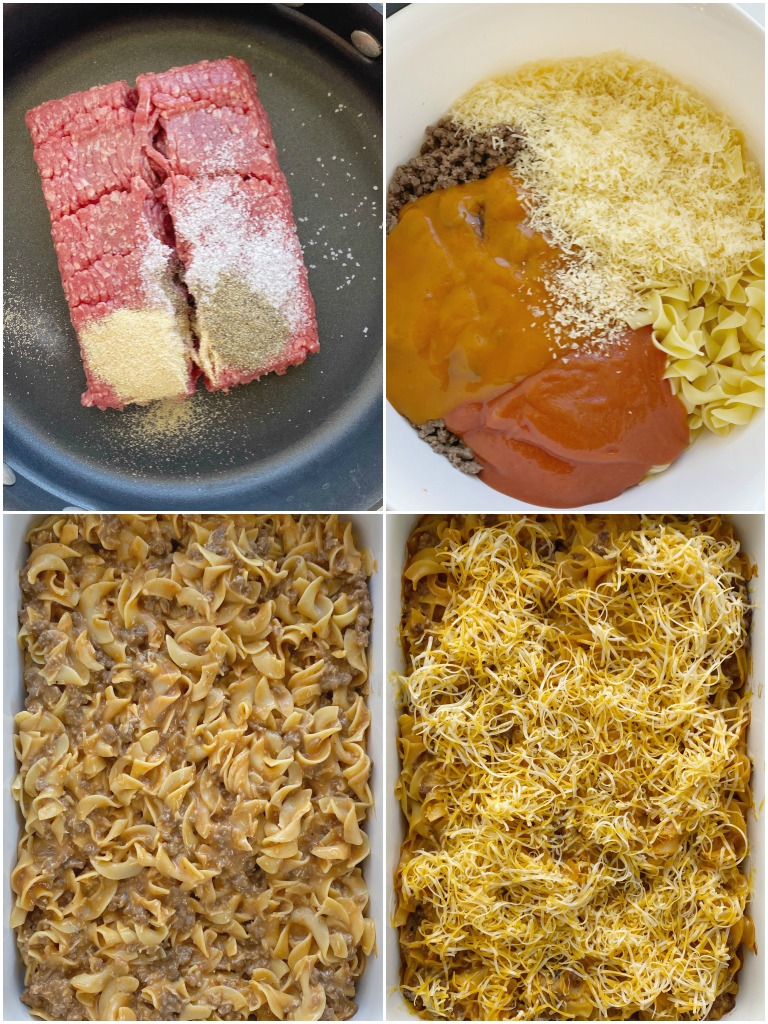 MY TIPS FOR THIS RECIPE
As you can judge from the comments people either love it or hate it. I have made this recipe countless of times to see if I could improve it and while I have changed the way you cook and prepare this casserole, I have not changed the original recipe. So if you're coming here and noticing the new pictures, don't worry, it has just been updated with better pictures and the recipe has been rewritten to help with the ease of preparing the recipe. Chances are is that if you don't like using cream of something soups, you don't like the mushroom + tomato combo, and you don't like traditional casseroles then you probably won't like this dish. 
To prevent the egg noodles on the side of the casserole and the top from browning while baking feel free to cover the pan with tin foil.
I have never frozen this casserole but I am sure it would freeze just fine. I always suggest double wrapping anything you freeze. One layer of saran wrap covered with a layer of tin foil. I also prefer to use the disposable aluminum pans if I know I am going to be freezing something.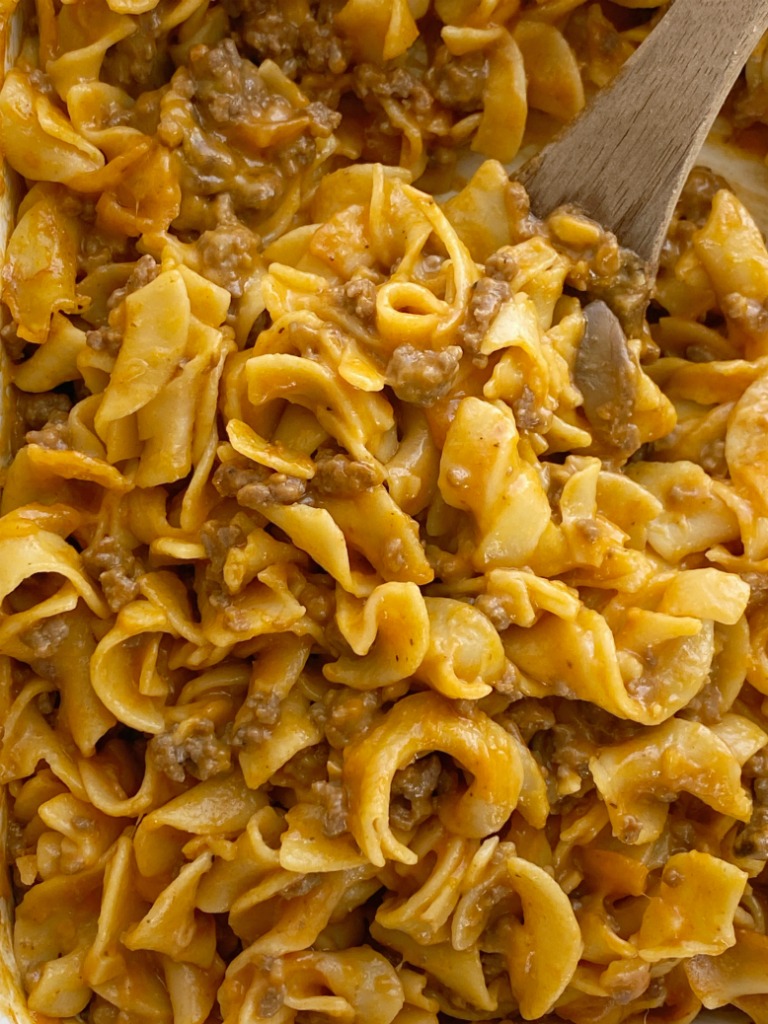 YOUR FAMILY WILL LOVE THESE OTHER CASSEROLE RECIPES
Creamy Chicken Pot Pie Casserole – A cream cheese chicken pot pie filling topped with buttermilk biscuits and parmesan cheese. 
Taco Casserole – An easy taco casserole with all your favorite taco ingredients plus chips! Serve this with shredded lettuce, cheese, sour cream, and pico de gallo for a delicious dinner. 
Chicken Enchilada Rice Casserole – Chicken, green enchilada sauce, black beans, diced tomatoes, and rice bake together on one pan. Lots of cheese too! Top with all your favorite taco toppings.
John Wayne Casserole – A family favorite ground beef casserole with hearty southwest flavors.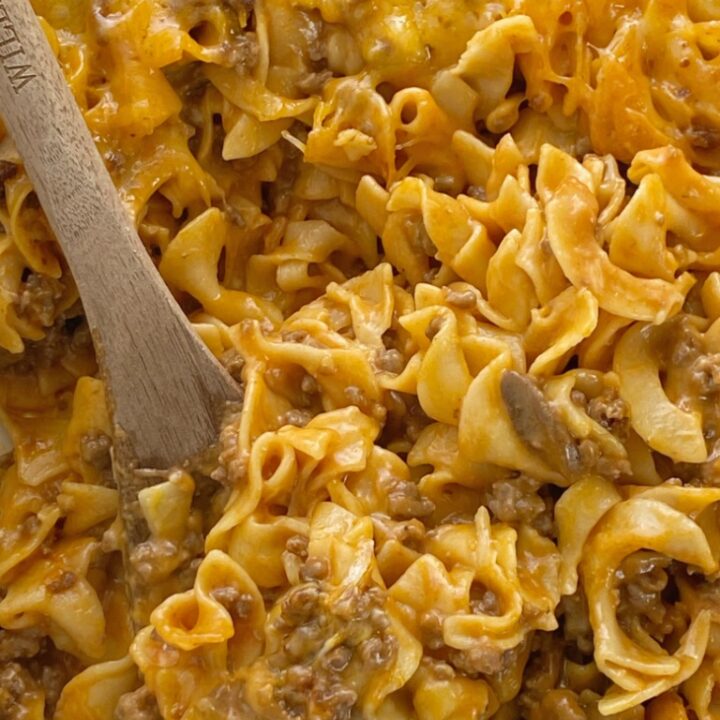 Ground Beef Country Casserole
Ground Beef Country Casserole is packed with all your favorite comfort foods. Tomato, mushrooms, creamy sauce, ground beef, and tender egg noodles. It's an easy casserole that's made with inexpensive ingredient.
Ingredients
1 bag (12 oz) wide egg noodles
1 lb lean ground beef
1 teaspoon garlic powder
1 teaspoon salt
½ teaspoon black pepper
1 can (10.75 oz) condensed tomato soup
1 can (10.75 oz) golden mushroom soup
1 cup whole milk
2 tablespoons dried minced onion
2 teaspoons Worcestershire sauce
1/2 cup shredded parmesan cheese
1 cup shredded Colby Jack cheese or more if wanted
Instructions
Heat oven to 350 degrees and spray a 9x13 baking dish with cooking spray.

Cook noodles according to package instructions. * When the noodles are done drain them but do not rinse them.

In a skillet pan, over medium-high heat, brown ground beef with the garlic powder, salt, and pepper. Brown and crumble until the beef is no longer pink.

In a large mixing bowl, add the drained & cooked egg noodles, ground beef mixture, tomato soup, golden mushroom soup, milk, dried onion, Worcestershire sauce, and parmesan cheese. Stir together until it's well combined.

Evenly spread into the prepared baking dish. Cover with tin foil (or leave it uncovered if you want the crunchier baked egg noodle pieces on the top).Bake for 20 minutes.

Take out the casserole and add the shredded cheese on top. Bake for about 5 more minutes or until cheese is melted.
Notes
Golden Mushroom Soup : The can of golden cream of mushroom is important to this dish. It's like the cream of mushroom soup (in fact it will be right next to it in the store) but it's a tomato based mushroom soup which pairs well with the tomato soup. Yes, you can use regular cream of mushroom soup but the flavor of this casserole is in the golden cream of mushroom soup. Onion : Some may prefer fresh onion. If that's that case then finely chop it up and cook it with the ground beef and spices.  Recipe changes : The only change to the original recipe is the addition of the Colby Jack cheese on top of the casserole. It provides some needed flavor and makes it really cheesy. I did change up the process of preparing the casserole to increase the flavor of the final dish. 
Nutrition
Calories: 398kcal | Carbohydrates: 42g | Protein: 27g | Fat: 13g | Saturated Fat: 7g | Cholesterol: 95mg | Sodium: 977mg | Potassium: 665mg | Fiber: 2g | Sugar: 6g | Vitamin A: 419IU | Vitamin C: 6mg | Calcium: 242mg | Iron: 3mg