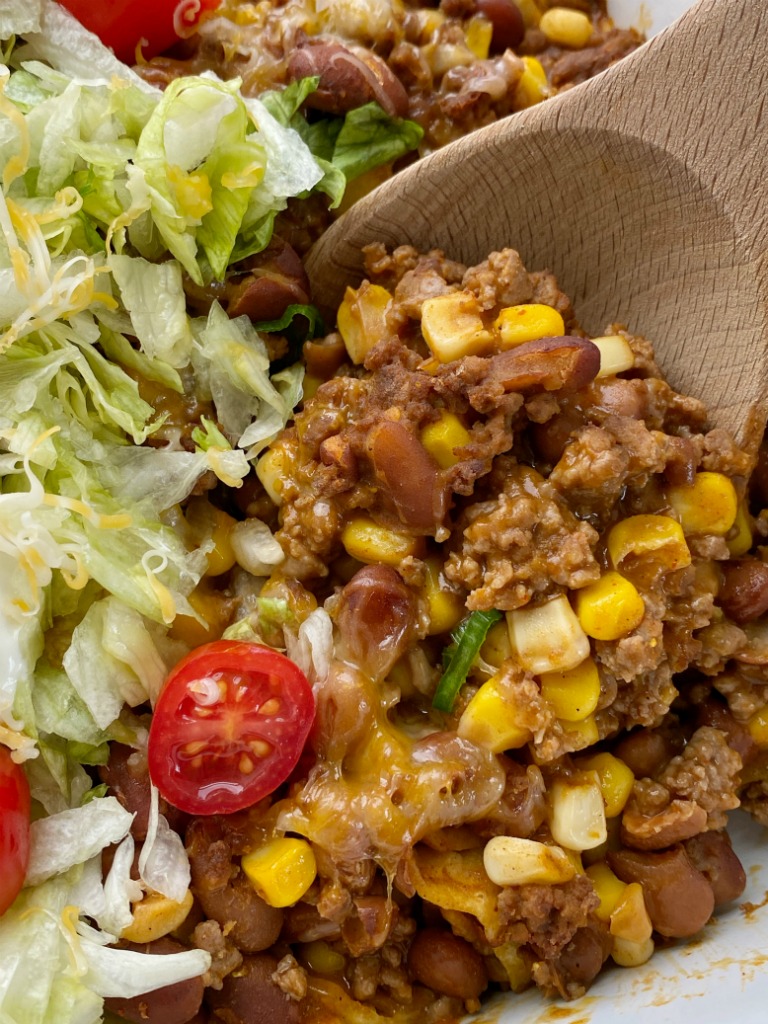 TACO CASSEROLE RECIPE
You will love how quick and easy this taco casserole is to make! No chopping required. Just brown ground beef, dump some cans in, and then bake it with some cheesy tortilla chips in a casserole dish. 
Serve with all your family's favorite taco toppings and let everyone create their own. Or you can top the casserole with the toppings for a prettier presentation. 
HOW TO MAKE QUICK & EASY TACO CASSEROLE
Ground Beef
Taco Seasoning Packet – You can use homemade (about 2-3 tablespoons) or make it easy and use a packet. I always use a packet of mild taco seasoning. But feel free to switch it up to your liking by using a spicy taco seasoning if you want. 
Ranch Style Beans – You will find these near the other canned beans. They come in a black can with yellow lettering that says 'ranch style beans' on the front of the can. They are seasoned pinto beans in a tomato sauce and they are so yummy. Do not drain the beans just dump the can. 
Chili Beans – Again, these are a bit different and you can find them near the canned beans as well. These are pinto beans in a seasoned chili sauce. You can get them in mild, medium, or hot heat. The can will specifically say 'chili beans' on it. 
Canned Corn
Tortilla Chips – We love Juanita's brand tortilla chips so if you see those grab them because they are so good and not too salty. Otherwise, any tortilla chip you love can be used. Even Fritos corn chips would be good. 
Shredded Cheese – I use Colby Jack. Any cheese can be used! Make sure to shred your own cheese as it melts better and tastes better in casseroles. The pre shredded cheese has a coating on it to help it not clump together in the bag. 
Taco Toppings – We love shredded lettuce, sour cream, chopped tomatoes, shredded cheese, and green onions or cilantro. You could also add some jalapenos, diced avocado, or guacamole. Anything goes. 
MY TIPS FOR THIS TACO CASSEROLE RECIPE
This dish as is, is flavorful, perfect for kids, and not spicy. If you want it spicy then you can add a can of diced green chilies into the meat mixture. Top yours with jalapeno. Add some cayenne pepper in with the taco seasoning packet. Use Pepper Jack cheese. There are many ways to switch this up and get it to your desired spice level. 
The ranch style beans and chili beans add so much flavor so use those! They are much different than plain canned pinto beans. 
You can serve this easy taco casserole as is and then put the toppings in different bowls so everyone can make their own or you can put the toppings on top and then serve it that way (as pictured). Both ways are equally delicious. 
TRY THESE OTHER TACO INSPIRED RECIPES
Easy Taco Casserole
Taco Casserole is so quick & easy to make! No chopping required and it uses easy & convenient canned ingredients, ground beef, and fresh taco toppings.
Ingredients
1 lb lean ground beef
1/2 cup water
1 packet (1 oz) taco seasoning
1 can (15 oz) ranch style beans do not drain
1 can (15 oz) chili beans do not drain
1 can (15 oz) corn drained
4 cups broken tortilla chips
2 cups shredded cheese
Instructions
Heat oven to 350°. Prepare a 9x13 baking dish and spray with cooking spray.

In a large skillet pan over medium-high heat, cook and crumble the ground beef until no longer pink. Drain. Add the water, taco seasoning, ranch style beans, chili beans, and corn. Bring to a boil, reduce heat and let simmer for 5-10 minutes. * Do not drain the beans just dump them straight in. Drain the corn before adding in.

While meat is simmering, layer the 4 cups of tortilla chips into the baking dish. Top with the shredded cheese. When the ground beef mixture is done, pour it over the cheese and spread out.

Cook for 20 minutes.

I like to top the casserole with additional cheese when it comes out to make it prettier. Serve with your favorite taco toppings OR you can top the casserole with the taco toppings and serve.
Notes
If you don't want as many tortilla chips then just add around 3 cups. I have tested this recipe over and over, and the 4 cups is the perfect amount. But feel free to add more or less depending on your preference.  The calorie count is for one serving of the taco casserole. Toppings on top will be additional.  Use any cheese you want! We love Colby Jack so that's what I use.  Do not crush the tortilla chips. You just want them broken. I just use my hands to break them up. Some I actually leave whole. 
Nutrition
Calories: 329kcal | Carbohydrates: 1g | Protein: 16g | Fat: 18g | Saturated Fat: 8g | Cholesterol: 62mg | Sodium: 225mg | Potassium: 174mg | Sugar: 1g | Vitamin A: 201IU | Calcium: 152mg | Iron: 1mg