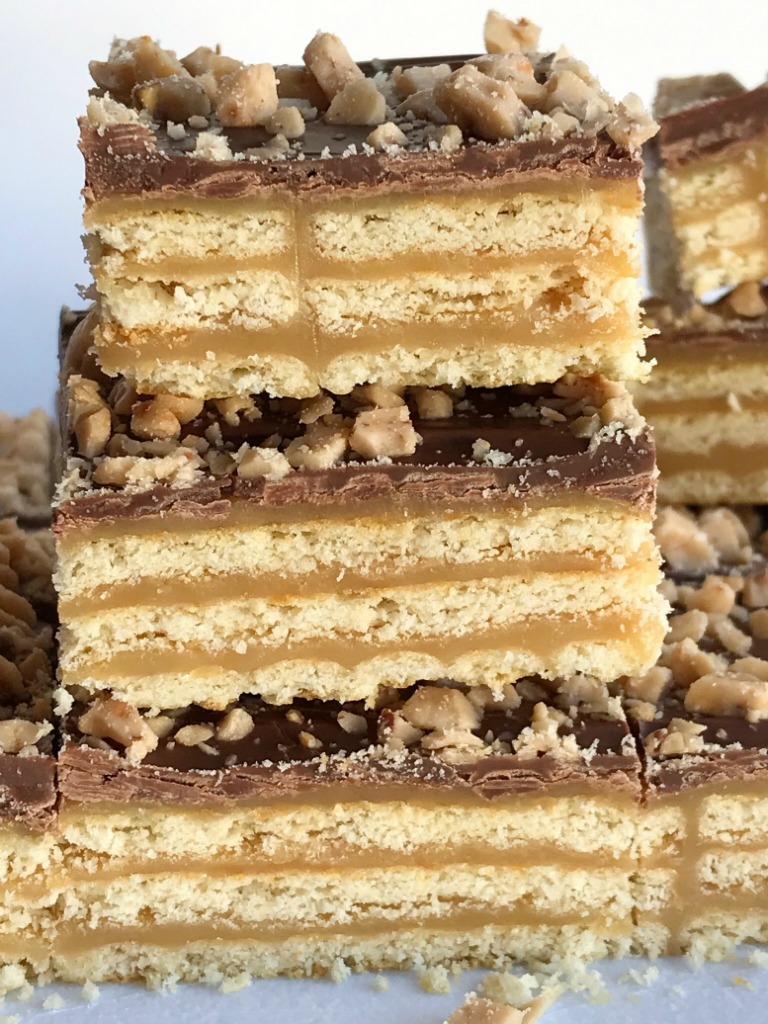 CRACKER TOFFEE
I love sweet, salty, and buttery desserts. Which is probably why this triple layer cracker toffee has been my downfall for the past few days…. I eat it for breakfast, lunch, dinner. It's Christmas, right? So I think we can all get away with that 🙂
But seriously, there really are no words to describe the buttery deliciousness of this cracker toffee. It only takes about 10 minutes to make so it's a perfect last minute treat. 
I had big plans this month to post tons of Christmas recipes. I think I have posted maybe 3 or 4. December is my favorite month but it's also the one time where I feel motivated to do all the things and end up doing about 2 of those things on my list, haha. 
Now my kids are out for winter break and I will basically be worthless at this whole blogging thing until the new year.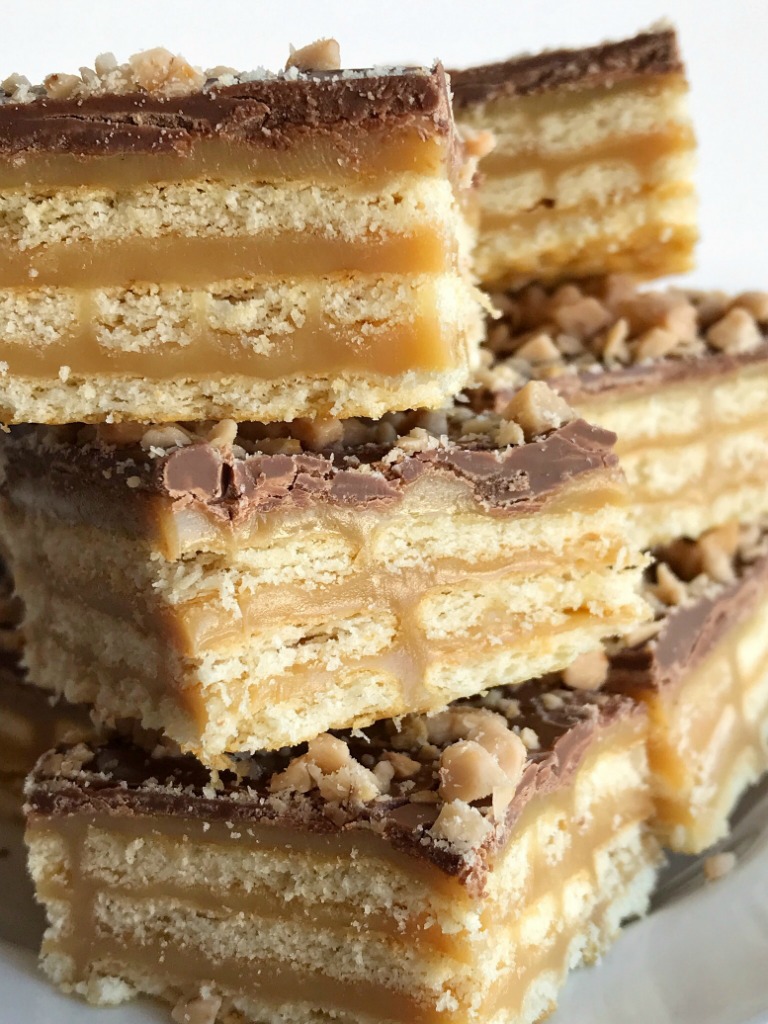 HOW TO MAKE EASY CRACKER TOFFEE
You will need one box of Club crackers. Yes, please get the Club crackers. I know there are other crackers you could use but I can't say for sure how they would change the flavor profile. Try at your own risk!
Line a baking pan (9×13) with tin foil and spray it with cooking spray.
Lay Club crackers down so they are covering the foil. You may have to get creative here and cut some in half to fit. It does not have to be perfect or look beautiful, you just need a layer of them. 
Cook up an easy soft caramel mixture on the stove top and pour about 1/3 of it over the first cracker layer. Repeat with another layer of crackers on top of the caramel, pour some more caramel over the 2nd layer of crackers and repeat one more time. 
Melt some milk chocolate chips in the microwave and spread that on top of the caramel. You will end with the layer of caramel on top and then the chocolate on top of that.
You can sprinkle some toffee bits, Christmas sprinkles, some pecans, or just leave the chocolate as is.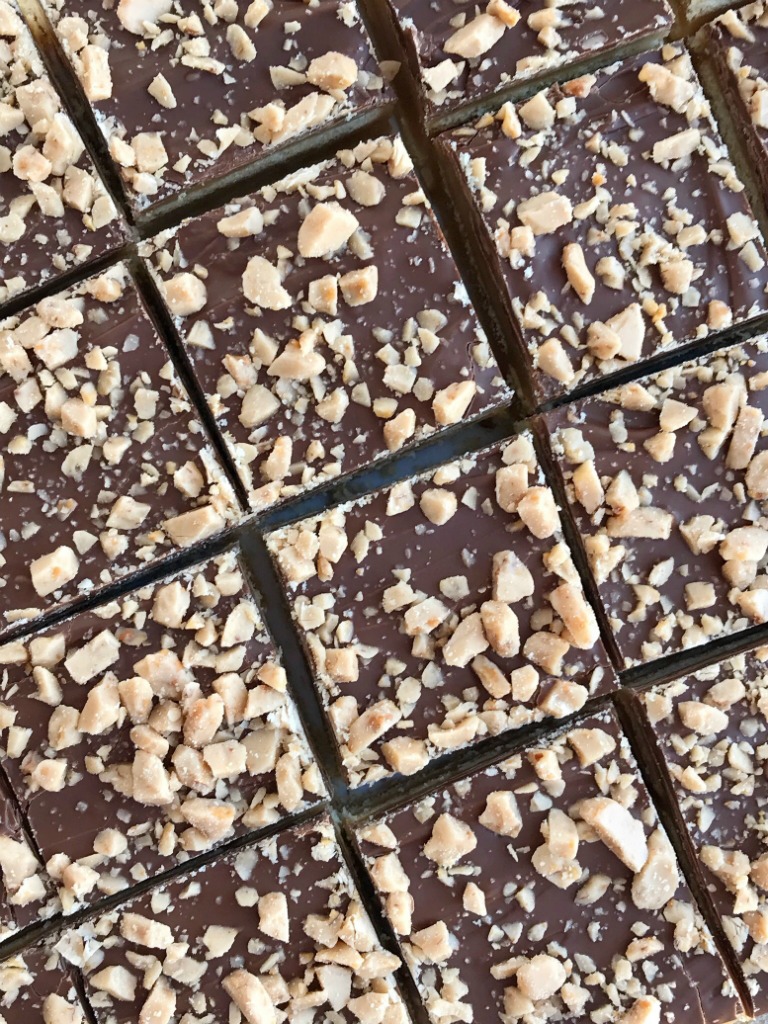 Tips for making this recipe
I found that you need more crackers for the 1st layer. There is not a set number of crackers to put on each layer. Just use whatever it takes to cover it. 
Because the first layer needs more crackers it also means you may have to use additional caramel on top of it. I used slightly over 1/3 of the caramel mixture. Which still leaves plenty for the next two layers. 
I will either sprinkle toffee bits on top of the chocolate or Christmas sprinkles. 
Some may think it will be too sweet with the milk chocolate on top, but I promise you, you need the milk chocolate to pair well with the salty & buttery crackers.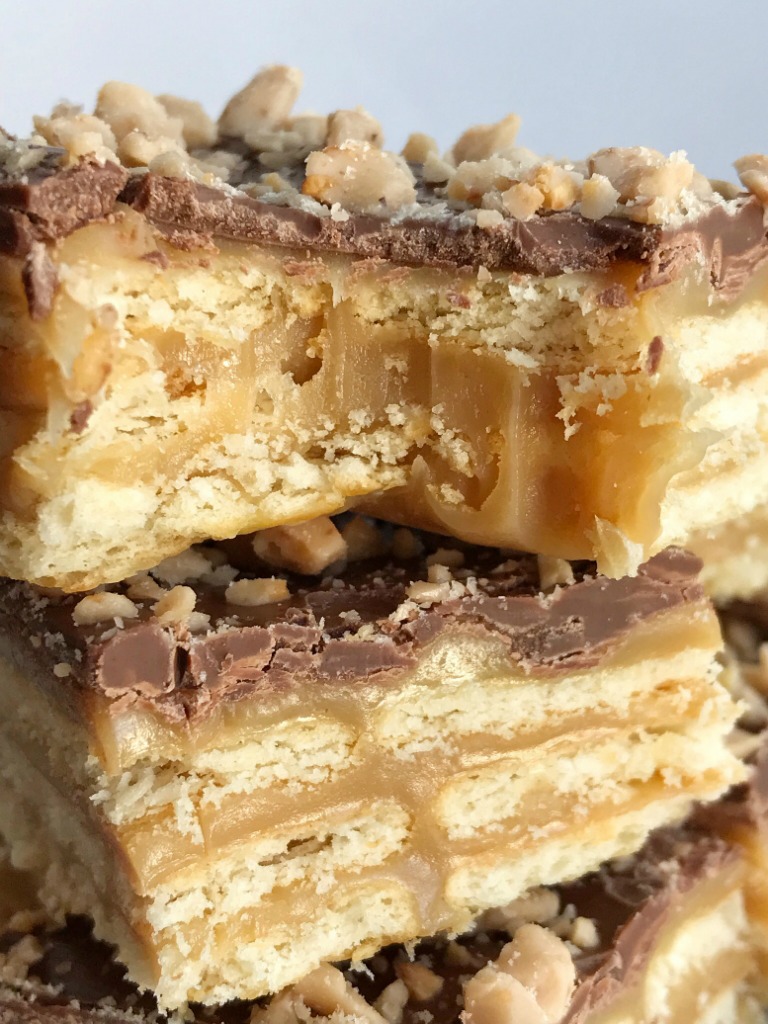 Try these other toffee recipes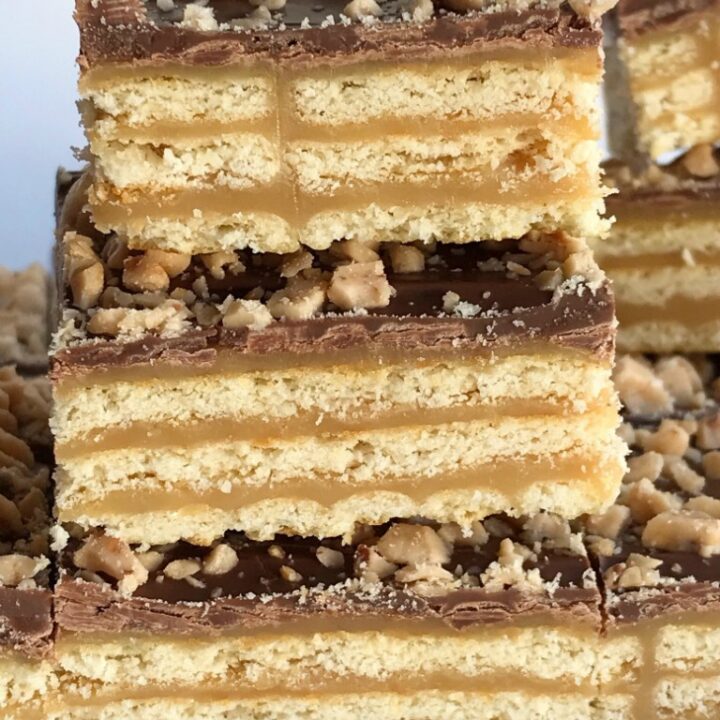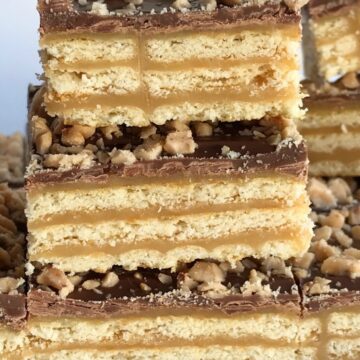 Triple Layer Cracker Toffee Bars
These easy caramel & chocolate triple layer cracker toffee bars are a fun twist to traditional cracker toffee. One pan, three layers, and only about 10 minutes is all you need for sweet, buttery, salty perfection. It's a must make Christmas recipe!
Ingredients
1 box (13.7 oz) Club Crackers
1 can (14 oz) sweetened condensed milk
1 cup packed brown sugar
1/2 cup (1 stick) salted butter
1/4 cup milk
1 bag (12 oz) milk chocolate chips (about 2 cups)
Instructions
Line a 9x13 baking dish with tin foil. Spray the bottom and the sides of the tin foil with cooking spray.

Place Club crackers in the bottom of the pan so it's covering the tin foil in a layer. You will probably have to break some in order to get the first layer down.

In a saucepan, over medium heat, combine the sweetened condensed milk, brown sugar, butter, and milk. Stir and let the butter melt. Once butter is melted, turn heart to medium-high and let it cook for 5 minutes, while stirring constantly. It will boil which is what you want.

Pour 1/3 of the caramel mixture over the layer of crackers and spread out evenly. Repeat this two more times, ending with the caramel layer on top.

Pour the bag of milk chocolate chips into a microwave-safe bowl and microwave for 2 minutes, stirring every 30 seconds, until the chocolate is melted and smooth. Pour over the top caramel layer and evenly spread out. If wanted, sprinkle some Christmas sprinkles or toffee pieces on top.

Refrigerate for 2 hours. Lift the bars out of the pan by the overhang of the tin foil and cut into small squares. As the bars sit out at room temperature they will soften slightly. Store leftovers covered in the fridge.
Notes
I use a higher fat percentage milk when I make this recipe. Half & Half or whole milk, or 2% works just fine.    Any leftovers need to be stored in the fridge. As these bars sit out at room temperature, they become softer, which is amazing. But for leftovers store them covered in the fridge.    You will end up doing 3 layers of crackers, 3 layers of caramel, and then the chocolate on top.    This is not a hard toffee recipe. The caramel is a soft caramel that stays soft even with the fridge time.    You will not use all of the crackers. I ended up using about 2 sleeves plus a few from the 3rd sleeve. 
Save this recipe for later and PIN IT to PINTEREST