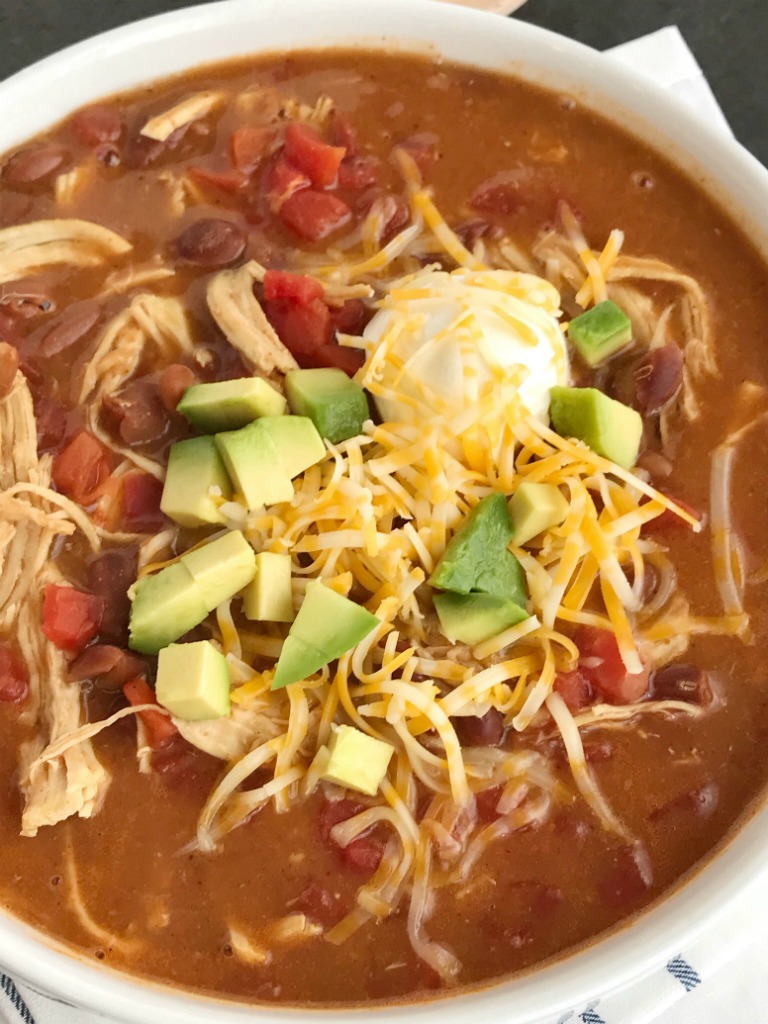 CHICKEN TORTILLA SOUP
I've been obsessed lately with tortilla soup. I recently just posted this instant pot chicken tortilla soup and now this new one today! There's something about tender chicken, in a flavorful broth and spices, topped with all the toppings; sour cream, cheese, avocado chinks, and tortilla strips or crushed tortilla chips.
Chicken tortilla soup is one of my favorite comfort foods and one of my favorite dinners to make because it's only 5 ingredients + 20 minutes on the stove top is all you need to make it.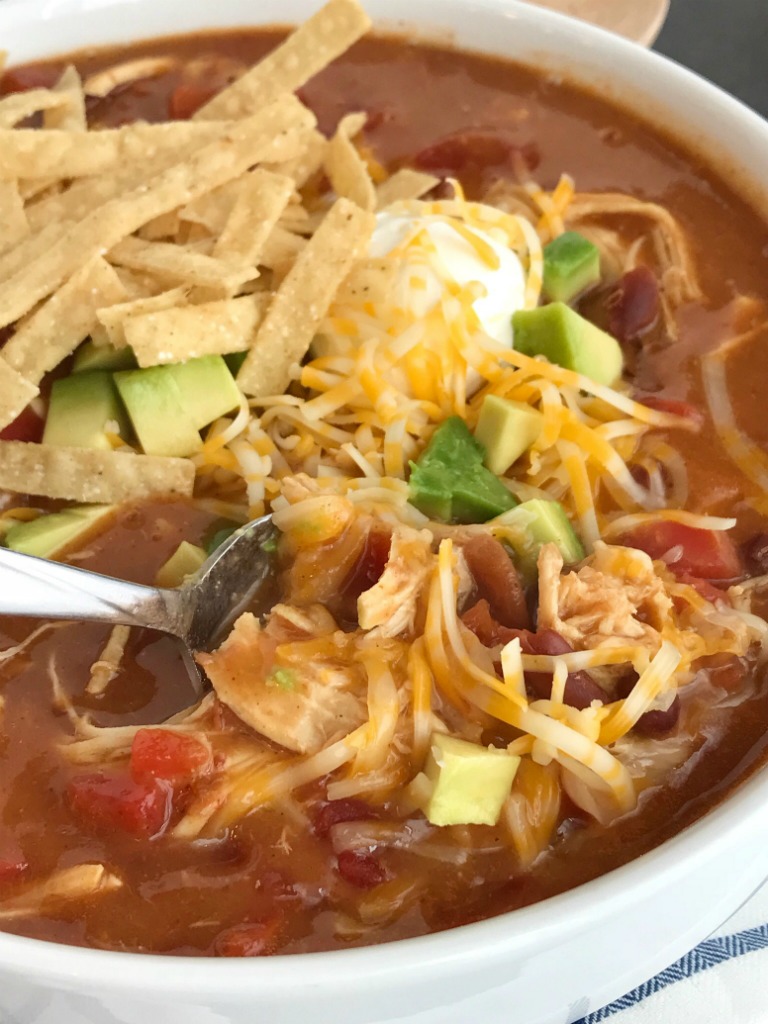 WHAT INGREDIENTS DO I NEED FOR EASY TORTILLA SOUP
Chicken Broth
The recipe calls for 2 cups which is slightly more than what 1 can of chicken broth has. If you use water + bouillon then just measure out the 2 cups, but if you're using a can then add the can of chicken broth + 2 tablespoon water. 
I prefer to use full salted chicken broth because it provides added flavor to the soup, but feel free to substitute with low-sodium chicken broth. Just adjust the seasonings accordingly. 
Cooked Chicken 
Adding already cooked chicken to this soup makes it come together in a hurry. Use leftover shredded chicken, a rotisserie chicken, or throw some chicken and broth into an instant pot or slow cooker and let it cook that way. 
Refried Beans
The "secret ingredient" is a can of refried beans. I know canned refried beans scare some because it comes out in a blob, haha 🙂 I get it. I do. But, it makes this tortilla soup so creamy and gives it almost chili like texture combined with the tortilla soup texture. It's so yummy and you don't taste the soup and instantly think refried beans. 
Chili Beans
These are pinto beans in a mild tomato sauce. You will find them by the other beans in the store but they will specifically say CHILI BEANS on the front. You don't drain these as you want that flavorful sauce (aka- the chili sauce).
Petite Diced Tomatoes
I love using the 'petite' variety of tomatoes in this recipe because they are cut into smaller pieces. If wanted, use a can of rotel for some added heat!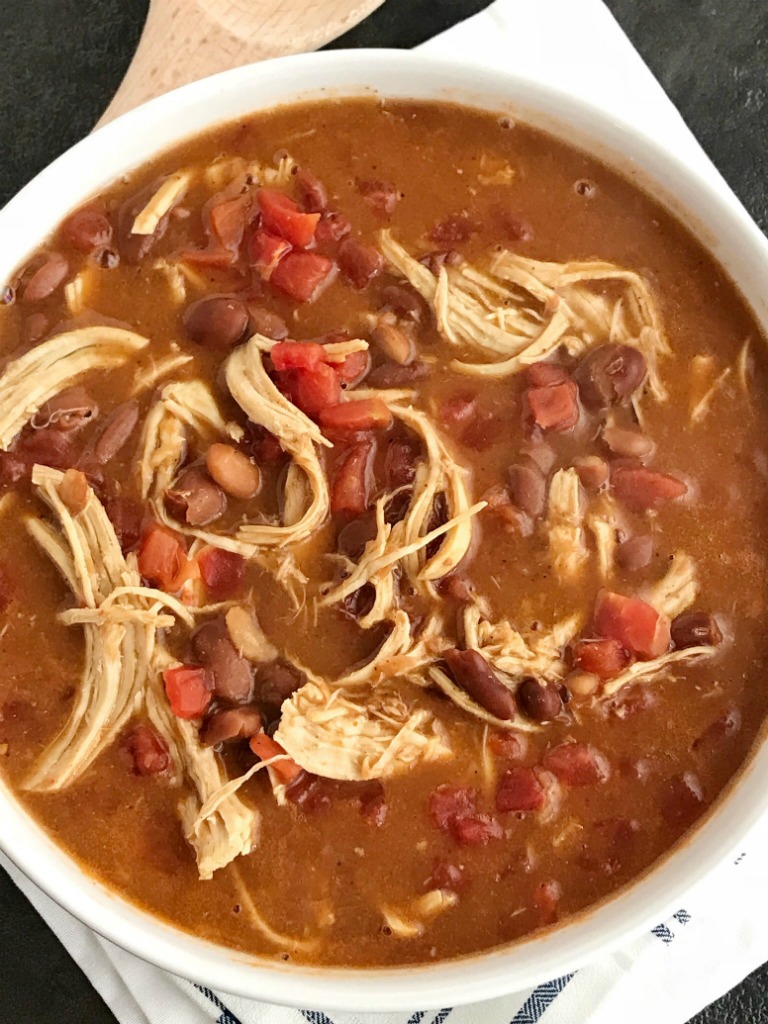 Pile it high with all your favorite toppings or leave it plain! 
We love adding some tortilla strips, shredded cheese, avocado chunks, and sour cream.
MY TIPS FOR MAKING EASY CHICKEN TORTILLA SOUP
Instead of the seasonings you can substitute with a packet of taco seasoning if wanted. I think the flavor is so much better when you add your own seasonings compared to the seasoning packet. 
This is a great way to use up leftover chicken or a rotisserie chicken. 
Don't skimp on the toppings. They take this soup over the top. We love crushed tortilla chips or strips, sour cream, cheese, and avocado chunks. I find these tortilla strips in the produce area of the grocery store and I have also seen them in the salad dressing aisle by the croutons and other salad toppings. Or, just crush up some tortilla chips!
If you don't have leftover chicken then simply place 2 chicken breasts + 1 cup chicken broth into an instant pot and let it cook (depending on how large or small the chicken is, will determine the cook time). Or add the chicken breasts + chicken broth into a slow cooker and let it cook on LOW for 6-7 hours.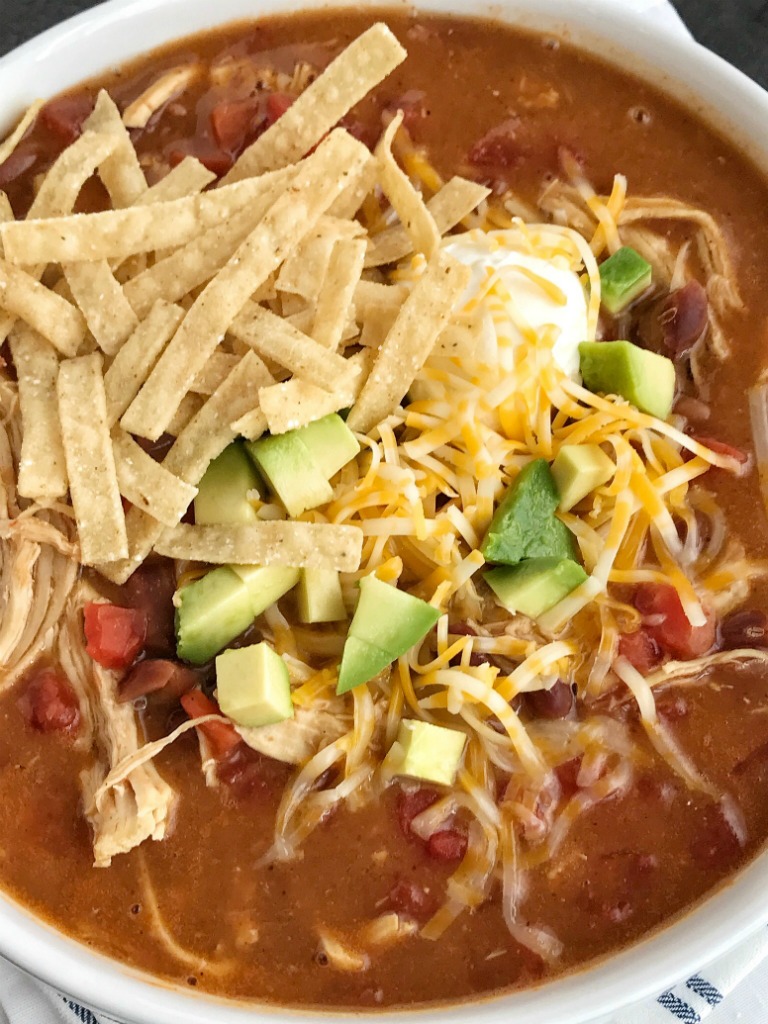 TRY THESE OTHER EASY SOUP RECIPES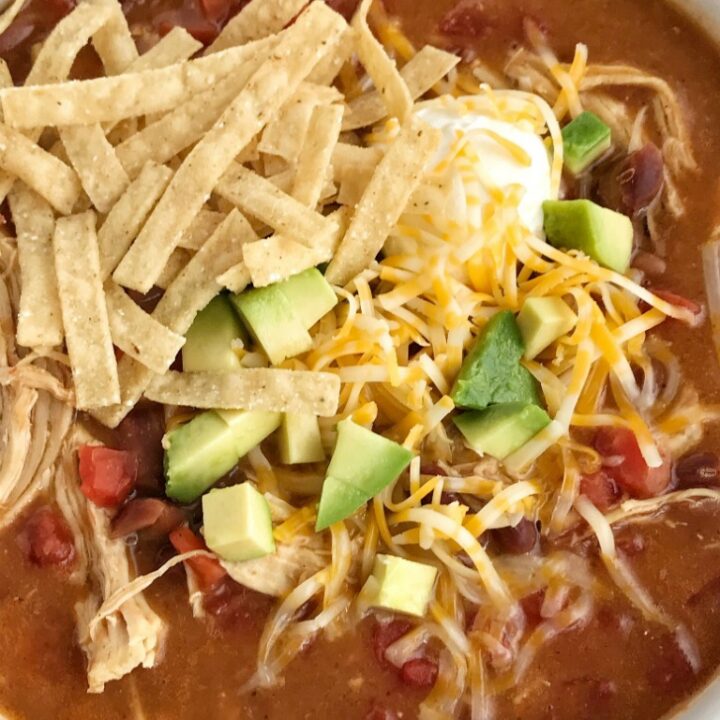 5 Ingredient Chicken Tortilla Soup
The best 5 ingredient Chicken Tortilla Soup only takes 20 minutes to make! One pot is all you need for this delicious and creamy tortilla soup. Combine 5 ingredients + some spices and let it simmer on the stove top. Top with cheese, avocado, chips, and sour cream.
Ingredients
2 cups chicken broth
2 cups cooked chicken shredded or chunked
1 can (16 oz) refried beans
1 can (15 oz) petite diced tomatoes (do not drain)
1 can (15 oz) chili beans (do not drain)
1 teaspoon cumin
1 teaspoon garlic powder
1 teaspoon onion powder
1 teaspoon chili powder
shredded cheese, tortilla chips, sour cream, avocado chunks for toppings
Instructions
In a large soup pot, combine all ingredients and stir together. Heat to boiling over medium-high heat. Once boiling, turn heat to low, cover with lid and let it simmer for 10-20 minutes. 

Serve with all your favorite toppings.
Notes
I use full salt chicken broth so I do not add any additional salt. If you use low-sodium chicken broth you may need to add salt. Just taste the soup when it's done simmering and add salt if needed/wanted.  The seasonings are very customizable. Add more or less of any seasoning, add some cayenne pepper for some heat, or use fresh garlic. There really is no wrong way to add the seasonings. Just add what you like!
Nutrition
Calories: 320kcal
Save this recipe for later and PIN IT to PINTEREST