Banana Pumpkin Bread is a must-make quick bread recipe for Fall. Mashed banana and pure pumpkin help this pumpkin bread bake up perfectly moist and delicious each time. The chunks of milk chocolate chips through out the bread make it even better!
For more family favorite pumpkin recipes try my cinnamon streusel pumpkin cake and these perfect pumpkin muffins.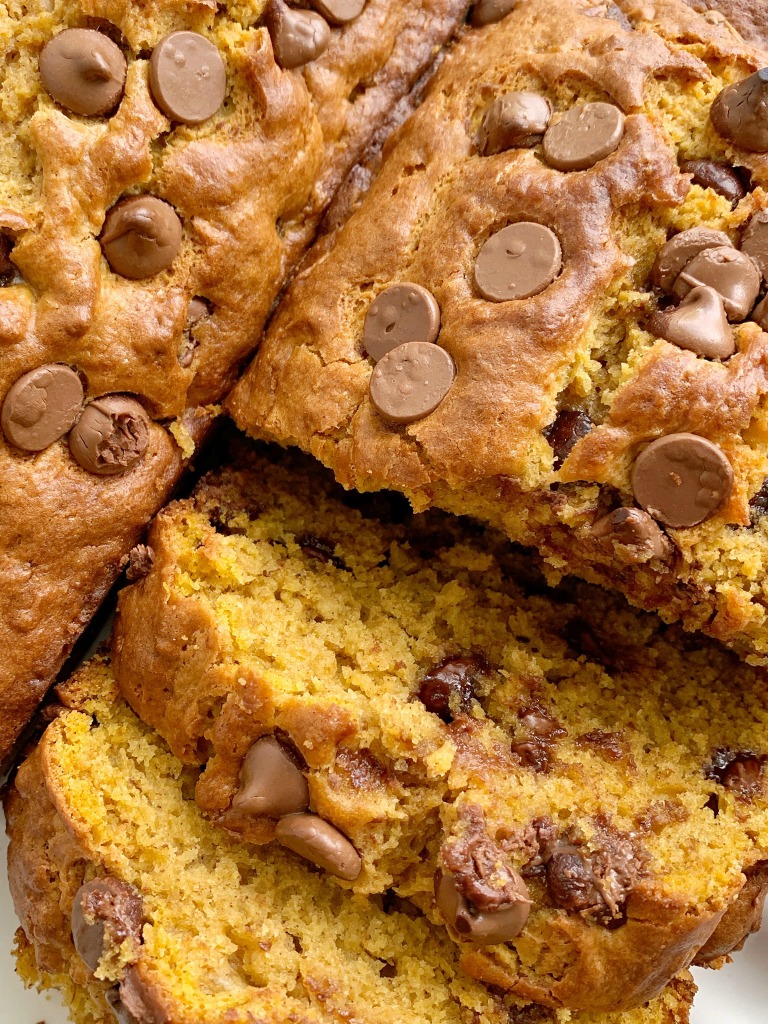 Banana Pumpkin Bread Recipe
This banana pumpkin bread recipe with mashed bananas and chocolate chips was the very first pumpkin recipe ever posted to my blog. That was like 4 years ago! It has been made hundreds of times since then. It's never Fall at my house until we make this banana pumpkin bread!
The mashed banana plus pure pumpkin help make this bread so moist each and every time. 
What You'll Need
This banana pumpkin bread recipe calls for simple pantry staple baking ingredients. Most of these you probably already have in your kitchen!
Butter – I use salted butter. You can use unsalted butter but you may want to add some additional salt to balance it out. 
Granulated Sugar
Vanilla Extract
Large Eggs
Pure Pumpkin – You want the 100% pure pumpkin and not the pumpkin pie filling. 
Mashed Banana – The uglier, the better! 
Flour – I use unbleached all-purpose flour for all my baking. Feel free to use a gluten-free flour but make sure it's a 1:1 ratio for regular flour. I would suggest not using whole wheat flour as that can lead to dry and dense bread. The recipe does not have the extra moisture to support whole wheat flour. 
Baking Powder & Baking Soda – Helps the bread rise up and helps the moisture of the bread as well.
Salt
Pumpkin Pie Spice
Milk Chocolate Chips – You will need an extra little bit of flour for the milk chocolate chips to help prevent them from sinking to the bottom of the bread while baking.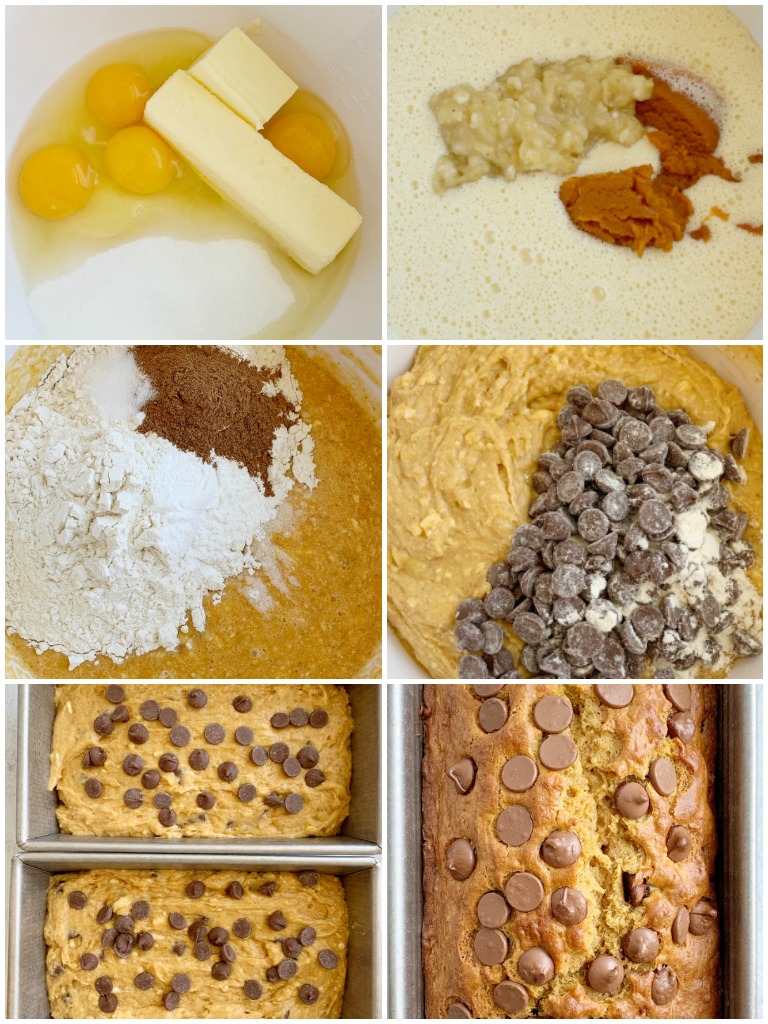 How To Make Banana Pumpkin Bread With Milk Chocolate Chips
This pumpkin bread recipe gets made in only one bowl! 
Mix Butter, Eggs, Sugar, and Vanilla : Combine these into the mixing bowl and beat until it's mixed well. There may be chunks of butter and that's ok. Just make sure the butter is well softened to avoid this. 
Pumpkin + Bananas : Add the mashed bananas and pure pumpkin. Mix to combine. 
Dry Ingredients : Add all the dry ingredients and mix on low speed, increasing speed as needed, until it's mixed together. 
Chocolate Chips : In a small bowl mix the chocolate chips with the flour, then dump into the pumpkin bread batter. Doing this helps the chocolate chips not sink to the bottom of the bread while baking. 
Bake : Divide the batter evenly between the loaf pans and top with additional milk chocolate chips. This is totally optional as it just makes for a prettier presentation. 
How To Store Banana Pumpkin Bread
It's best to store this banana pumpkin bread at room temperature, wrapped tightly, on the counter top.
After the bread is completely cooled, I wrap the loaf in plastic wrap and then put it inside a gallon-sized Ziploc bag. You don't have to do the bag, it would be just fine staying wrapped up on the counter top. 
Can I Freeze Pumpkin Bread?
Yes! You can. Let the loaf cool in the loaf pan for 10-15 minutes and then take the bread out and let it cook completely on a cooling rack. Once cooled, wrap it tightly in tin foil making sure that the ends are wrapped up tight. Place it inside a freezer gallon-size Ziploc bag. Close it up making sure all the air is let out. 
Freeze for up to three months. 
When ready, remove the bread completely from the tin foil and let it sit on a cooling rack, at room temperature, for 3 hours before slicing and serving. 
Tips For Success
#1 is to make sure the butter is SOFTENED! I place my butter in the microwave (with wrapper still on and all), set the microwave for 30 seconds, and then every 5 seconds I open the microwave and turn the butter to a different side, and then keep microwaving it (while turning it every 5 seconds). This gets the butter nice and soft without melting it. If the butter is too hard, it will not blend into the sugar and eggs and instead will chunk up and look curdled. 
Do not take the bread out too soon from the oven. This bread will look done on the outside and edges but if the middle of the bread is wet at all (even a little bit) your bread will end up sinking in the middle. Bread sinks when it's not cooked all the way. The best way to tell if it's done is to use a toothpick. Stick it in the center and if it comes out with crumbs or nothing at all then it's done! If it comes out wet, well you better leave that bread in their longer. You can also just use your finger. Gently press on the top of the bread and if it's springy and comes back up then it's done. If it feels wet and soft then leave it in there longer. With quick bread recipes, its more important to go by the bread than the timer or the bake time a recipe calls for. All ovens cook differently. So if your bread is not done at 50 minutes (like mine was) don't worry! Just leave it in there for 5-10 minutes longer. 
Loosely cover the bread with tin foil for the last 20 minutes of baking. This ensures that the bread will cook all the way through while not browning too much on the outside.
More Banana Recipes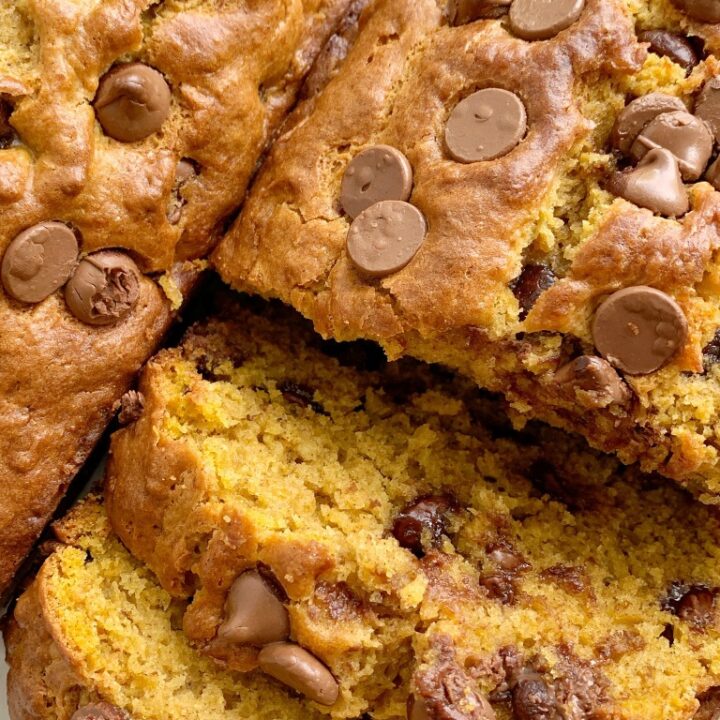 Banana Pumpkin Chocolate Chip Bread
Ingredients
11 tablespoons butter softened
1⅓ cups granulated sugar
1/2 teaspoon vanilla extract
4 large eggs
1 cup pure pumpkin
1 cup mashed bananas about 2 large bananas
3½ cups all-purpose flour
2 teaspoons baking powder
½ teaspoon baking soda
2½ teaspoons pumpkin pie spice
½ teaspoon salt
1½ cups milk chocolate chips
1 tablespoon all-purpose flour
Instructions
Heat oven to 350° and spray two 9x5-inch bread pans with nonstick cooking spray.

In a large mixing bowl add the softened butter, sugar, vanilla, and eggs. Beat together until combined.

Add the pumpkin puree and mashed banana. Blend until combined. Batter may look lumpy but that's ok.

In a separate mixing bowl, add the flour, baking powder, baking soda, salt and pumpkin pie spice. Stir with a whisk to break up any clumps.

Add half of the flour mixture into the wet pumpkin mixture and combine together at low speed just until incorporated. Add the other half of the flour and blend in at low speed just until combined.

Stir the 1 tablespoon of flour into the chocolate chips. Add into the pumpkin bread batter and stir together with a wooden spoon or spatula. ** The flour helps the chocolate chips not sink to the bottom of the bread. Reserve some of the chocolate chips (about 1/4 cup) before adding the flour to sprinkle on top of the bread. Or you can just use additional chocolate chips to sprinkle on top.

Divide the batter between the two pans. Loaf pans should be about 1/2 to 2/3 full. Sprinkle the reserved chocolate chips on top of the bread before baking.

Bake for 50-60 minutes. With about 20 minutes left of the cook time, loosely lay a piece of tin foil over the bread to prevent burning. Use a toothpick inserted into the middle to test for doneness. It should come out with only crumbs on it or nothing at all. If it comes out wet, then the bread needs to bake longer.

Let cool in the bread pan for about 15 minutes. Take the bread out and let it cook completely on a cooling rack at room temperature.
Notes
Pumpkin : Do not use pumpkin pie filling. You want the canned pumpkin that is 100% pure pumpkin.  Chocolate Chips : Use whatever chocolate chips you prefer. I love the milk chocolate + pumpkin but you can use dark chocolate or semi-sweet.  Butter : Make sure the butter is softened to avoid a lumpy batter. Lumps in the batter is fine, but just make sure the butter is softened so it combined well. 1
Nutrition
Calories: 355kcal | Carbohydrates: 54g | Protein: 5g | Fat: 13g | Saturated Fat: 8g | Polyunsaturated Fat: 1g | Monounsaturated Fat: 2g | Trans Fat: 1g | Cholesterol: 64mg | Sodium: 205mg | Potassium: 182mg | Fiber: 2g | Sugar: 30g | Vitamin A: 2731IU | Vitamin C: 2mg | Calcium: 61mg | Iron: 2mg
recipe adapted years ago from Oh, Sweet Basil