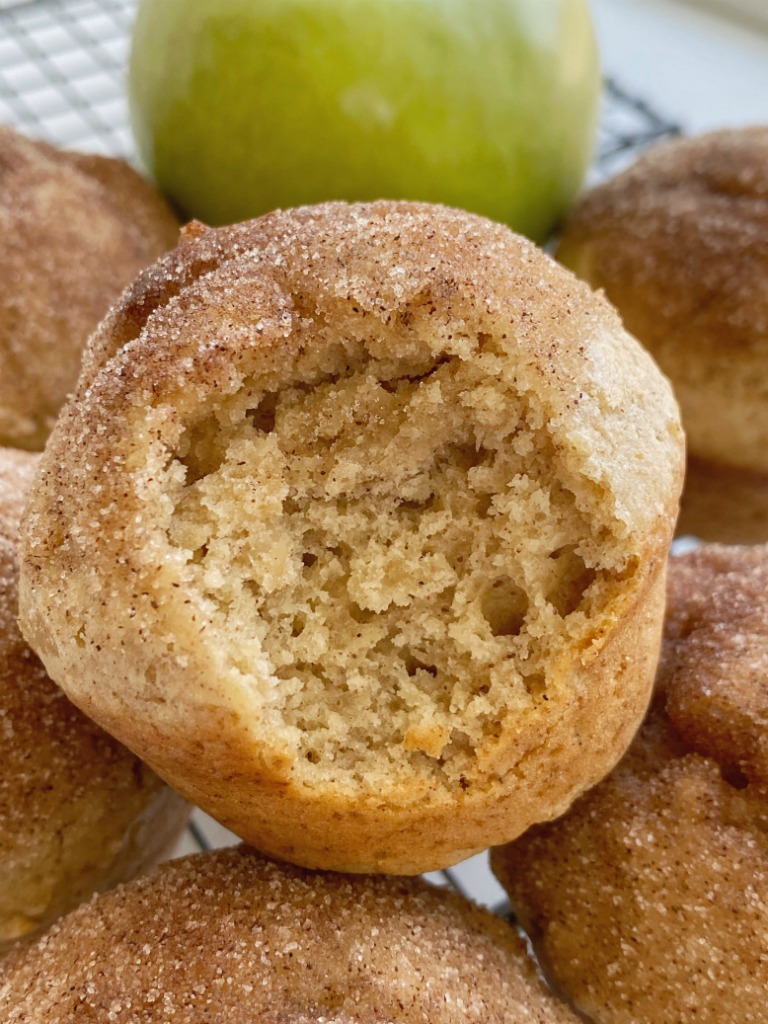 CINNAMON APPLESAUCE MUFFINS
These cinnamon applesauce muffins are the perfect Fall muffin. Warm cinnamon spice, cinnamon applesauce, and the muffin is covered in cinnamon & sugar!
So soft, delicious, and if it's anything like my house then they won't last very long.
If you're not a fan of cinnamon or the cinnamon & sugar coating then try my recipe for applesauce muffins. Basic but so amazing! 
INGREDIENTS NEEDED TO MAKE THESE MUFFINS
All you need is one bowl for this recipe. No mixer needed but you can certainly use one to make things easier. 
Light Brown Sugar & Granulated Sugar – If you prefer the darker, richer molasses flavor of dark brown sugar then feel free to use that. 
Canola or Vegetable Oil
Large Eggs
Cinnamon Applesauce
Sour Cream – It's best when baking to use full-fat, real sour cream.
Vanilla Extract
All- Purpose Flour, Baking Powder, Salt
Ground Cinnamon
The cinnamon & sugar topping is melted butter, granulated sugar, and ground cinnamon. It may seem like too much but trust me that sweet crunch on top pairs well with the slightly sweet applesauce muffin.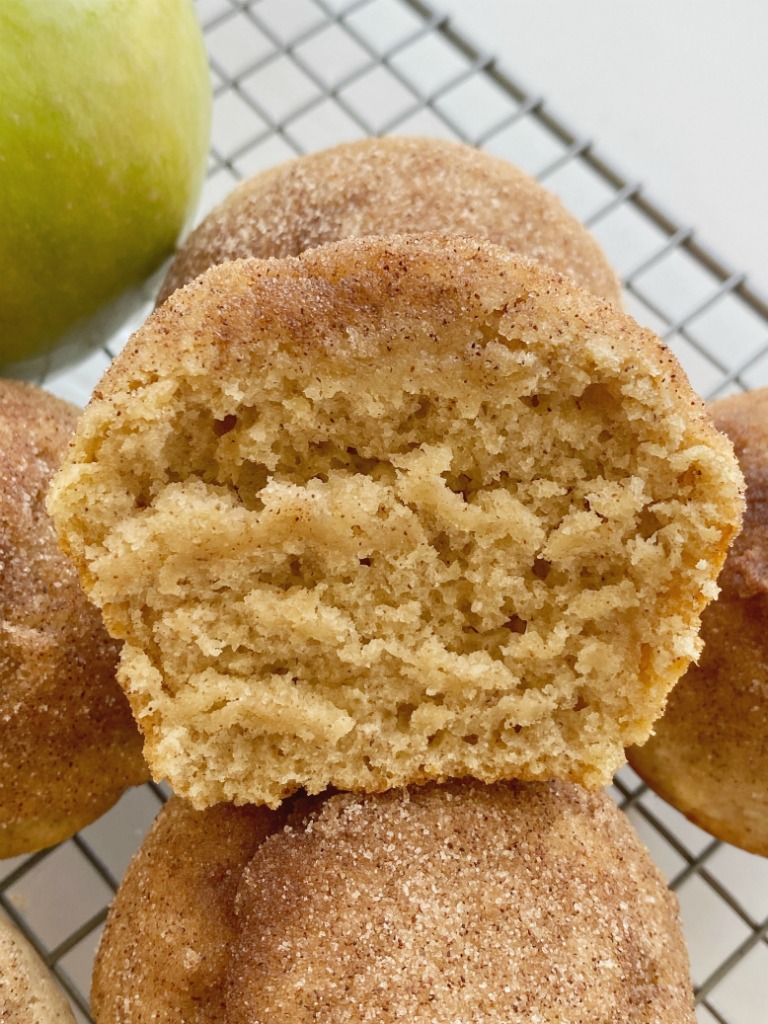 MY TIPS AND HELPFUL HINTS
Can I freeze these muffins? Yes I think you can. I have never personally frozen these muffins but I see no reason why you couldn't. 
To make scooping the batter into the muffin cups so easy, and it produces an even topped & round muffin, use a large cookie scoop!
The cinnamon flavor is not overwhelming in these muffins. It may seem like a lot but it's not. They're cinnamon spiced muffins that are so soft, slightly sweet, and are perfect for Fall baking. 
You can use cupcake/muffin liners in the pan or just spray the pan well with cooking spray. Either way works just fine. I've done it both ways. I have to say that I actually prefer to not use the cupcake/muffin liners because I don't like the crinkly edges it makes on the muffin when you take off the wrapper to eat it. I prefer the look of the muffin baked in the pan without the liners. But to each their own 🙂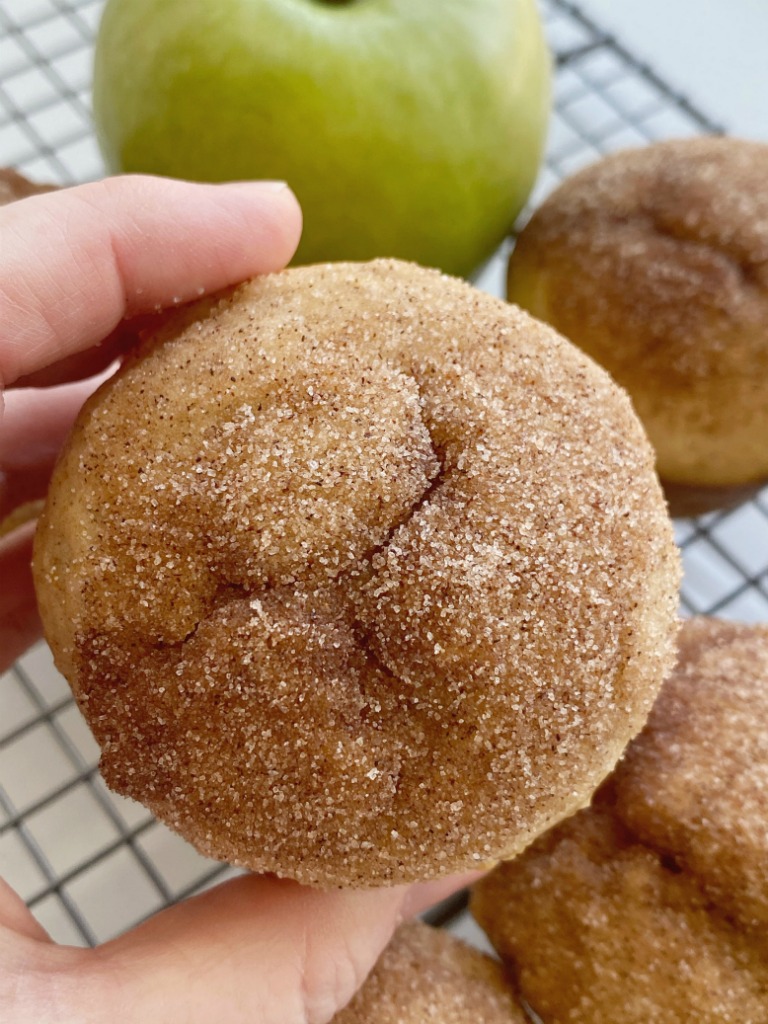 TRY THESE OTHER BREAD & MUFFINS RECIPES THAT USE APPLESAUCE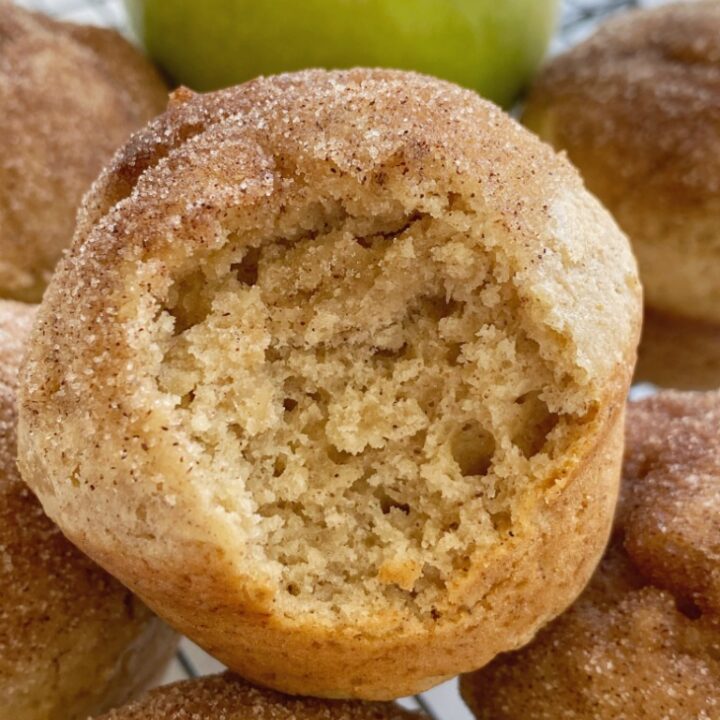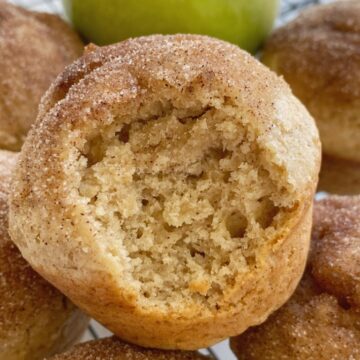 Cinnamon Applesauce Muffins
Cinnamon Applesauce Muffins are so fluffy & soft! Made with cinnamon applesauce, warm cinnamon, and topped with a buttery cinnamon & sugar topping. These muffins always disappear fast.
Ingredients
⅓ cup granulated sugar
⅓ cup light brown sugar
⅓ cup canola or vegetable oil
1 large egg
1 cup cinnamon applesauce
¼ cup sour cream
2 tablespoons milk I use whole milk
1 teaspoon vanilla extract
2 cups all-purpose flour
1½ teaspoons baking powder
1 teaspoon ground cinnamon
½ teaspoon salt
Cinnamon & Sugar Topping
4 tablespoons butter melted
⅓ cup granulated sugar
1 teaspoon ground cinnamon
Instructions
Heat oven to 350°. Line a 12-cup muffin pan with cupcake liners and lightly spray them with cooking spray OR you can just spray the pan well with cooking spray and not use liners. *I have done it both ways and it turns out fine either way.

In a large mixing bowl, stir together the granulated sugar, brown sugar, oil, and egg with a whisk. Mix until it's dark in color and thick.

Add the applesauce, sour cream, milk, and vanilla extract. Stir with the whisk until combined.

Add in the flour, baking powder, cinnamon, and salt. Stir with a wooden spoon or spatula just until combined and no flour streaks remain.

Scoop the batter into each muffin cup filling each one nearly full (about 3/4 full with slightly more being ok).

Bake for 17-20 minutes or until top are puffy and rounded.

Let the muffins cool in the pan for about 20 minutes or until you can handle them.
Cinnamon & Sugar Topping
Put the melted butter into one bowl. To another bowl, stir together the sugar and cinnamon. Grab a muffin and dip the top only into the melted butter and then immediately into the cinnamon & sugar. Roll the muffin around so that you can get the sides of the top of the muffin.

Place the dipped muffins on a cooling rack to finish cooling completely OR eat one warm! It's really good. Store leftovers at room temperature in an airtight container.
Nutrition
Calories: 191kcal | Carbohydrates: 27g | Protein: 2g | Fat: 9g | Saturated Fat: 6g | Cholesterol: 21mg | Sodium: 108mg | Potassium: 84mg | Fiber: 1g | Sugar: 14g | Vitamin A: 131IU | Vitamin C: 1mg | Calcium: 34mg | Iron: 1mg