BAKED HONEY LIME CHICKEN TACOS
Your taco Tuesday just got a little bit better with these oven baked honey lime chicken tacos. If you have never baked your tacos before then you're missing out. The shells get so crispy and toasty and the cheese just melts all over the chicken filling.
Load each taco up with the toppings of your choice and serve! The best thing about these is that everything is baked together all at once. Just set it on the table along with taco toppings and let everyone customize their own.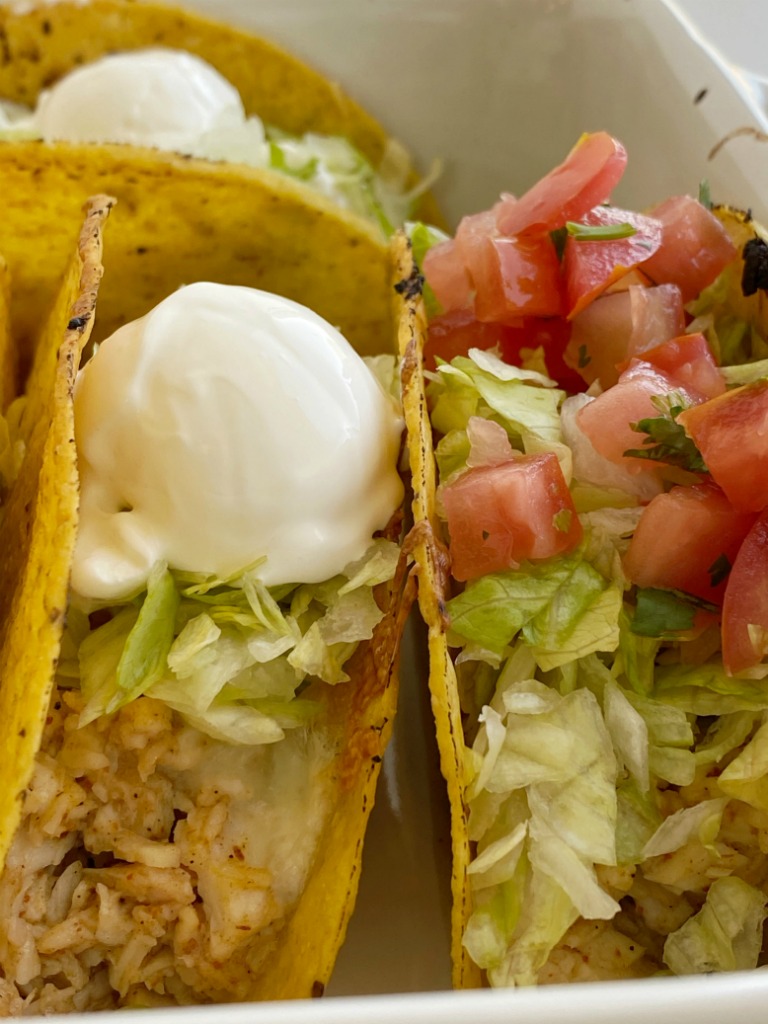 HOW TO MAKE CRISPY OVEN BAKED CHICKEN TACOS
Shredded Chicken – This is a great recipe to use a rotisserie chicken in. One large rotisserie chicken from Costco or Sam's Club yields the 3 cups of chicken needed for these tacos. You can also use leftover chicken, bake chicken breast in the oven, or throw some chicken breast into the slow cooker with a can of chicken broth and let it cook on low heat for 6-7 hours. Shred with two forks and use it in this recipe. 
Shredded Monterey Jack Cheese – One small block (8 oz) of Monterey Jack cheese is what you will need. Shredding your own is so much better then buying the pre-shredded. It melts much better!
Fresh Lime Juice
Honey
Chili Powder, Garlic Powder, Cumin
12 Corn Taco Shells
Prepare any toppings you love! We like to do some shredded lettuce and pico de gallo. But you can use chopped cilantro, jalapeno, guacamole, salsa, chopped tomatoes, additional shredded cheese, etc. Basically anything you want 🙂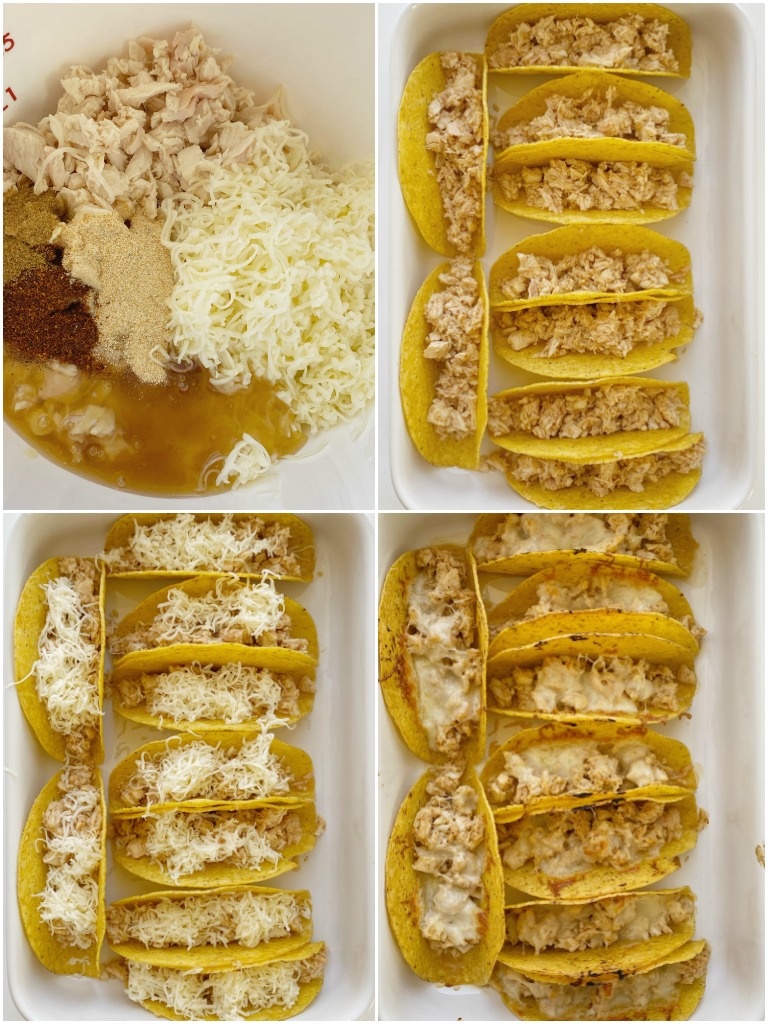 MY TIPS FOR THIS TACO RECIPE
To avoid the bottoms of the taco shells getting soggy during the bake time, take care not to overfill the taco shells. There is enough chicken for 12 tacos so divide it evenly amongst all the taco shells. Also, serve the tacos right away to avoid soggy taco shells. You want to eat them when they are hot & crunchy.
For additional spice use Pepper Jack cheese, add some additional chili powder, or you can even add some cayenne pepper as well. 
If the chicken is not seasoned (like a rotisserie chicken) then add some salt & pepper in with the other seasonings. There is a note about this in the recipe below.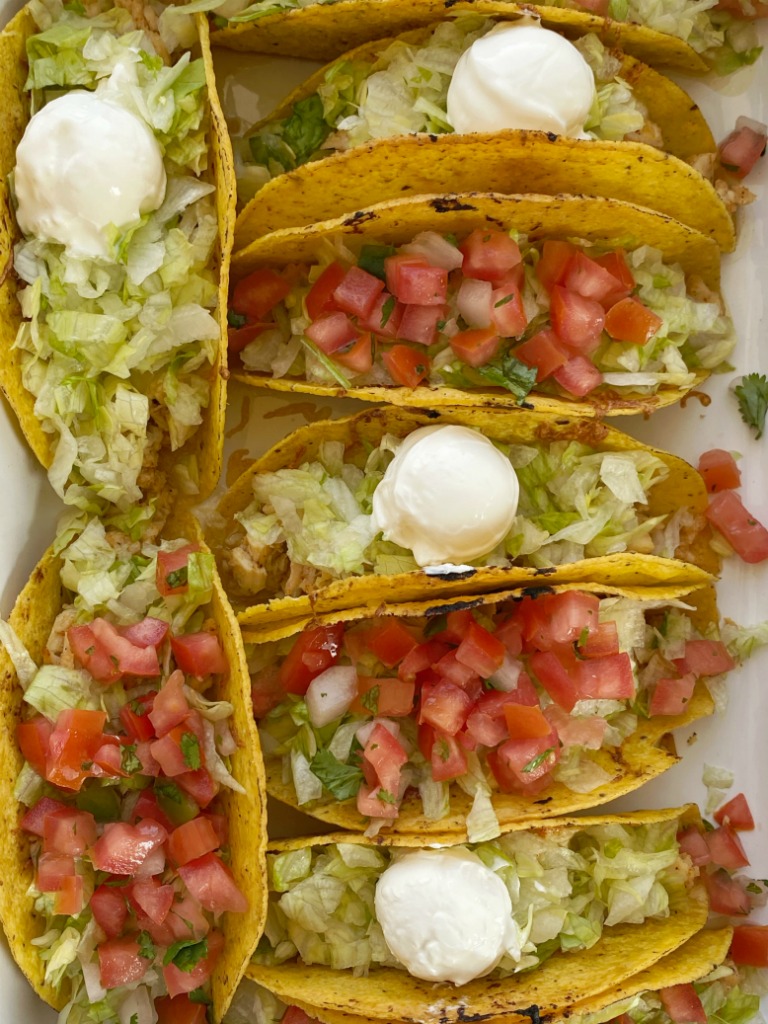 MORE TACO RECIPES YOU WILL LOVE
Baked Ground Chicken Tacos – Ground chicken + homemade taco seasoning bake in crispy corn taco shells. An easy, quick, healthier taco meal!
Slow Cooker Honey Lime Salsa Verde Ranch Chicken Tacos – Yes it's a mouthful of a title but these tacos are amazing! A creamy chicken mixture cooks in the slow cooker all day. It's bursting with flavor and one of my family's favorite ways to eat tacos. 
Black Bean, Rice, & Vegetable Tacos – If you like meatless meals once in awhile (me!) then give these tacos a try. Really yummy and filling.
Easy Fish Tacos – Yes these are easy because they use frozen fish sticks! Frozen fish sticks are actually the best kept secret to easy, quick fish tacos. A homemade slaw tops it off.
The Best Taco Meat – I make these all the time when we are craving just classic beef tacos. It never disappoints!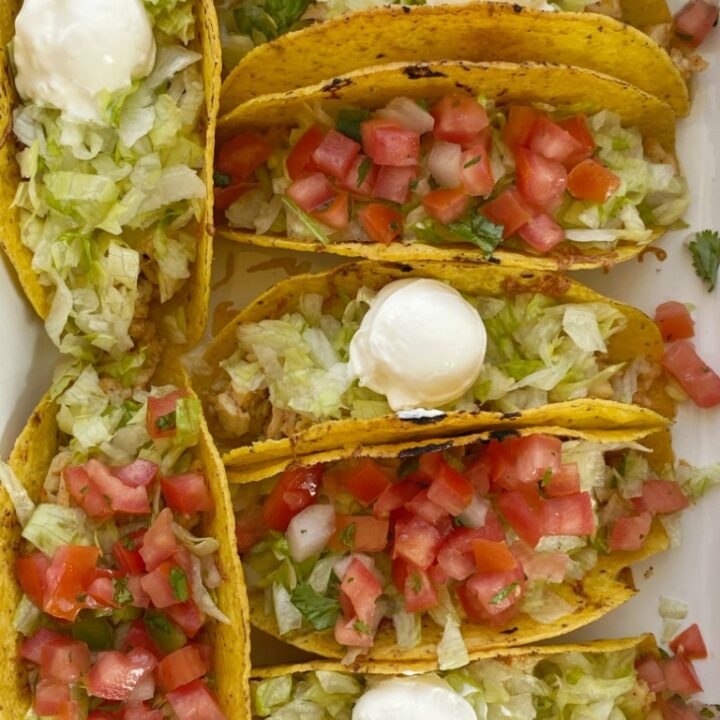 Baked Honey Lime Chicken Tacos
Baked Honey Lime Chicken Tacos are a quick 30 minute taco recipe that is perfect with rotisserie chicken or leftover chicken. Chicken tacos seasoned with honey, fresh lime juice, and spices cook in the oven for super crispy & crunchy tacos.
Ingredients
3 cups cooked chicken shredded or chunked
¼ cup fresh lime juice about 2-3 limes
¼ cup honey
1 teaspoon chili powder
1 teaspoon garlic powder
1 teaspoon cumin
2 cups shredded Monterey Jack cheese
12 corn taco shells
taco toppings of choice
Instructions
Heat oven to 400°.

Lay the taco shells in a 9x13 baking dish. Leaning them against each other until the taco shells are upright in the pan. * You will probably need an additional smaller baking dish as well if you can't fit 12 taco shells in the pan.

Combine the chicken, lime juice, honey, chili powder, garlic powder, cumin, and 1 cup of the cheese in a mixing bowl. Stir together until mixed well and combined.

Divide the honey lime chicken mixture evenly between the taco shells. Top with the remaining cheese.

Bake for 15 minutes.

Immediately top with taco toppings, or serve the toppings separately so everyone can ad their own, and serve!
Notes
Chicken : Whenever I go to Costco I buy a rotisserie chicken and use it in a recipe for dinner that night. This is the perfect recipe for that. Or use leftover chicken if you have it.  Serving Size : This recipe makes enough for 12 tacos. If you don't need that many save the leftover honey lime chicken for another dinner like honey lime chicken quesadillas or nachos. If the chicken you are using is not seasoned then add some salt & pepper in with the other spices. I would suggest about 1/2 teaspoon salt + 1/4 teaspoon pepper. I use a rotisserie chicken and never add the salt & pepper because it is already seasoned. 
Nutrition
Calories: 216kcal | Carbohydrates: 15g | Protein: 14g | Fat: 11g | Saturated Fat: 5g | Cholesterol: 46mg | Sodium: 176mg | Potassium: 145mg | Fiber: 1g | Sugar: 6g | Vitamin A: 252IU | Vitamin C: 2mg | Calcium: 153mg | Iron: 1mg