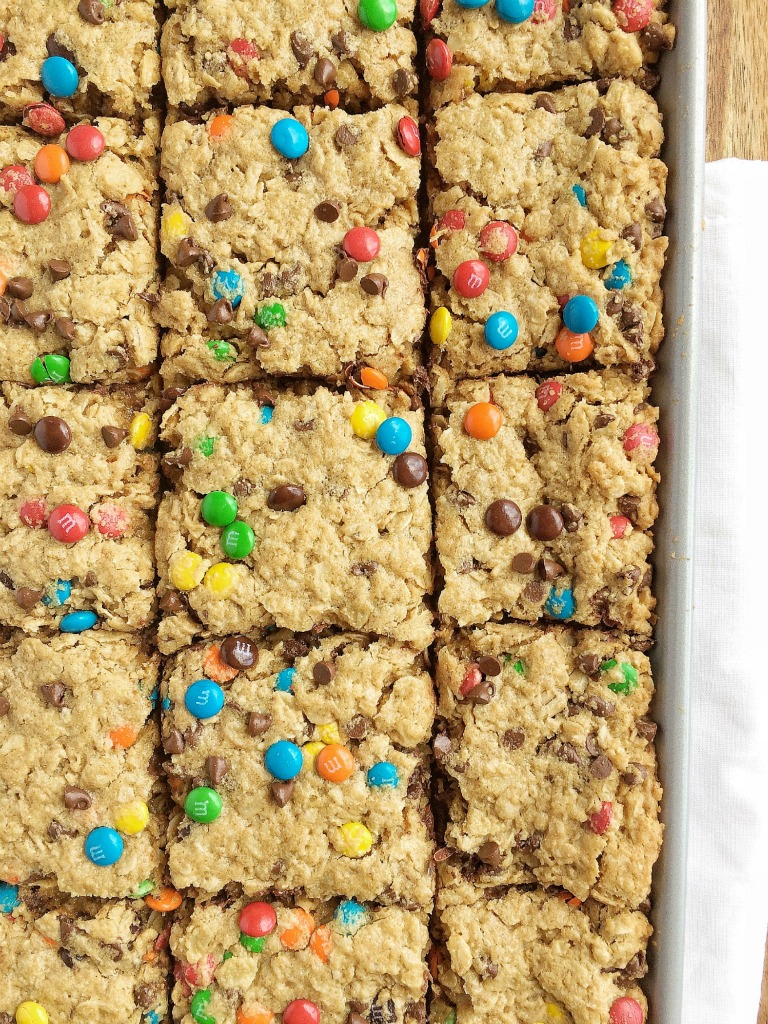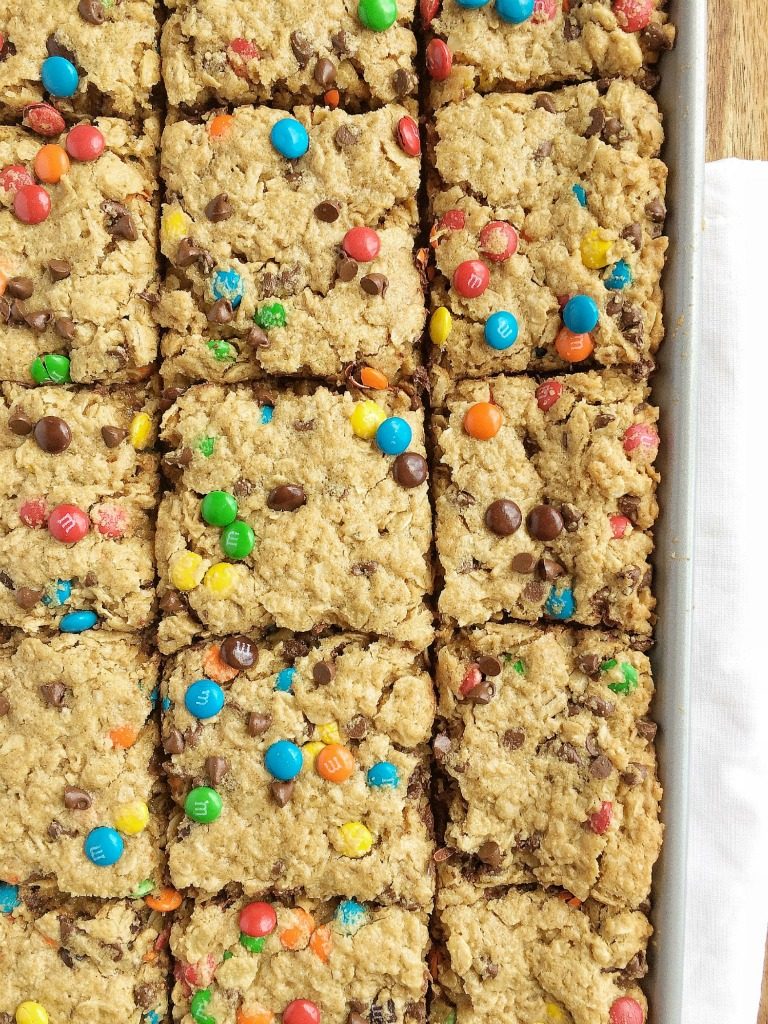 NO FLOUR MONSTER COOKIE BARS RECIPE
These no flour monster cookie bars are one of my most popular recipes! And they also happen to be the most requested treat in my house.
Monster cookie bars are loaded with peanut butter, oats, chocolate chips and m&m's. I love this recipe because you can also use whatever you have in your pantry. Peanut butter chips, white chocolate chips, chopped Reese's, or even dark chocolate chips. 
The recipe does not call for flour at all but if you truly want a gluten-free dessert then be sure to use the gluten-free oats. 
MY TIPS FOR THIS NO FLOUR DESSERT RECIPE
For best results use regular, full fat and oil peanut butter. The all natural peanut butter does not have enough "moisture" (oil and fat) for baked goods. Some people have reported good results with all natural peanut butter but I have never used it so I can't say for sure. 
I love the mixture of regular old-fashioned oats and quick oats. With that said, many have used all of one oat with great results. 
You don't have to use the miniature chocolate chips and m&m's in this recipe. They are smaller in shape which I think works better in baked goods (especially bar recipes) but you can use regular sized with good results too. 
Many people have commented about cutting the sugars in half with still amazing results. If that is something you want to do, I am sure it would be fine. We love it as is and have only ever made per the recipe. 
When these bars are done baking they will still look slightly soft (not wet/raw dough) but slightly underdone and that is exactly what you want! As they cool on the cookie sheet they will firm up and set. I have never baked them past the minimum time indicated in the recipe. Watch carefully.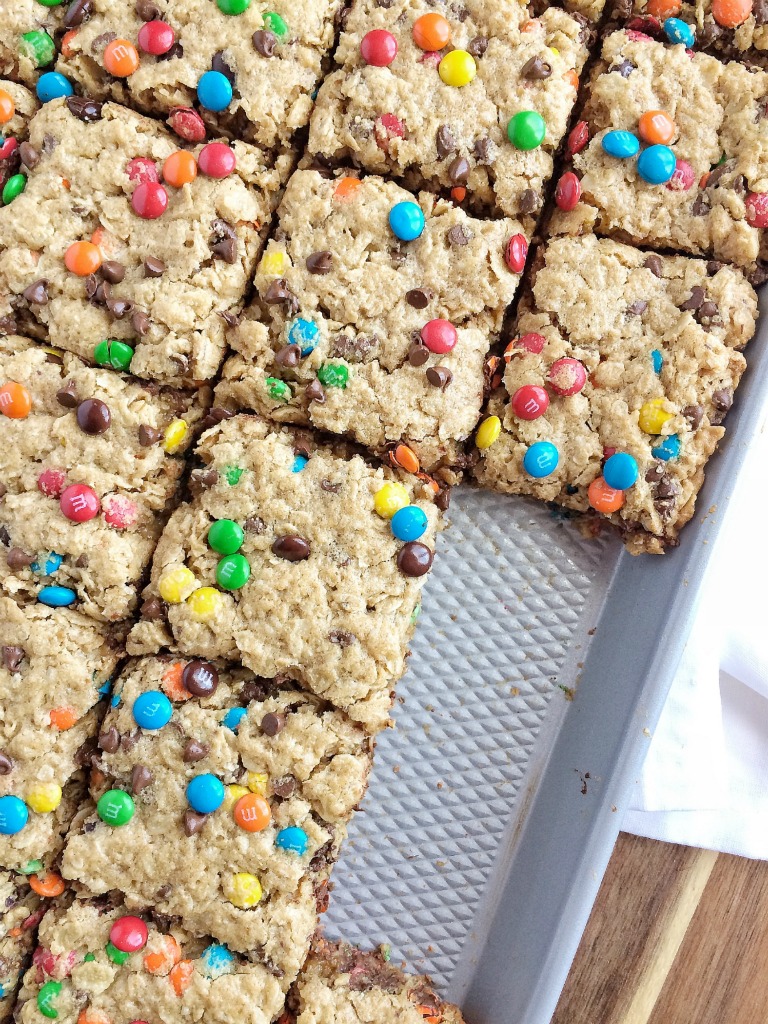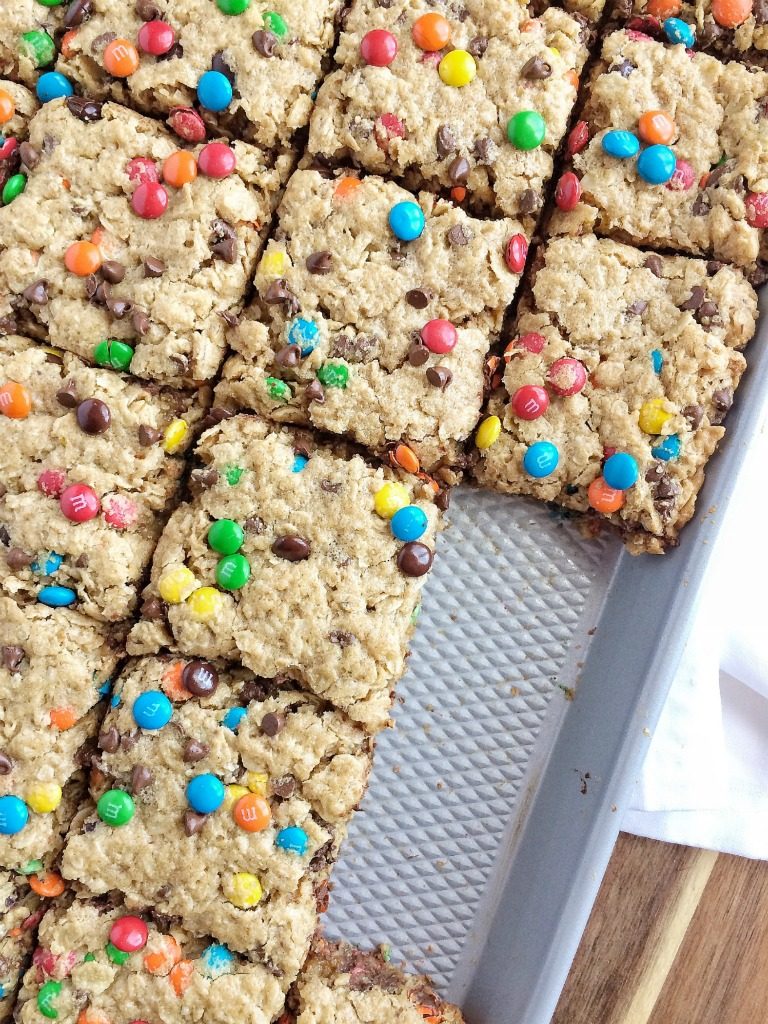 TRY THESE OTHER PEANUT BUTTER DESSERT RECIPES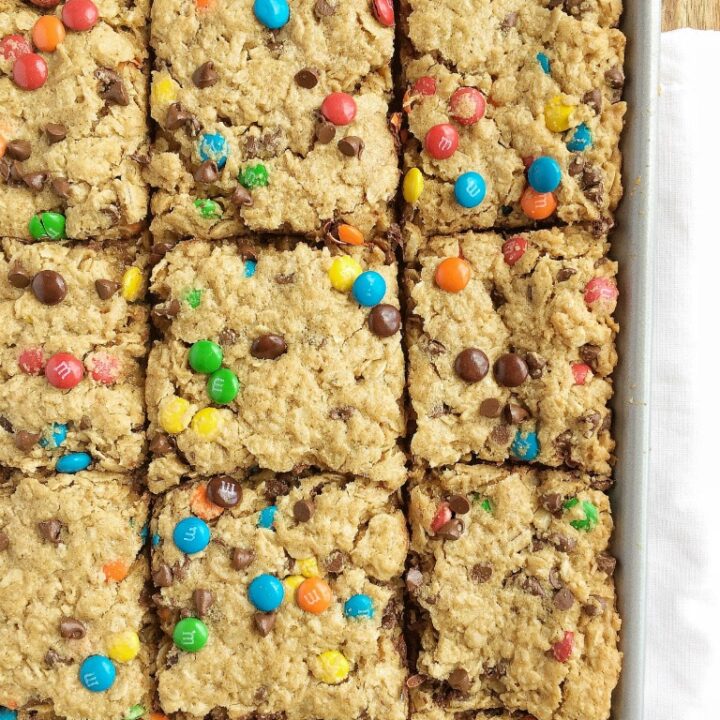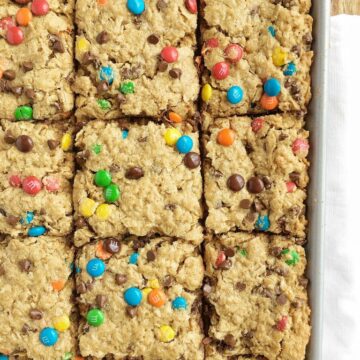 No Flour Monster Cookie Bars
No Flour Monster Cookie Bars are loaded with oats, peanut butter, chocolate chips, and m&m's! Plus, they have no flour in them and they bake in a cookie sheet so they're perfect for a crowd.
Ingredients
1/2 cup (1 stick) salted butter, softened
1 cup packed brown sugar
1 cup granulated sugar
1 1/2 cups creamy peanut butter (NOT all-natural)
3 large eggs
1 tablespoon vanilla extract
1 1/2 cups quick oats
3 cups old-fashioned oats
1 teaspoon baking soda
1 1/2 cups mini m&m's
1 cup miniature chocolate chips
Instructions
Heat oven to 350 degrees. Prepare a cookie sheet by lining with parchment paper, silpat liner, or spraying with cooking spray.

In a large bowl, or bowl of stand mixer with the paddle attachment, combine butter, brown sugar, granulated sugar, and peanut butter. Mix until fluffy and pale in color. About 1-2 minutes.

Add the eggs and vanilla extract. Mix together.

Add in the oats and baking soda. Mix until combined.

Add in the m&m's and chocolate chips (reserve some for top of bars if wanted). Stir together with a wooden spoon or spatula until combined.

Dump dough onto the cookie sheet and spread out. This will take several minutes, but it can be done. It helps if you dollop spoonful's of dough all over the cookie sheet (rather than one pile in the middle) and then spread it out. Sprinkle the reserved m&m's and chocolate chips on top (if wanted). Press down slightly into dough.

Bake for 17-20 minutes. The edges will be lightly browned and the middle will still look pale and underdone, but it will finish baking as it cools. Let cool for at least an hour so the bars can firm up and come together. You do not want to over-bake these!
Notes
Use a pizza cutter to cut these. Makes it so easy. To make spreading the dough in the cookie sheet easier; spray hands with cooking spray and press out, use a spatula to spread, or use the butter wrapper to spread it out in the cookie sheet. The bag (about 10 oz) of mini m&m's comes with about 1 1/2 cups of m&m's inside of it. I just use the whole bag. It's less than the 2 cups called for. So, use 1-2 cups of the m&m's. Whatever you prefer. These need to cool for an hour so they can set and come together. You can eat them warm and gooey, but to make cutting easy and so they'll hold up, let them cool completely. When they come out of the oven they will look gooey but I promise they will come together as they cool.
Nutrition
Calories: 219kcal | Carbohydrates: 27g | Protein: 5g | Fat: 11g | Saturated Fat: 4g | Cholesterol: 20mg | Sodium: 107mg | Potassium: 107mg | Fiber: 2g | Sugar: 19g | Vitamin A: 116IU | Vitamin C: 1mg | Calcium: 30mg | Iron: 1mg