Crock Pot Sloppy Joes are a family favorite dinner recipe that is kid-friendly and loved by all! Ground turkey, onion, green pepper, and celery simmer in a sweetened tomato soup base in the crock pot for the best flavor, and most tender sloppy joe meat. Serve in hamburger buns for an easy dinner.
For more variations on classic sloppy joes be sure and try my BBQ Turkey Sloppy Joes and these Philly Cheesesteak Sloppy Joes. 
Crock Pot Sloppy Joes Recipe
These crock pot sloppy joes are just pure magic! As if sloppy joes weren't good enough on their own, let it cook in the slow cooker for hours, and you'll be amazed at the difference.
This sloppy joe recipe uses ground turkey, green pepper, celery, and onion to create a ground turkey base and then it simmers in a sweeter tomato based sauce in the crock pot for hours which makes the meat so tender and full of flavor. 
Ingredients Needed
Here are the ingredients you will need to make ground turkey sloppy joes in the crock pot.
Ground Turkey – I love using ground turkey for this recipe to avoid the excess grease in the slow cooker. Plus, it's a bit healthier too!
Onion – You will need one yellow onion to make these sloppy joes. 
Green Pepper
Celery
Salt + Pepper
Condensed Tomato Soup – Do not prepare according to directions on the can, simply dump in the soup.
Ketchup
Yellow Mustard
Brown Sugar
Hamburger Buns – For serving! You can't have sloppy joes without these ?
How to Make Sloppy Joes in the Crock Pot
With only a few minutes of prep and pre-cooking required, this recipe for ground turkey sloppy joes comes together quickly and then you let the slow cooker do all the work!
Step One : Brown and crumble the ground turkey with the onion, green pepper, celery, salt & pepper. Once meat is no longer pink and crumbled well, drain the excess grease and moisture. Pour the ground turkey mixture into the slow cooker. 
Step Two : Add the remaining ingredients and give it a good stir.  Cook on LOW heat for 4-5 hours. 
Step Three : Toast hamburger buns under a medium broil in the oven. Use a slotted spoon to load each bun up with some of the sloppy joe mixture.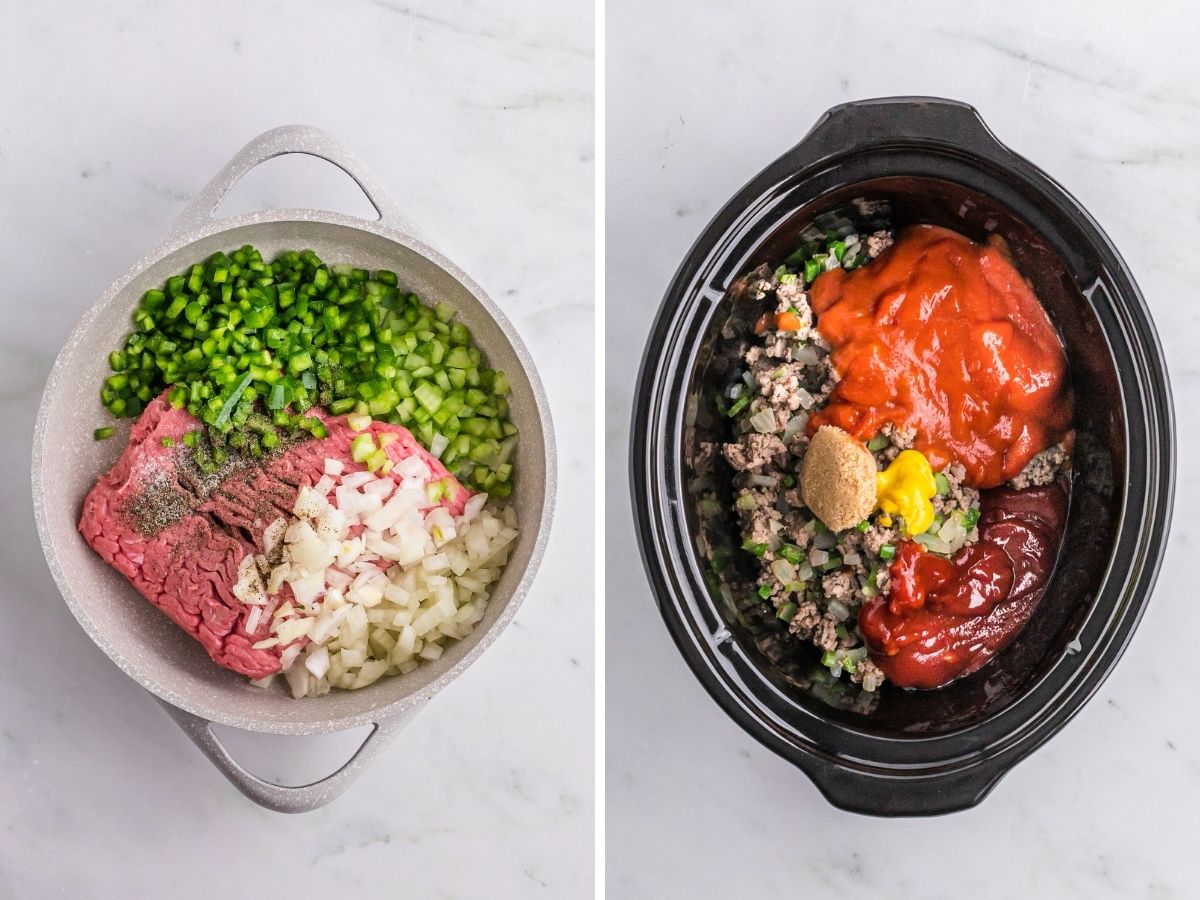 Tips For Success
Here are some easy tips that will hopefully make this recipe a hit at your own dinner table.
Toast The Buns : The key to a really good sloppy joe is toasted buns! Butter each side of the bun and place them on a cookie sheet. Broil under medium heat until browned. This only takes a few minutes and makes a big difference in the taste and it prevents the bun from getting soggy quickly. 
Double The Recipe : This recipe can very easily be doubled for a crowd! Just double every single ingredient. 
Warm Setting : If you are serving dinner at different times, be sure and leave it on the 'warm' setting of the crock pot. It does really well on the warm setting for however long you need it.
 Potato Chips : Have you ever heard of putting potato chips on your sloppy joe? If not, you really need to try it! It adds a salty crunch that is so good. It's best to use Baked Original Lay's. That's what my family prefers. They are super crispy and they're baked so they are also not as greasy as regular potato chips.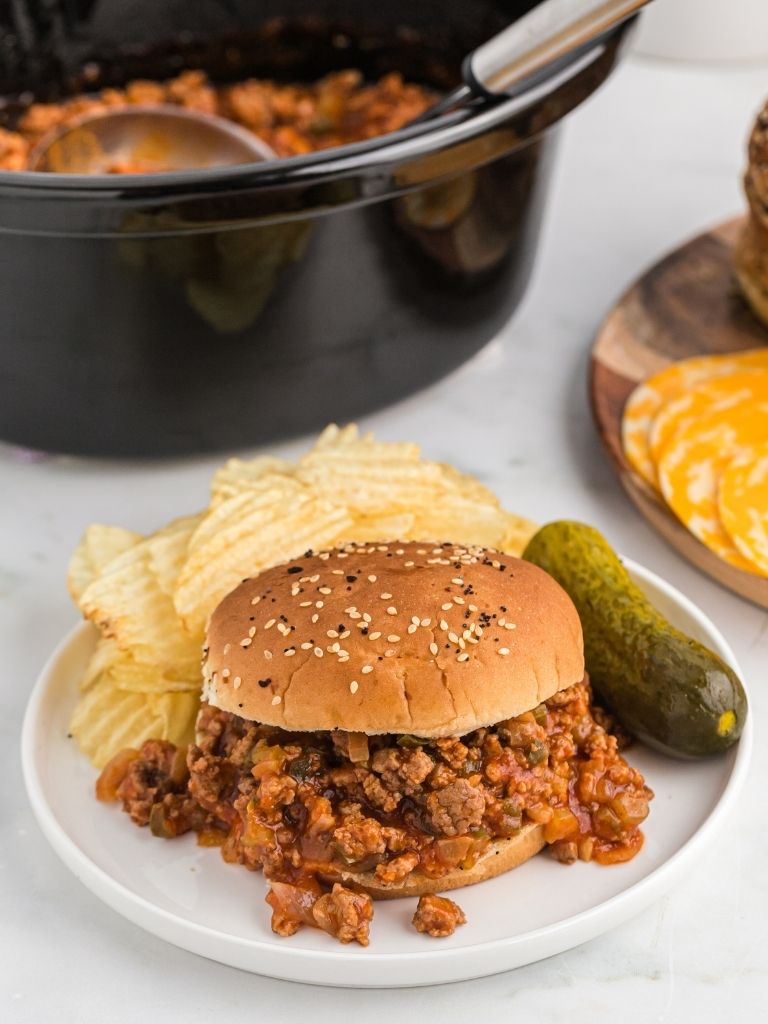 Variation & Substitution Ideas
There are a few ways to change up this recipe if wanted. 
Ground Beef : If you prefer ground beef over ground turkey, then feel free to switch out the ground meat. Ground beef does have more fat in it, so it may leave a little extra grease/oil while cooking in the crock pot. It will of course taste delicious still. 
Brown Sugar : I highly recommend using the brown sugar but if for any reason you don't want to, feel free to leave it out completely or use less of it. 
Mustard : For a little kick try using dijon mustard or a spicy mustard. 
Can I Freeze Sloppy Joe Meat?
Yes you can freeze any extra sloppy joe meat. Let the meat cool to a lukewarm room temperature and then place it inside a freezer-safe container or a freezer Ziploc bag. I prefer to freeze inside a Ziplock bag because then I can lay it flat in the freezer. 
If reheating frozen leftovers, simply let it thaw in the fridge overnight and then reheat it on the stove top or microwave. You can also place the frozen sloppy Joe meat in the Crock Pot with just a little bit of water and let it cook on low heat for about 2-3 hours, just until it's warmed through out. 
How To Store Leftovers
Leftover sloppy joe meat keeps well in the refrigerator, in an air-tight container, for about 3 days. 
Simply reheat a portion of meat in the microwave and serve on a hamburger bun. 
More Easy Crock Pot Dinner Recipes You'll Love
Crock Pot Turkey Sloppy Joes
Crock Pot Turkey Sloppy Joes are the best way to cook sloppy joes! Ground turkey cooks in a sweet tomato soup base with tons of flavor.
Ingredients
1 lb ground turkey
1 yellow onion finely diced
1 green pepper finely diced
1/3 cup thinly sliced celery
1/2 teaspoon salt
1/4 teaspoon pepper
1 can (10 3/4 oz) condensed tomato soup
1/2 cup ketchup
1 tablespoon brown sugar
1 tablespoon yellow mustard
6 hamburger buns
Instructions
In a skillet pan, over medium high heat, cook ground turkey, onion, green pepper, celery, salt & pepper until meat is no longer pink. Break up into crumbles as you cook it. Drain. Add into the crock pot insert.

Add the tomato soup, ketchup, brown sugar, and mustard in with meat and stir together until combined. It may seem like there is not enough liquid but trust me, it's good. Don't add any additional liquid.

Cook on low heat for 4 hours. After the cook time is over it can be on the 'warm' setting for a few hours if needed.

Scoop out sloppy joe mixture with a slotted spoon. Serve on hamburger buns.

If wanted, spread the hamburger buns with butter OR cooking spray and place under a high broil in the oven for about 1 minute. Can also add a slice of cheese if wanted.
Notes
Calorie count is for 1 sloppy joe. Includes meat and hamburger bun. Recipe can easily be doubled if needed.    If wanted you can toast the hamburger buns for and even better sloppy joe. Separate buns and spread each with some butter OR spray them with a little bit of cooking spray. Place in the oven under a high broil and let them cook for 1-2 minutes. They will burn quickly so watch very carefully.   You can also add a slice of cheese to these sloppy joes.    The sloppy joe mixture will keep on the 'warm' setting of the slow cooker for several hours, if needed. After the 4 hour cook time.
Nutrition
Calories: 248kcal | Carbohydrates: 32g | Protein: 23g | Fat: 3g | Saturated Fat: 1g | Cholesterol: 42mg | Sodium: 664mg | Potassium: 417mg | Fiber: 2g | Sugar: 10g | Vitamin A: 220IU | Vitamin C: 19mg | Calcium: 88mg | Iron: 2mg
This recipe has been updated with new pictures and more helpful text in March 2022. Recipe is the same. Older pictures below.