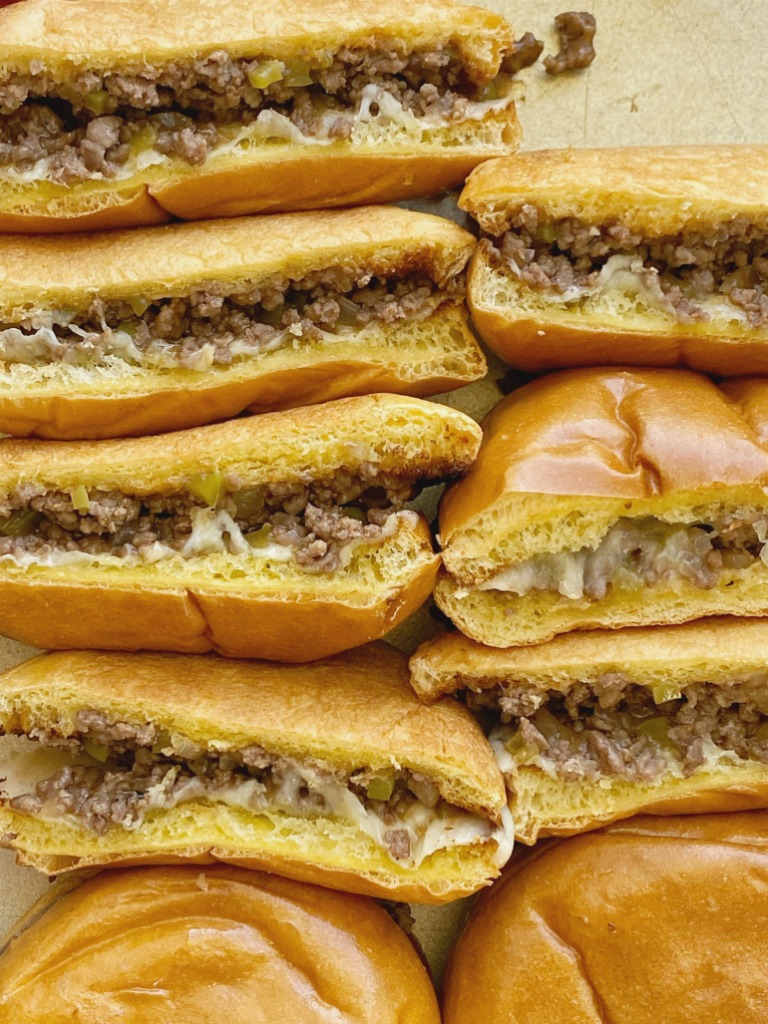 PHILLY CHEESESTEAK SLOPPY JOES WITH GROUND BEEF
Philly cheesesteak sloppy joes are a fun variation to classic sloppy joes! Seasoned ground beef cooks with onion and green pepper, seasoned with A-1 steak sauce, steak seasoning, and cornstarch to help thicken. 
We love these served over toasted buns with a slice of provolone cheese. Or maybe two slices for extra cheesy sloppy joes!
If you love sloppy joes like we do then be sure and try out these crock pot turkey sloppy joes and these bbq turkey sloppy joes.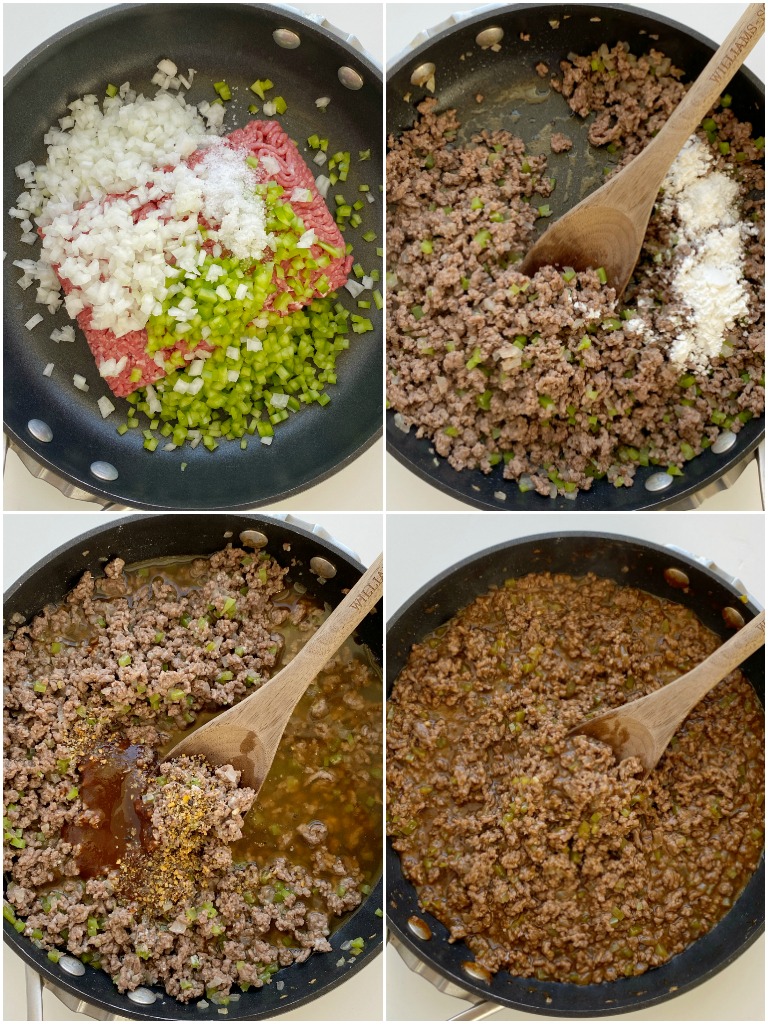 HOW TO MAKE THESE SLOPPY JOES
Lean Ground Beef – You will drain the extra grease anyways so you really could use any percentage fat ground beef you prefer. I always use the 93/7 ground beef. 
Onion – I use a yellow onion but you can use whatever you have at home. A white onion or sweet Vidalia onion would both work well.
Green Pepper
Salt – If you use the 50% reduced-sodium beef broth then you may want to increase the salt to 3/4 teaspoon. Or just add the 1/2 teaspoon and taste at the end to see if you need more salt. 
Cornstarch – Don't skip this! This is what helps thicken the meat so you don't end up with extra sloppy sloppy joes 🙂 
Beef Broth – This recipe has been tested with regular, full salt beef broth. If you use the reduced sodium (which is fine) taste the meat mixture at the end and see if it needs more salt. 
A-1 Steak Sauce
Montreal Steak Seasoning – You will find this by the other spices and seasonings at the store. It's very common. 
Sliced Provolone Cheese and Buns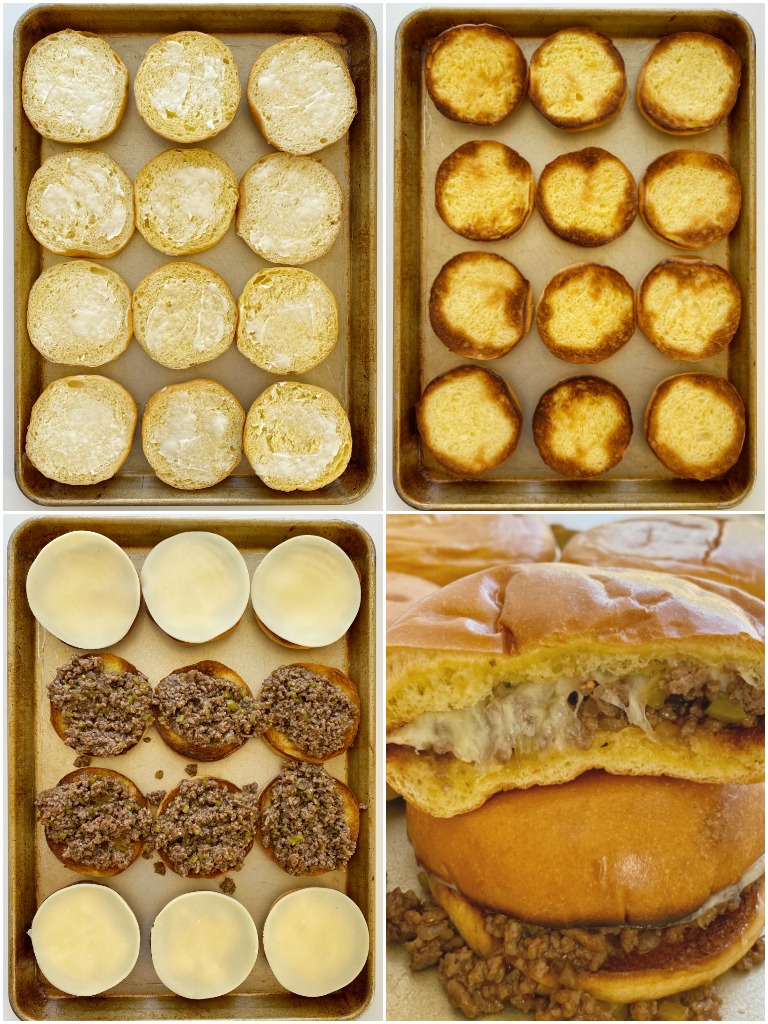 MY TIPS FOR THIS RECIPE
– For a creamy, cheesy cheesesteak add about 4 oz of cream cheese to the ground beef mixture (once it has simmered for 10 minutes). Stir it together until the cream cheese melts. 
– These sloppy joes are so much better with the toasted buns! They're so simple to make and you have time to toast the buns while the meat is simmering. 
– If you don't like provolone cheese then feel free to use whatever cheese you like. 
– I like to use the brioche buns that you can find near the bakery (at least that's where they are at Walmart). But any hamburger bun, slider bun, dinner roll will work for these.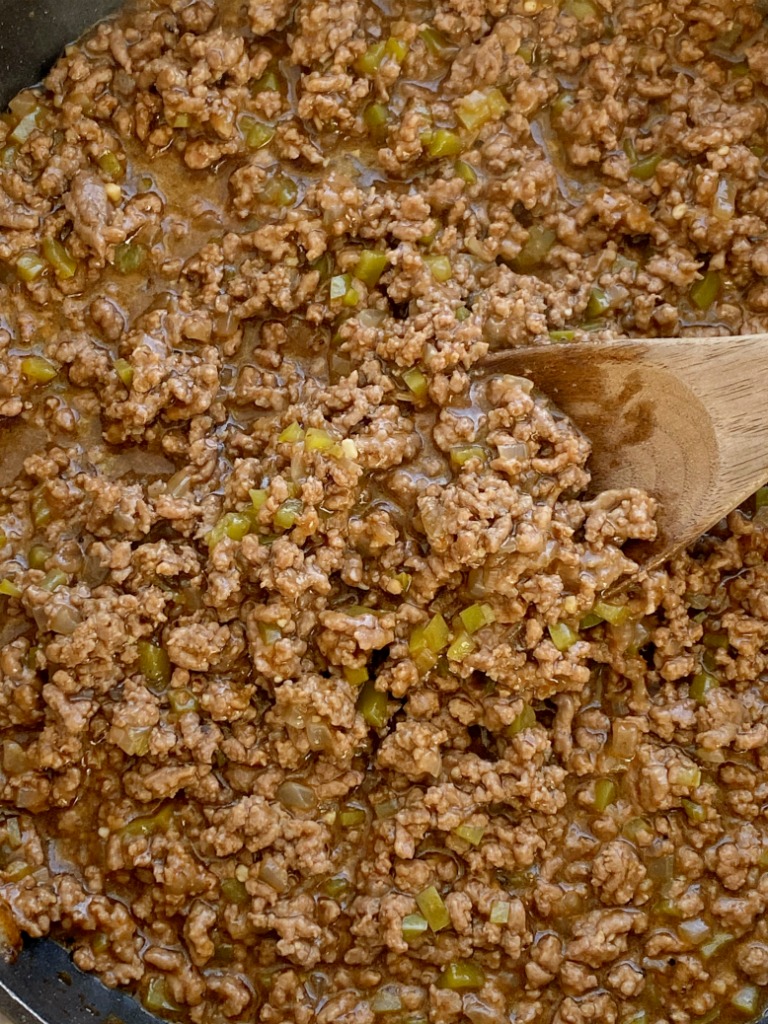 TRY THESE OTHER EASY, GROUND BEEF DINNER RECIPES
Philly Cheesesteak Sloppy Joes
Philly Cheesesteak Sloppy Joes are a 30 minute dinner recipe. Ground beef simmers in one pan with onion, green pepper, beef broth, A-1 sauce, and steak seasoning. Serve on toasted buns with sliced provolone cheese.
Ingredients
1 lb lean ground beef
1 yellow onion finely diced
1 green pepper chopped
½ teaspoon salt
1 tablespoon cornstarch
1 cup beef broth
1/4 cup A-1 Steak Sauce
1 teaspoon steak seasoning
sliced provolone cheese
hamburger buns, sliders, etc.
Instructions
In a skillet pan, over medium-high heat, cook and crumble the ground beef, onion, green pepper, and salt until beef is no longer pink. Drain.

Stir the cornstarch into the ground beef and mix together until the meat is coated in the cornstarch. Add the beef broth, A-1 sauce, and steak seasoning. Stir together and bring to a boil.

Once boiling, reduce heat to medium-low and let it simmer, while stirring occasionally, for 10 minutes. Mixture should thicken up and will thicken up more once it's off the heat.

While meat is simmering, set the oven to broil, and place the buns on a cookie sheet. Butter each bun. Broil for just a few minutes. Watch carefully as they can burn easily.

When the meat is done use a slotted spoon to scoop it out onto each bottom bun. Place a slice of provolone cheese on the top bun. Broil for a few more minutes until cheese is melted.

Place the top bun with the cheese on top of the bottom bun with the philly cheesesteak meat. Eat warm!
Notes
Nutrition information is for 1/6 of the meat, one slice of provolone cheese, and one hamburger bun. If you are using slider buns or feeding lots of little kids then this recipe easily serves 8 sloppy joes.  I highly recommend toasting the buns! If you don't have the time or just don't want to, simply serve the sloppy joe meat in a hamburger bun and eat it as is. Still yummy! I know I will get comments saying that these are not real, true, or authentic Philly Cheesesteaks. Yes, I know. They are meant to be a fast, family-friendly, budget-friendly version of the original. 
Nutrition
Calories: 320kcal | Carbohydrates: 28g | Protein: 26g | Fat: 11g | Saturated Fat: 5g | Cholesterol: 60mg | Sodium: 937mg | Potassium: 456mg | Fiber: 2g | Sugar: 5g | Vitamin A: 283IU | Vitamin C: 19mg | Calcium: 240mg | Iron: 4mg