Dill Pickle Pasta Salad will be an instant favorite! Tender spiral pasta, 2 cups of diced pickles, cheese, and onion covered in a ultra creamy homemade dill dressing with pickle juice.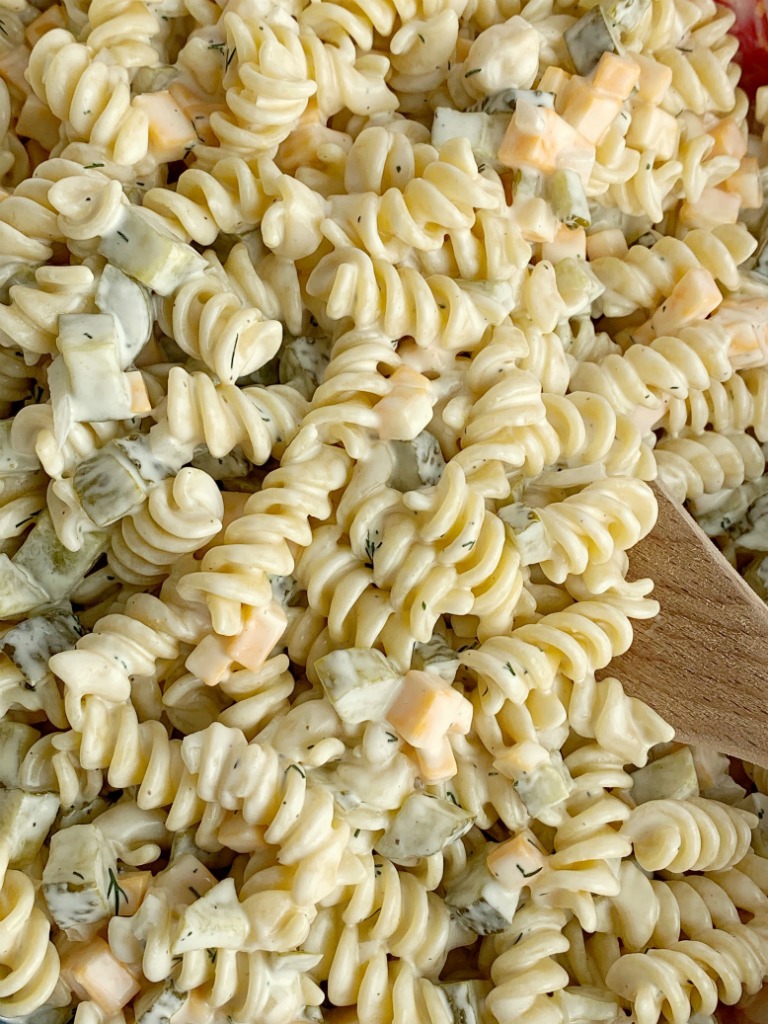 DILL PICKLE PASTA SALAD RECIPE
I have no words for this dill pickle pasta salad. If you're not a fan of pickles then you may just want to look away. But if 2 cups of chopped pickles + pickle juice is your thing, then I know you will love this pasta salad recipe that is loaded with dill pickle flavor. You will also love this dill pickle chicken salad too. I serve it in croissants!
We love pasta salad around here. Like this ranch pasta salad and this easy Italian pasta salad. So hearty, filling, and they make a great meal on their own or serve as a side dish for a BBQ or summertime dinner.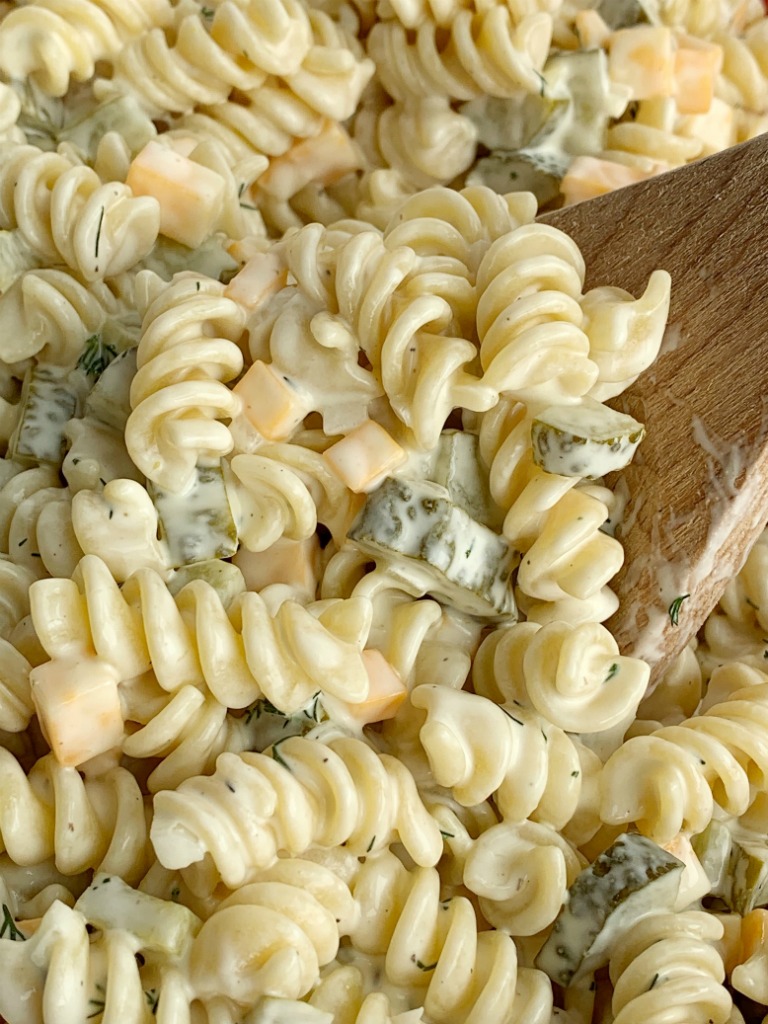 HOW TO MAKE DILL PICKLE PASTA SALAD
Rotini Pasta – This is the best pasta for any pasta salad, but especially this one because the spiral curves of the pasta soak up all that pickle goodness. 
Baby Dill Pickles – The baby dills are small so they're much easier to cut for this salad. Plus, I think the baby dill pickles are crunchier and taste better. 
Mayonnaise – Please, please use REAL mayonnaise. Not miracle whip. Not the lite stuff. The real stuff because it tastes so much better. I am not a fan of mayonnaise to begin with, but you need it in pasta salads, and if I am going to eat it then it needs to be the real stuff. 
Colby Jack Cheese – You really can use any cheese but I have found the Colby Jack to be the best. Make sure you dice the cheese really small. See my pictures below.
Dill Pickle Juice – No this is not an extra ingredient. Although I wonder if they sell bottles of straight up dill pickle juice? Anyways, you will just need to use some of the juice from the pickle jar for this recipe. 
White Onion – Yes it's very specific and yes you will want to use the white onion. A yellow onion will be too strong (onion flavor wise) and the white will blend in with the dressing and pasta. With that said, I would not skip the onion. It adds such a needed flavor profile to this salad. Make sure you finely dice it so no one ends up with big chunks of onion in their pasta salad. 
Sour Cream – I have used light sour cream with great results in this recipe. It adds a smoothness and creaminess to the salad.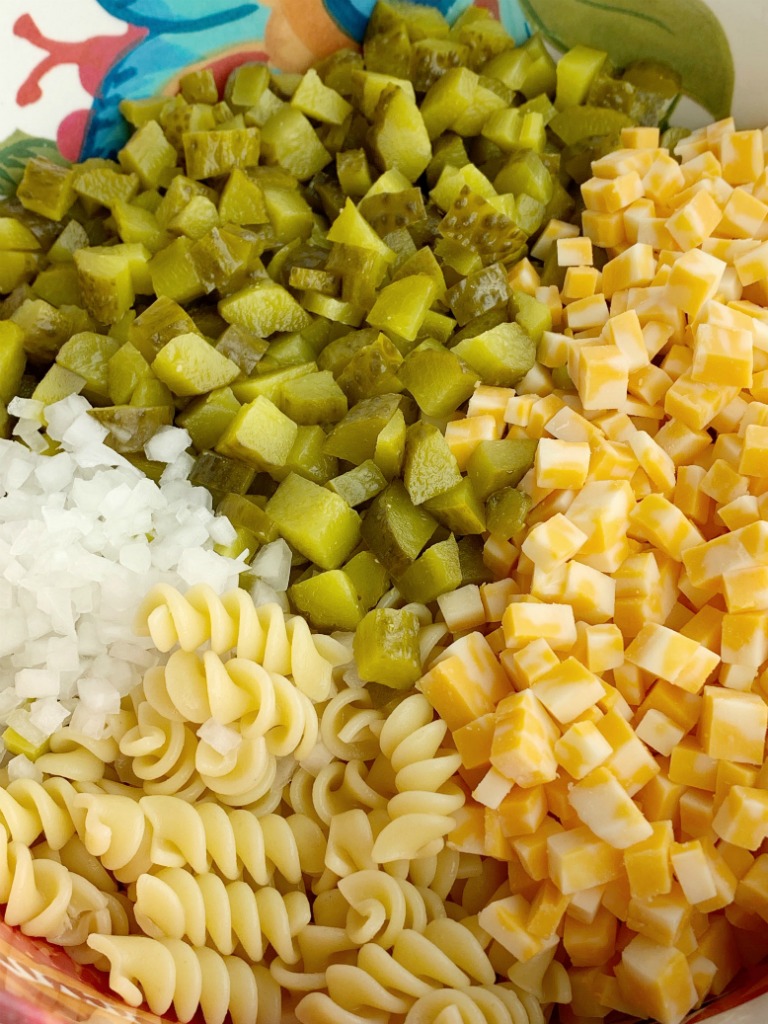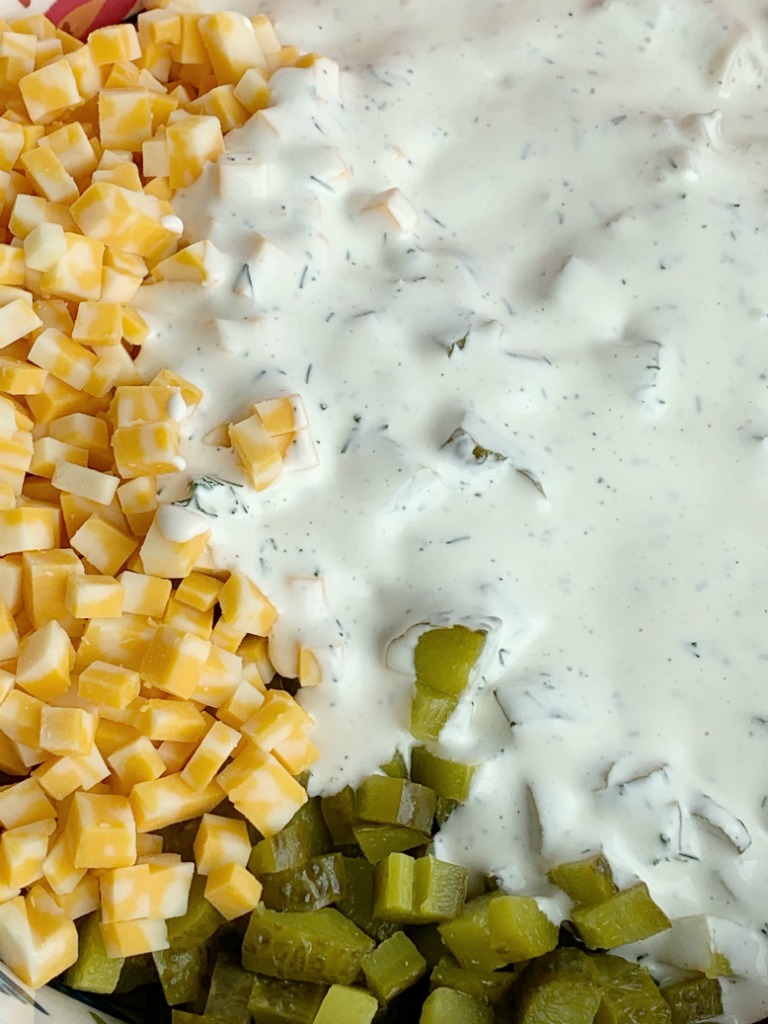 MY TIPS FOR THIS PASTA SALAD RECIPE
This salad can be served right away or refrigerated for 1-2 hours before serving if you prefer a cold pasta salad. I prefer it cold so I refrigerate it for a couple of hours. As with any pasta salad, the longer it sits in the fridge the dressing will thicken up. Which is why I prefer this salad only after a couple hours in the fridge, that way it is still creamy but also cold too. 
You can use any pasta but I highly recommend the rotini spiral pasta. 
Again, you can use any cheese you want but I've found that the mild and creamy flavor of the Colby-Jack is the best in this recipe. 
If you decide to experiment with using Greek yogurt instead of mayo or sour cream, just know that it will change the end result slightly (taste wise). I am sure it would work just fine if you decide you wanted to try.
Fresh dill is best in this recipe but dried dill can be substituted. You can find fresh dill in the refrigerated area of the produce section. Make sure to wash it and chop it finely before adding it into the dressing.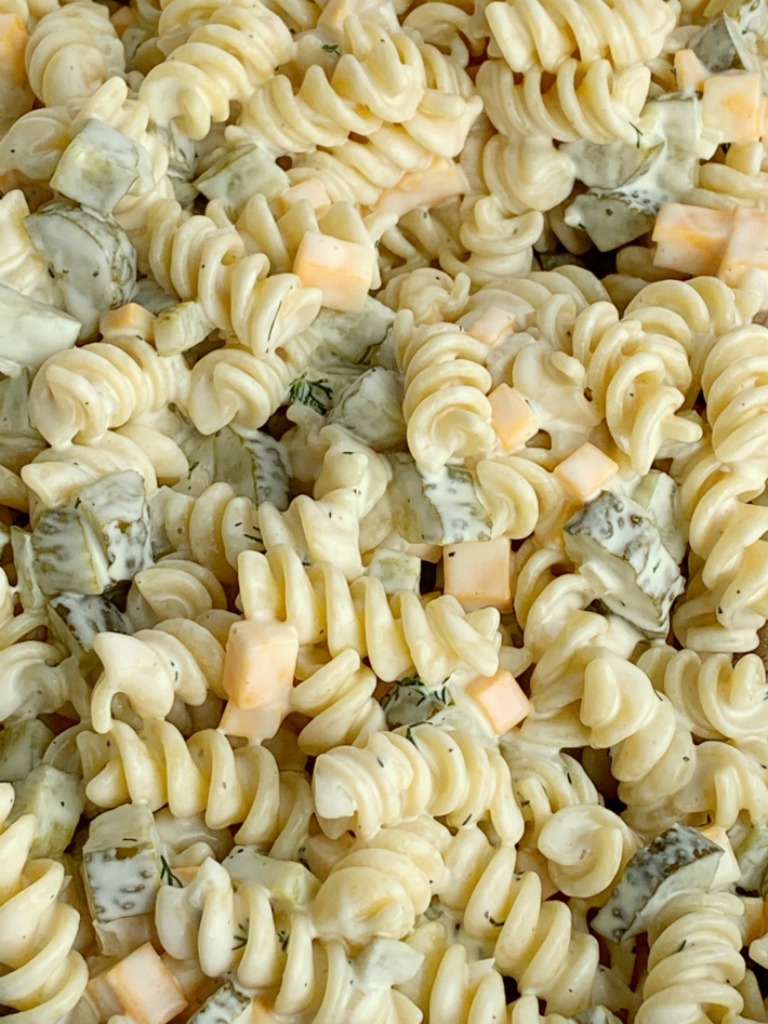 TRY THESE OTHER DILL PICKLE RECIPES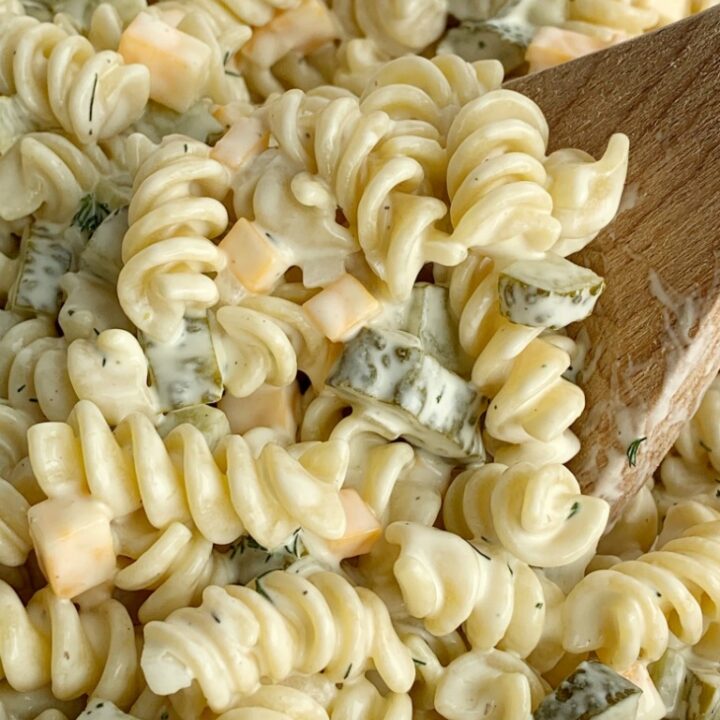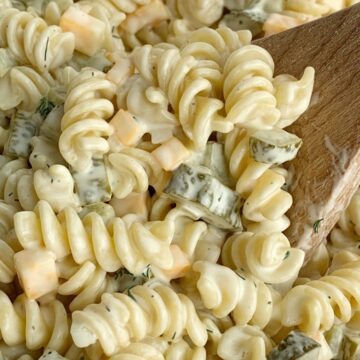 Dill Pickle Pasta Salad
Dill Pickle Pasta Salad will be an instant favorite! Tender spiral pasta, 2 cups of diced pickles, cheese, and onion covered in a ultra creamy homemade dill dressing with pickle juice. 
Ingredients
1 box (16 oz) rotini pasta
1/3 cup dill pickle juice from the pickle jar
2 cups chopped baby dill pickles
1 block (8 oz) Colby Jack cheese cubed small
1 small white onion finely chopped
Creamy Dill Dressing
1 cup mayonnaise
1/2 cup sour cream
1/3 cup dill pickle juice from the pickle jar
2 tablespoons chopped fresh dill (or 1 tablespoon dried dill)
1/4 teaspoon salt
1/4 teaspoon pepper
Instructions
Cook pasta according to package directions. Don't forget to add some salt to the boiling water before adding the pasta. I add about 1 teaspoon.

When pasta is done cooking drain pasta and rinse with cold water. Move rinsed cooked pasta to a mixing bowl and pour 1/3 cup of pickle juice over it. Stir to combine. Let it sit while you prepare the rest.

Chop the dill pickles and cheese into small cubes. Finely chop the white onion.

Drain the pasta again that was sitting in the pickle juice. Add it back to the mixing bowl. Add in the pickles, cheese, and white onion. Stir to combine.

In a small bowl combine all the dressing ingredients and pour over the pasta salad. Stir everything together to combine well. Salad can be eaten right away but I prefer it cold, and if you do too, then cover it and refrigerate it for 1-2 hours.

* I would recommend not making this too far ahead of time. For best results serve this salad within a few hours of making it. Either right away or after the refrigeration time. Leftovers do keep well in the fridge but the dressing thickens up and it's not as creamy as when you first make it.
Notes
Use any dill pickles you want. I prefer the baby dills cause they are already small in shape so it's easier to chop them small.    For best taste and texture use the real, full-fat mayonnaise. I prefer the Best Foods OR Hellman's brand.    If you want some heat then add a pinch (or two) of cayenne pepper to the dressing.    Any cheese or pasta can be used in this recipe but after testing it out, rotini and Colby Jack cheese tastes the best in this salad. 
Nutrition
Calories: 294kcal | Carbohydrates: 31g | Protein: 6g | Fat: 16g | Saturated Fat: 3g | Cholesterol: 13mg | Sodium: 583mg | Potassium: 131mg | Fiber: 2g | Sugar: 2g | Vitamin A: 121IU | Vitamin C: 1mg | Calcium: 31mg | Iron: 1mg