Dill Pickle Chicken Salad with chicken, dill pickles, and green onions smothered in a cream cheese dill pickle juice dressing. Serve on rolls, croissants, or inside lettuce for a low carb option.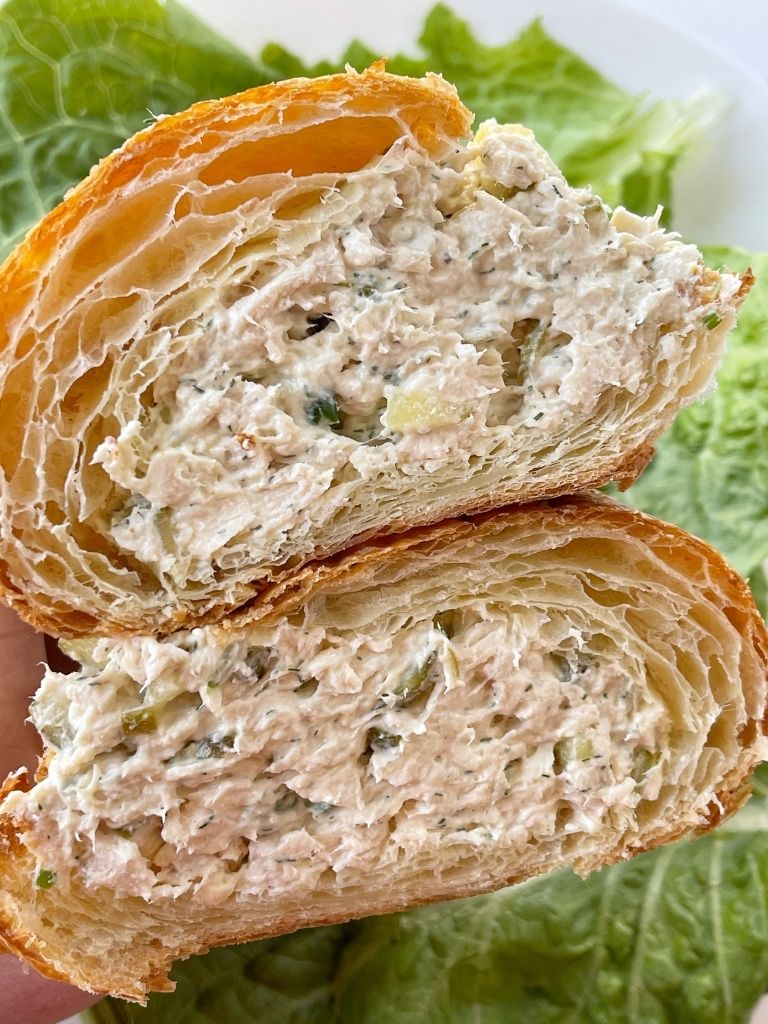 This dill pickle chicken salad is a delicious twist to traditional chicken salad. Loaded with chunks of dill pickle, dried dill seasoning, and pickle juice! 
My love and obsession for all things pickle is real. I can't get enough of them! I may or may not be known to eat a jar of the super crispy and cold Claussen pickles as a snack … so if you are not a fan of pickles then you may just want to skip this recipe. Or if you love chicken salad recipes then try my pineapple chicken salad .
But if you're like me and you want all the pickles than be sure and try my dill pickle pasta salad recipe as well. 
INGREDIENTS YOU NEED FOR DILL PICKLE CHICKEN SALAD
Shredded or Chopped Chicken – Cooked chicken breasts. I love to use a Rotisserie chicken for chicken salad recipes. But feel free to bake chicken and chop it up or put some chicken breasts into the slow cooker with a can of chicken broth and let it cook on LOW for 6-7 hours, you will end up with fall apart chicken that goes great in this dill pickle chicken salad. 
Dill Pickles – You will use some of the juice from inside the pickle jar in the dressing. I like to chop the pickles into really small chunks for this chicken salad recipe. 
Green Onions
Cream Cheese – This makes the chicken so creamy and it's my favorite ingredient for a really good (and not dry!) chicken salad. 
Mayonnaise
Dried Dill
Garlic Powder, Salt, & Pepper
MY TIPS & HINTS FOR MAKING THIS CHICKEN SALAD RECIPE
– I have had some readers say that the full bar of cream cheese makes the chicken salad too creamy and the taste of cream cheese is overwhelming. I have never found that to be the case with this dill pickle chicken salad, but if you think this may be you than feel free to use less cream cheese. Everyone is different. I love it as is and the recipe below is exactly how I've made it for years. 
– If you want to try to cut down on some of the calories than try using a bar of reduced-fat cream cheese and/or plain greek yogurt or plain yogurt for the mayonnaise. It will affect the taste slightly so just make sure that you are used to that tangy, plain tasting yogurt flavor. You could also use light mayo as well. 
– Don't confuse mayonnaise with Miracle Whip. I think they taste completely different. The recipe calls for mayonnaise but if you love Miracle Whip and the taste of it then feel free to use that. Miracle Whip has more of a zest and tangy flavor than mayo.
– When it comes to my beloved pickles I never follow the recipe! Throw in some extra chopped pickles, extra dill, and even extra pickle juice. This recipe is very adaptable so feel free to play around with the ingredients and measurements. Lots of readers have said that they have added thinly sliced celery for added crunch and texture. 
– Make sure that whatever chicken you use is cooked. Either shredded chicken or chopped chicken will work fine. I prefer to buy a large Rotisserie chicken from Costco when I make this. One of those provides enough chicken for this recipe. 
HOW TO SERVE DILL PICKLE CHICKEN SALAD
SANDWICHES

Our favorite way to eat these is inside a flaky, buttery croissant. I pick up a pack of croissants at Costco when I buy the rotisserie chicken for this recipe. You can also serve the chicken salad inside rolls or any other bread you like. It's really good inside these buttery one hour rolls or buy some rolls from the bakery at the store for convenience and ease. 

CHICKEN SALAD WRAPS

Make a chicken salad wrap with a flour tortilla. Any large tortilla will work like regular flour, whole wheat, low carb, or the green spinach ones. I like to add a layer of green lettuce and possibly some tomato slices when I make a wrap. 

SALAD

A healthier, and low-carb, way to serve this is as a salad. Place some green lettuce on a plate and top with some of the dill pickle chicken salad. It would be great topped with some chopped tomatoes too. 

LETTUCE WRAP

Another low-carb and healthier way to serve it is as a lettuce wrap. I actually prefer to use Iceberg lettuce because it has such great crunch but Bibb lettuce is another great choice for lettuce wraps. 
YOU'LL LOVE THESE CHICKEN SALAD RECIPES
Fruity Cashew Chicken Pasta Salad – A creamy pasta salad with grapes, pineapple, cashews, chicken, and spiral pasta in an easy & homemade dressing. 
Santa Fe Chicken Salad Wraps – A Santa Fe chicken salad with beans, corn, and southwestern spices inside a flour tortilla with lettuce, avocado, and tomato slices. 
Hot Chicken Salad French Bread Sandwiches – This is one of my family's favorite dinner recipes! Store bought French bread sliced in half and topped with an easy chicken salad. Bakes in the oven to get that crispy French bread exterior and the warm delicious middle of chicken salad. It's really good and can be on the dinner table in 30 minutes. 
Chicken Caesar Salad Wraps – This is an older recipe with not the best pictures but it's delicious! A homemade (easy) Caesar dressing drizzled over chicken, tomatoes, lettuce, croutons, and parmesan cheese inside a flour tortilla. 
Dill Pickle Chicken Salad
Dill Pickle Chicken Salad with chicken, dill pickles, and green onions smothered in a cream cheese dill pickle juice dressing. Serve on rolls, croissants, or inside lettuce for a low carb option.
Ingredients
chicken salad
4 cups shredded or chopped chicken cooked chicken
1 cup diced dill pickles
1/3 cup sliced green onions
creamy dressing
1 bar (8 oz) cream cheese softened
1/2 cup mayonnaise
1 tablespoon dill pickle juice from the pickle jar
¾ teaspoon dried dill
½ teaspoon garlic powder
¼ teaspoon salt
¼ teaspoon black pepper
Instructions
Combine the chicken, diced dill pickles, and green onion in a mixing bowl.

In a separate bowl combine the cream cheese, mayonnaise, dill pickle juice, dill, garlic powder, salt, and pepper. Pour over the chicken salad and stir together until well combined.

Let the chicken salad refrigerate for at least 2 hours before serving. This chicken salad is much better when it's cold but can also be served immediatley after making it if wanted. Serve with croissants, rolls, or lettuce leaves. 

Store leftovers in a covered container for about 3 days.
Notes
Serving Size : If you serve this chicken salad with smaller rolls, then you will be able to get closer to 15-20 sandwiches. Croissants are larger which results in fewer servings. The recipe makes about 6 cups of chicken salad so I figure about 1/2 cup of chicken salad per person which equals the 12 servings. You can get more servings if you use less chicken salad inside smaller rolls or something.  How to reduce the fat & calories : Feel free to use light cream cheese, light mayo, and/or sub plain greek yogurt to yogurt for the mayo. The yogurt will change the taste slightly.  Salt & Pepper : I always use a seasoned Rotisserie chicken (just one from Costco) so I feel the salt and pepper amount is fine. But depending on what chicken you use, and how flavorful it is, you may want to add additional salt, pepper, and possibly some other spices. Tip for the cream cheese : The cream cheese needs to be soft so it mixes in smooth. I put the cream cheese on a microwave safe plate and let it microwave for about 25 seconds. You don't want the cream cheese super hot and slightly melted. Just softened.  How to serve : Serve inside croissant rolls, rolls, wraps with flour tortillas, or inside a piece of lettuce for a lettuce wrap.  This recipe was originally published in 2018. It has been updated in January 2021 with better pictures & more helpful tips and direction. Recipe is the same. 
Nutrition
Calories: 170kcal | Carbohydrates: 2g | Protein: 5g | Fat: 16g | Saturated Fat: 6g | Trans Fat: 1g | Cholesterol: 38mg | Sodium: 353mg | Potassium: 85mg | Fiber: 1g | Sugar: 1g | Vitamin A: 339IU | Vitamin C: 1mg | Calcium: 30mg | Iron: 1mg