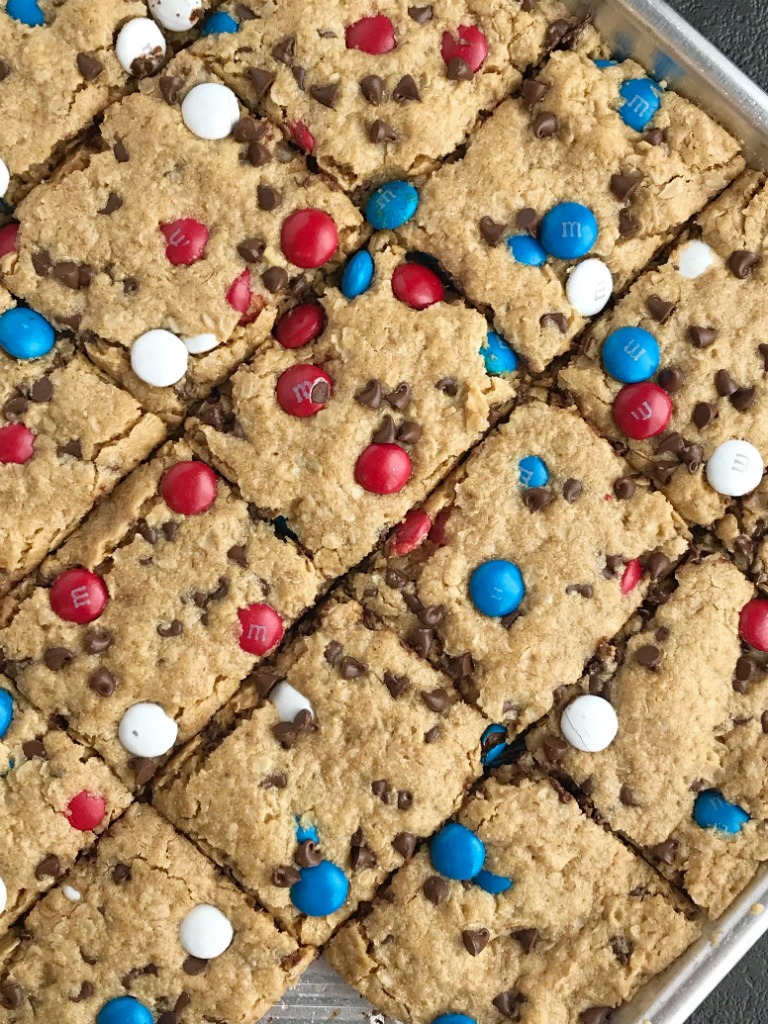 RED WHITE AND BLUE RECIPE
4th of July and Memorial Day is my favorite food holiday! I love the bright colors of red, white, and blue and all the ways you can make the food festive. And I am all about the themed food for Holidays.
I've been thinking about red, white, & blue desserts constantly lately…. Yes, I realize that I probably need a more exciting life if that is what I think about 🙂 But with the summer coming and Memorial Day I knew I had to make some fun treats.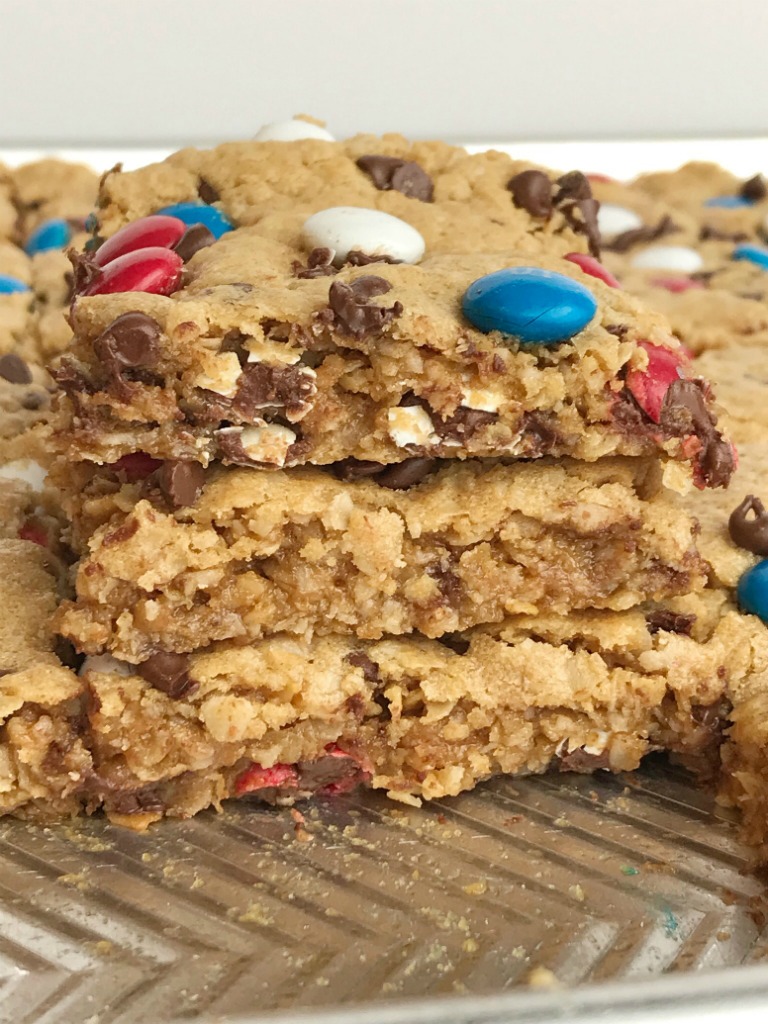 Last year I shared this red, white, & blue Patriotic Jello Pie! It's no bake and will probably be the most festive food for your celebration.
Or these American Flag Sugar Cookie Bars are another favorite. A sheet pan of sugar cookie bars decorated with m&m's to look like the American flag.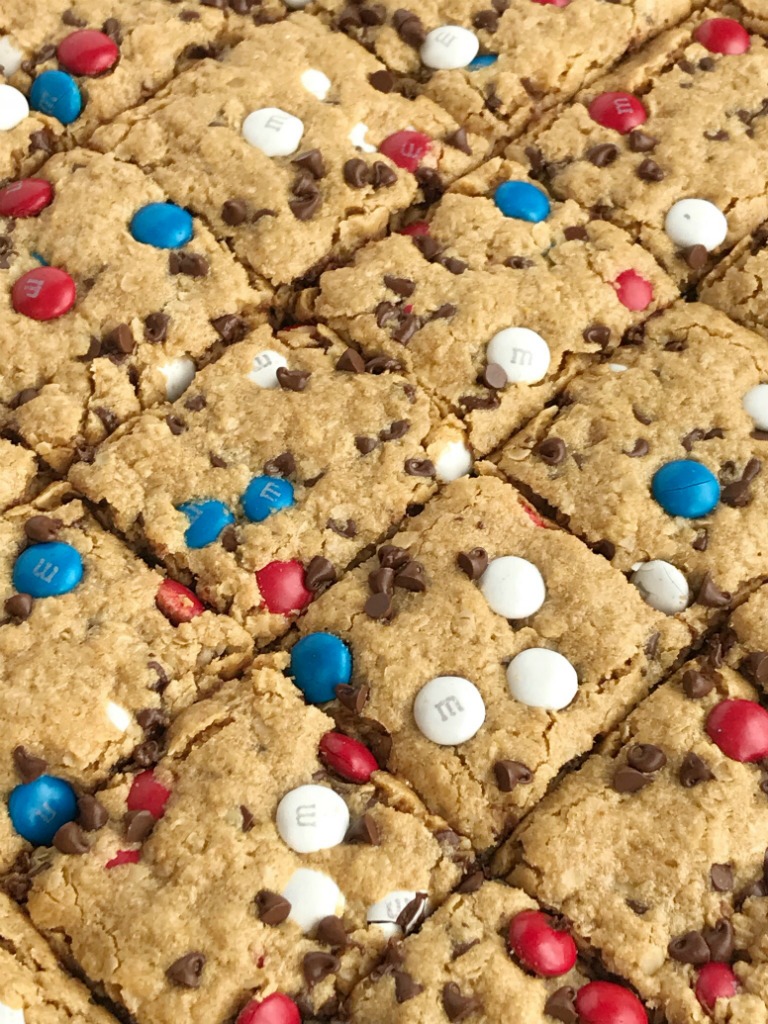 Peanut Butter – Use creamy peanut butter and I do not recommend using the all natural peanut butter. It tends to dry out baked goods, because you need the fat and the oil for these cookie bars. So for best results, stick with the good old-fashioned creamy peanut butter. 
Quick Oats – These are the 1 minute quick cook oats. I have had people tell me that they have used regular, old-fashioned oats instead and it's worked out fine. I prefer the finer texture of the quick oats in cookie bars, but feel free to experiment if wanted. For a true gluten-free dessert be sure and use the quick oats labeled as 'gluten free'. 
Red White and Blue M&M's – Get yourself a bag of the festive patriotic m&m's for these delicious bars. I am also thinking that the peanut butter or peanut version would be delicious in this recipe.
Sugar & Brown Sugar – I always use light brown sugar but if you want a stronger flavor then use dark brown sugar. Lots of people have reduced the sugars in this recipe with great results. I make it as is, but if you want to reduce the sugar then go ahead.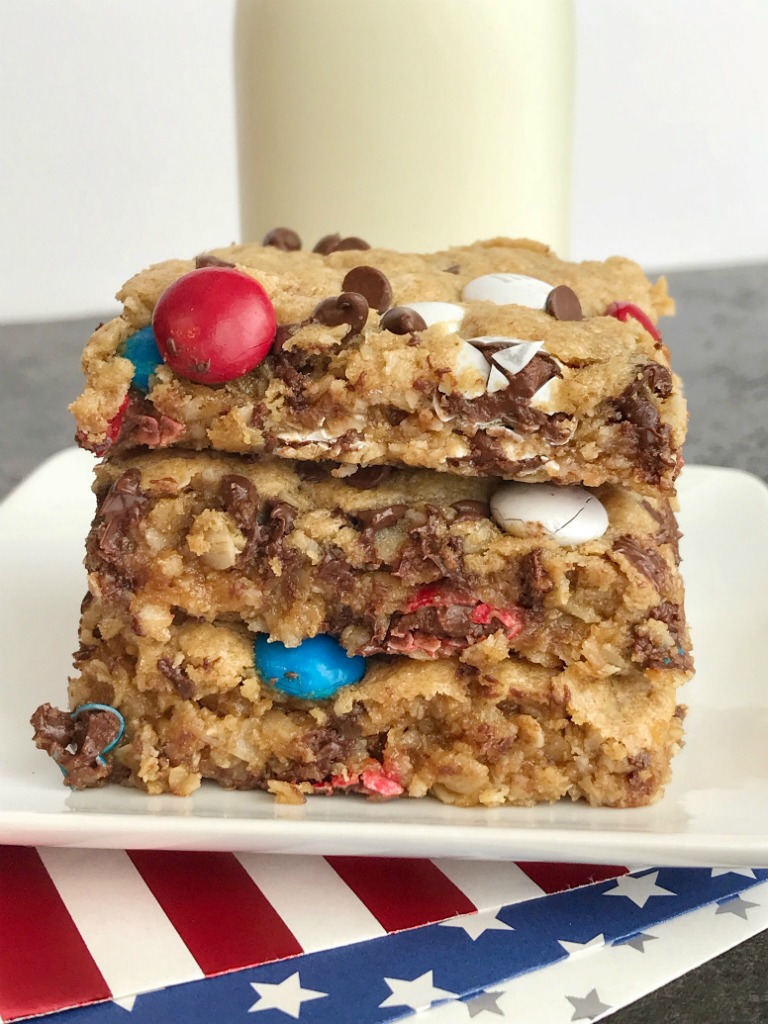 MY TIPS FOR THIS RECIPE
Be sure to allow time for the bars to cool in the pan at least 30 minutes before cutting. They need that time to finish cooking and come together, and so they will be easier (and less messy) to cut into squares. 
Use a pizza cutter to cut these cookie bars. So much easier!
These bars will not look like they're totally done when the cook time is over. But trust me, they are and as they cool they will come together and finish cooking. Don't overbake these!
The dough is really thick so to make it spreading it into the cookie sheet easier, drop spoonful's of it all over the cookie sheet and then spread it out. 
For a pretty presentation, reserve some of the chocolate chips and m&m's (or add extra) to place on top of the bars before baking.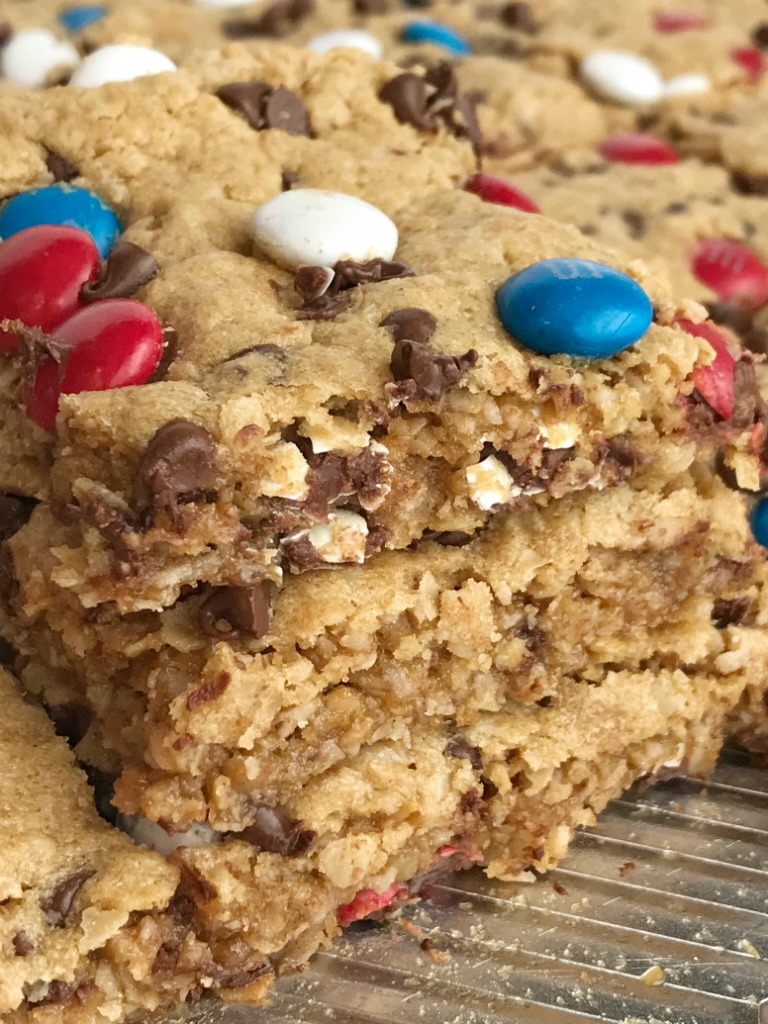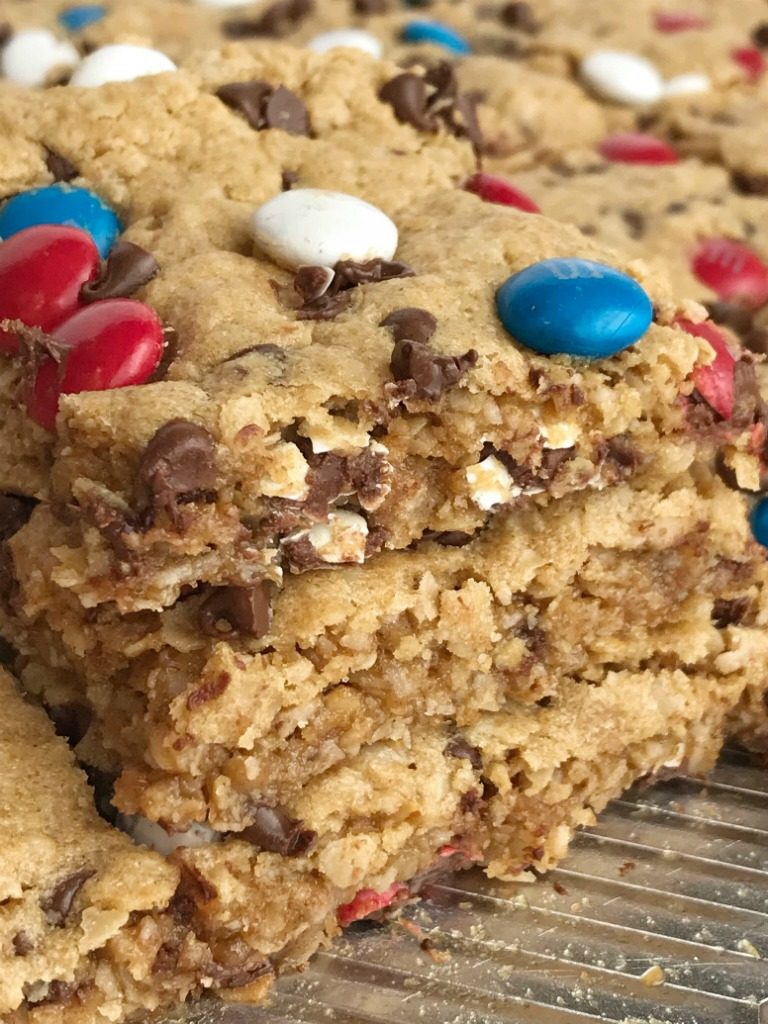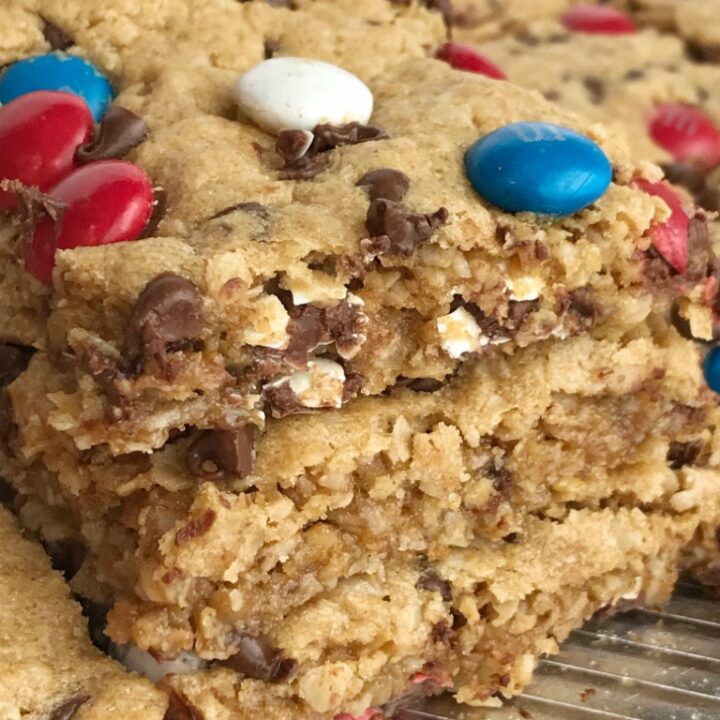 Red White and Blue Flourless Cookie Bars
Red, White, and Blue Flourless Cookie Bars are loaded with patriotic and festive m&m's, oats, peanut butter, and chocolate chips. Perfect for a crowd!
Ingredients
1/2 cup (1 stick) salted butter, softened
1 1/2 cups creamy peanut butter
1 cup granulated sugar
1 cup brown sugar
3 large eggs
1 tablespoon vanilla extract
1 teaspoon baking soda
4 1/2 cups quick oats
1 cup miniature chooclate chips
1 1/2 cups red white & blue m&m's
Instructions
Heat oven to 350 degrees. Prepare a cookie sheet (12" x 17") by spraying with cooking spray.

In a large bowl, or bowl of stand mixer with the paddle attachment, combine butter, brown sugar, granulated sugar, and peanut butter. Mix until fluffy and pale in color. About 1-2 minutes.

Mix in the eggs and vanilla extract and blend together to combine.

Add the baking soda, quick oats, chocolate chips, and m&m's. Mix to combine together. ** If wanted, reserve some chocolate chips and m&m's to press on top of the bars before baking.

Dump cookie dough onto the prepared cookie sheet and spread out. The dough is sticky so you may want to spray your hands with cooking spray to make it easier. You can also drop big spoonfuls of the dough all over the cookie sheet and then spread out. This makes it easier to spread out.

Gently press the reserved chocolate chips and m&m's on top of the cookie bars.

Cook for 17-19 minutes. The edges should be golden brown and pulling away from the sides of pan, but the middle may still look slightly undercooked. That's ok. Let the bars cool in the pan for at least 30 minutes, and then cut into squares.
Notes
To make cutting the bars easy use a pizza cutter. Some readers have reduced the sugars in this recipe with good results. I have always used the amount called for and we love it.    I do not recommend using all-natural peanut butter in this recipe. It tends to dry out baked goods like these cookie bars. 
Nutrition
Calories: 200kcal
DON'T FORGET TO PIN THIS RECIPE TO PINTEREST