EASY FISH TACOS
If you're anything like me and love fish tacos but can't stand the smell of fish in your house, then I know you will LOVE today's recipe for easy fish tacos!
I've always been a fan of the frozen fish sticks. Buy yourself a good, quality brand of fish sticks or fish fillets, or even fish fingers and these fish tacos won't even taste like anything other than those fancy fish tacos that use fresh fish. 
But the best part is that homemade, simple 5 ingredient cabbage slaw. It's unreal! Shredded cabbage, corn, cilantro, red onion, and queso fresco covered in a creamy sour cream sauce. I may or may not have eaten most of the leftovers with a spoon straight from the bowl…… 🙂 
Frozen Fish Fingers/Fillets/Sticks – I highly recommend buying a good quality brand (versus the store bought brand). Costco sells an amazing Ultimate Fish Stick that's really crispy. I have used everything from fish sticks, fish fillets, and these ones called fish fingers. Plan on putting 1-2 fish sticks per taco, so buy as many as you need according to that. 
Mexicorn – This is so good and I highly recommend getting it. You can find it with the other canned vegetables by the canned corn. It will say 'Mexicorn' on it and it's just yellow corn + bell peppers. You can always substitute with plain yellow or white corn.
Queso Fresco – This is a Mexican cheese that is so creamy with a touch of saltiness (think Feta cheese). It usually comes in a small round shape that you will have to shred or crumble yourself. 
Fresh Limes – Please do not use bottled lime juice! Squeeze the juice from1 lime. Also, buy a few extra lime and serve the tacos with lime wedges. We love to squeeze a lime wedge over the tacos. 
White Corn Tortillas – You can use white or yellow corn tortillas or even flour tortillas. It's best to warm up the tortillas before serving/. Wrap the tortillas in a damp paper towel and place on a microwave-safe plate. Microwave for about 30-45 seconds. The damp paper towel keeps them moist and hot.
Shredded Cabbage – I always buy the angel hair cabbage from the grocery store (find it by the other bagged salad mixes). This is just plain shredded cabbage. You can also buy a head of green cabbage and shred it yourself. A tip : I prefer very small pieces of cabbage so I dump the bag of cabbage onto a cutting board and chop it with a knife.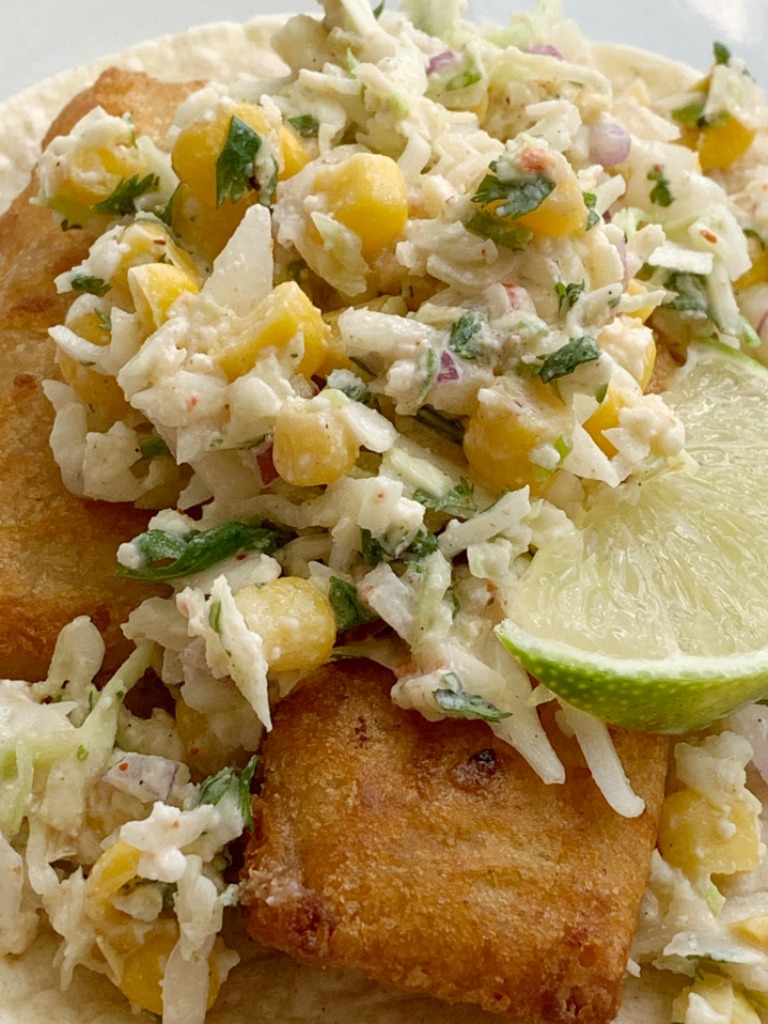 MY TIPS FOR MAKING EASY FISH TACOS
Cook the fish for the maximum time according to the box. Obviously don't let it burn! But you want the fish crispy for the taco, not soft. 
If you want spice then add a chopped jalapeno into the cabbage slaw mix. Or use some cayenne pepper in the sour cream dressing. I love the basic seasonings of salt, cumin, and chili powder but feel free to add some more if you want,
The cabbage slaw could be made a few hours ahead of time and kept in the fridge if needed. I've always just made it as the fish sticks are cooking, that way everything is ready in just about 30 minutes. 
Easy Fish Tacos
Easy Fish Tacos made with convenient frozen crispy fish sticks and a simple, 5 ingredient homemade cabbage slaw. Serve with corn tortillas for a simpler, and easier way to enjoy fish tacos. 
Ingredients
1 box (12-24 pieces) crispy fish sticks, fillets, or fingers
white corn tortillas
lime wedges for serving
Cabbage Slaw
1 bag (10 oz) angel hair cabbage
1 can (11 oz) mexicorn canned corn w/ bell peppers
1/3 cup chopped cilantro
1 small red onion, finely chopped
1 cup shredded queso fresco see notes
1/4 cup sour cream
juice of 1 lime about 2 tablespoons
¼ teaspoon salt
¼ teaspoon cumin
¼ teaspoon chili powder
Instructions
Bake fish sticks according to package directions. Remember to flip them halfway through so the fish is crispy on both sides. Also, cook for the longest time possible to ensure that you get really crispy (not burnt!) fish sticks.

Prepare the cabbage slaw by combining the cabbage, mexicorn, cilantro, red onion, and crumbled/shredded queso fresco into a mixing bowl. Stir together.

In a separate bowl, combine sour cream, lime juice, salt, cumin, and chili powder. Stir together with a fork and pour over the cabbage mixture. Stir to combine everything well.

Wrap corn tortillas in a damp paper towel and place on a microwave-safe plate. Microwave for about 30-45 seconds to get them nice and soft. The damp paper towel keeps them moist and warm.

Serve warmed corn tortillas, place 1-2 fish sticks on each, and top with some cabbage slaw. Eat & enjoy!
Notes
For my large family of 6, I always buy a box of 18 fish sticks/fish fingers so that we can all have two tacos. The slaw recipe makes enough for at least 20 tacos, and depending on if people use one or two fish sticks inside their tacos, will make the serving size larger or smaller.    If you are serving a crowd, I would double the fish sticks but leave the cabbage recipe as is. Unless, you know people will want lots of the cabbage slaw on their tacos, then go ahead and double. But for a weeknight family meal, the cabbage slaw recipe as is makes plenty for everyone!   The angel hair cabbage is just shredded cabbage. You will find it by the other bagged salads in the produce area of the grocery store.    If you're not familiar with queso fresco it is a Mexican cheese that is so yummy and salty. Perfect for fish tacos. You will find it in the cheese aisle with the bagged and blocked cheese, or even by the specialty cheeses.
TRY THESE OTHER TACO RECIPES