GROUND BEEF CHILI WITH HOMEMADE QUESO
I always love when the nights become cooler. The first thing I do is make some chili! I have lots of different chili recipes on the blog, but todays version just might be our new favorite. 
It's classic ground beef chili with a homemade queso sauce & spiral pasta noodles. 
Lean Ground Beef – I prefer using 93/7 ground beef or higher. I still drain the beef because I am fun like that, but you don't have to because of the lower fat content. Any kind of ground beef will work! Just make sure to drain it if there is lots of grease because you don't want all that grease in your chili. 
Onion – Any kind of onion will work for this chili. Sweet onion, yellow onion, or white onion are probably the best choices. 
Condensed Tomato Soup – There really is NO substitute for this so please just use it! It gives the chili a sweet tomato flavor and helps thicken the chili. 
Petite Diced Tomatoes – If you want some heat then use a can of Rotel (diced tomatoes w/ green chilies) or a can of fire-roasted diced tomatoes. If serving little ones, follow the recipe as is, and it's not spicy at all. Perfectly flavorful. 
Beef Broth – You need 2 cans of beef broth for this recipe. I always use 1 can regular beef broth + 1 can 50% reduced sodium beef broth. Depending on what broth you use (low-sodium vs regular) you may have to adjust the salt according to taste at the end. 
Pinto Beans – After trial & error, pinto beans are the preferred bean for this chili. If you really must, go ahead and substitute with any canned beans you prefer. 
Rotini Pasta – This is a spiral pasta that is perfect for this chili because it soaks up all the goodness, ground beef, and queso. Any small pasta will work but the rotini is the best!
Cheddar Cheese – This is the cheese you need for the homemade queso sauce. I have also used Colby-Jack cheese in the past with great results. And for best results, shred the cheese yourself. It will melt better and won't have a gritty/chalky texture to the chili. 
HOW DO I SERVE GROUND BEEF CHILI?
Serve this queso chili with Fritos Corn Chips, shredded cheese, sour cream, and sliced green onions. 
Other topping suggestions:
sliced avocado
jalapeno peppers
tortilla chips
chopped cilantro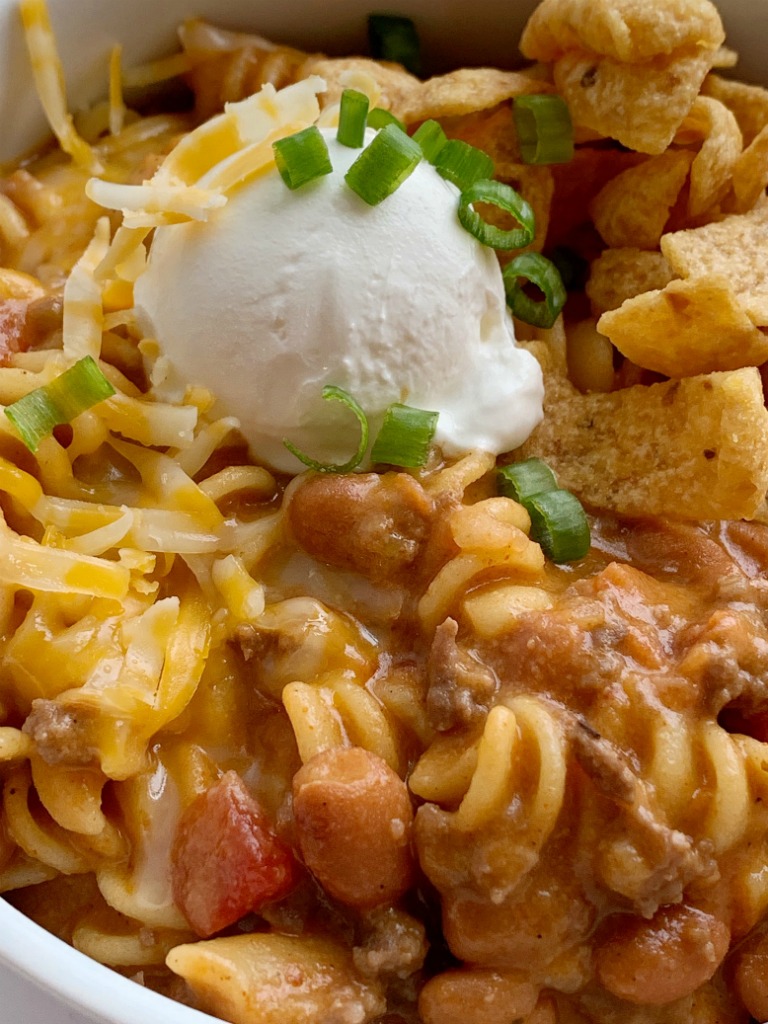 HELPFUL TIPS FOR MAKING THIS CHILI RECIPE
For the homemade queso it's best to shred your own cheese. If you use pre-shredded cheese, it comes with a powder on it to prevent it from sticking together. Which also lends a chalky/gritty taste to whatever you add it to. So, please buy a block of cheddar cheese and shred it yourself. 
For more spice, add some ground cayenne pepper and/or use a can of Rotel or fire roasted diced tomatoes. The recipe as is, is not spicy. It's perfectly flavored that's great when feeding kids.
Make sure that the pasta is cooked through before adding the homemade queso sauce. The chili won't cook after adding the queso so you want to make sure the pasta is cooked to where you want it.
TRY THESE OTHER DELICIOUS CHILI RECIPES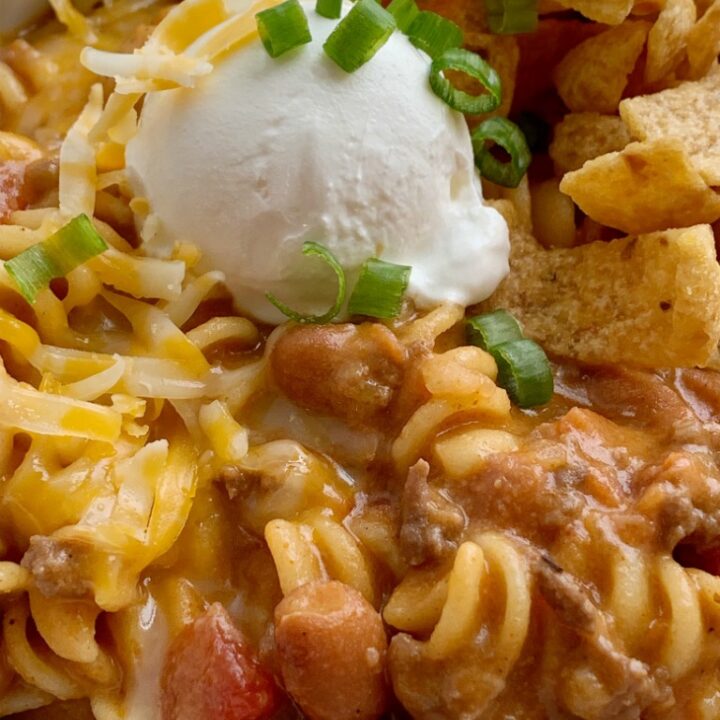 Ground Beef Queso Chili
Ground Beef Queso Chili is a fun variation to classic chili! Loaded with beef, seasonings, tomatoes, pinto beans, and tender pasta. Best part is the homemade queso sauce in the ground beef chili!
Ingredients
2 tablespoons olive oil
1 lb lean ground beef
1 onion, finely diced (yellow or white onion)
1 teaspoon salt
1/4 teaspoon pepper
2 cans (14.75 oz each) beef broth
2 cans (15 oz each) pinto beans, drained and rinsed
1 can (15 oz) petite diced tomatoes
1 can (10 oz) condensed tomato soup
4 teaspoons chili powder
1 teaspoon cumin
1 teaspoon garlic powder
1/2 teaspoon dried oregano
2 cups dry rotini pasta noodles
Queso Sauce
2 tablespoons butter
2 tablespoons all-purpose flour
1 teaspoon salt
2 cups whole milk
2 cups shredded cheddar cheese
For Serving
Fritos corn chips
sour cream
shredded cheese
Green onions OR chopped cilantro
Instructions
Heat olive oil in a large pot, over medium high heat, and add the ground beef, onion, salt, and pepper. Cook and crumble until beef is no longer pink. Drain.

Add the beef broth, pinto beans, diced tomatoes, tomato soup, chili powder, cumin, garlic powder, and oregano. Stir together and let it come to a boil.

Once boiling, add the dry rotini pasta and let cook for 10-12 minutes. You may have to turn down the heat slightly if it's boiling to hard/fast.

While pasta is cooking in the chili make the homemade queso sauce. In a saucepan, over medium-high heat, melt the butter. Once butter is melted, add the flour and salt. Stir with a whisk for 1 minute. Slowly add in the milk, while whisking, and let it come to a boil and thicken. Stirring frequently so it does not burn. It will take about 5-8 minutes to thicken.

Once thickened add the shredded cheese and stir until its combined. Pour the queso into the chili and let it all cook together for about 5-10 minutes. The chili will thicken as it sits off the heat.

Serve with desired toppings!
Nutrition
Calories: 406kcal | Carbohydrates: 28g | Protein: 27g | Fat: 21g | Saturated Fat: 11g | Cholesterol: 78mg | Sodium: 1259mg | Potassium: 949mg | Fiber: 3g | Sugar: 10g | Vitamin A: 1020IU | Vitamin C: 10mg | Calcium: 314mg | Iron: 3mg