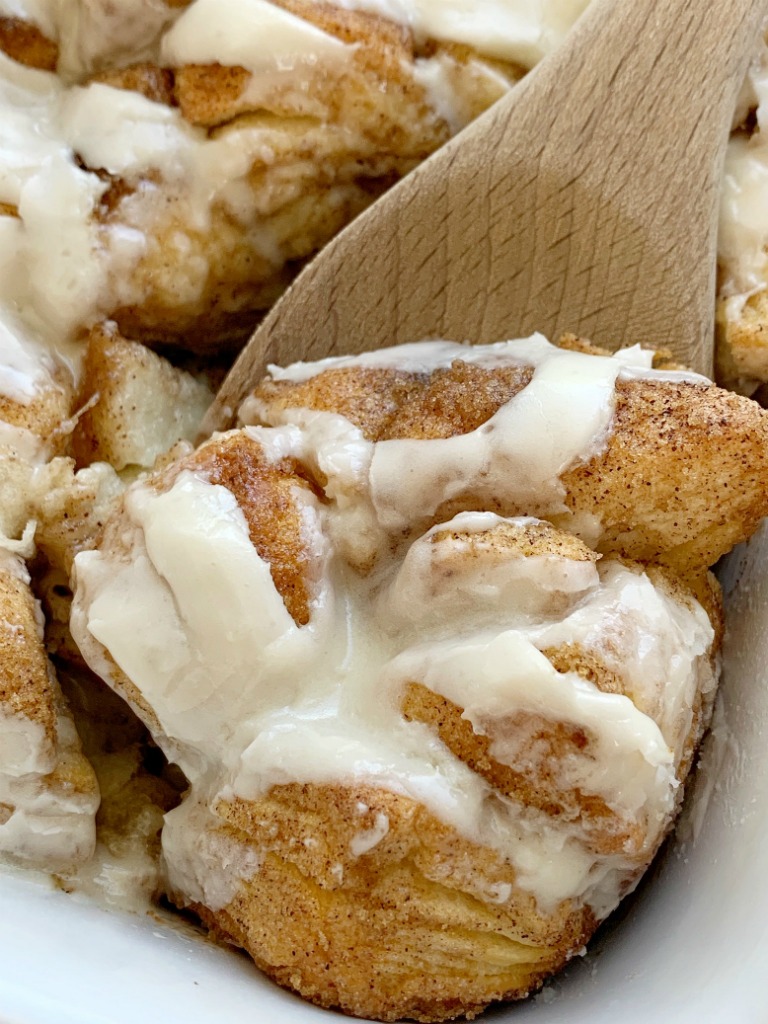 CINNAMON ROLL CASSEROLE
I will take a cinnamon roll in any form. Homemade, shortcut recipes, 1 hour cinnamon roll recipes, or even in muffin form like these no yeast cinnamon roll muffins. 
I love today's shortcut, easy version of cinnamon rolls because it can be ready so quickly and it's the perfect sweet side dish for a Holiday breakfast, special breakfast morning, or when company is over.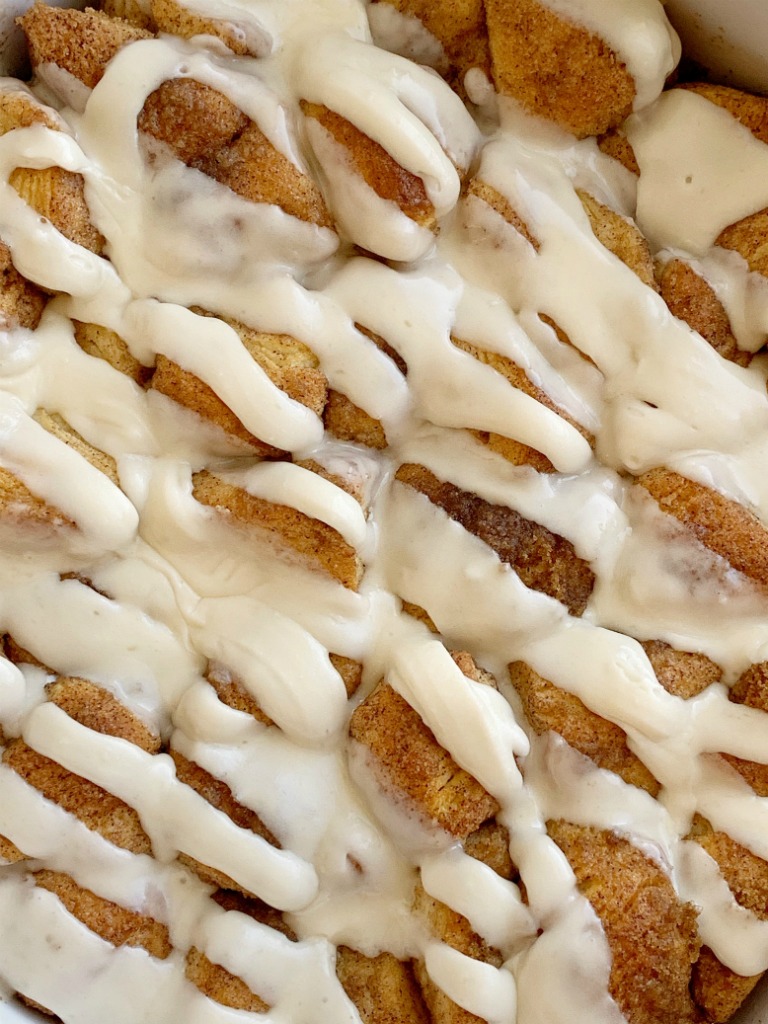 Refrigerated Biscuit Dough – You will need one large tube of refrigerated biscuit dough. I have found no difference between using the flaky version, original, or buttermilk version. I usually prefer the flaky biscuits well just because, they're flaky! 🙂 Get yourself a 16.3 oz tube of Grands! biscuits. 
Butter – I always use salted. You want the butter melted so stick it (unwrapped) inside a microwave-safe bowl and let it melt for about 30 seconds. 
Ground Cinnamon
Brown Sugar – I only ever use light brown sugar but dark brown sugar will work also if that's all you have. 
Powdered Sugar Glaze – This is what you will drizzle over top the cinnamon roll casserole. It's a simple mixture of powdered sugar, melted butter, vanilla extract, and milk. 
MY TIPS FOR MAKING THIS RECIPE
Make sure that you are cutting each round biscuit into 6 smaller pieces. Cut each biscuit in half and then cut each half into 3 smaller pieces. 
Serve this with a serving spoon OR you can eat it as a snack and pick up the little cinnamon roll bites. I always place a serving spoon in the dish and then everyone can just scoop up some cinnamon rolls onto their plate.
I love serving this alongside some scrambled eggs & bacon or serve it with this breakfast casserole.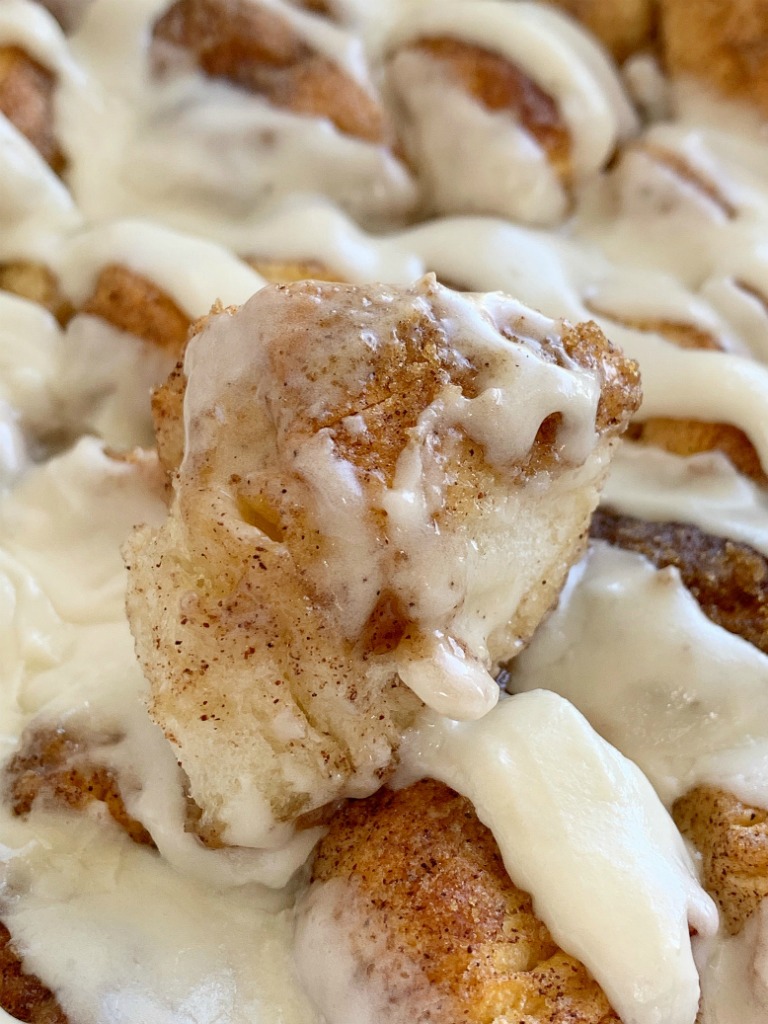 TRY THESE OTHER CINNAMON ROLL RECIPES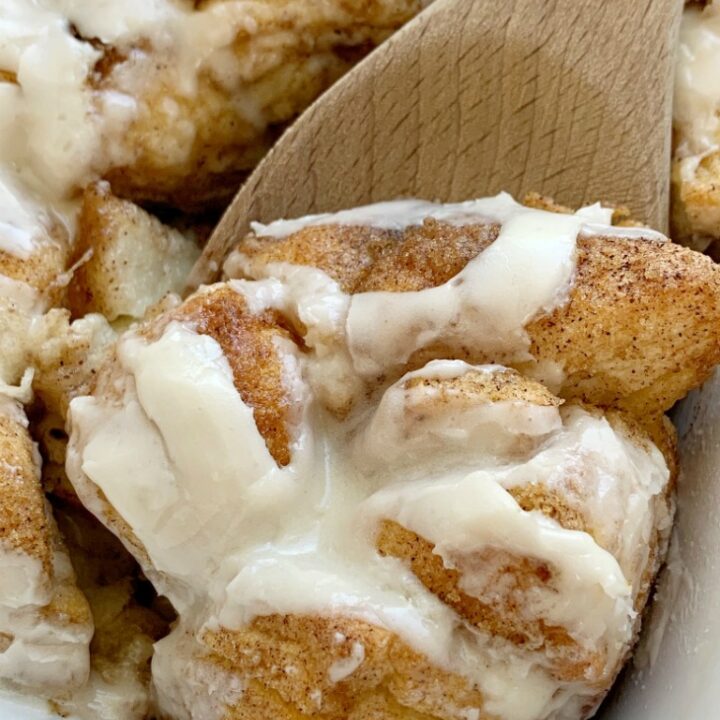 Easy Cinnamon Roll Casserole
Cinnamon Roll Casserole is so easy and simple to make! Biscuits covered in cinnamon, sugar, and butter. Little cinnamon roll bites in an easy to make breakfast casserole. 
Ingredients
1 tube (16.3 oz) refrigerated biscuits (like Pillsbury Grands!)
1 teaspoon ground cinnamon
1/2 cup brown sugar
3 tablespoons butter, melted
Vanilla Glaze
1 cup powdered sugar
2 tablespoons butter, melted
1 teaspoon vanilla extract
1-2 tablespoons milk ( I use whole milk)
Instructions
Heat oven to 350°. Prepare a 8x8 baking dish and spray with cooking spray. Set aside.

Cut each biscuit (8 total biscuits in tube) in half and then cut each half into 3 smaller pieces. So each biscuit should end up being in 6 small pieces. Repeat with remaining biscuits.

Add biscuit pieces into a mixing bowl. Add the brown sugar and ground cinnamon and stir together until all the biscuit are coated. It's ok if there is some sugar mixture left in the bottom of the bowl.

Pour the coated biscuit pieces into the baking dish. You can either sprinkle the remaining sugar mixture over the biscuits or discard it. Make sure that the biscuit pieces are in a single layer and that they are not overlapping or on top of each other.

Drizzle the melted butter evenly over the biscuits.

Cook for 20-23 minutes or until the biscuits are done.

While the casserole is cooling for a few minutes, prepare the vanilla glaze by combining everything together in a bowl and whisking together until smooth and combined. Drizzle or pour over the cinnamon roll casserole. If you want a pretty presentation, pour the glaze into a Ziploc bag and cut a small corner off of the bag, then drizzle the glaze over the casserole.
Notes
This is best eaten within an hour of making it. If there are leftovers, I would warm it up in the microwave for a few seconds before eating it.