This homemade ranch dressing really is the best! Ranch dressing made with dried seasonings which makes it so simple to make. Plus a "secret ingredient" that really makes this version of the classic salad dressing stand out from the rest.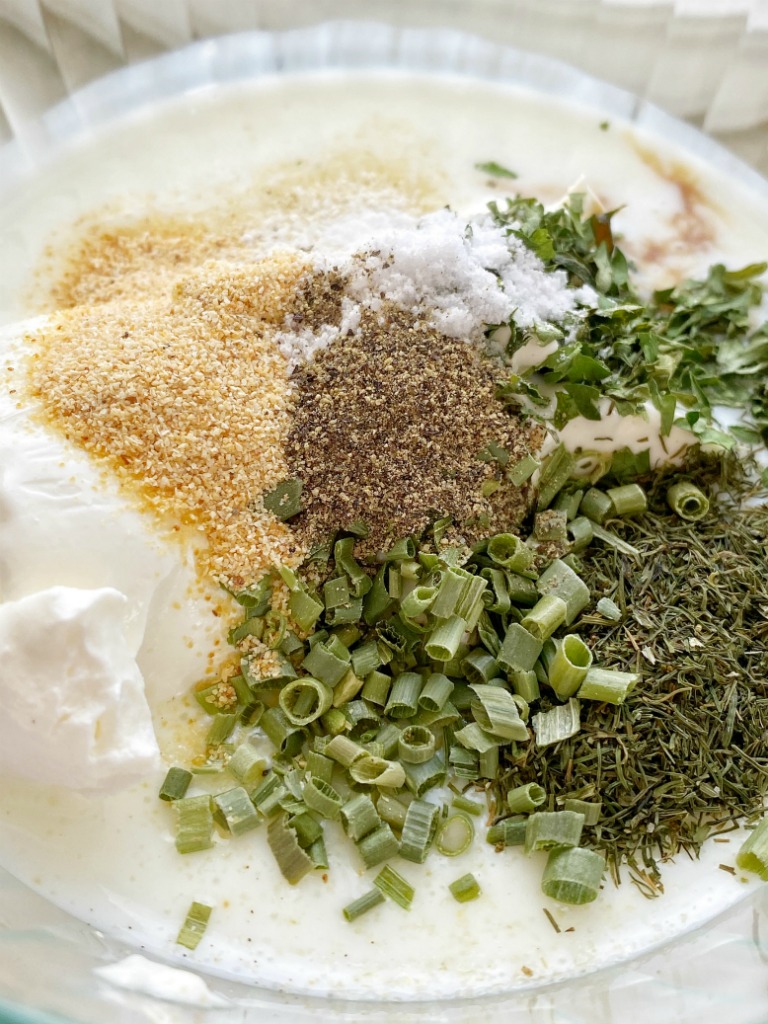 HOMEMADE RANCH DRESSING RECIPE
No need to go buy ranch dressing ever again with this easy homemade recipe you can make in just minutes at home. The flavor is out of this world when you make it from scratch.
I am so excited to share this recipe with you. I make it weekly (sometimes more) and will admit that I have the recipe memorized. We love this stuff!
My favorite part about this homemade ranch dressing recipe is that it's actually easy to make. No chopping required and the best part is that it uses dried seasonings, so it's fairly inexpensive to make too. It's also great to use in any recipe that calls for ranch dressing like this ranch pasta salad or these ranch skillet fajitas.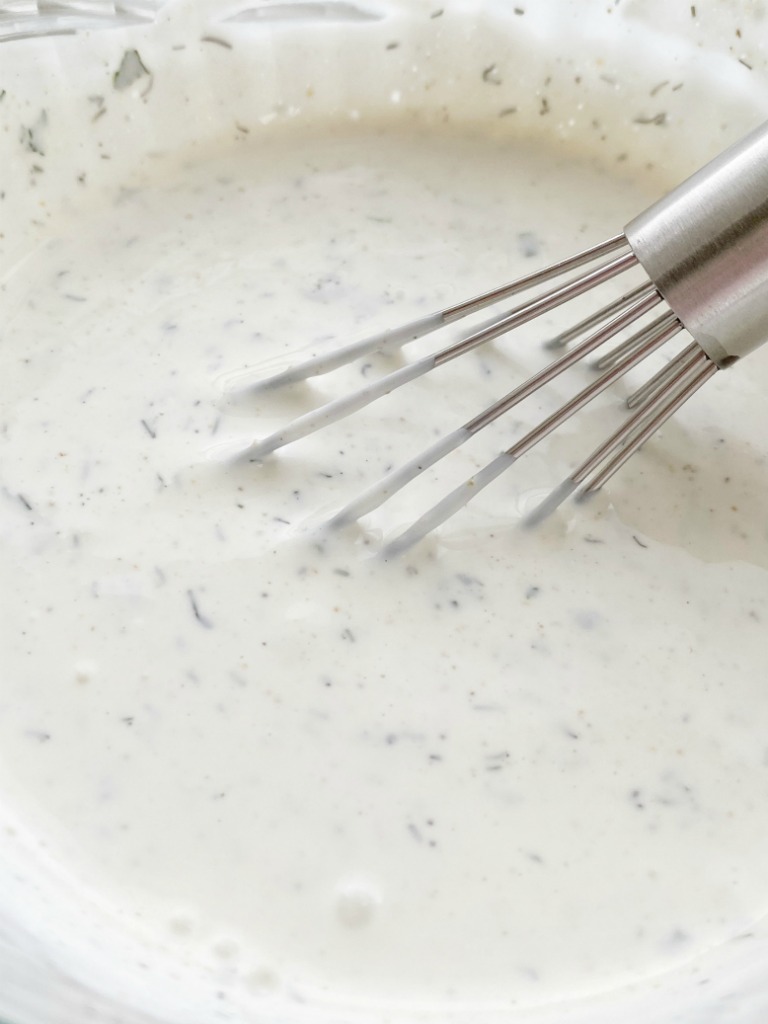 HOW TO MAKE HOMEMADE RANCH DRESSING FROM SCRATCH
Mayonnaise – I prefer a good quality mayonnaise like Hellman's or Best Foods brand. You can use the lite mayonnaise if wanted but for best flavor use the real stuff 🙂 
Sour Cream – I prefer using the full-fat sour cream for best taste but you can use lite if that's what you prefer. 
Buttermilk – Use whatever buttermilk you have. I have found that when I use the full fat buttermilk that the ranch dressing is really thick. Which is why I actually use the reduced-fat buttermilk most of the time when I make this. 
Worcestershire Sauce – I know it's a weird ingredient but I promise it's (surprisingly) what makes this ranch dressing so good. I have found that 1/2 teaspoon is the perfect amount but if you are more sensitive to it then start with 1/4 teaspoon and see from there. 
Dried Parsley
Dried Dill Weed
Onion Powder
Garlic Powder
Dried Chives
Salt & Pepper 
TIPS FOR MAKING THIS RANCH DRESSING RECIPE
You can use the ranch dressing right away OR let it sit in the fridge for up to 7 days. The dressing gets thicker the longer it sits in the fridge, so if you find that it's too thick then add some additional buttermilk. Not a lot, like 1 teaspoon at a time. 
I have found that the ranch dressing stays really well in the fridge for up to 7 days. It never lasts that long in our house but if it does, then you're good to go for 7 days. 
For best taste use the real stuff, full-fat mayonnaise and sour cream. It's fine to use the low-fat buttermilk, and maybe better because it won't make the dressing too thick. 
Homemade Ranch Dressing
Only a handful of ingredients + 1 minute is all you need to make your own Homemade Ranch Dressing. Use it over salads, as a dip, or in any recipe that calls for ranch dressing!
Ingredients
1/2 cup full-fat mayonnaise
1/2 cup buttermilk low-fat is fine
1/4 cup full-fat sour cream
1/2 teaspoon dried parsley
1/2 teaspoon dried dill weed
1/2 teaspoon dried chives
1/2 teaspoon onion powder
1/2 teaspoon garlic powder
1/2 teaspoon worcestershire sauce
1/4 teaspoon salt
1/8 teaspoon pepper
Instructions
Combine all ingredients into a bowl and stir together until well combined. For best results, let refrigerate for at least a few hours before using or serving.

If dressing gets too thick, simply add additional milk, buttermilk, or water until desired consistency is reached. 
Notes
Calorie count is for one serving. The recipe makes about 1.5 cups of ranch dressing and I figure each serving is usually about 1 1/2 tablespoons. So you can get 16 servings from the recipe. 
Nutrition
Calories: 60kcal | Carbohydrates: 1g | Protein: 1g | Fat: 6g | Saturated Fat: 1g | Cholesterol: 6mg | Sodium: 94mg | Potassium: 20mg | Fiber: 1g | Sugar: 1g | Vitamin A: 144IU | Vitamin C: 1mg | Calcium: 14mg | Iron: 1mg