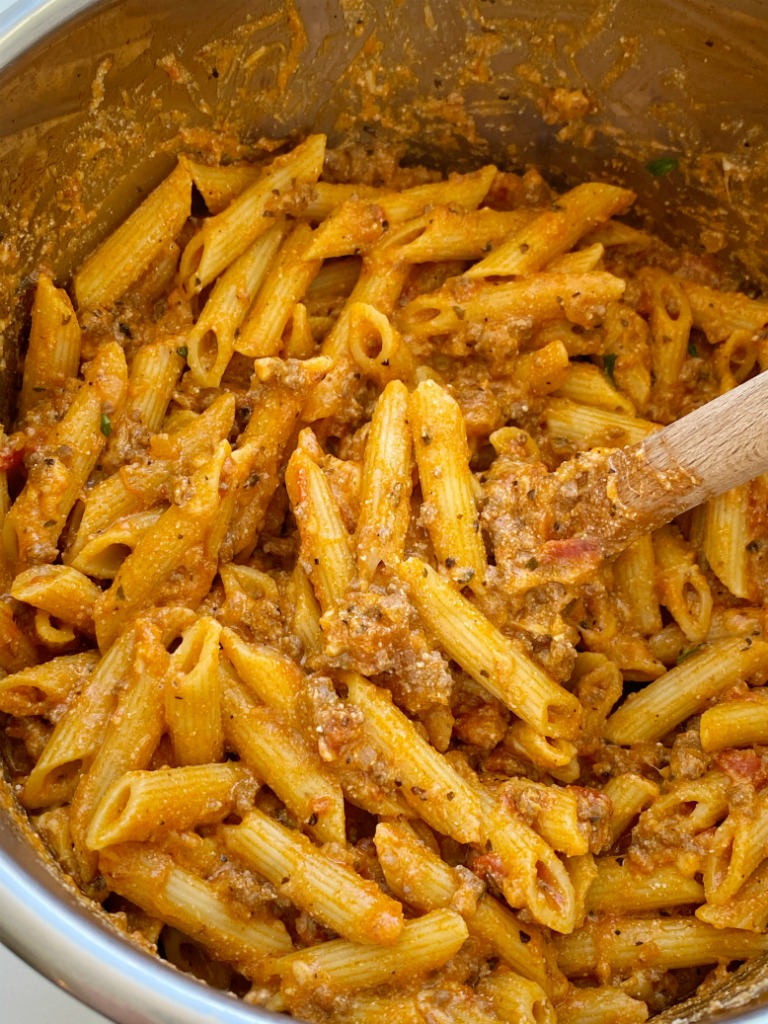 LAZY LASAGNA MADE IN THE INSTANT POT
I am finally ready to share this fabulous recipe for lazy lasagna that's made right in the instant pot or pressure cooker! Ever since I posted this instant pot baked ziti and saw how much you guys loved it, I knew I had to create some more easy instant pot pasta recipes.
This lazy lasagna is everything you love about classic lasagna but without the hours of labor, cooking noodles, cooking the sauce, and layering everything together. 
I love this instant pot version because it's quick, easy, and cooks in just 5 minutes!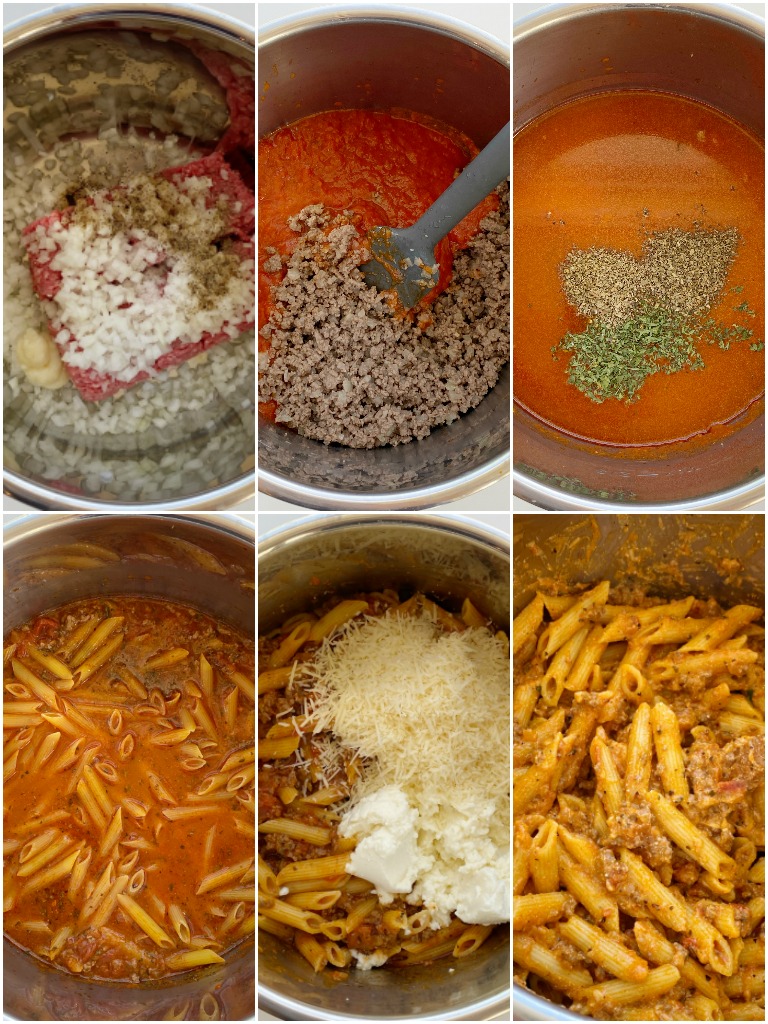 HOW TO MAKE INSTANT POT LAZY LASAGNA RECIPE
Combine ground beef, chopped onion, garlic, salt, and pepper inside the insert of the pressure cooker (instant pot). Press the sauté button, cook and crumble the ground beef until no longer pink. Drain. 
Add the spaghetti sauce and stir it together with the meat.
Add the water, seasonings and stir.
Dump the pasta in and gently press the past down so it's mostly all submerged in the water. DO NOT stir the pasta into the water. Just pat it down into an even layer. See pictures above.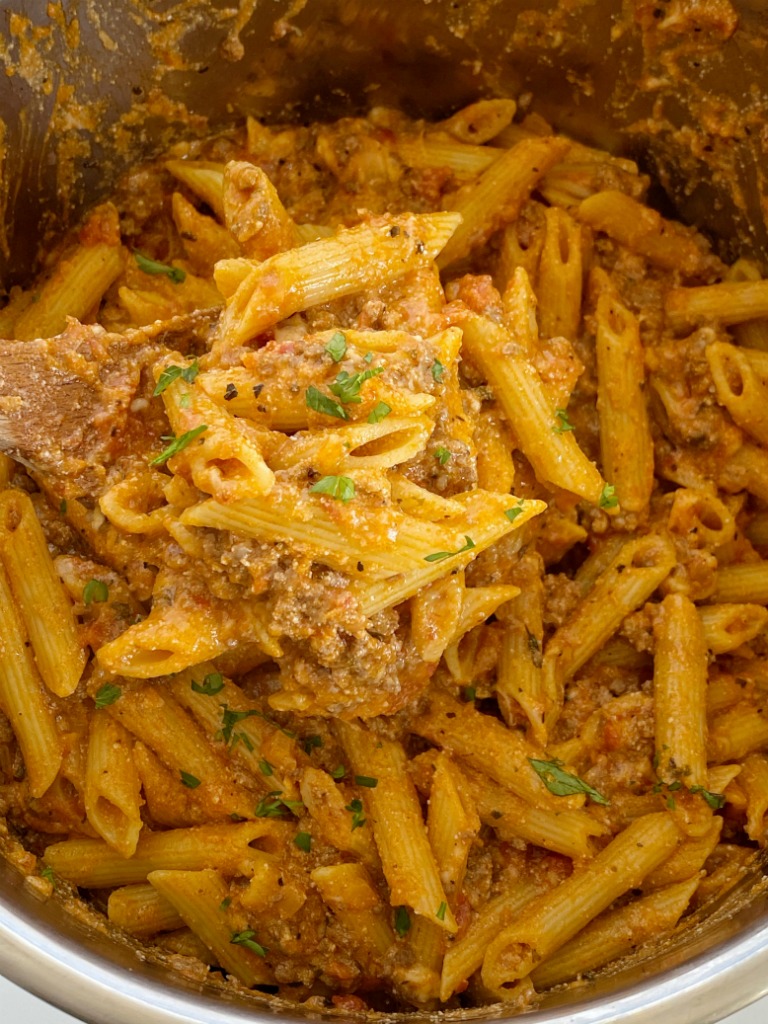 MY TIPS FOR THIS RECIPE
– Use a basic pasta sauce like tomato & basil or traditional. This recipe has been tested with traditional pasta sauce. I like the Rao's brand from Costco (it's so much cheaper at Costco!). But any kind you have or prefer will work just fine. 
– I have tested this recipe dozens of times and have found that all Parmesan cheese works best. I know lasagna is traditionally made with mozzarella cheese, while it's yummy, it made the lasagna too gooey and stringy from the melted mozzarella cheese. You could always use half parmesan cheese and half parmesan, but for best results use all parmesan cheese which is called for in the recipe. 
– Through testing this recipe I have found that the penne pasta works best. Another pasta that is similar in size is ziti pasta. Use one of these two pastas for best results. 
– If you don't like ricotta cheese you can substitute with cottage cheese. Be warned that the cottage cheese will not melt as well into the lasagna so you will end up with the little cottage cheese lumps in the pasta.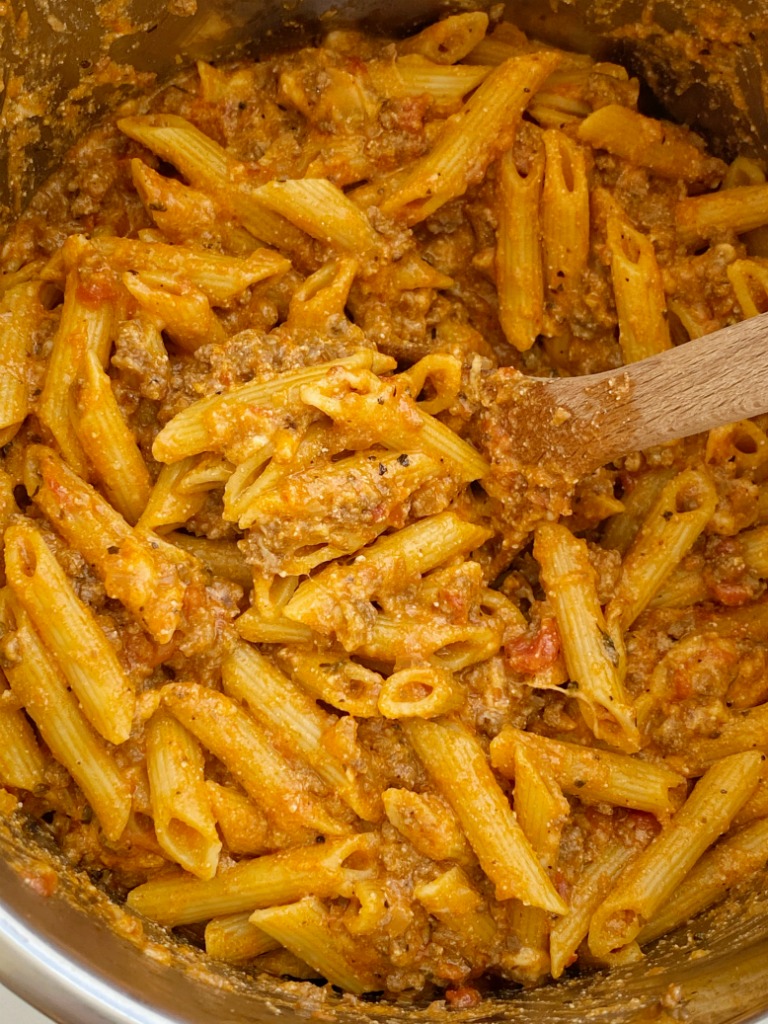 TRY THESE OTHER FAMILY FAVORITE INSTANT POT DINNER RECIPES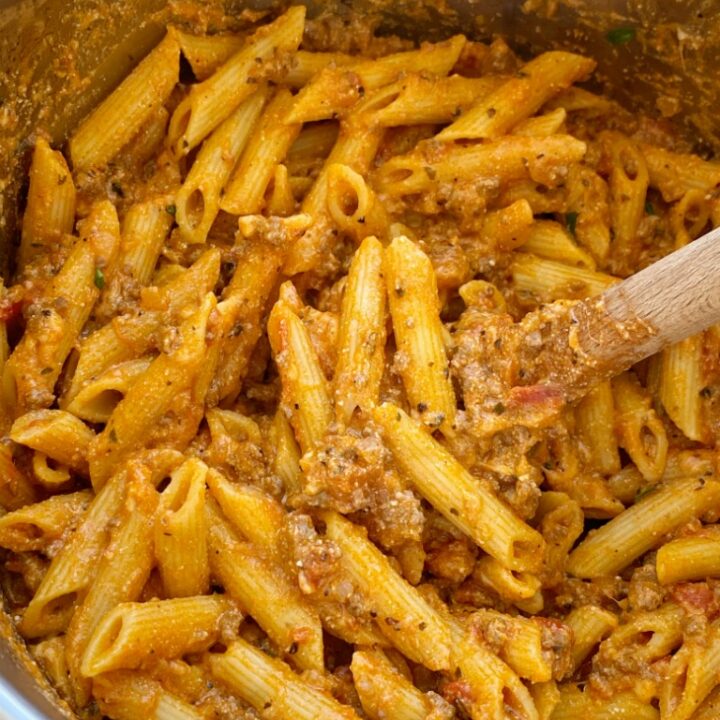 Instant Pot Lazy Lasagna
Lazy Lasagna made in just 5 minutes in the instant pot! Classic lasagna flavors with none of the work. Ground beef, onion, garlic, spaghetti sauce, pasta noodles, ricotta cheese, parmesan cheese, and penne pasta noodles cook in just one pot in the pressure cooker.
Ingredients
1 tablespoon olive oil (I use extra-virgin olive oil)
1 lb lean ground beef
1 yellow onion finely diced
3 cloves garlic
1 teaspoon salt
½ teaspoon black pepper
1 jar (24-26 oz) traditional pasta sauce
3 cups water
1 teaspoon dried basil
1 teaspoon Italian seasoning
1 teaspoon dried parsley
½ teaspoon salt
1 box (16 oz) penne pasta
1 cup ricotta cheese
1 cup shredded parmesan cheese
Instructions
Add the olive oil, ground beef, onion, garlic, salt, and pepper into the insert of the Instant Pot. Push the sauté button, cook and crumble the ground beef until it's no longer pink. Turn off the sauté function. Drain the excess grease/liquid from the meat.

Add the jar of spaghetti sauce and mix it together with the ground beef.

Add the water, basil, Italian seasoning, parsley, and salt. Stir it all together.

Dump the dry, uncooked pasta into the Instant Pot. DO NOT STIR it into the water. Instead, if needed, gently push down on the pasta to try and get it in an even layer (see pictures above in post for reference).

Put the lid on the Instant Pot and make sure the valve is set to 'sealing'. Manually set the cook time for 5 minutes. *IP will take about 10 minutes to come to pressure and then start the 5 minute cook time.

Once done cooking, naturally release the pressure (meaning do not move the valve to the 'venting' position, leave it in the 'sealing' position) for 5-10 minutes. * If you want true al dente pasta then naturally release the pressure for 5 minutes. My family does not like it this way so I let the pressure naturally release for 8 minutes. If you want really soft pasta then let the pressure naturally release for the full 10 minutes.

Turn the valve to the 'venting' position and let the remaining pressure release. Once ready, open the lid and stir the pasta together. Add the ricotta cheese and parmesan cheese. Stir until cheeses are melted and everything is combined.
Notes
For the garlic : Use fresh garlic cloves that you mince or press. Use chopped garlic from a jar. Or you can use garlic paste from the tube, which you can find in the refrigerated area of the produce section.  A note about the water : I have tested this recipe many times with beef broth and chicken broth. I actually like it much better with the water! When I used broth it took away from the classic pasta and lasagna flavors of the dish, and it made it a tad bit salty. Experiment if you want to, just know that after testing it dozens of times the water tastes better.  A note about the parmesan cheese : Use a bag of pre-shredded parmesan cheese OR shred your own from a wedge of parmesan cheese. I have done it both ways and they both work great. I prefer the pre-shredded stuff just cause it's so easy. Pasta Sauce : I don't know why they make all the jars of pasta sauce a different size (in ounces) but they are. Most standard jars that you get at the store are either 24 oz or 26 oz. Just make sure you get one of those sizes. Either one will work great in this recipe as I have used both. 
Nutrition
Calories: 314kcal | Carbohydrates: 25g | Protein: 25g | Fat: 13g | Saturated Fat: 6g | Cholesterol: 59mg | Sodium: 860mg | Potassium: 571mg | Fiber: 3g | Sugar: 5g | Vitamin A: 603IU | Vitamin C: 7mg | Calcium: 246mg | Iron: 3mg