Everyone will love this Macaroni and Cheese Ham Casserole. Easy to make, creamy, cheesy, and filled with chunks of ham and shredded cheese. This semi-homemade macaroni and cheese with ham is a family favorite dinner recipe!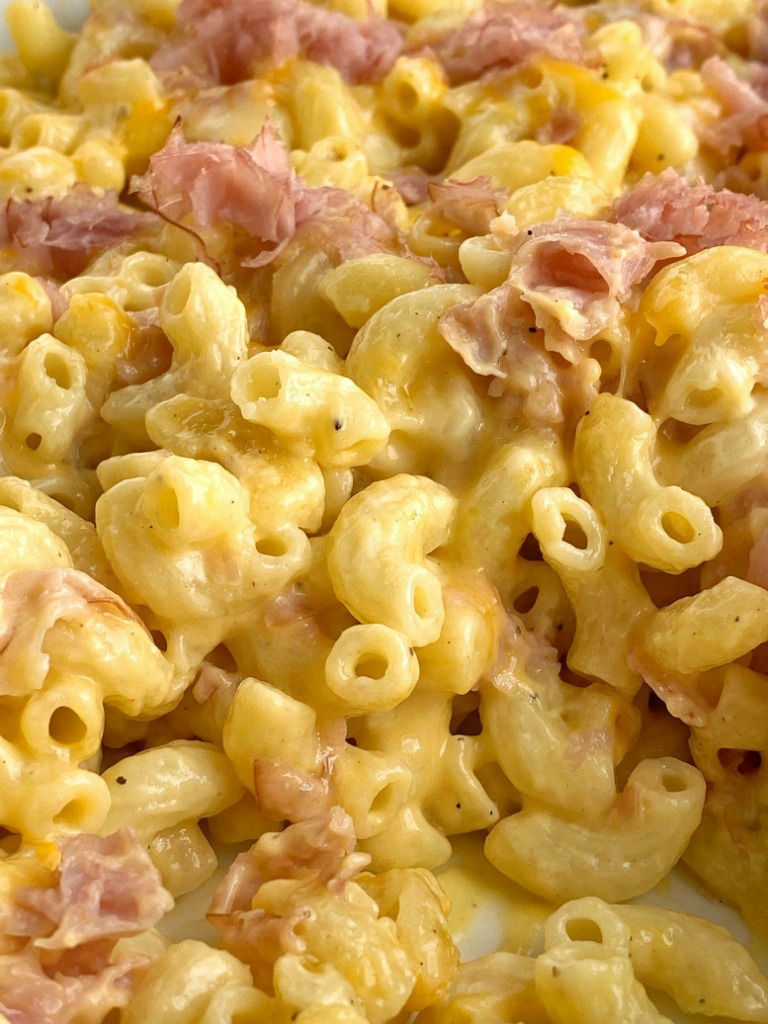 MACARONI & CHEESE HAM CASSEROLE
I've made this macaroni & cheese ham casserole three times in the last two weeks. Not even joking… If you're anything like me then you will make something over and over again if the kids actually eat it willingly, with no whining. 
All 4 of my kids had two helpings and quite literally licked their plates clean. If that's not a winner dinner then I don't know what is 🙂
A casserole with elbow noodles, cheese soup, ham (great use for leftover ham), shredded cheese, seasonings, and sour cream. Everything gets mixed together in one bowl and then baked in a casserole dish. So simple to make and a guaranteed hit at the dinner table.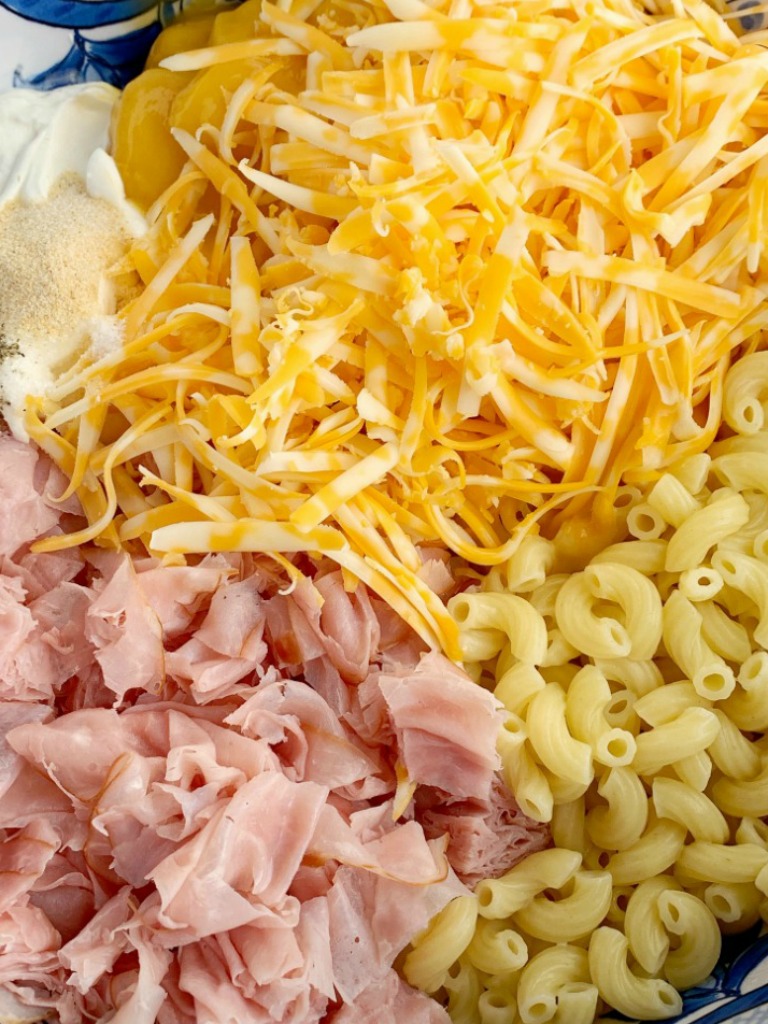 INGREDIENTS YOU NEED TO MAKE MACARONI AND CHEESE HAM CASSEROLE
Elbow Pasta – Cook this according to package directions. Remember to add some salt to the boiling water which helps flavor the pasta and make it taste like something. 
Cheddar Cheese Soup – This is a condensed soup that is cheddar cheese. You will find it by the cream of chicken soups in the grocery store. 
Sour Cream
Milk – I use whole milk or 2% milk when I make this
Shredded Cheese – Use any kind you prefer. I always buy the large block of Colby Jack cheese from Costco so that is what I use for most recipes. 
Salt, Pepper, Onion Powder, Garlic Powder
Ham – Use the pre-chopped ham, deli ham that you cut up, or it's a great recipe to use leftover ham in. I actually usually just buy a pound of the sliced deli ham (from the deli counter) and chop that up.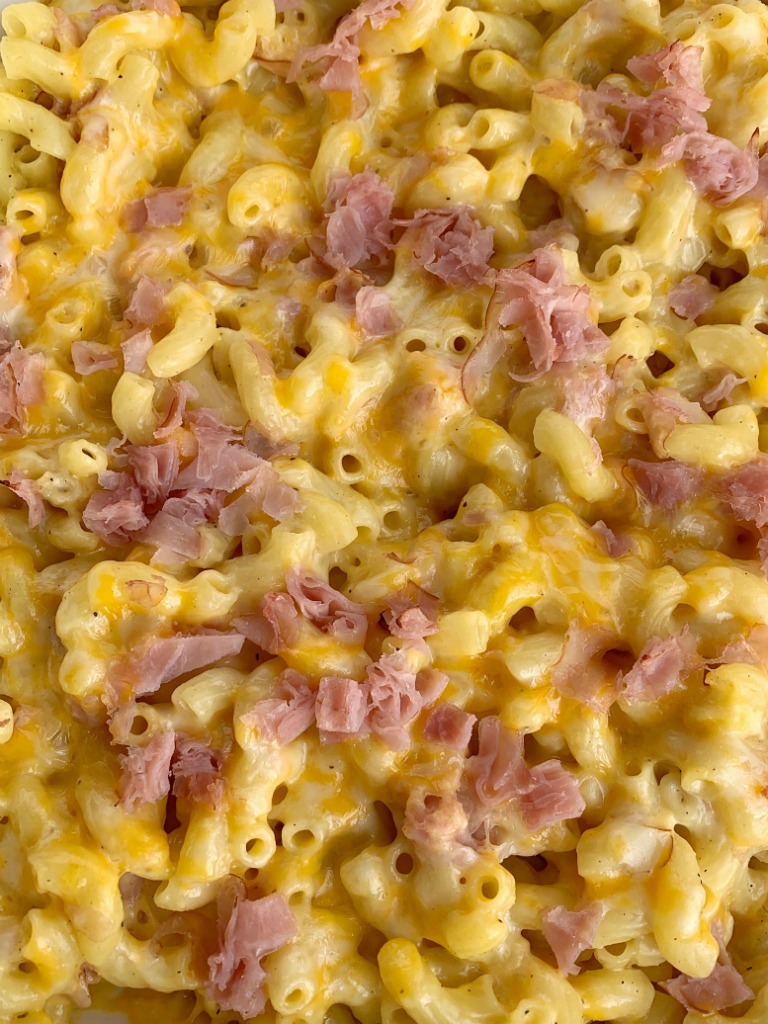 MY TIPS FOR MAKING MACARONI AND CHEESE HAM CASSEROLE
I like using either honey ham or black forest ham for this recipe (but any variety of ham will work fine). I would highly suggest you get some fresh shaved ham at the deli counter. It tastes so much better and it's very similar in price to the prepackaged ham. 
I normally don't use a lot of black pepper in my cooking because of kids. But in this recipe you need it. My kids don't complain and it adds such a nice flavor to the casserole. 
For best result use full-fat sour cream and a higher fat milk. I use whole milk. 
Use any cheese you want. I always have Colby Jack cheese in my fridge so that's what I use. You could use Pepper Jack for some spice, Mozzarella, and even Swiss cheese if you like the flavor. It is much better to use two different kinds of cheese when you make this. Which is why I love the Colby Jack because it already is two different cheeses in one block. 
I am guessing any pasta shape will work but I can only vouch for the elbow pasta because that is what I have always used in this recipe. 
Remember to salt the pasta water before you add the pasta noodles in. It adds so much flavor to the cooked pasta. Plain pasta can be quite bland so adding even a teaspoon of salt to the cooking water will make a huge difference.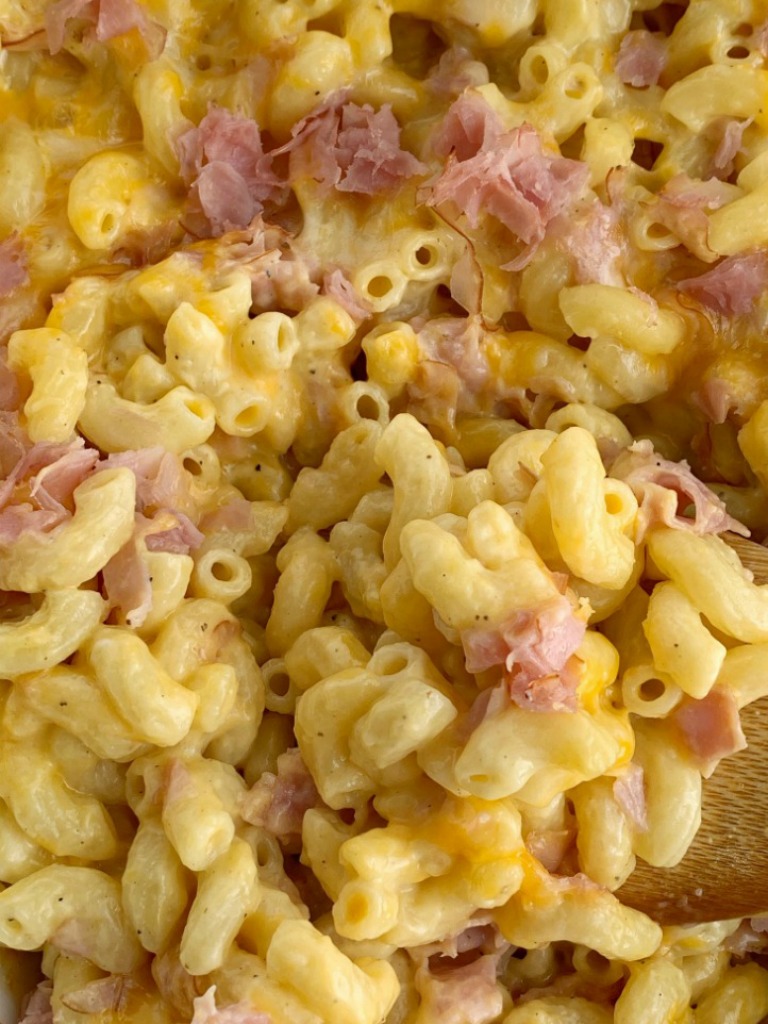 YOU WILL LOVE THESE OTHER HAM RECIPES (GREAT USE OF LEFTOVER HAM TOO!)
Ham Broccoli Rice Casserole – A casserole with fresh veggies, chunks of ham, rice, and cheese.
Slow Cooker Honey Glazed Ham – This is so easy to make in the slow cooker. And if you have leftovers make sure to use them for some of these recipes. 
Baked Ham & Cheese Sandwiches – One of our favorite meals! Use leftover ham or deli sliced ham. These are so buttery, flavorful, and cheesy!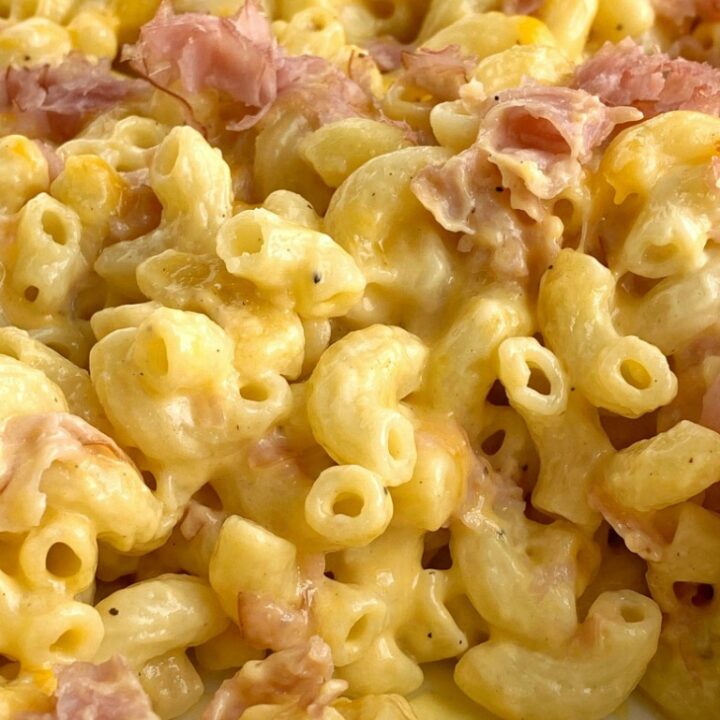 Macaroni & Cheese Ham Casserole
Everyone will love this Macaroni and Cheese Ham Casserole. Easy to make, creamy, cheesy, and filled with chunks of ham and shredded cheese. This semi-homemade macaroni and cheese with ham is a family favorite dinner recipe!
Ingredients
1 box (16 oz) elbow pasta
1 can (10.75 oz) cheddar cheese soup
1 cup sour cream
1/3 cup milk I use whole milk or 2%
½ teaspoon salt
½ teaspoon pepper
½ teaspoon onion powder
½ teaspoon garlic powder
2 cups shredded or diced ham
2½ cups shredded cheese divided
Instructions
Preheat oven to 375°. Spray a 9x13 baking dish with cooking spray and set aside. 

Cook pasta to 'al dente' according to package instructions. Pasta will cook slightly more while baking in the oven which is why you want it cooked to 'al dente'.

While pasta is cooking, combine cheddar cheese soup, sour cream, milk, and the seasonings in a large mixing bowl. Mix with a whisk to combine well. Add ham and shredded cheese (reserve 1/2 cup for the top) and stir to combine everything together.

Drain the pasta. Do not rinse. Add the cooked & drained pasta to the bowl and stir together until everything is combined. Pour into the prepared baking dish and cover with foil.

Cook for 25 minutes. Remove foil and sprinkle the reserved 1/2 cup of cheese & ham on top. Cook for another 3-5 minutes or until the cheese is melted. 
Notes
Cheddar Cheese Soup : The cheddar cheese soup is made by Campbell's brand. It's just like the cream of chicken soup but cheddar cheese instead.  Leftovers : We just heat the leftovers in the microwave and we love it as is. If it's too dry for your liking, simply add a small splash of milk to moisten it up a bit. 
Nutrition
Calories: 203kcal | Carbohydrates: 2g | Protein: 13g | Fat: 16g | Saturated Fat: 8g | Cholesterol: 52mg | Sodium: 647mg | Potassium: 145mg | Fiber: 1g | Sugar: 1g | Vitamin A: 346IU | Vitamin C: 1mg | Calcium: 178mg | Iron: 1mg