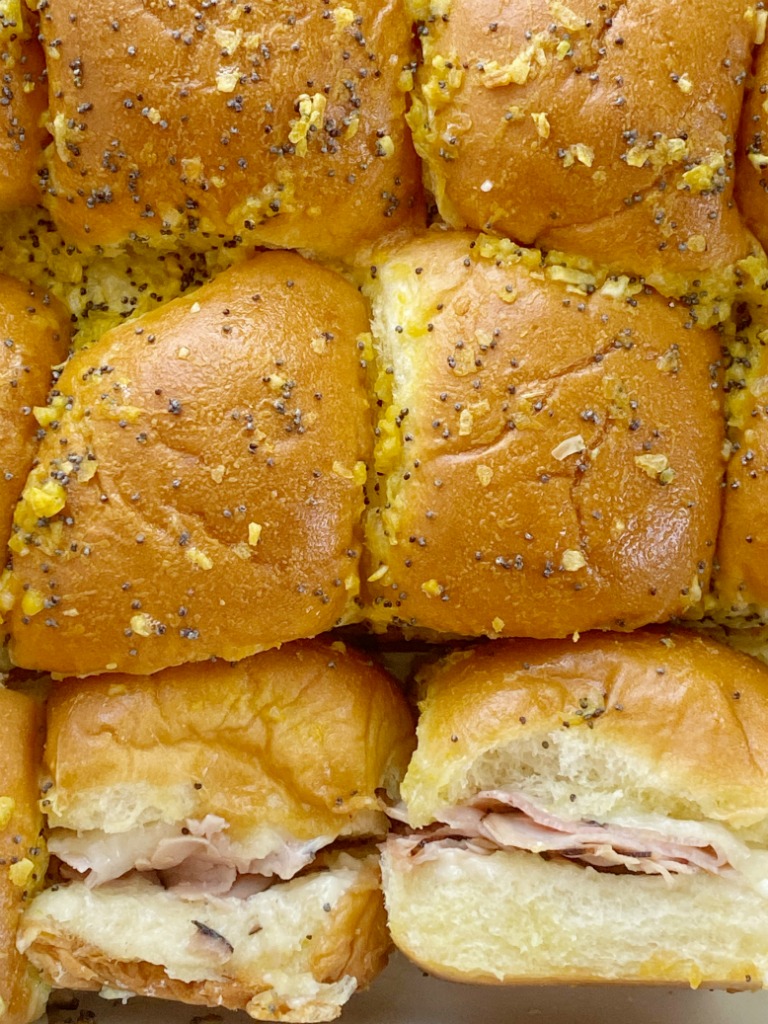 BAKED HAM AND CHEESE SLIDERS
These baked ham and cheese sliders are a family pleasing dinner! Sweet Hawaiian rolls with deli sliced ham and shredded Swiss cheese, slathered in a delicious butters sauce that's seasoned with dried spices and yellow mustard. 
They bake up in just one pan. Easy prep. And everyone will love these hot ham sandwiches. 
HOW TO MAKE HOT HAM & CHEESE SLIDERS
Cut each Hawaiian slider roll in half. Place the bottom half inside a 9×13 baking dish. Reserve the top half of the slider for later. Repeat with all 20 slider rolls. 
Spread as much, or as little, mayonnaise on the rolls. 
Layer the deli sliced ham. Then sprinkle the shredded cheese over top the ham. 
Place the tops of the slider rolls back on.
Mix up the melted butter sauce and brush on top of the rolls. 
Let the pan sit for 10 minutes so the butter can set. 
Cover with foil and bake.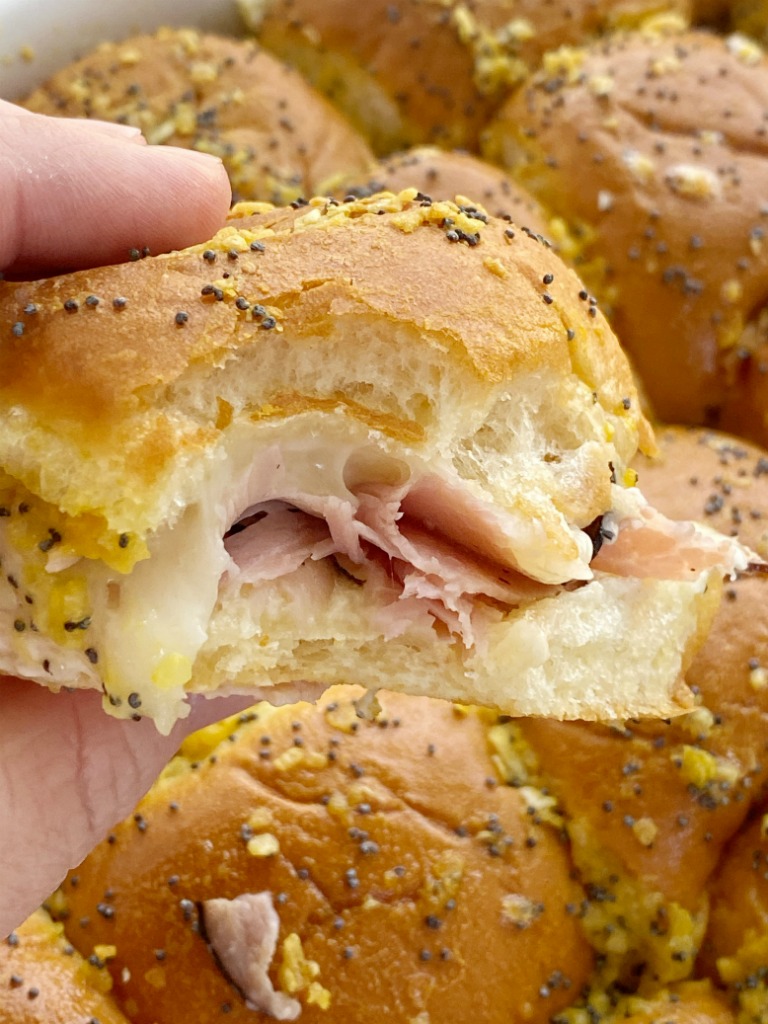 INGREDIENTS NEEDED FOR THESE BAKED HAM SANDWICHES
Hawaiian Slider Rolls – These are small slider rolls that are sweet and so yummy! They are the best rolls to use for these sliders. You need 20 of them. 
Deli Sliced Honey Ham – For best taste please go to the deli counter and ask for a pound of ham that is thinly sliced.
Shredded Swiss Cheese – Please do not buy the pre-shredded cheese. It does not melt as well or as smooth. Shred a 8 oz block of Swiss cheese. 
Mayonnaise
Melted Butter – I always use salted butter.
Dried Minced Onion – These are the dried onion flakes. You will find them by the other seasonings in the grocery store. 
Yellow Mustard
Poppy Seeds – These can be found near the dried minced onions at the grocery store. 
Worcestershire Sauce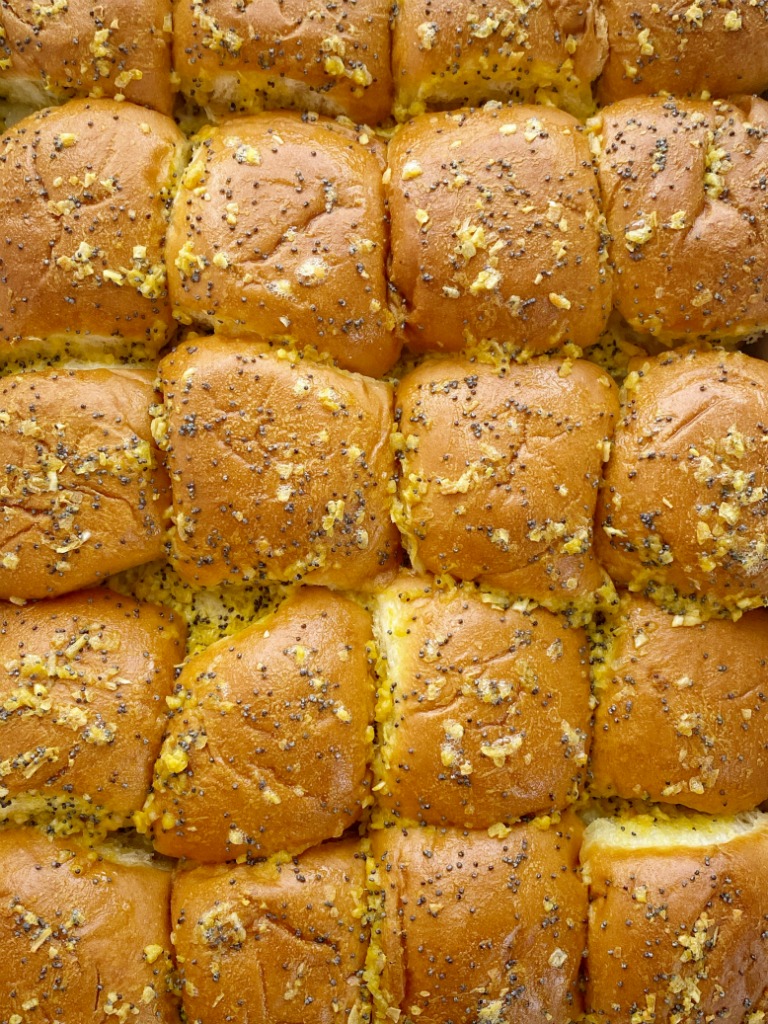 TRY THESE OTHER HAM DINNER RECIPES
Baked Ham & Cheese Sliders
Baked Ham & Cheese Sliders are an easy family favorite dinner. Sweet Hawaiian rolls, deli sliced honey ham, shredded swiss cheese slathered in a delicious seasoned buttery sauce. 
Ingredients
20 Hawaiian slider rolls
mayonnaise
1 lb deli honey ham (thinly sliced)
1 block (8 oz) swiss cheese (shredded)
Butter Sauce
5 tablespoons butter, melted
2 teaspoons dried minced onions
2 teaspoons yellow mustard
1 teaspoon poppy seeds
1/2 teaspoon Worcestershire sauce
Instructions
Heat oven to 350°.

Cut each slider roll in half. Place the bottom half in a 9x13 baking dish, and reserve the top half for later. Repeat with remaining rolls. Form 4 rows of 5 rolls each for a total of 20 sliders in the pan.

Spread mayonnaise on the rolls. Use as much or as little as you like. Layer the deli sliced ham on top the mayo. Sprinkle the shredded cheese evenly over the ham.

Put tops of slider rolls on.

In a small bowl, combine melted butter, dried minced onion, yellow mustard, poppy seeds, and Worcestershire. Stir with a fork to combine. Use a kitchen brush to evenly brush the butter sauce over all the sliders. If you don't have a brush, use a spoon to spread the butter sauce out.

Let the pan sit at room temperature for 10 minutes to allow the butter to harden and set.

Cover pan with tin foil and bake for 20 minutes. Remove the foil and bake for 5 minutes.
Notes
These taste so much better when you get fresh sliced ham from the deli counter. Ask for 1 pound of thinly sliced honey ham. You can use the packaged sliced ham but for best results try and get the deli ham.    Hawaiian rolls are the best ones to use for this recipe. Costco and Sam's Club sells a large pack of them. Or buy two of the smaller packs in the grocery store. You need 20 sliders total for this recipe. 
Nutrition
Calories: 172kcal | Carbohydrates: 15g | Protein: 8g | Fat: 9g | Saturated Fat: 4g | Cholesterol: 31mg | Sodium: 386mg | Potassium: 73mg | Fiber: 1g | Sugar: 4g | Vitamin A: 87IU | Vitamin C: 1mg | Calcium: 6mg | Iron: 1mg