Funfetti Cookies are loaded with white chocolate, funfetti sprinkles, and instant pudding mix which makes them so thick, chewy, buttery, and soft-baked! These funfetti cookies will stay soft for days!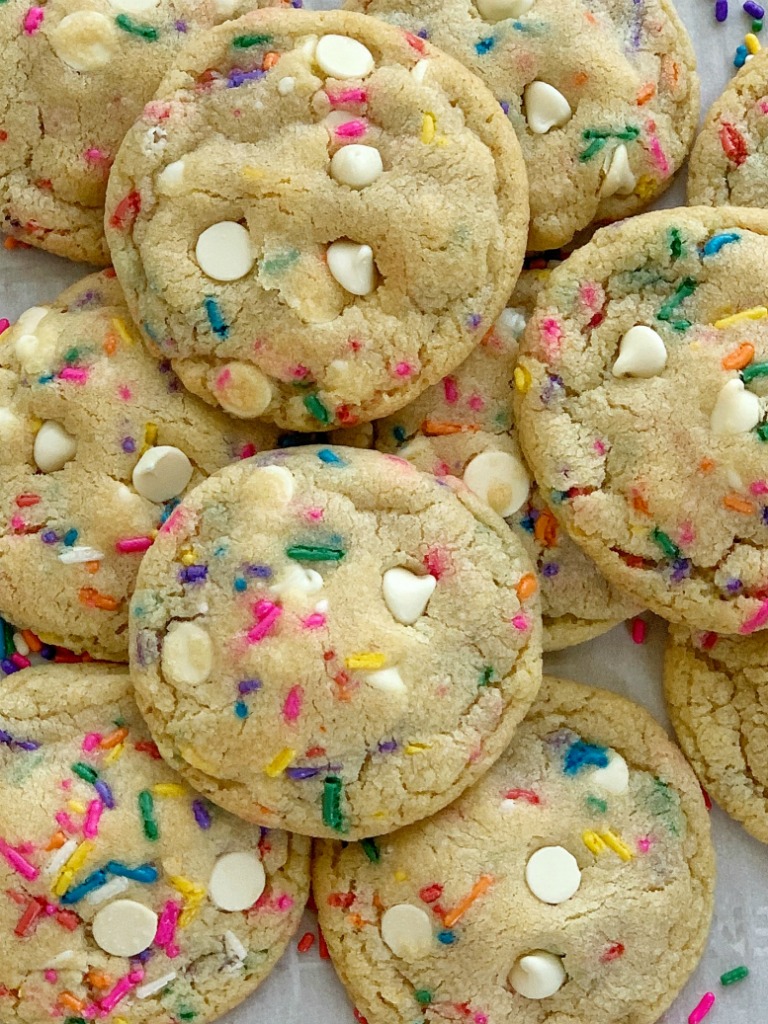 FUNFETTI COOKIES
Adding instant pudding mix into cookie dough is one of the best ways to achieve super soft-baked, thick, and chewy cookies! These funfetti cookies are our favorite version of classic pudding cookies. 
Funfetti cookies loaded with white chocolate chips, rainbow sprinkles, and a vanilla pudding mix. You won't believe how soft and buttery these cookies are and they will stay soft for days.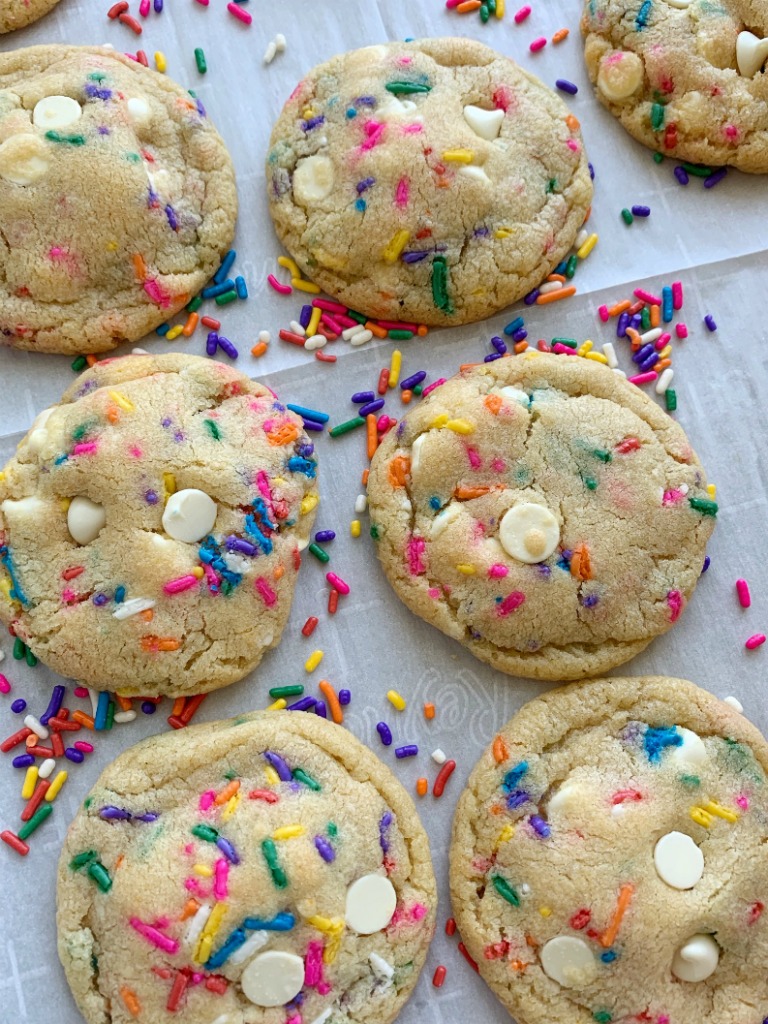 MY TIPS FOR MAKING PUDDING COOKIES
Rainbow Sprinkles – There are two types of sprinkles. The little tiny ball ones (I am sorry I don't know the technical term 🙂 ) and the sprinkles that look like thick lines. Be sure and use the larger sprinkles that look like lines. Not the small tiny ball sprinkles. They tend to bleed into whatever batter you are putting them in, so instead of pretty white batter you will end up with a weird brownish/bluish colored batter. 
The dough will look crumbly but if you press it with your fingers it will come together and form cookie dough. Every time I make these cookies I get nervous that I did something wrong. Not to worry, it is totally fine. The dough will look crumbly (see above picture) but once you press it and mold it, make the dough balls it will come together and not be crumbly. There is a difference between crumbly and dry crumbly. This dough is just crumbly. Dry crumbly is not good because you can't form it into a cookie dough ball or anything.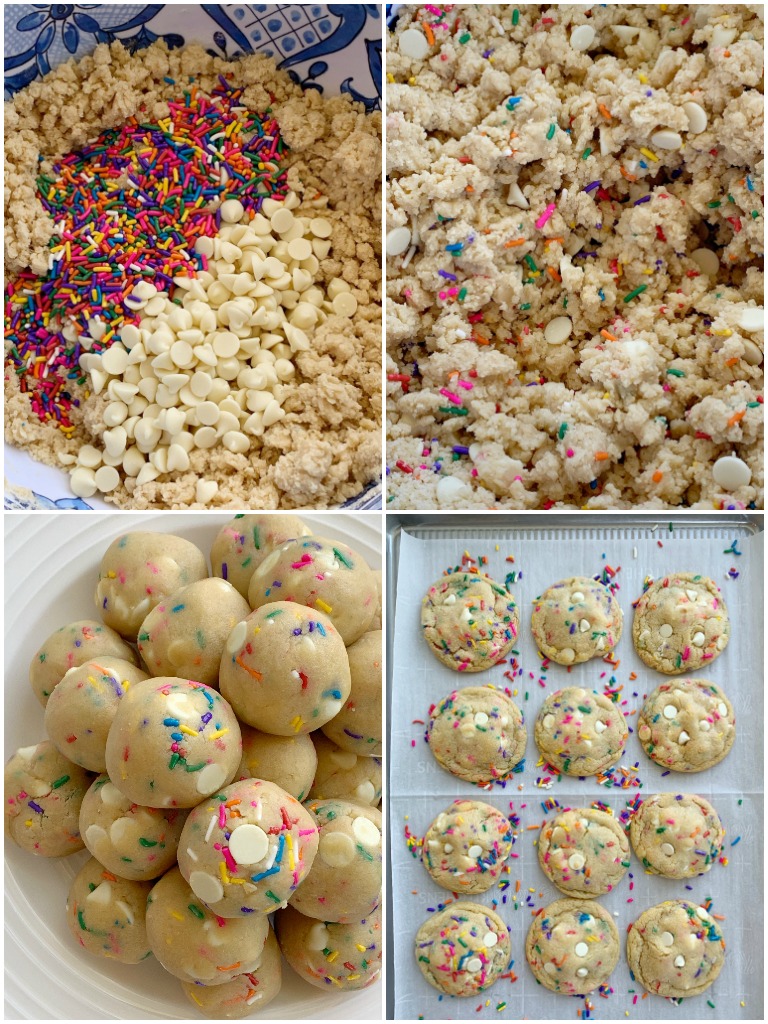 Chill the dough balls in the freezer while the oven is heating – Yea, sure you can try and avoid this and skip it but you have to wait for the oven to heat anyways, so you should just let the dough balls chill in the fridge while it's heating up. This is what makes the cookies so puffy, thick, but at the same time super soft-baked and buttery. 
Roll the dough into a smooth ball to get perfect circle cookies. If you just use a scoop and make the balls that way, you will end up with uneven edges on the final cookies. I use my cookie scoop, take a scoop of dough and then drop it into my hands. I roll the dough between my two palms until it forms a smooth circle.
Almond Extract – Please don't skip! The cookies would turn out fine if you did, but you would not get that "sugar cookie" flavor without the almond extract. All good sugar cookie recipes have almond extract. Why? It gives them flavor and makes them taste like a sugar cookie instead of just sugar. If you skip this just leave it out of the recipe, don't try and sub more vanilla extract in it's place. 
Vanilla Instant Pudding Mix – No substitutions for this one! If you don't like pudding mix or think it's full chemicals then you probably need to find a different funfetti cookie recipe to make. DO NOT use sugar-free pudding mix. Just the regular instant pudding mix in vanilla. You could also try white chocolate pudding mix if you wanted to.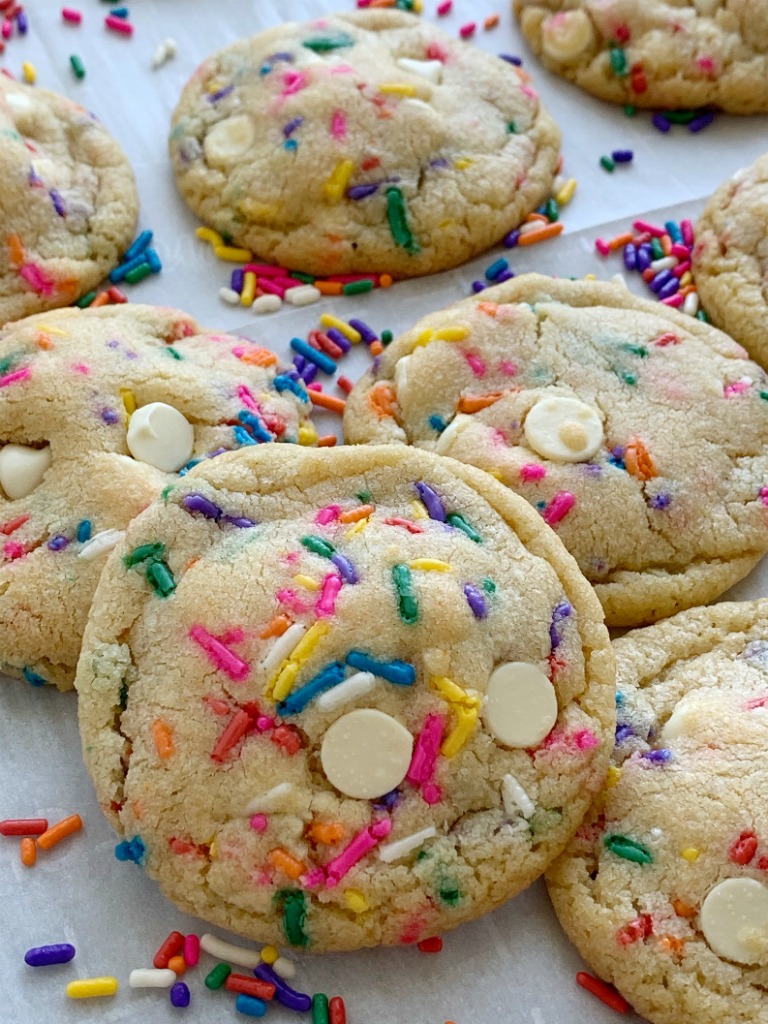 If you're a fan of pudding cookies then be sure to try my Cookies n' Cream Pudding Cookies or my M&M Chocolate Chip Pudding Cookies.
And if you love funfetti then you must try funfetti chex mix or funfetti cake batter cookie bars.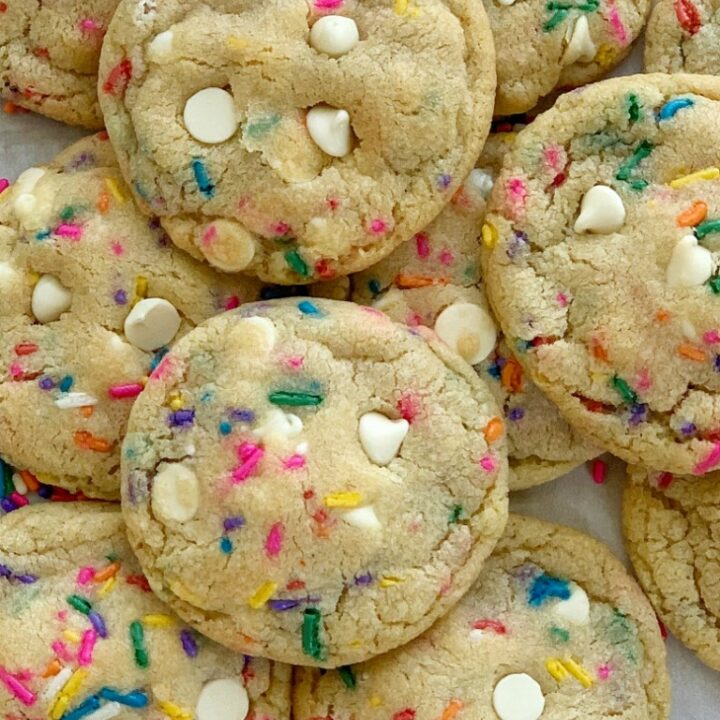 White Chocolate Funfetti Pudding Cookies
Funfetti Cookies are loaded with white chocolate, funfetti sprinkles, and instant pudding mix which makes them so thick, chewy, buttery, and soft-baked! These funfetti cookies will stay soft for days!
Ingredients
1 cup (2 sticks) salted butter softened
1/2 cup granulated sugar
1/2 cup brown sugar
1 large egg
½ teaspoon vanilla extract
¼ teaspoon almond extract
2 cups all-purpose flour
1 small box (3.4 oz) Vanilla Instant Pudding Mix DO NOT prepare!
1 teaspoon baking soda
1 cup white chocolate chips
1/2 cup rainbow sprinkles
Instructions
In a large mixing bowl with a handheld mixer, or in a bowl of a stand mixer, add the softened butter, granulated sugar, and brown sugar. Beat for 1-2 minutes until it's creamy and combined, and lighter in color. Add the egg, vanilla extract, and almond extract. Blend together again until combined.

In a smaller mixing bowl, add the flour, instant pudding mix (do not prepare, just use the dry mix from the box), and baking soda. Stir with a wire whisk to break up an clumps. Add half of it into the wet ingredients mixture and beat together just until combined. Add the other half and blend again.

The dough will look crumbly and that's ok. Take about 2-3 tablespoons of dough and roll into a ball between the palms of your hands. It should look like a golf ball. Place onto a plate and repeat until dough is gone. You will get about 24 of them. Place the plate in the freezer while the oven preheats.

Preheat oven to 350 degrees and prepare two cookie sheets by lining with parchment paper or spraying gently with cooking spray.

Place 12 dough balls onto one cookie sheet and bake for 10-13 minutes. Leave the other dough balls in the freezer while the first ones bake.

For extra pretty cookies, gently press a few white chocolate chips onto the tops of the cookies right when they come out of the oven. Let cook for a few minutes on the cookie sheet and then remove to a cooling rack to cool completely.

Store leftovers covered (I use a gallon-sized Ziploc bag) at room temperature on the counter.
Notes
Sprinkles : 1/2 cup rainbow sprinkles is equal to one of the small bottles of sprinkles (2.7 oz). It's actually slightly less then 1/2 cup but it's not a big deal. I just pour the whole thing in and call it good. If you are measuring from a larger container of sprinkles, then just measure 1/2 cup.  You can use the ball looking sprinkles (really small dot sprinkles) but be sure to mix them in very, very gently to avoid the color leaking all over the dough and turning it a weird color. Or you can use the longer stick looking sprinkles (like what you see in the pictures of the post), and they don't bleed color as easily so you should be fine just mixing them in normally.  Freezer Tip : Do not preheat the oven and prepare the cookie sheets until later in the recipe while the dough balls are in the freezer. The dough needs to freeze for about 10 minutes which is about the same time it takes for the oven to preheat, give or take a few minutes.  Tip : Use different sprinkles for any Holiday! Christmas colored sprinkles for Christmas, Halloween sprinkles, Easter, etc. 
Nutrition
Calories: 212kcal | Carbohydrates: 28g | Protein: 2g | Fat: 11g | Saturated Fat: 7g | Cholesterol: 30mg | Sodium: 150mg | Potassium: 44mg | Fiber: 1g | Sugar: 19g | Vitamin A: 250IU | Vitamin C: 1mg | Calcium: 24mg | Iron: 1mg