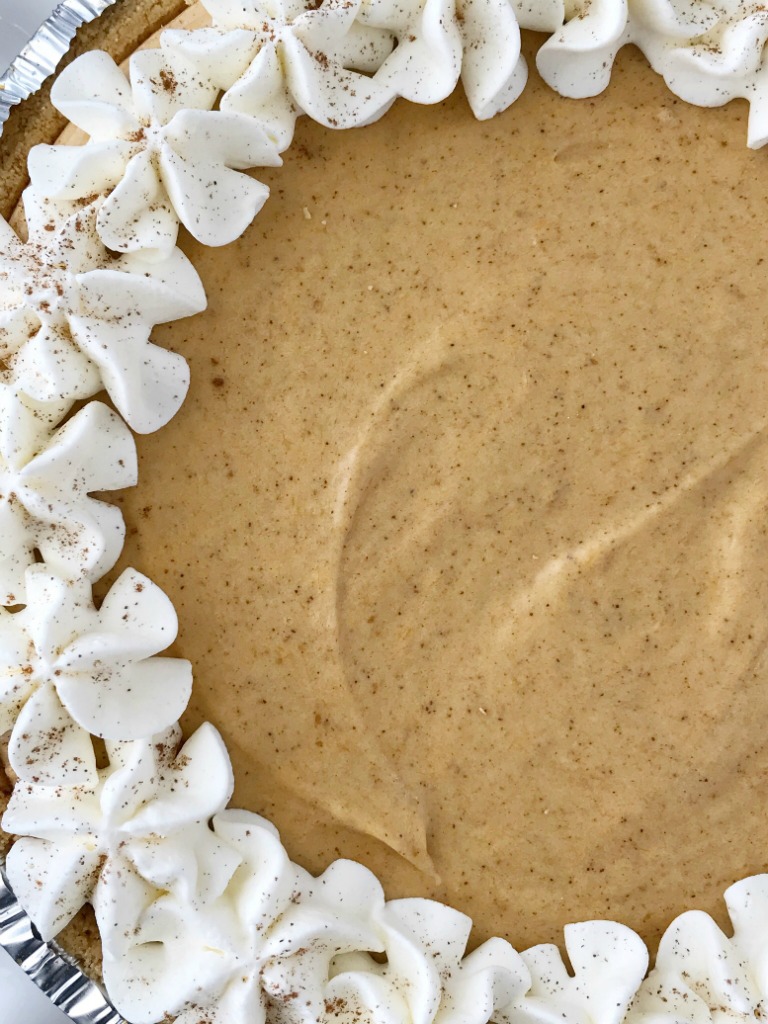 NO BAKE MARSHMALLOW PUMPKIN PIE
Pumpkin pie is a classic dessert but sometimes you want an easy no bake pumpkin pie recipe. Which is why you must try this no bake marshmallow pumpkin pie. It's a creamy and fun twist to traditional pumpkin pie. 
You will not believe the fluffiness that the marshmallows add to this pie. It tastes so light, creamy & fluffy and it's a no bake pie.
HOW TO MAKE NO BAKE PUMPKIN PIE WITH MARSHMALLOWS
Large Marshmallows
Pure Pumpkin – Don't confuse this with the pumpkin pie filling. They are very different but the cans look similar. The 100% pure pumpkin comes in an orange can and will say 'pure pumpkin' on the front. 
Pumpkin Pie Spice, Ground Cinnamon, Salt
Cool Whip 
Graham Cracker Crust – The recipe calls for a prepared, store-bought graham cracker crust. Yes you can make your own but I actually don't mind the store-bought crusts cause they stay together and don't crumble when you cut the pie. 
MY TIPS FOR THIS RECIPE
Make sure that you heat the marshmallows and pumpkin over LOW or MEDIUM-LOW heat. It will take several minutes, but don't turn up the heat thinking you can get it done faster, or otherwise the marshmallows will burn before they melt.
Let the pumpkin marshmallow mixture cool before adding the Cool Whip. To help speed this process along, transfer the pumpkin marshmallow into a different bowl, instead of leaving it in the hot pan it cooked in, this helps it cool down faster. It will still take about 30 minutes. 
What if I don't want to use Cool Whip? Instead of Cool Whip you can whip your own whipping cream + sweetener and add it into the recipe when it calls for the Cool Whip. Combine 1 1/4 cups heavy whipping cream + 1/4 cup powdered sugar and beat it until it's thick and stiff peaks form. 
Can I make my own graham cracker crust? Yes you can! As mentioned above, I actually prefer the store-bought graham cracker crusts because they are sturdy and they don't crumble once you cut into the pie. But if you want to make your own just use a recipe for a 9″ graham cracker crust that you like. It's normally just graham cracker crumbs, sugar, and melted butter. 
TRY THESE OTHER NO BAKE PUMPKIN RECIPES
No Bake Marshmallow Pumpkin Pie
No Bake Marshmallow Pumpkin Pie is a sweet and fluffy twist to classic pumpkin pie. Marshmallow, Cool whip, and pumpkin combine to make a delicious no bake pumpkin pie in a store-bought graham cracker crust. 
Ingredients
1 bag (10 oz) large marshmallows
1 cup pure pumpkin
1 teaspoon cinnamon
½ teaspoon pumpkin pie spice
½ teaspoon salt
1 carton (8 oz) Cool Whip (thawed)
1 (6 oz) store-bought graham cracker crust
Instructions
In a sauce pan, over low or medium-low heat, combine the marshmallows, pumpkin, cinnamon, pumpkin pie spice, and salt. Stirring very frequently, let it melt and mix together until it's smooth and combined.

Transfer the hot mixture into a mixing bowl and let it cool down to room temperature. About 30 minutes.

Once cooled, add the carton of thawed Cool Whip and stir together until completely combined and much lighter in color. Pour mixture inside the graham cracker crust and spread out evenly. 

Cover the pie with the enclosed lid from the crust and put it in the fridge for at least 8 hours to thicken up and come together. Or you can refrigerate it overnight as well.

Slice and serve with additional Cool Whip or freshly whipped cream.
Notes
As with any no bake pie, you can make this pie several days ahead of time. The pie actually gets better with more fridge time. Making it 2 days in advance would work just fine. A lot of readers who have tried this have actually said they like it better on day 2. So you can easily make this pie 1-2 days in advance of when you need to serve it.  Make sure you are using the PURE PUMPKIN not the pumpkin pie filling. 
Nutrition
Calories: 167kcal | Carbohydrates: 39g | Protein: 2g | Fat: 2g | Saturated Fat: 1g | Cholesterol: 5mg | Sodium: 196mg | Potassium: 94mg | Fiber: 1g | Sugar: 26g | Vitamin A: 4816IU | Vitamin C: 1mg | Calcium: 41mg | Iron: 1mg