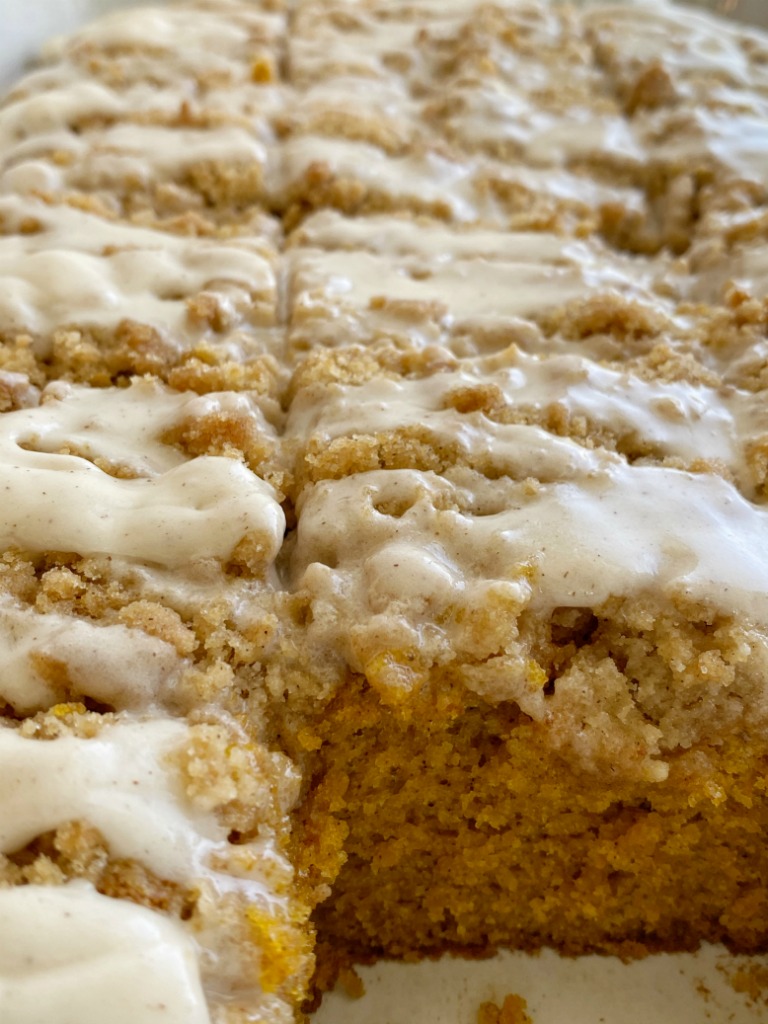 CINNAMON STREUSEL PUMPKIN CAKE
I am convinced that this cinnamon streusel pumpkin cake needs to be eaten by every single person this Fall. To say I am obsessed with this cake would be an understatement. I actually make this year round!
Super soft, perfectly spiced pumpkin cake topped with a sweet brown sugar streusel, and then topped with a simple vanilla glaze.
Anytime I can get a streusel topping on my cake then I know it will be a favorite like this chocolate chip streusel pumpkin cake or blueberry streusel coffee cake. 
This recipe was adapted from a Paula Deen recipe years ago. To this day, her restaurant in South Carolina is still the best place I've ever eaten. I mean that. I still think about that food years later.
I'm a sucker for a really high, thick cake like coffee cake with a mile high streusel topping. This is what this cake reminds me of. A super moist pumpkin cake topped with the best, highest streusel topping. 
HOW TO MAKE THIS PUMPKIN CAKE RECIPE
Brown Sugar Streusel – This is a simple mixture of flour, sugar, brown sugar, cinnamon, and butter. You will just mix it all together until coarse crumbs form. Kind of like wet sand almost.
Pumpkin Cake
large eggs
sugar
vegetable or canola oil
pure pumpkin (NOT pumpkin pie filling)
flour
baking powder
baking soda
salt
cinnamon
pumpkin pie spice
Vanilla Glaze – This glaze has butter, powdered sugar, vanilla extract, heavy cream, and cinnamon in it. Mixes up in one bowl and it can be the same bowl as the streusel. No extra dirty dishes here. 
MY TIPS & HELPFUL HINTS FOR THIS RECIPE
You can either pour the glaze over the cake while it's warm (it will melt into the streusel topping) OR wait until the cake cools most of the way and then glaze it. Both ways are equally delicious. 
Make sure you are using 100% pure pumpkin and not the pumpkin pie filling. They are completely different but the cans look very similar.
The recipe calls for heavy cream in the glaze, if you use anything other than that then start at 1 tablespoon and add from there. Because heavy cream has such a high fat content you need more of it. If you use a lower fat milk then you will need less of it, as it is not as thick as heavy cream. 
MORE PUMPKIN RECIPES THAT YOU WILL LOVE
Cinnamon Streusel Pumpkin Cake
Moist and tender pumpkin cake loaded with warm pumpkin spices and topped with a sweet cinnamon & brown sugar streusel. Mix up a simple vanilla glaze to drizzle over the top. This streusel pumpkin cake is the best Fall pumpkin dessert recipe!
Ingredients
Cinnamon Streusel
1/2 cup all-purpose flour
1/3 cup light brown sugar
1/4 cup granulated sugar
¼ teaspoon ground cinnamon
4 tablespoons cold butter cubed small
Pumpkin Cake
4 large eggs
1⅔ cups granulated sugar
1 cup canola or vegetable oil
1 can (15 oz) pure pumpkin
2 cups all-purpose flour
2 teaspoons baking powder
1 teaspoon baking soda
1 teaspoon ground cinnamon
1 teaspoon pumpkin pie spice
1 teaspoon salt
Glaze
1 tablespoon butter, softened
¼ teaspoon vanilla extract
1 cup powdered sugar
¼ teaspoon ground cinnamon
4 tablespoons heavy cream
Instructions
Heat oven to 350 degrees and spray a 9x13 baking pan with cooking spray.
Cinnamon Streusel
Combine all ingredients in a small bowl and using your fingers, or a pastry cutter, mix together until it resembles coarse wet sand. Set aside.
Pumpkin Cake
In a large bowl add eggs, sugar, canola oil, and pumpkin. Use a handheld blender, or a stand mixer, to beat until combined.


In a separate bowl, combine the flour, baking powder, baking soda, cinnamon pumpkin pie spice, and salt. Stir with a wire whisk to break up clumps.

Add half of the dry ingredients into the wet and beat together. Add the other half and mix until combined.

Pour into the prepared baking dish and sprinkled the cinnamon streusel over top.

Cook for 30-38 minutes or until center is no longer "jiggly" and looks set. The edges will be golden brown. Let cool on a cooling rack.

Once cooled make the glaze: beat the butter and vanilla extract until soft and creamy. Add the powdered sugar, cinnamon, and 1 tablespoon heavy cream. Keep adding heavy cream, in 1 tablespoon increments, until desired consistency is reached.

Drizzle over the cake and serve.
Notes
If you use 1% or 2% milk you will need less milk as it's thinner than heavy cream. Just start with 1 tablespoon of milk at a time and then add from there until it's the desired consistency. The glaze is much better with heavy cream! Mine was perfect at 35 minutes. You want to make sure the center looks cooked and not jiggly. You could also use a toothpick and make sure it comes out with no wet batter on it. If wanted, sprinkle some pecans over the glaze for a salty bite.
Nutrition
Calories: 401kcal | Carbohydrates: 54g | Protein: 4g | Fat: 20g | Saturated Fat: 15g | Cholesterol: 61mg | Sodium: 268mg | Potassium: 152mg | Fiber: 1g | Sugar: 37g | Vitamin A: 4368IU | Vitamin C: 1mg | Calcium: 47mg | Iron: 2mg
Recipe was originally published in September 2018. Post and pictures have been updated. Recipe is the same. Original picture is below.