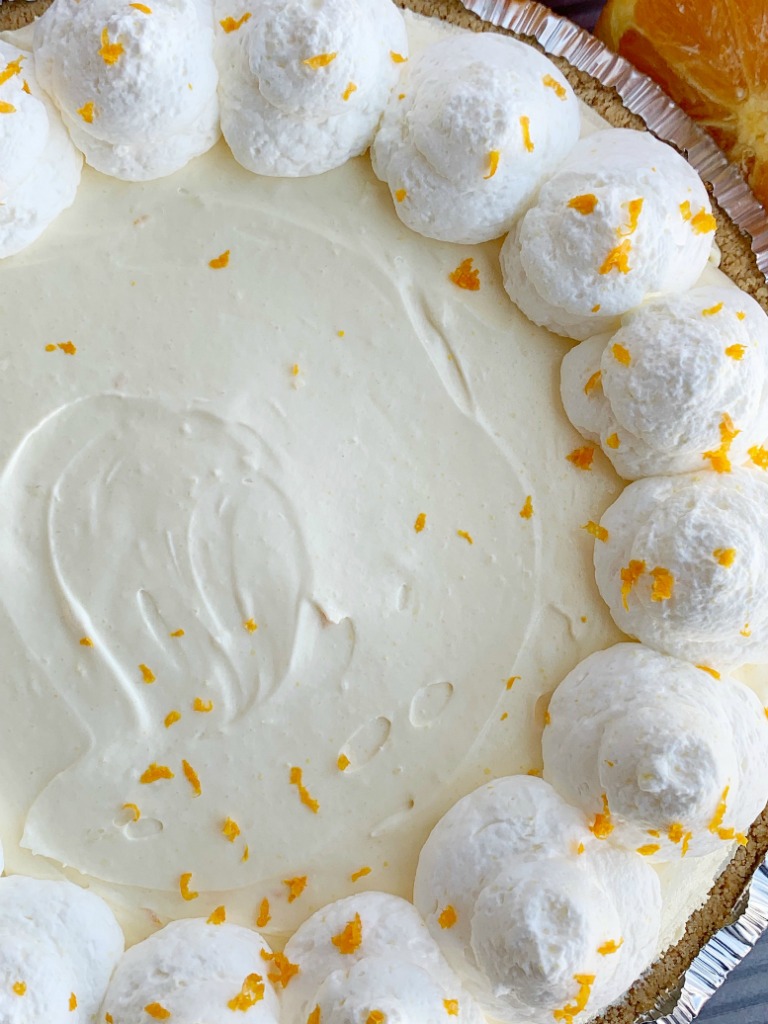 NO BAKE ORANGE CREAMSICLE PIE
I have been so excited to share this orange creamsicle pie recipe with you!! I love the bright and light flavor of orange in desserts. Try this orange pineapple cake for another recipe with that bright citrus flavor. 
My love for no bake desserts and especially pies runs deep. They're so simple to make, easy for anyone, and it's almost impossible to mess it up which means you get perfect results every single time. 
Plus you'll only need a few ingredients and one bowl!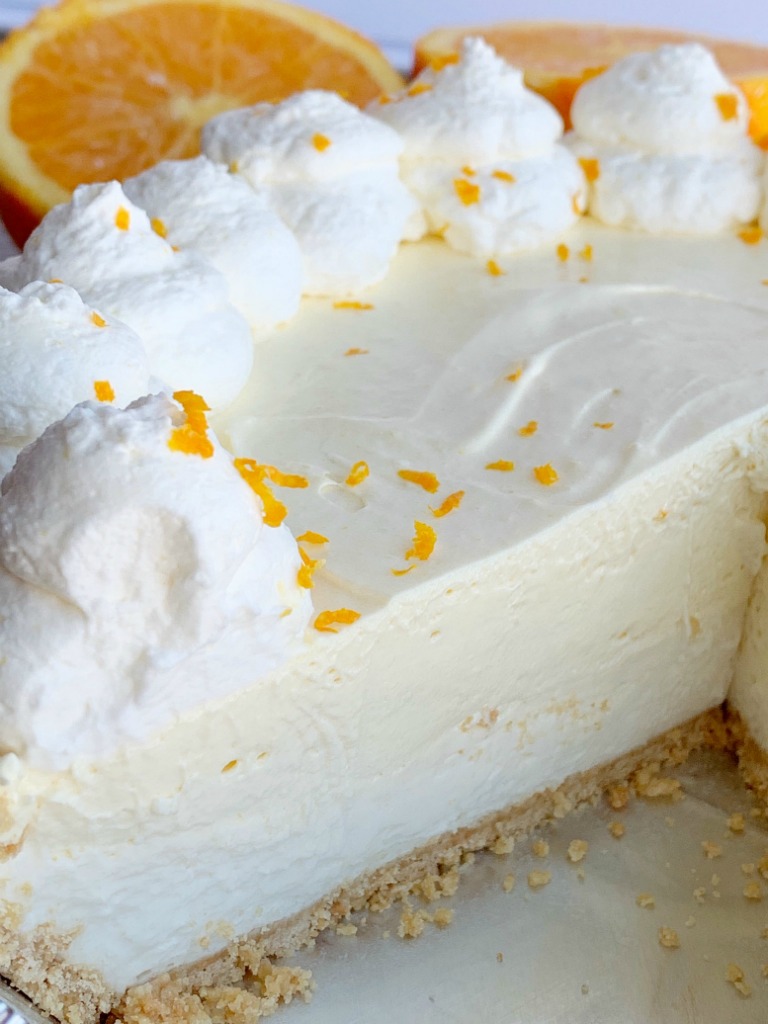 INGREDIENTS NEEDED FOR ORANGE CREAMSICLE PIE
graham cracker crust
cream cheese
sweetened condensed milk
orange juice
fresh orange zest
cool whip
vanilla pudding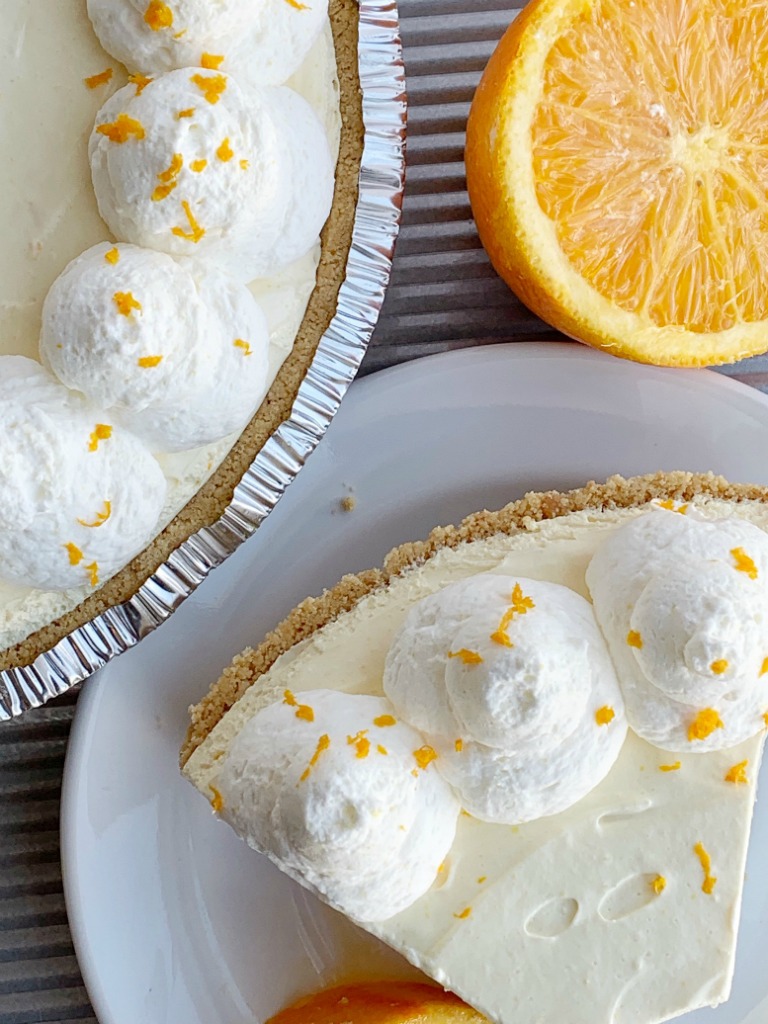 MY TIPS FOR MAKING ORANGE CREAMSICLE PIE
Read the directions carefully

There are two ingredients that are divided and used in two different mixes. Read the recipe carefully so you are adding the right amount in with the correct mixture.

Use a good quality pulp-free orange juice

For best results make sure you are using a quality orange juice. I prefer Tropicana when I make this. Also, make sure it's pulp-free unless of course you like the pulp in it. I don't think it would be very appetizing in this pie, but if you want it then go for it.

Use real cream cheese and regular instant pudding

For best texture, thickness, and taste I suggest using the real, full-fat cream cheese and the regular instant pudding mix. You could always experiment and I am sure it would work but the thick texture may be different. 

Substitute with fresh squeezed orange juice

If you prefer fresh orange juice then squeeze oranges to get the juice needed.

Make the pie the night before

I love making no bake pies the day before because the longer they sit in the fridge the thicker it becomes and the flavor intensifies (in a good way!). You need at least 8 hours of refrigeration but overnight is preferred.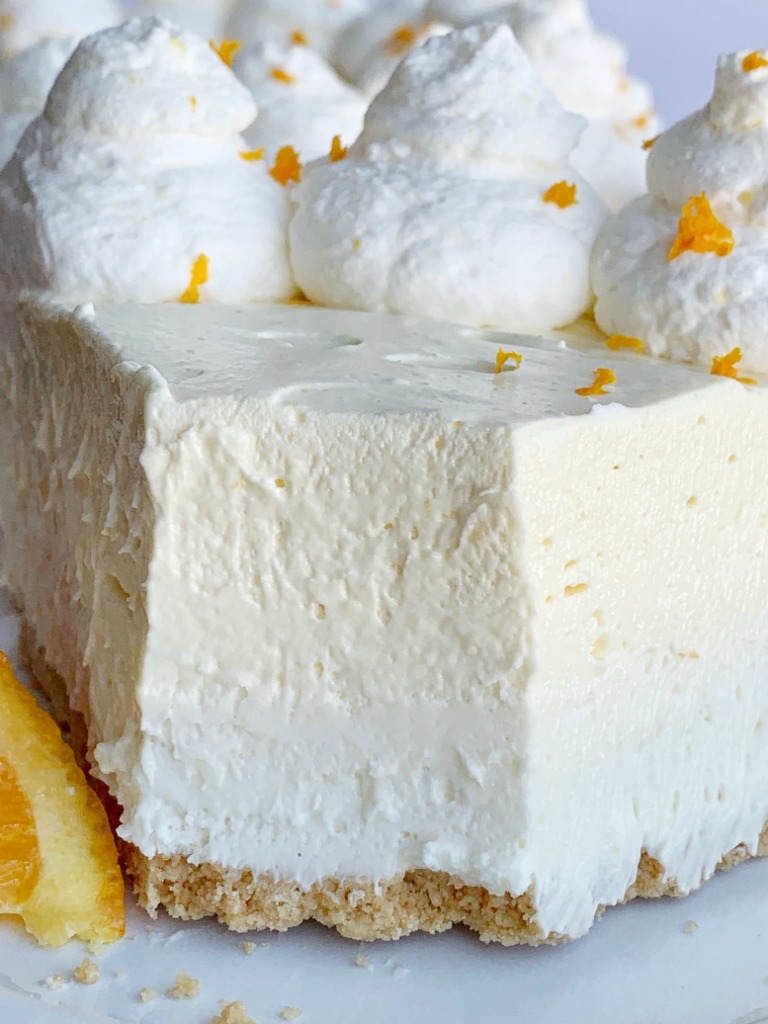 TRY THESE OTHER NO BAKE PIE RECIPES
No Bake Pistachio Cheesecake Pie
Pistachio Cheesecake Pie is no bake and so simple to make! Graham cracker crust with three layers of creamy, fluffy pistachio pudding filling.
GET THE RECIPE
No Bake Key Lime Pie
This No Bake Key Lime Pie is a must try no bake dessert recipe! Creamy, smooth, sweet, & full of that tart key lime flavor inside a prepared graham cracker crust. So easy to make with some convenient ingredients like a ready to use crust, a can of sweetened condensed milk, and cream cheese. Top it off with a homemade key lime whipped cream for the best dessert. 
GET THE RECIPE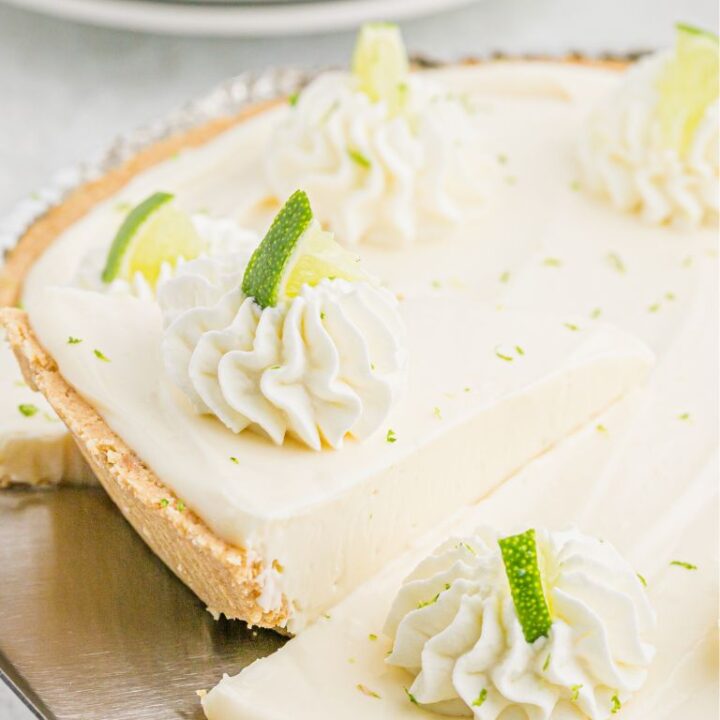 No Bake Lemon Cheesecake Pie
Lemon Cheesecake Pie is a no bake dessert that is so creamy and bursting with fresh lemon flavor! Lemon pudding, cream cheese, and Cool Whip inside a crumb crust.
GET THE RECIPE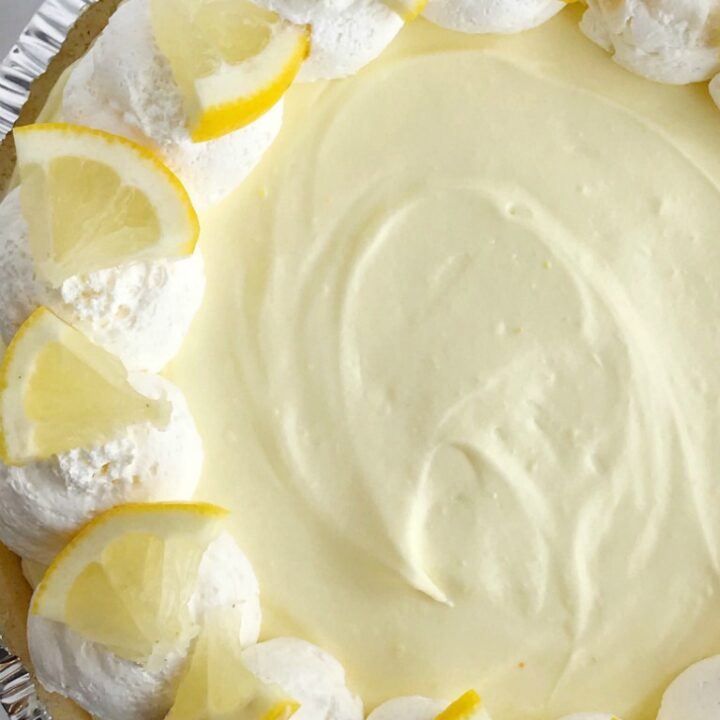 No Bake Oreo Cream Pie
Oreo Cream Pie will be one of the easiest desserts you'll ever make. An Oreo cookie crust filled with a cream Oreo filling. Top with additional whipped cream and Oreos for the ultimate Oreo Cream Pie. Only 6 simple ingredients needed and it's no-bake! 
GET THE RECIPE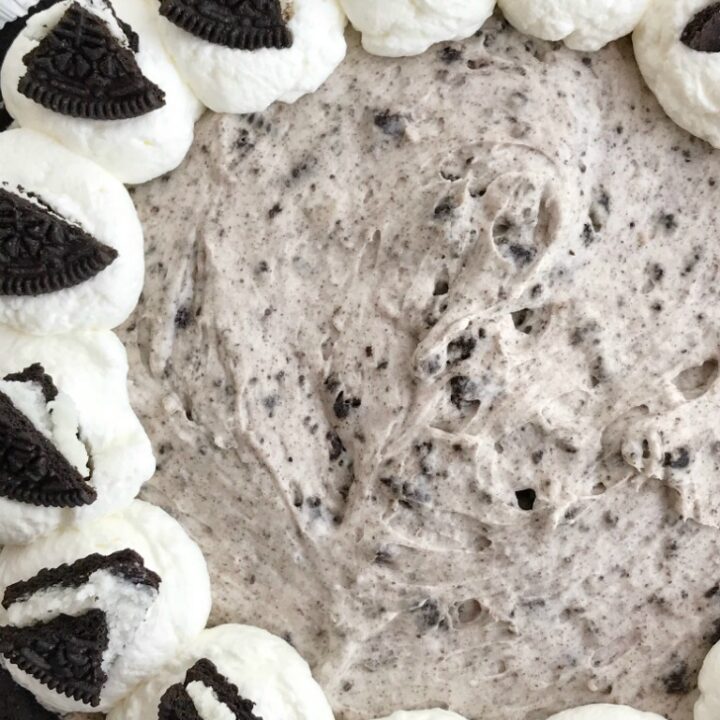 No Bake Snickers Cheesecake Pie
No bake Snickers Cheesecake Pie with a snickers cheesecake filling and topped with freshly whipped cream and chunks of snickers candy bar.
GET THE RECIPE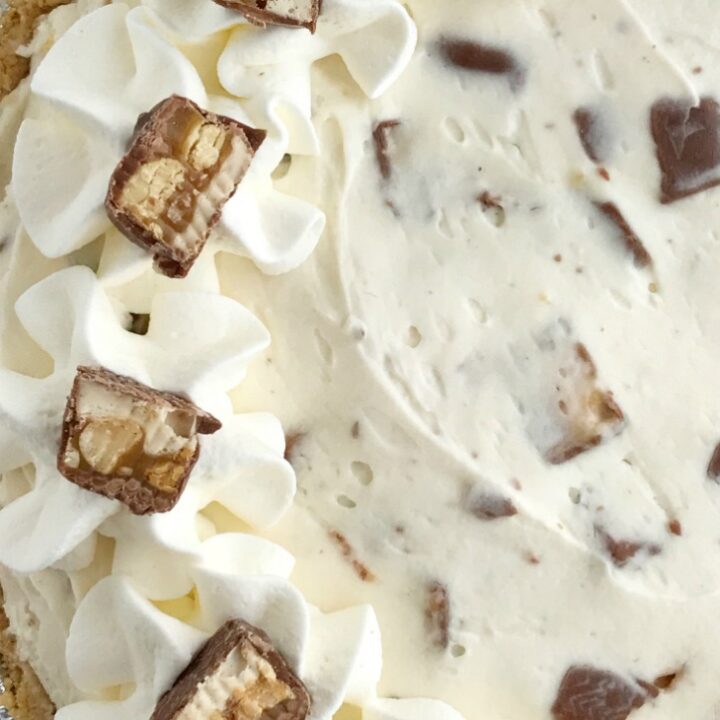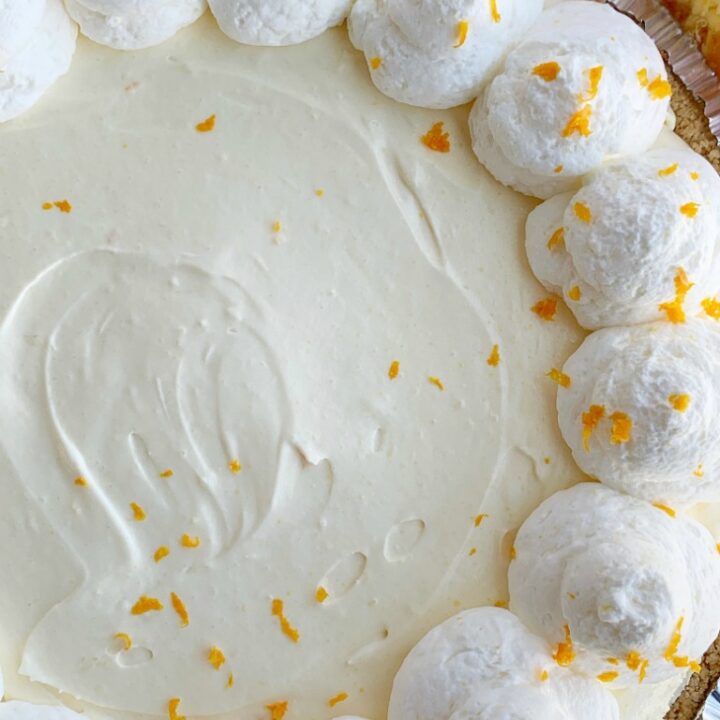 No Bake Orange Creamsicle Pie
Orange Creamsicle Pie is a no bake dessert that's so refreshing and full of sweet orange cream flavor. Made easy with a prepared graham cracker crust, a sweet cream layer, and a light & fluffy orange layer with fresh orange juice and orange zest.
Ingredients
1 (6 oz) ready-to-use graham cracker crust
1 package (8 oz) cream cheese softened
1 can (14 oz) sweetened condensed milk
1 tub (8 oz) cool whip thawed
zest of 1 orange
1/3 cup pulp-free orange juice
1 box (3.4 oz) vanilla instant pudding
Instructions
Combine softened cream cheese and 1/4 cup of the sweetened condensed milk (reserve the rest for later) into a mixing bowl. Beat with a mixer until well blended. Add 1/2 cup of the cool whip (reserve the rest for later) and beat together until combined. Spread onto the bottom of the graham cracker crust. 

In the same bowl, combine the remaining sweetened condensed milk, fresh orange zest, orange juice, and the dry instant pudding mix. Beat together with a mixer for 2 minutes. Stir in the remaining cool whip. Spread onto the 1st layer in the pie crust and spread out evenly.

Cover with the enclosed lid and refrigerate for at least 8 hours. I prefer to refrigerate overnight.

Garnish with freshly whipped cream and orange zest, if wanted.
Notes
Use a really good quality pulp-free orange juice. I love Tropicana! You really want that orange flavor to shine through.  When you zest the orange only zest the very outer layer. Don't zest too deep into the orange or else it becomes bitter.  It's best to use the real cream cheese. Not the reduced-fat stuff.  Make sure the cream cheese is soft to avoid lumps. Place the unwrapped cream cheese on a plate and microwave for 30 seconds.  To make whipped cream for garnish beat together 1 cup heavy whipping cream + 3 tablespoons powdered sugar for several minutes until stiff peaks form. This pie does not need a garnish but you can do one so it presents pretty.  Feel free to use freshly whipped cream in place of the Cool Whip. You will need to beat 1 cup heavy whipping cream + 3 tablespoons powdered sugar until stiff peaks form. This can replace the 8 oz tub of Cool Whip in the recipe (if wanted). I will note that the orange creamsicle flavor is not intense in this pie. It's light and refreshing. I you want more of that orange flavor then try adding some orange extract. I would start at 1/2 teaspoon and add more from there if you think it needs it. 
Nutrition
Calories: 279kcal | Carbohydrates: 38g | Protein: 5g | Fat: 12g | Saturated Fat: 7g | Cholesterol: 42mg | Sodium: 201mg | Potassium: 221mg | Fiber: 1g | Sugar: 34g | Vitamin A: 466IU | Vitamin C: 5mg | Calcium: 161mg | Iron: 1mg