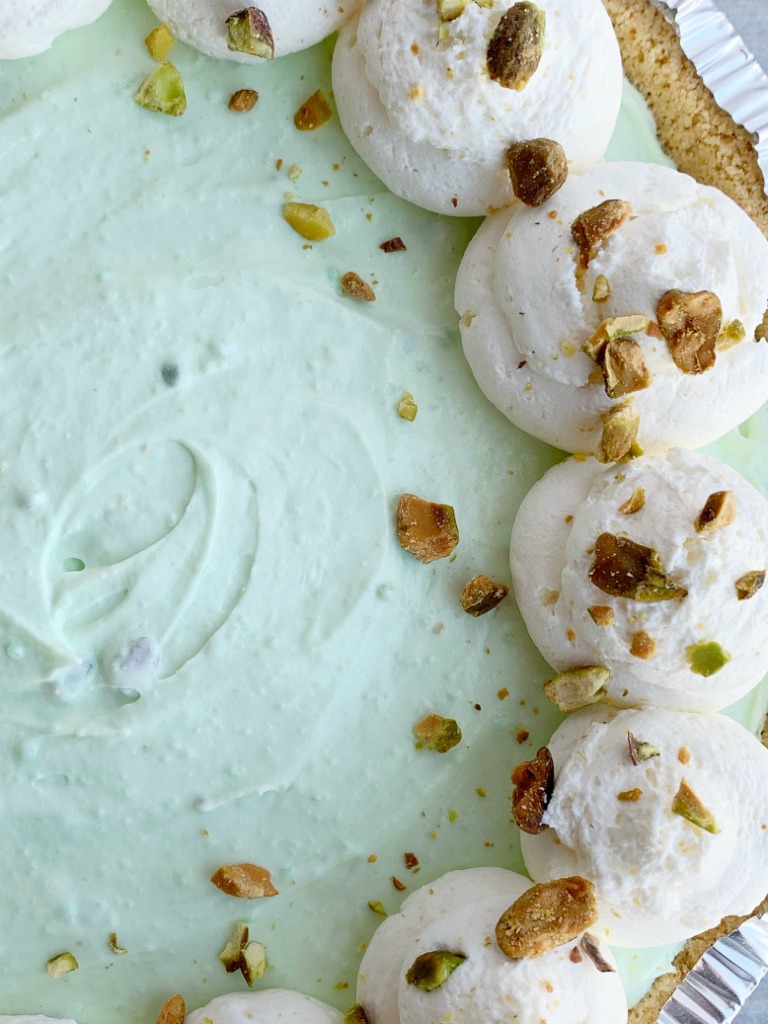 NO BAKE PISTACHIO PIE
I think I am just going to commemorate this week and deem it as 'no bake pie' week.
If you are a regular reader then you know that I posted this orange creamsicle pie and this strawberry cream pie earlier this week. Both no bake pies and both are pies that you really want to make 🙂 
And now with today's pistachio cheesecake pie it's like the best week ever for no bake dessert recipes on this blog!
As I was preparing this post I kept wondering 'how many is too many pictures of pistachio pie?' haha
I did not know which ones to leave out so you get a few extra pictures today because of my indecisiveness. 
HOW TO MAKE PISTACHIO CHEESECAKE
Whisk together 2 small boxes of pistachio instant pudding mix with half and half milk. Whisk this for 1-2 minutes and then let it sit for a few minutes so it can get thicken. 
Spread 1 1/2 cups of the pudding into the pie crust. This will be the 1st layer. 
In a sperate bowl, beat together the sugar and cream cheese. Stir in a tub of thawed cool and combine well. 
Add half of the cream cheese mixture into the remaining pistachio pudding and spread into the pie crust. This will form the 2nd layer. 
For the 3rd layer you can either spread the remaining cream cheese/cool whip mixture on top OR save it in the fridge in a covered Tupperware. After the refrigeration time and right before serving, pipe it on top of the pie (as seen in pics) for the third and final layer. Either way will work just fine. I use a Wilton 1A to pipe it on the pie. 
MY TIPS FOR MAKING THIS RECIPE
The recipe specifically says half-n-half milk and there is a reason for it. Becasue this pie is no-bake, you need that added fat and creaminess to help the pie firm up. Maybe I am just too picky and maybe using a lower fat milk will be just fine, but I much prefer the thicker creaminess of the half-n-half milk. 
If you prefer to make your own graham cracker crust that is totally fine. Just make enough for one 9-inch pie. 
For the third layer you can either spread it on top of the pie OR save it in a Tupperware container in the fridge. Before serving you can pipe it on (as shown in the pictures). I've done it both ways and it's equally delicious, just different looks. 
Make sure and plan ahead when making this pie as it needs at least 8 hours refrigeration time. Either make it in the early morning the day of or make it the night before. I always make no bake pies the night before I need them. A longer refrigeration time won't hurt a no bake pie and I love preparing what I can ahead of time. 
TRY THESE OTHER NO BAKE PIE RECIPES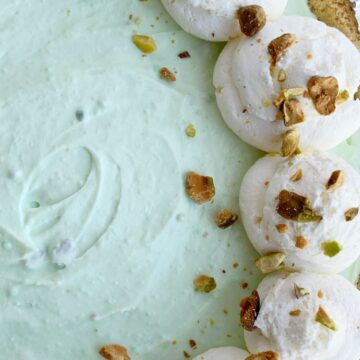 No Bake Pistachio Cheesecake Pie
Pistachio Cheesecake Pie is no bake and so simple to make! Graham cracker crust with three layers of creamy, fluffy pistachio pudding filling.
Ingredients
1 (6 oz) Nilla Wafer or Graham Cracker crust (I prefer the store bought)
2 boxes (3.4 oz each) pistachio instant pudding mix
2 cups half and half milk
1 bar (8 oz) cream cheese, softened
1/3 cup granulated sugar
1 tub (8 oz) Cool Whip, thawed
chopped pistachios (for garnish)
Instructions
In a mixing bowl, combine the dry pudding mix and half & half milk. Whisk together for 1-2 minutes. Let sit for a few minutes so the pudding can thicken. Once thickened, spread 1 1/2 cups of the pudding into the pie crust. Set aside the remaining pudding.

In a separate mixing bowl, using a handheld blender, beat together the softened cream cheese and sugar until it's creamy and combined. Using a spatula, fold the cool whip in and mix until combined. Add half of this mixture into the remaining pudding mix and spread into the pie crust to form the 2nd layer.

Spread the remaining cool whip/cream cheese mixture on top of the pie OR you can refrigerate it in a Tupperware container and after the refrigeration time pipe it on top (like the pictures) right before serving. Either way will be just fine.

Cover the pie with the enclosed lid (from the store bought crust) and refrigerate for at least 8 hours. I always refrigerate overnight.

Garnish with chopped pistachios (optional). If you saved the top layer pipe that on right before serving. I use a Wilton 1A tip.
Notes
If you prefer to not use Cool Whip you can beat together 1 cup of heavy whipping cream + 3 tablespoons powdered sugar until stiff peaks form. Follow recipe as directed and replace the Cool Whip.    I actually prefer the store bought crusts when making all my no bake pies. They are so easy, and they hold together better than homemade. I have found that homemade graham cracker crusts fall apart and are too crumbly, for my liking anyways.    Make sure the cream cheese is softened to avoid lumps in the pie. Place the unwrapped on a plate and microwave for about 30 seconds. This makes the cream cheese soft but not hot.     
PIN THIS RECIPE TO PINTEREST ♥