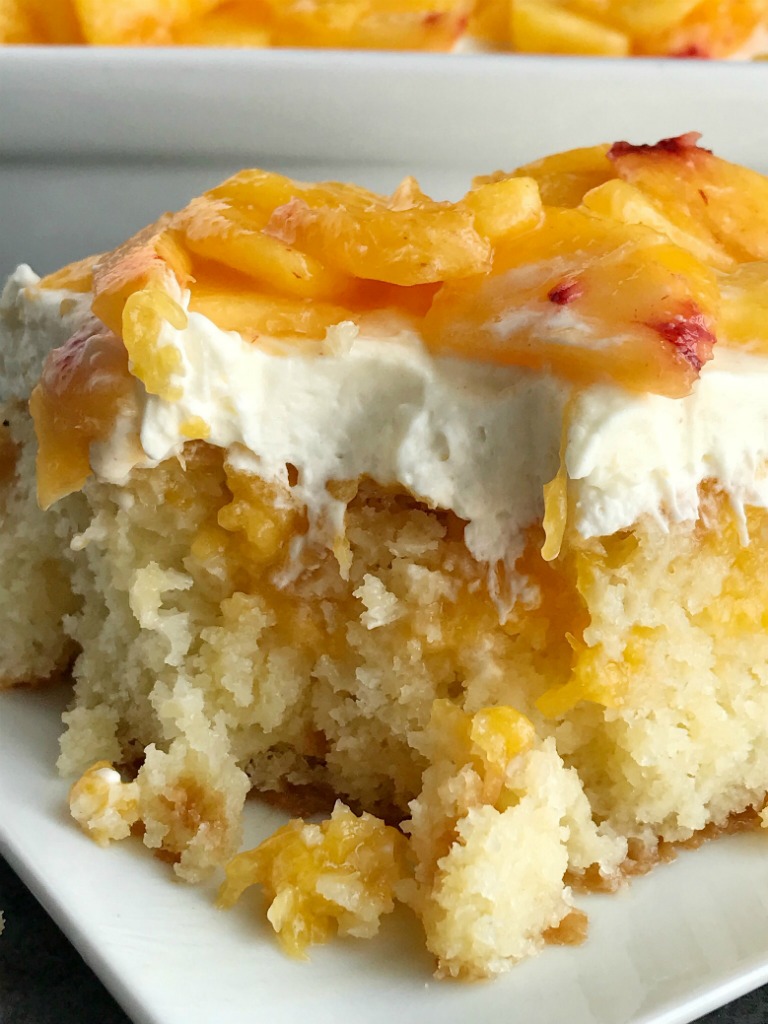 I have been obsessed with all things peaches lately. Here in Utah, it's peach season and I can't help myself when all I see are fresh peach stands and the grocery stores advertising them for crazy low prices. 
My protein shake is peaches & cream and somehow I always end up ordering peaches and cream when we go to the local shaved ice place. 
I took it as a sign that I needed to make something with all the peaches. Say hello to peaches and cream poke cake. You guys will LOVE this!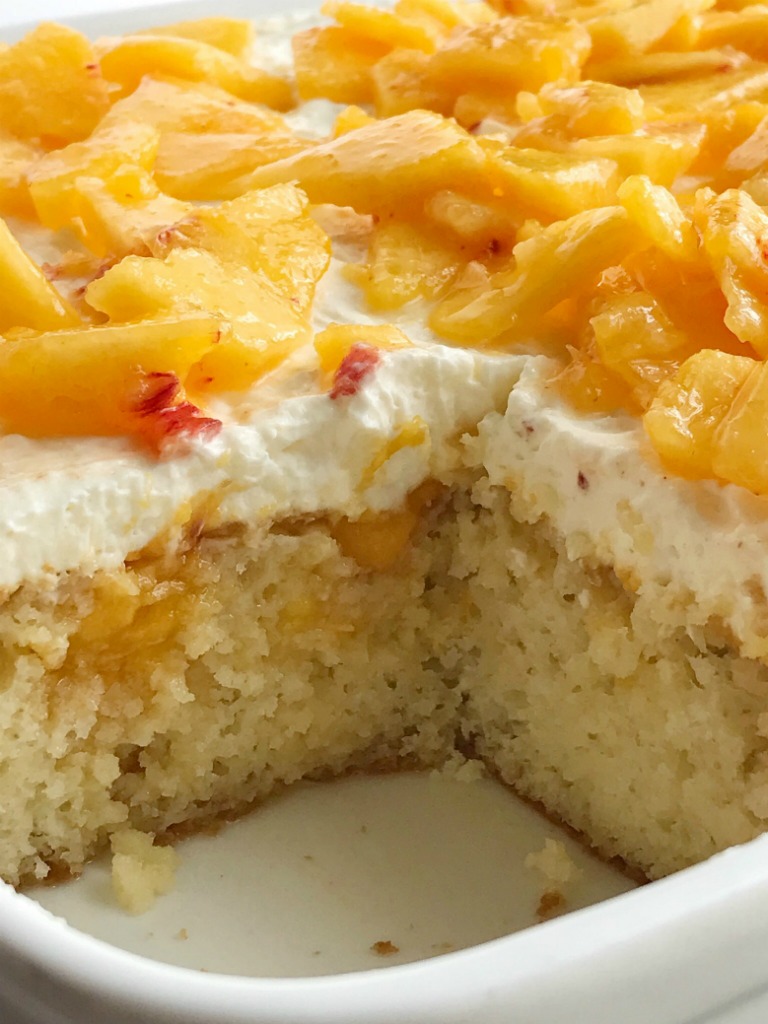 The cake is a boxed French vanilla cake mix. Prepare and cook according to the instructions and then poke holes in it when it comes out of the oven. 
Pour this insanely delicious fresh peach syrup all over that cake, making sure that all the holes are filled. Refrigerate and then frost with a cream cheese whipped topping, and refrigerate again.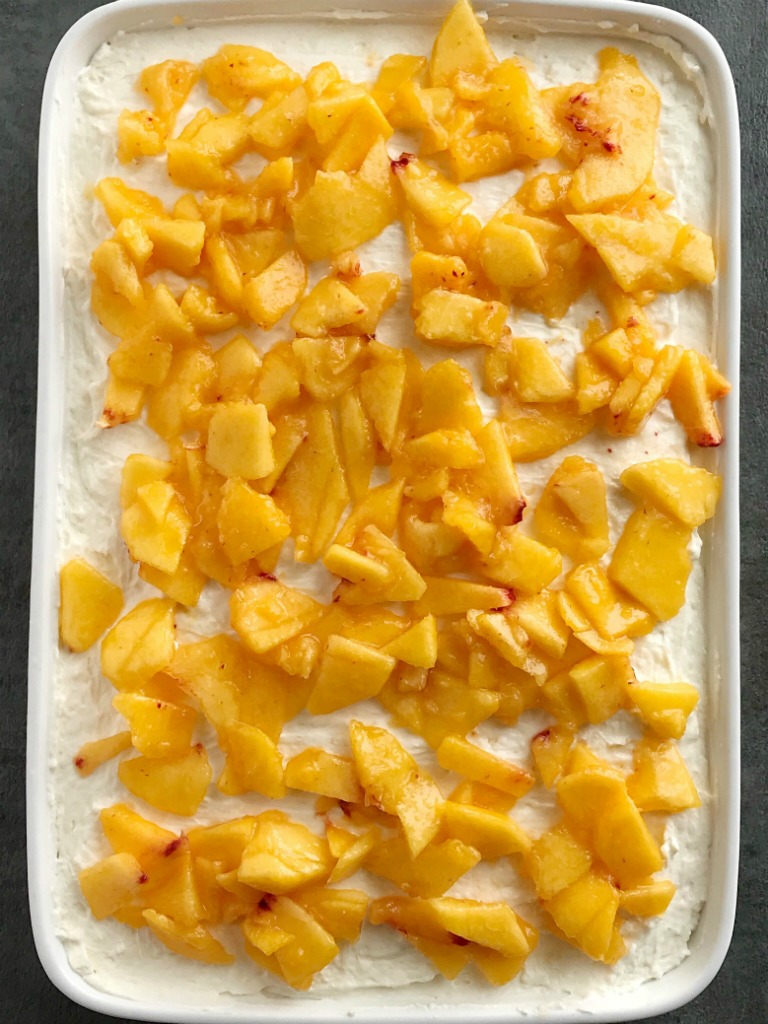 It really is simple. Even that homemade fresh peach syrup. It's only a matter of combining fresh peach puree, sugar, and lemon juice. Let that come to a boil to thicken a bit and that's it. 
Of course, you can make this as "not simple" as you want by making a vanilla cake from scratch instead of using the boxed cake mix. 
The recipe does call for fresh whipped cream which is a must when you are eating fresh peaches, but if whipping your own cream scares you, or you just don't have time, you can also use an 8 oz tub of Cool Whip.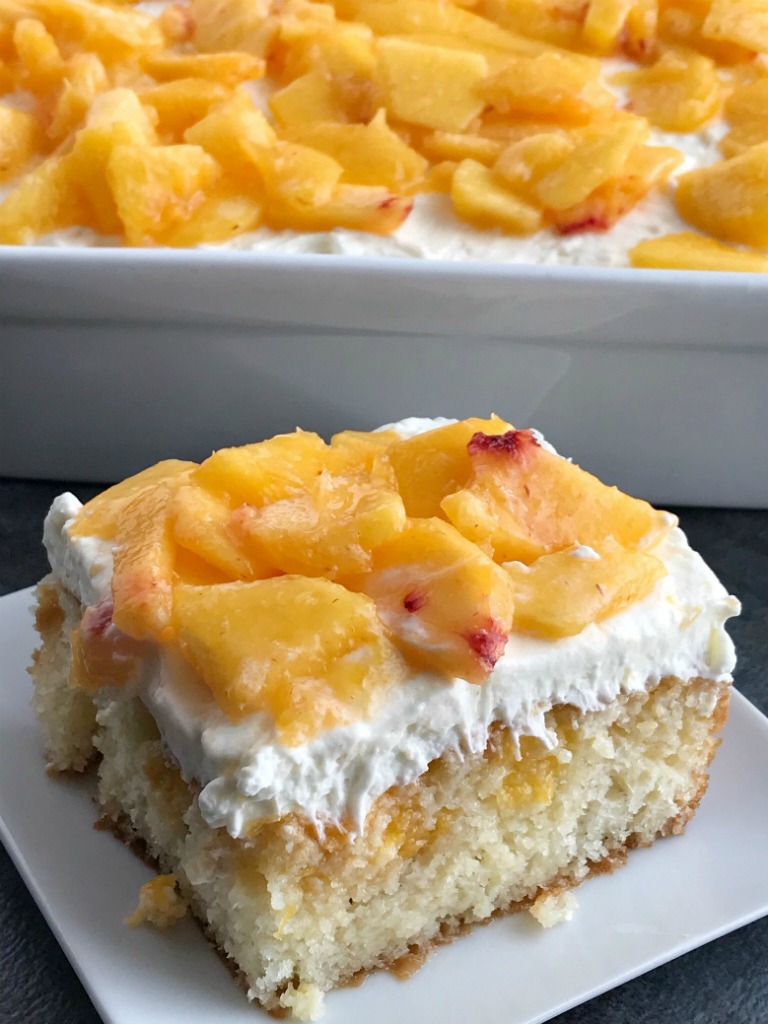 Tips & tricks for making a poke cake
To make the holes in the cake you can use the end of a wooden spoon, or any handle that has a circular shape. You want larger holes so that the peach syrup soaks into all of the cake. I know some poke cakes call for a fork to make the holes, I would suggest not using a fork for this recipe because the holes will be too small to really get that fresh peach juice down into all of the cake. 
Plan ahead of time as poke cakes need refrigeration time. Poke cakes are better cold. Make the day before and let it sit overnight, or start preparing in the morning so it has time to sit in the fridge. 
My favorite time to eat poke cakes is the day after. The cake is so moist and the flavors have really developed nicely. That being said, if you are planning on making it the night before and serving the next day, I would wait to top it with the peach chunks until right before serving.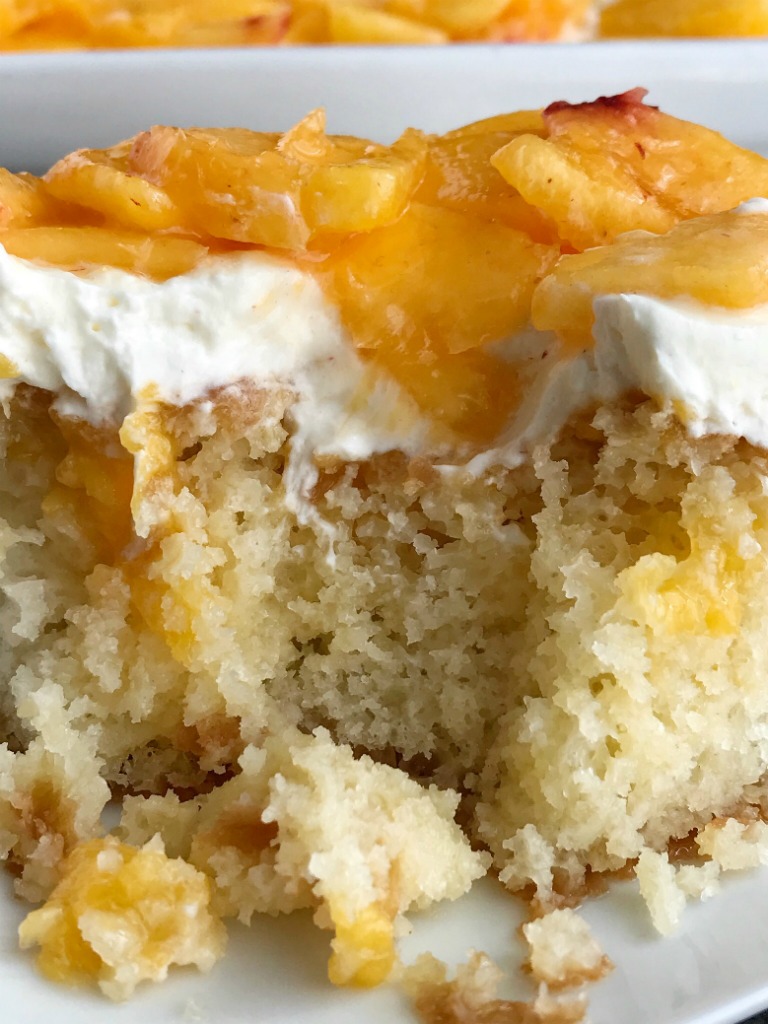 If you love fresh peaches then be sure to try out these other recipes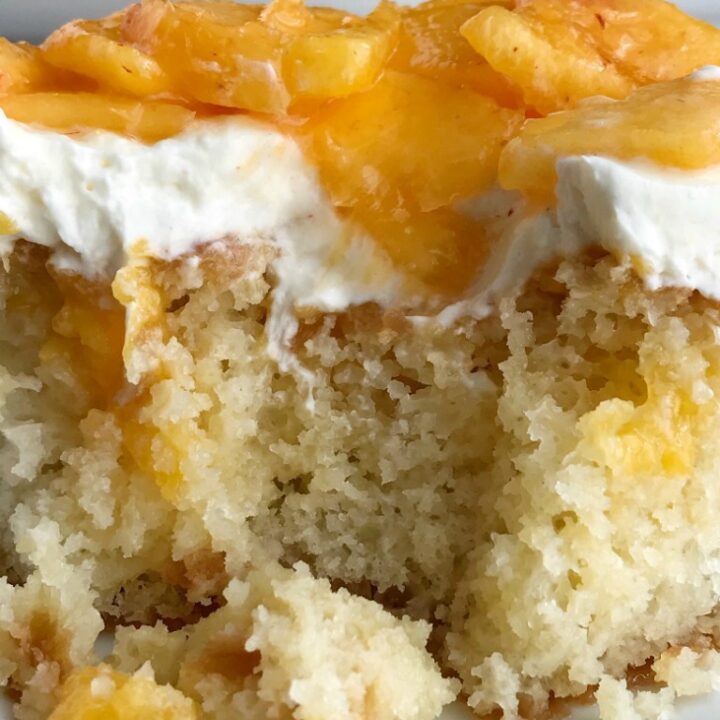 Peaches and Cream Poke Cake
If you love poke cakes then you must try this peaches and cream poke cake! French vanilla cake soaked in fresh peaches, frosted with a light and fluffy cream cheese whipped topping, and topped with chunked fresh peaches.
Ingredients
peaches & cream cake
1 box (15.25 oz) french vanilla cake mix
ingredients called for on box
4 peaches, peeled and cut into large chunks
1/3-1/2 cup granulated sugar
1 teaspoon lemon juice (I use fresh)
whipped topping
1 bar (8 oz) cream cheese, softened
1/3 cup granulated sugar
1 cup heavy whipping cream
1/4 cup powdered sugar
fresh peach chunks for topping
Instructions
Make and prepare cake according to the instructions on the box. Use a 9x13 baking pan. Cook for recommended time. Use a toothpick to test center to make sure it comes out dry and clean. You want the cake cooked through.

When the cake is done, take out of the oven and use the end of a wooden spoon to poke holes all over it. You want larger holes, not small ones, so that the peach mixture soaks into all of the cake. Let the cake cool while you prepare the peach filling.

Prepare the peach filling : take the large chunks of peeled peaches (4 peaches) and place into a food processor or a blender and blend up. I like to leave some larger chunks and some pureed peaches. Blend/chop to your liking.

Add the peach puree, sugar, and lemon juice to a saucepan over medium-high heat. Stir and let it come to a low boil so it can thicken slightly and the sugar can dissolve. This only takes about 3-4 minutes. Once it's slightly thickened remove from heat and pour over the cake making sure the holes are filled.

Cover and let refrigerate for 2 hours.

Prepare the whipped topping by beating the cream cheese and granulated sugar into a larger mixing bowl. In a separate bowl, or a stand mixer, beat the heavy whipping cream and powdered sugar until stiff peaks form. This will take about 5 minutes.

Add the whipped cream into the cream cheese mixture and stir to combine. Frost the cake, cover, and let refrigerate for at least 4 hours. When you're ready to serve, top the cake or each slice with fresh peach chunks.
Notes
Once you puree/chop the peaches, you should end up with about 2 1/2 cups of "peach juice" to pour into the holes in the cake.    If your peaches are really sweet then you may only need to add 1/3 cup sugar to them. Taste the peach puree and adjust the sugar depending on the sweetness. I added a little over 1/3 cup sugar to mine.    If you don't want to whip your own cream, use a 8 oz tub of Cool Whip in place of the heavy whipping cream and powdered sugar. 
Save this recipe and PIN IT to PINTEREST