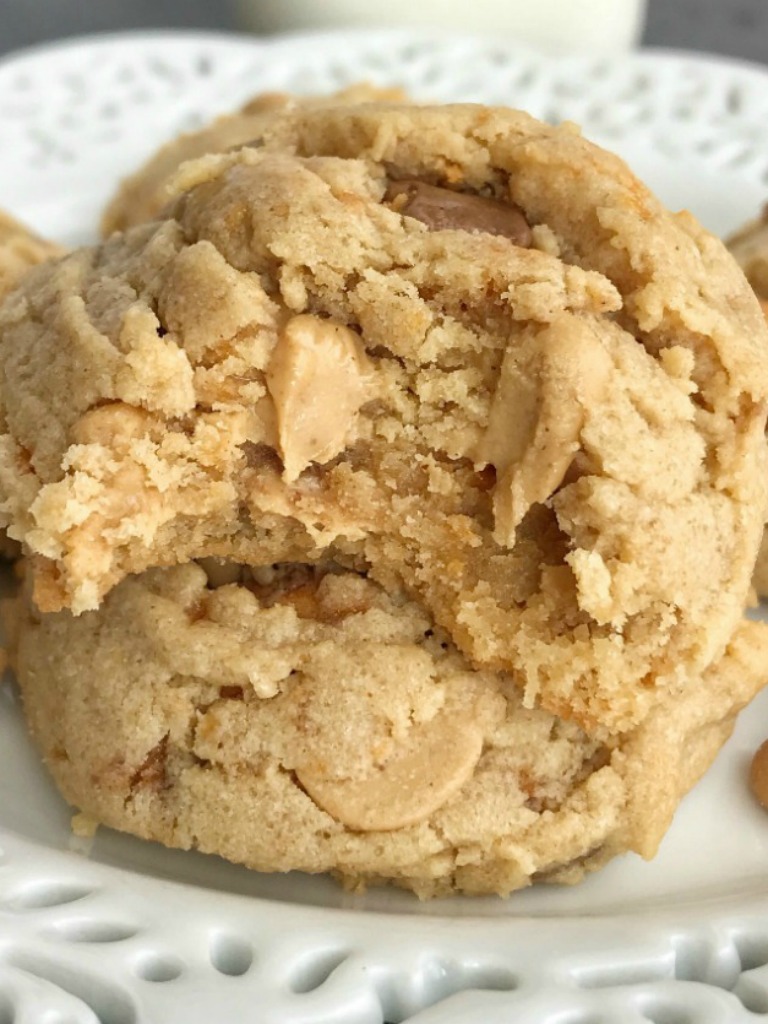 BUTTERFINGER COOKIES
Peanut butter cookies and Butterfinger candy bars are two of my favorite things. So it's really no wonder that these Butterfinger cookies are one of my very favorites. 
Soft, thick, and puffy peanut butter cookie (the best kind!) loaded with peanut butter chips and chunks of Butterfinger candy pieces. 
I remember many years ago in college my lunch of choice was always a Butterfinger and a diet coke. Healthy right?! 🙂 If only I could still eat like that and be skinny. Those were the days!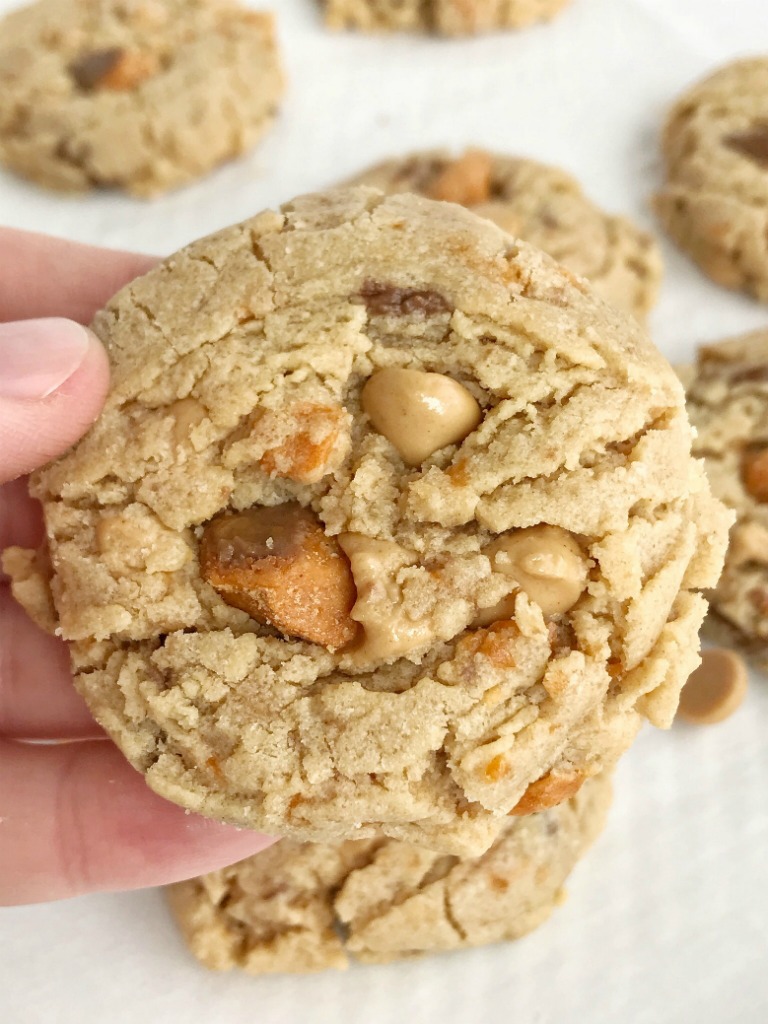 INGREDIENTS FOR BUTTERFINGER COOKIES
Butter – I use salted butter but feel free to use unsalted butter if that's what you have or if it's what you normally bake with. I just think salted butter tastes better, especially in cookies, but unsalted butter will work fine too. 
Creamy Peanut Butter – You want to use the regular, classic creamy peanut butter like Jif, Skippy, or Peter Pan. I would not recommend using all-natural peanut butter as it is thicker and tends to dry out cookies. 
Light Brown Sugar & Granulated Sugar
Vanilla Extract
Large Eggs
All-Purpose Flour, Baking Soda
Peanut Butter Chips
Chopped Butterfinger – You will need 3 Butterfingers for this recipe plus extra for the tops of the cookies (if using).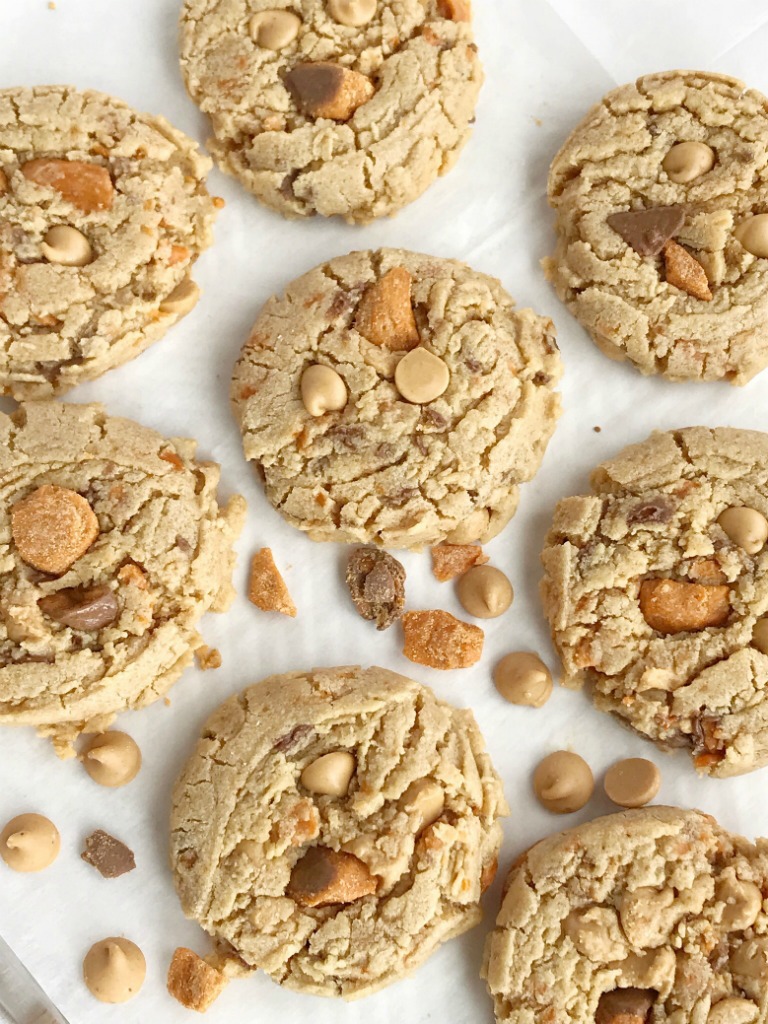 TIPS & HELPFUL HINTS FOR MAKING BUTTERFINGER COOKIES
In all my years of making these cookies I can safely say that creamy peanut butter is the best. The crunchy peanut butter is ok but seems to make the cookies denser and drier because of the added whole peanuts. The taste was just a bit off with the crunchy peanut butter. 
You will need about 3 checkout stand sized candy bars for this recipe. Get an extra one if you want some for garnish for the tops of the cookies. 
These cookies will not spread much at all while baking. To get a cookie shape simply press some peanut butter chips and/or Butterfinger pieces onto the tops of the cookies immediately when they come out of the oven. This will help spread the cookies so they are not so puffy.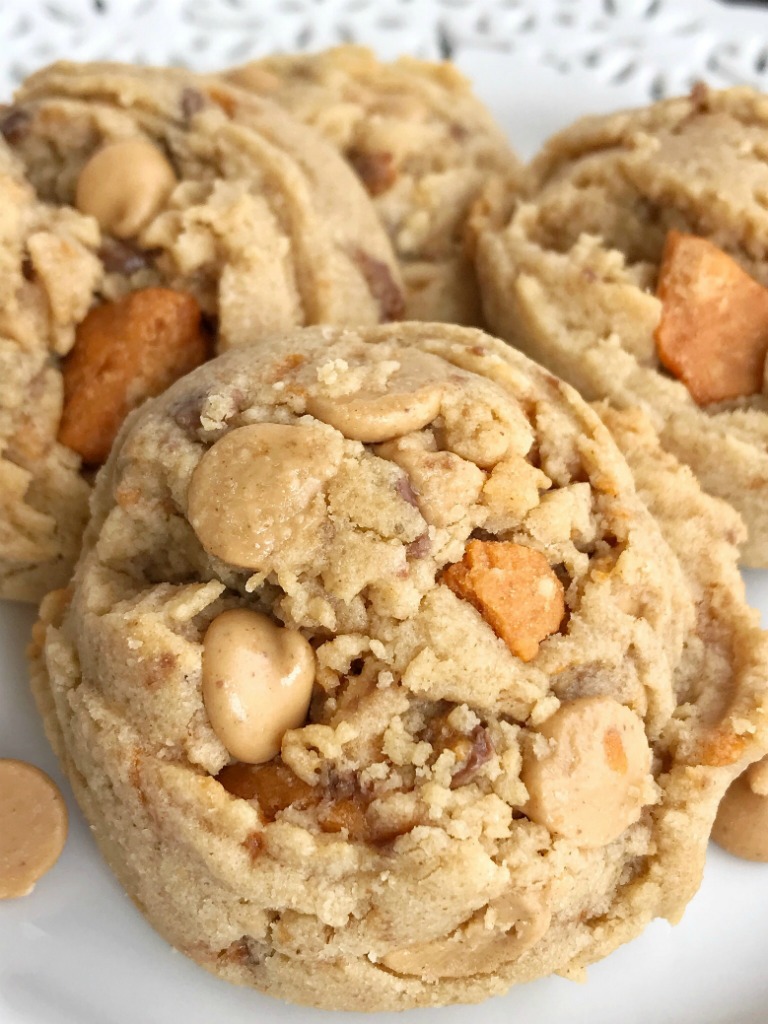 TRY THESE OTHER PEANUT BUTTER COOKIES
Chocolate Reese's Cookies – Chocolate cookies with peanut butter chips and chopped Reese's peanut butter cups. 
Peanut Butter Cookie Cups – Cookie cups made in a mini muffin tin with a Reese's peanut butter cup miniature pressed into the middle. 
Triple Peanut Butter Monster Cookies – Monster cookies with oats and three kinds of peanut butter goodness! Peanut butter chips, Reese's pieces, and creamy peanut butter. 
Peanut Butter Surprise Cookies – Soft, thick, and chewy peanut butter cookies stuffed with a Reese's peanut butter cup.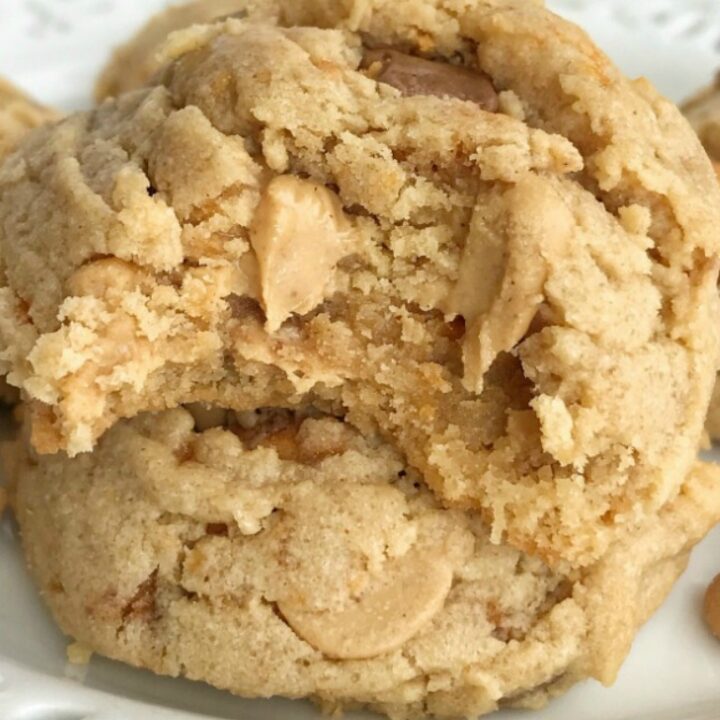 Peanut Butter Butterfinger Cookies
Peanut Butter Butterfinger Cookies are soft, thick, and chewy peanut butter cookies loaded with creamy peanut butter, peanut butter chips, and chopped Butterfinger candy bars.
Ingredients
1 cup (2 sticks) butter softened
1 cup granulated sugar
1 cup light brown sugar
1½ cups creamy peanut butter
2 large eggs
1 teaspoon vanilla extract
3 cups all-purpose flour
1 teaspoon baking soda
1 cup peanut butter chips
1 cup chopped butterfinger candy bars about 3 candy bars
Instructions
Preheat oven to 350°. Prepare cookie sheets by lining with parchment paper, silpat liner or cooking spray.

In a large bowl with a handheld mixer, or the bowl of a stand mixer, add the butter, granulated sugar, brown sugar, and peanut butter. Mix together until it is well combined and light in color. Add in eggs and vanilla extract. Blend together.

Add flour and baking soda into the bowl and mix to combine together. I found this easiest to do with a wooden spoon (it will take a few minutes because the dough is thicker). When the flour is almost incorporated, add in the peanut butter chips and crushed Butterfingers. Mix just until combined.

Roll cookie dough into a ball, about 1-2 tablespoons of dough (size of a golf ball), or use a medium cookie scoop to scoop the dough and then roll into a ball. Place 12 cookies per cookie sheet.

Bake for 9-11 minutes.Cookies do not spread much while baking. When the cookies are done they will be puffy and thick looking. You don't want to overbake peanut butter cookies because they will be dry if overcooked. Remember that the cookies will cook slightly more while cooling. I have never baked these cookies longer than 9 minutes.

Let cookies cool on cookie sheet for a few minutes and then remove to a wire rack. You can leave cookies thick & puffy, or press a few additional peanut butter chips/Butterfinger chunks on tops of the cookies to gently press the cookie down.
Notes
Peanut Butter : Creamy works best in these cookies. I would not recommend using all-natural peanut butter. It's thicker which tends to make baked goods (like cookies) be really dry.  Butter : I always use salted butter because it adds more flavor to baked goods. If you are used to baking with unsalted butter then that can easily be used instead. You may have to add additional salt (optional) if using unsalted butter.   
Nutrition
Calories: 245kcal | Carbohydrates: 28g | Protein: 5g | Fat: 13g | Saturated Fat: 6g | Cholesterol: 25mg | Sodium: 153mg | Potassium: 105mg | Fiber: 1g | Sugar: 17g | Vitamin A: 179IU | Calcium: 16mg | Iron: 1mg