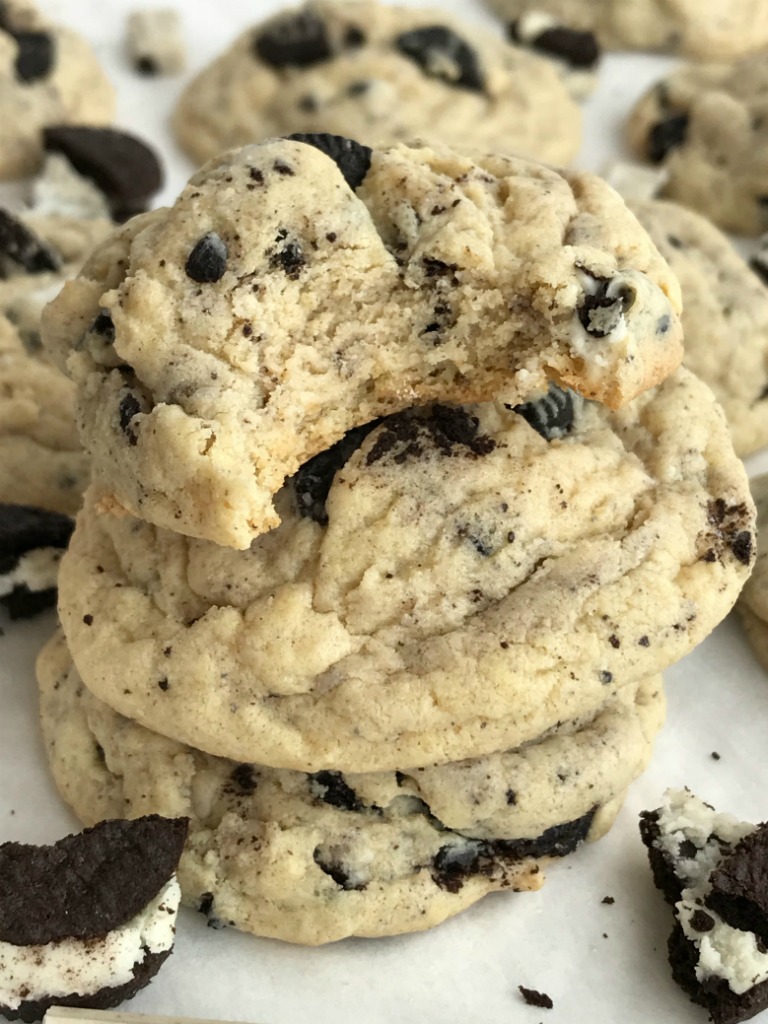 COOKIES AND CREAM PUDDING COOKIES
Cookies and cream pudding cookies are soft-baked cookies loaded with Oreo cookie chunks, cookies and cream chocolate bar pieces, and Oreo instant pudding mix. 
If you love soft cookies that are thick and puffy then you must try these Oreo loaded cookies and cream cookies. The pudding mix makes the cookies soft for days and it really is the "secret ingredient" to a great cookie. 
My family loves pudding cookies! Our other favorites are these white chocolate funfetti pudding cookies and these m&m chocolate chip pudding cookies. 
HOW TO MAKE COOKIES AND CREAM COOKIES WITH A PUDDING MIX
Butter – I always use salted butter for everything. Feel free to use unsalted butter if that's what you're used to baking with. You may have to add additional salt (optional) if using unsalted butter. 
Light Brown Sugar & Granulated Sugar
Large Eggs
Vanilla Extract
All-Purpose Flour
Baking Soda & Salt
Oreo Cookies & Cream Instant Pudding Mix – Don't replace this with another instant pudding mix. This is common in most grocery stores so be sure you get this specific one. 
Oreo Cookies
Hershey Cookies & Cream Chocolate Bars – You will find these at the checkout stand with the other candy bars, gum, and mints.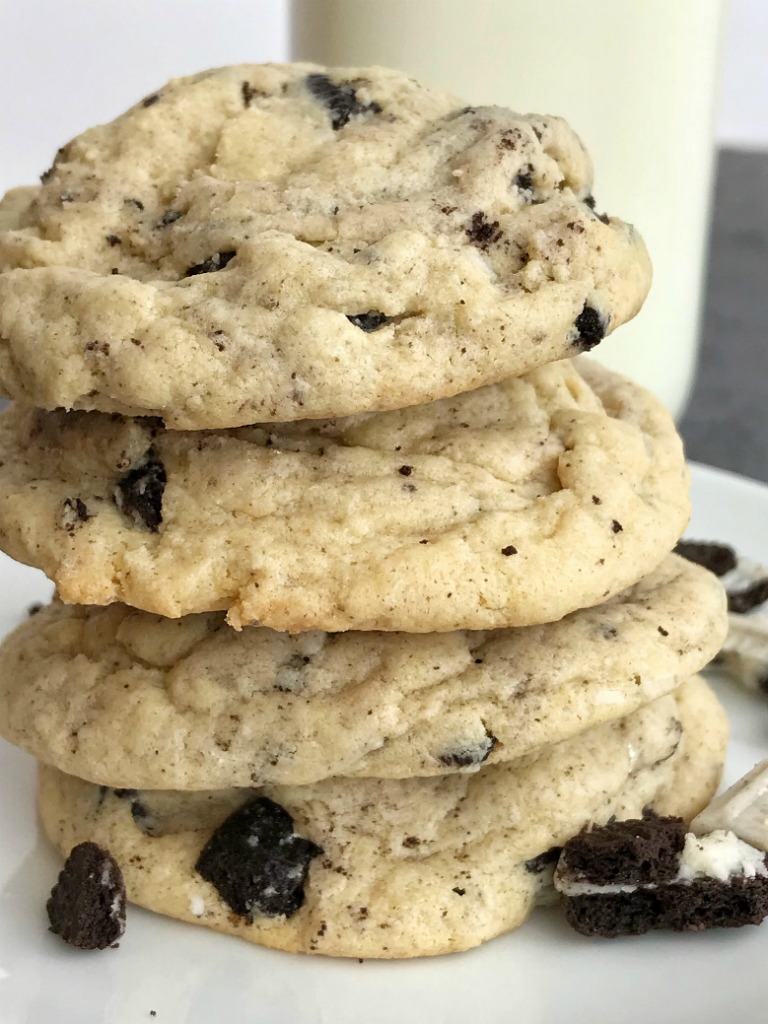 MY TIPS FOR THIS PUDDING COOKIE RECIPE
Don't replace the Oreo instant pudding mix with another variety. You want that specific one so if you can't find it, I would highly recommend waiting until you can. It is very common and I see it every time I am at the grocery store so it should be easy to find.
If you don't want to buy the larger pack of Oreo cookies just for the small amount needed in this recipe then buy a $1 snack pack of mini Oreos. This is what I do and it's the perfect amount needed for the recipe plus some extra to garnish the cookies with when they come out of the oven (if wanted).
Just roughly chop the Oreo cookies. You don't want them in ground up pieces but rather larger chunks of Oreo cookie through out the cookie. I think the cookies are better that way. 
These cookies are very pale even when they're cooked so don't let the light color fool you into thinking they need to cook longer. The cookies will be puffy and look done (meaning the tops of the cookies don't look wet like there is still raw cookie dough).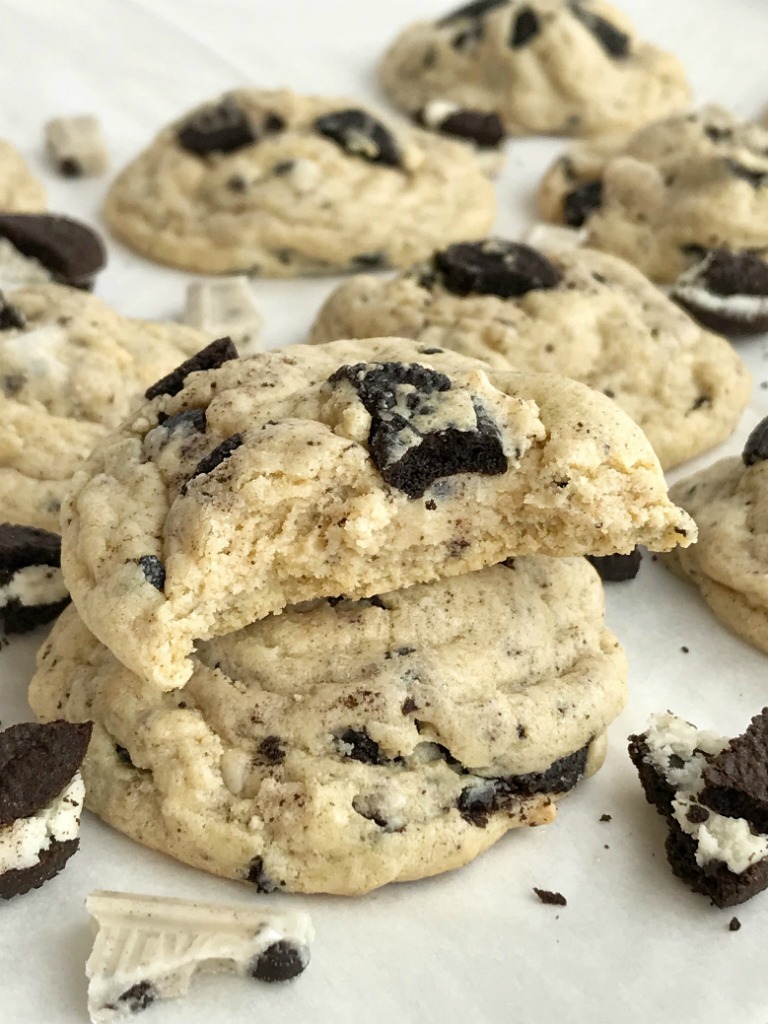 YOU WILL LOVE THESE OTHER COOKIES AND CREAM RECIPES
Oreo Cookies & Cream Blondies – The best blondie recipe loaded with Oreo cookies and cookies & cream chocolate bars. These blondies are thick, chewy, and start with a brown sugar base. 
No Bake Oreo Cream Pie – My kids love this so much they they request it for their "birthday cake" every single year!
Triple Layer Oreo Cream Pudding Pie – Three layers of creamy and cool Oreo pudding with chunks of Oreo cookies in a Oreo cookie crust. 
Cookies and Cream Oreo Brownies – Brownies stuffed with whole Oreo cookies and then frosted with Hershey cookies & cream chocolate bars. The chocolate bars melt into the warm brownies and create the perfect "frosting" for these brownies.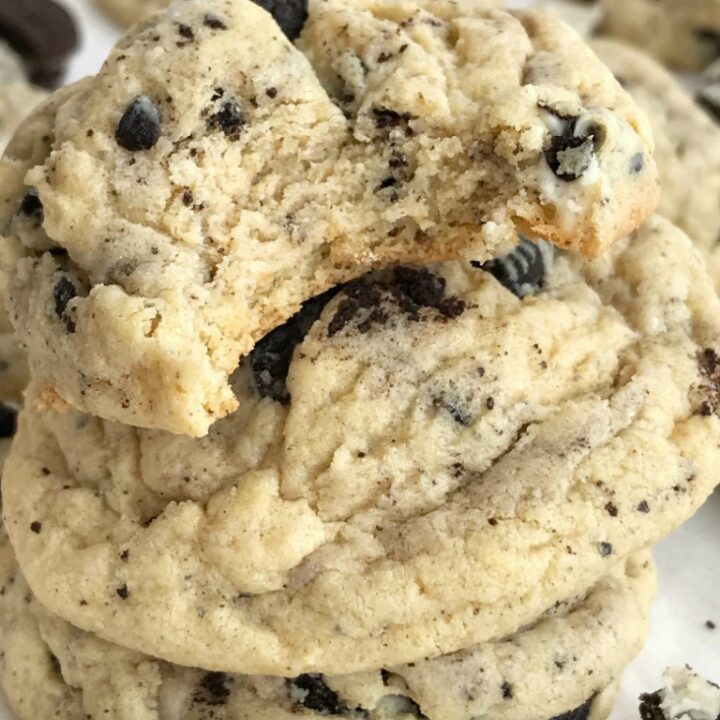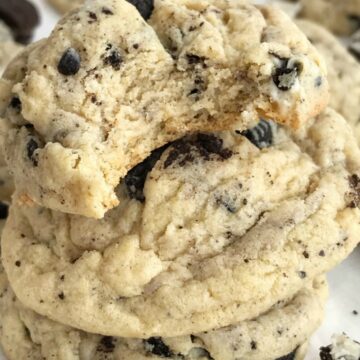 Cookies & Cream Pudding Cookies
Oreo Cookies & Cream Pudding Cookies are soft-baked cookies thanks to the cookies and cream pudding mix in the dough! Loaded with chopped Oreo cookies, Oreo pudding mix, and cookies & cream chocolate bar pieces. These cookies are a dream!
Ingredients
3/4 cup (1½ sticks) butter softened
1/2 cup granulated sugar
1/2 cup light brown sugar
2 large eggs
1 teaspoon vanilla extract
2¼ cup all-purpose flour
1 box (4.2 oz) oreo cookies & cream instant pudding mix (do not prepare!)
1 teaspoon baking soda
¼ teaspoon salt
1 cup chopped Oreo cookies
2 bars (1.55 oz each) Hershey Cookies & Cream candy bars chopped
Instructions
Heat oven to 350°. Prepare a cookie sheet by lining with parchment paper or a silpat liner.

In a large bowl with a handheld mixer, or bowl of a stand mixer, beat together the butter, brown sugar, and sugar until light and fluffy. Add in the eggs and blend until completely combined. Add in the vanilla. Blend again. 

In a separate small bowl combine the flour, pudding mix, baking soda, and salt and stir with a wire whisk to break up any clumps. Add into the creamed mixture and mix until combined. Stir in the Oreos and candy bar chunks with a wooden spoon. 

Roll dough into balls (slightly smaller than the size of a golf ball) and place on the baking sheet. Bake in the oven for 8-10 minutes, or until set. Let cool on cookie sheet for about 10 minutes and then remove to wire rack to cool completely.* Cookies will still be very pale even when cooked. I have never had to bake mine for longer than 9 minutes.

The cookies do not spread much while baking. You can leave them puffier OR gently press a few additional chopped Oreo pieces and candy bar pieces onto the tops of the cookies. They will gently spread out slightly if you do this.
Nutrition
Calories: 167kcal | Carbohydrates: 15g | Protein: 1g | Fat: 5g | Saturated Fat: 3g | Cholesterol: 20mg | Sodium: 107mg | Potassium: 27mg | Fiber: 1g | Sugar: 8g | Vitamin A: 136IU | Calcium: 7mg | Iron: 1mg