Peanut Butter Cookie Cups start with a peanut butter cookie dough base and then they're stuffed with a Reese's miniature peanut butter cup inside! It's like a handheld cookie cup that tastes like a Reese's! If you're a fan of peanut butter + chocolate desserts, then this is a must try!
Be sure and try our other favorite chocolate & peanut butter desserts like these Chocolate Reese's Cookies and Reese's Pieces Peanut Butter Bars.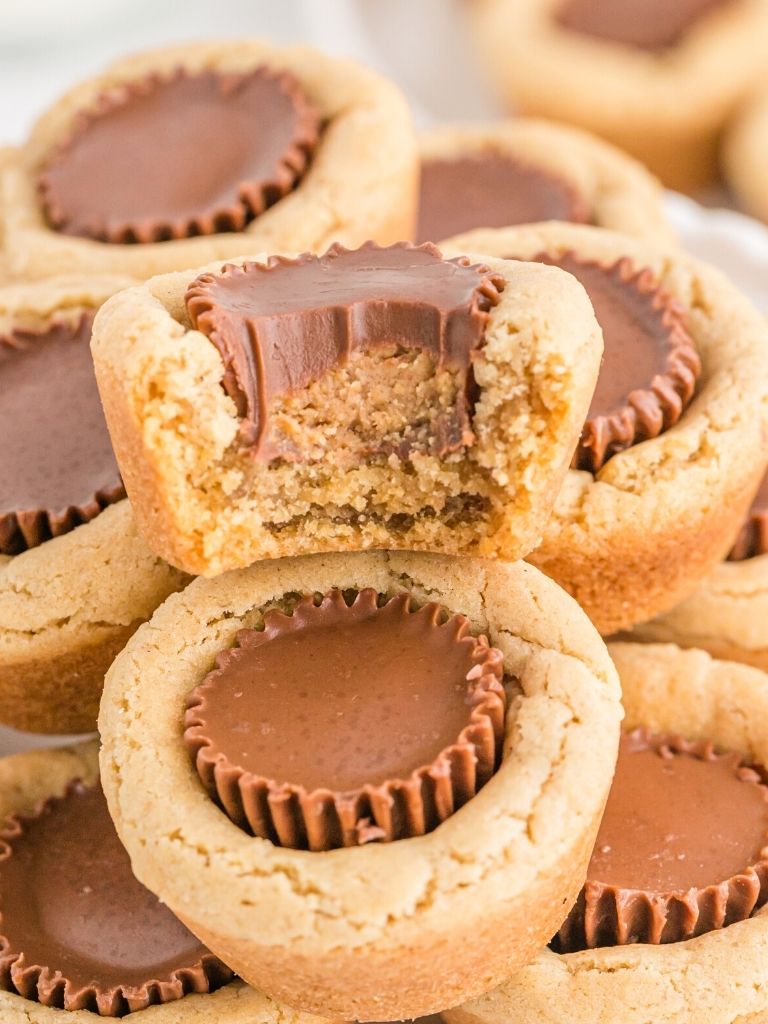 Reese's Peanut Butter Cookie Cups Recipe
These Reese's peanut butter cookie cups are perfect for all the chocolate & peanut butter lovers. Every single person in my house loves this combo so you know these are made all the time around here. 
The peanut butter cookie cups are like biting into a giant Reese's with the texture of a cookie. Soft-baked peanut butter cookie dough base filled with a Reese's miniature peanut butter cup! There are lots of ways to switch up this recipe so read below for all my tips.
I love these handheld cookie cup recipes. They're easy to hold, fun to eat, and anything in miniature portable size is always a hit. Be sure and also try my S'mores Cookie Cups too!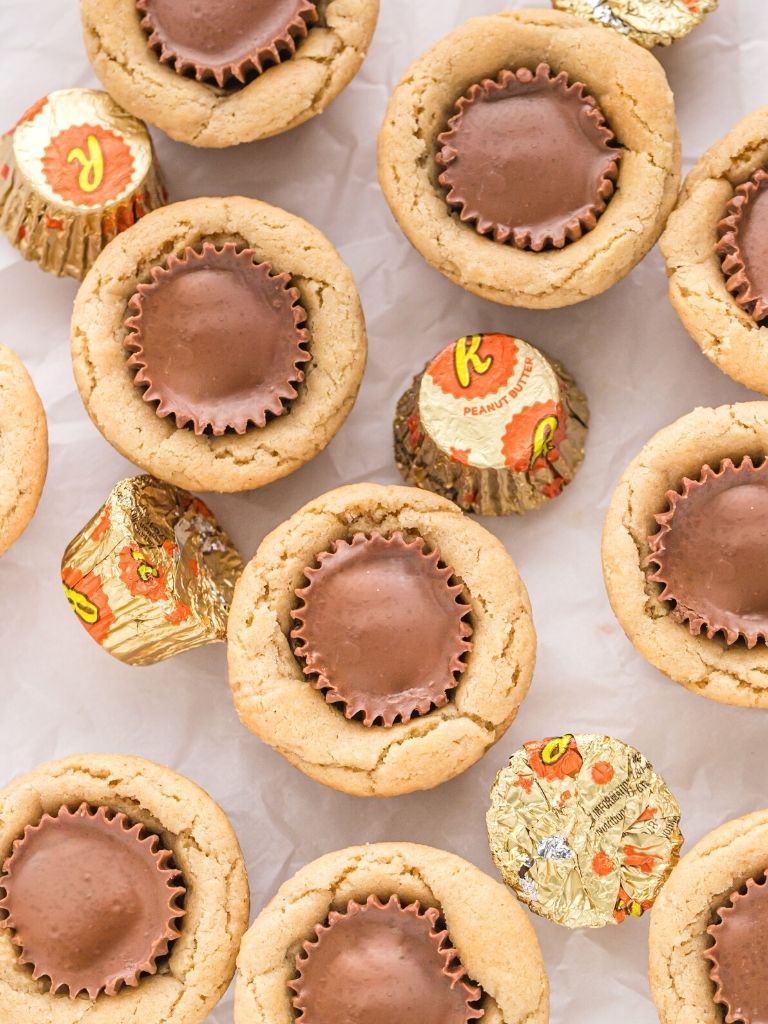 Ingredients Needed
Here are the basic baking ingredients you will need to make these peanut butter chocolate cookie cups. I also give some helpful tips and suggestions for each ingredient too!
All-Purpose Flour – I prefer baking with unbleached all-purpose flour but regular bleached flour works too. 
Baking Soda
Salt – You can use any salt you prefer. Lots of people like sea salt in desserts & table salt is always a safe choice. I almost always use table salt when I am baking. 
Butter – Salted butter or unsalted butter will work just fine, deepening on your preference. 
Granulated Sugar
Light Brown Sugar
Creamy Peanut Butter – It's best not to use all-natural peanut butters in baking recipe. It's drier, does not have all the oils, which results in drier baked goods. Of course, you can always experiment if wanted. There are also lots of substitutes for peanut butter like wow butter, sunflower butter, etc. 
Large Egg
Vanilla Extract
Whole Milk
Reese's Miniature Peanut Butter Cups – These are the ones that come wrapped in the gold foil. 
How to Make Peanut Butter Cup Cookies
Be sure and read below for the full recipe and detailed instruction in the recipe card. 
Step One : Unwrap 26 miniature Reese's peanut butter cups and put them into a bowl. Place the bowl in the fridge while you prepare the recipe. Heat oven to 375 degrees F.
Step Two : Combine dry ingredients into a small mixing bowl and stir with a whisk to break up any clumps. Set this aside. 
Step Three : Beat together the butter, peanut butter, and sugars. Add the vanilla extract, egg, and milk. 
Step Four : Dump the dry ingredients into the wet and stir with a wooden spoon just until combined and no flour streaks remain. 
Step Five : Take about 1 tablespoon of cookie dough and roll it into a ball. Place one ball into each mini muffin cup. 
Step Six : Bake in the oven for 7-9 minutes. When done baking, immediately take a Reese's peanut butter cup and press it into each cookie cup.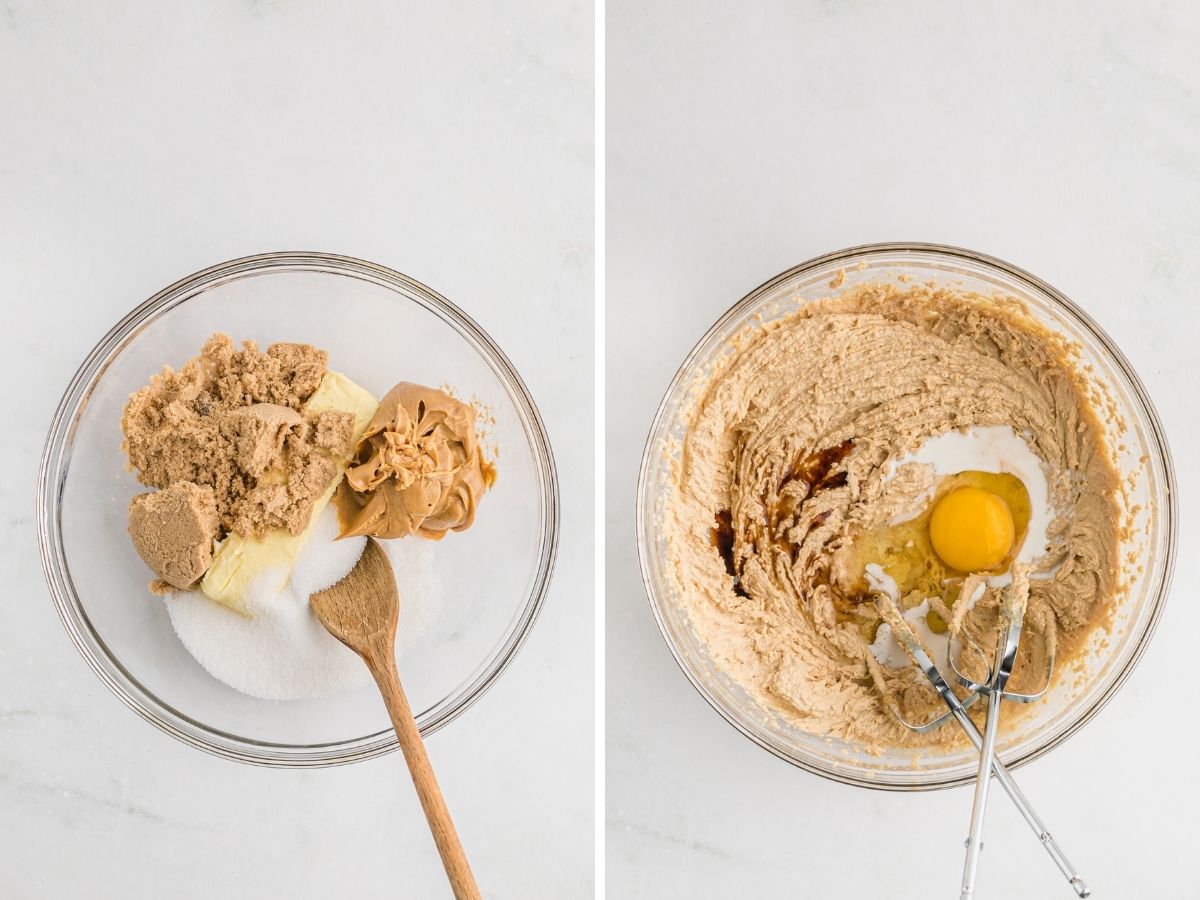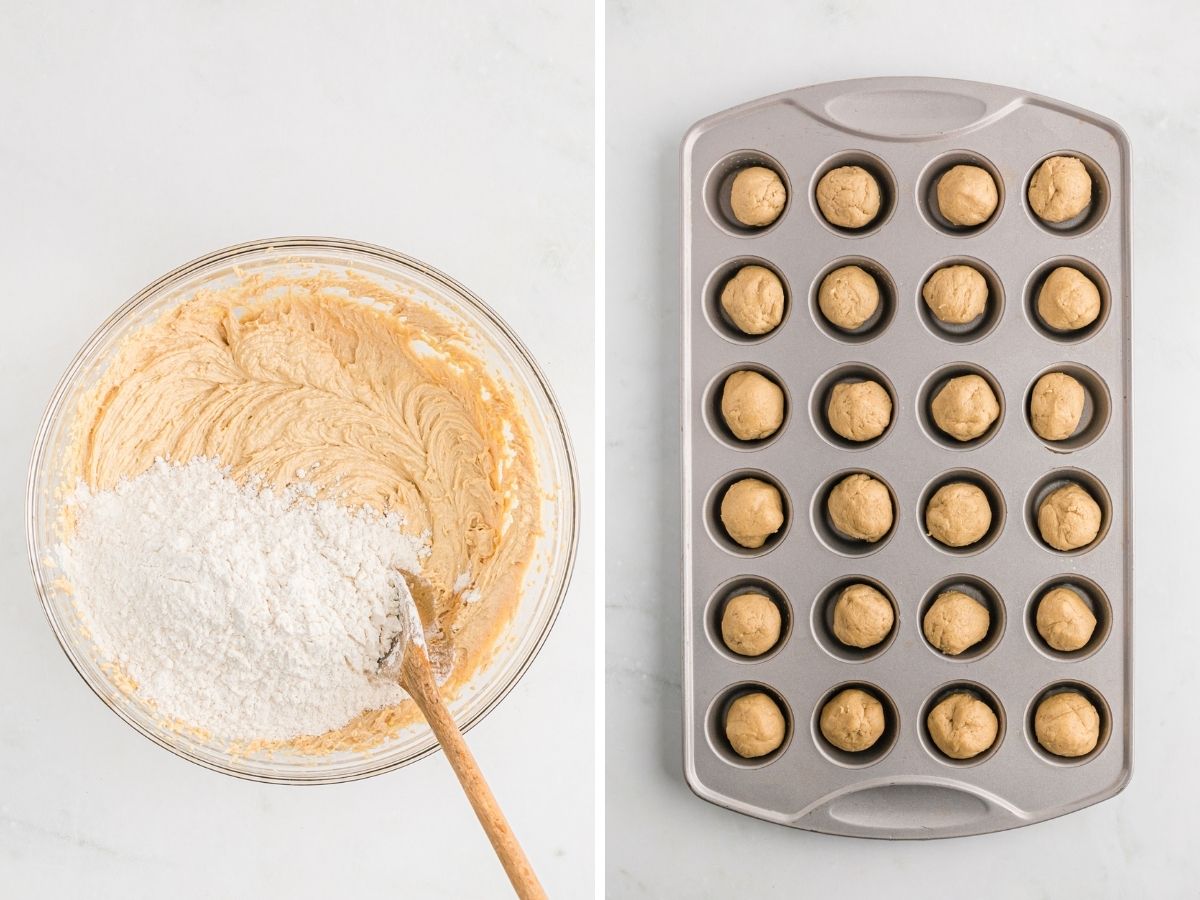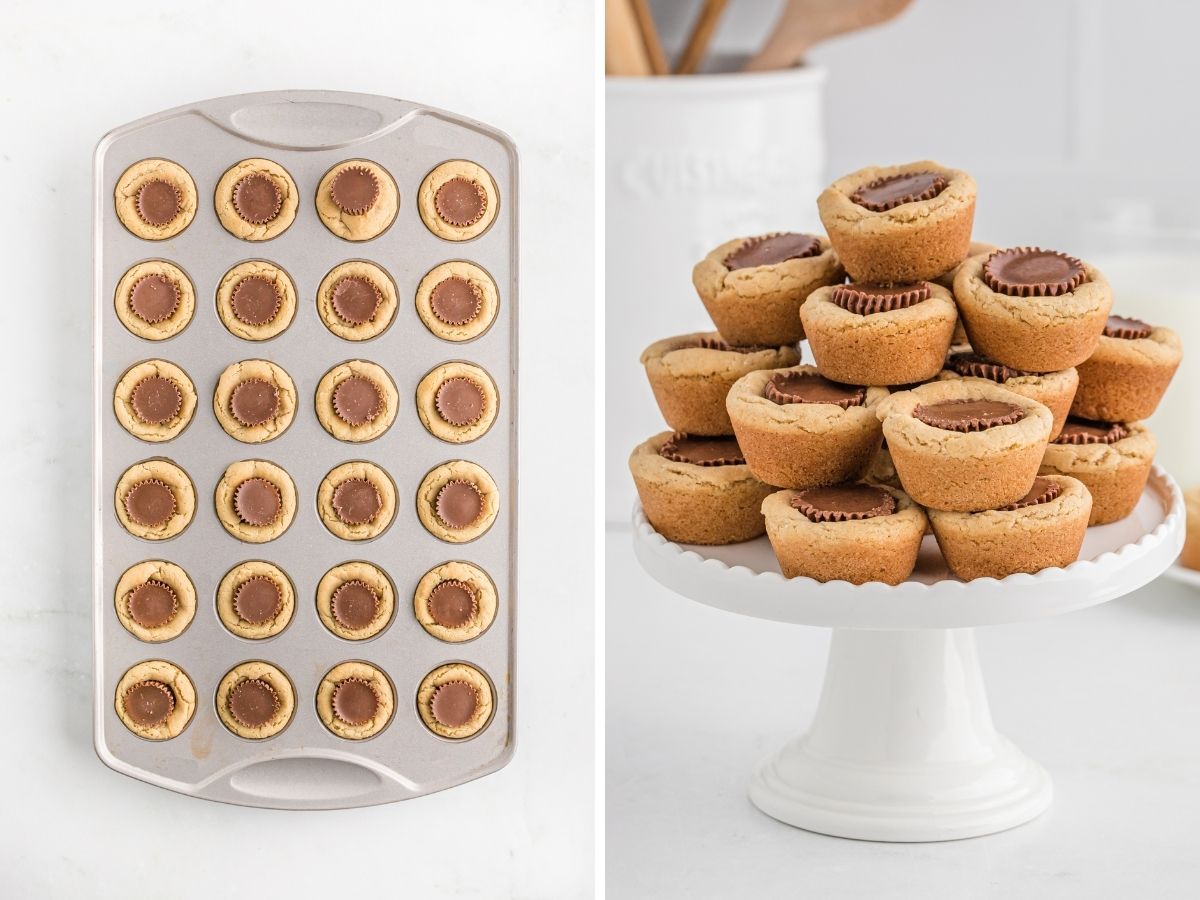 Tips For Success
Here are a few of my tips that will hopefully make this recipe a success in your own kitchen.
Do Not Overfill the Mini Muffin Cups : This is so important! The ball of dough should not be taller than the mini muffin cup. If it's taller or larger than the recipe calls for, you will end up with odd looking cookie cups and it will be harder to get the cookie cup to correctly cook all the way through. 
Reese's Miniature Peanut Butter Cups : Make sure you are using the correct size. The ones called for in the recipe are wrapped in the gold foil, so you will have to unwrap each one before beginning. Also, feel free to use any variety of the Reese's peanut butter cups. 
Cook Time : Yes, the low cook time is correct. You don't want overcook anything with peanut butter in it, because as it cools and sets after cooking, if it's overcooked it will turn out drier. The dough balls should be puffy and pale in color. 
Creamy Peanut Butter : For best results do not use all-natural peanut butter in this recipe. Stick with the regular peanut butters like Peter Pan, Jif, Skippy. I would also recommend not using crunchy peanut butter either. It has a drier, thicker texture which could result in drier cookies. 
Use a Mini Muffin Pan : Don't try to make thees in a regular size muffin pan. It won't work.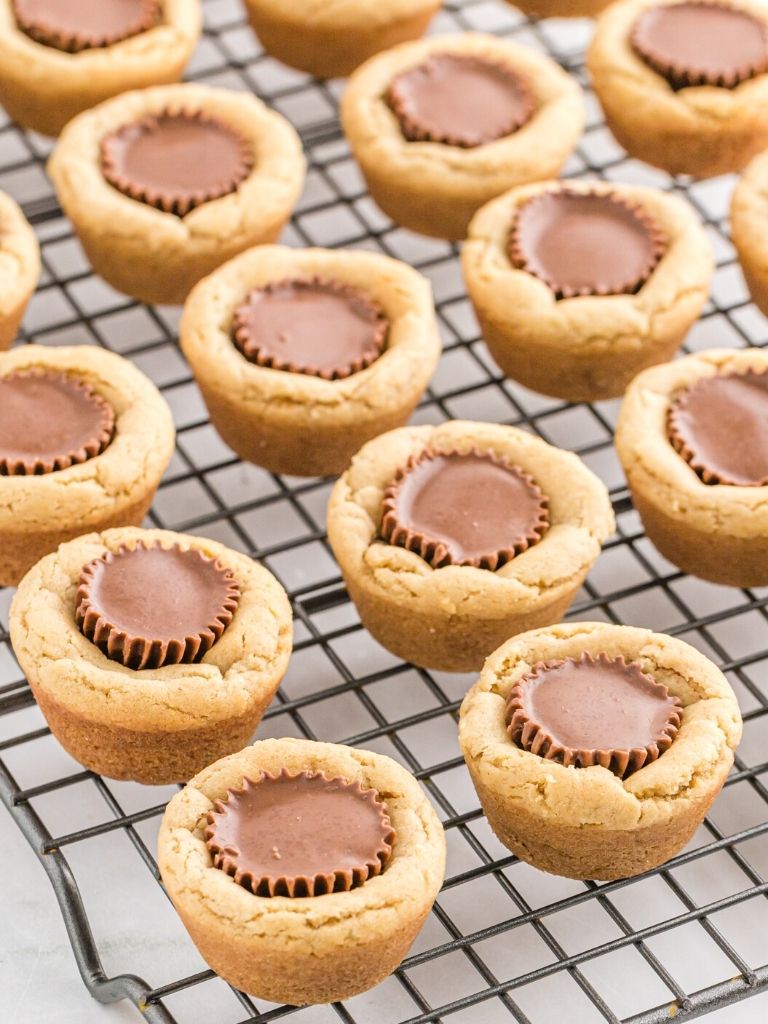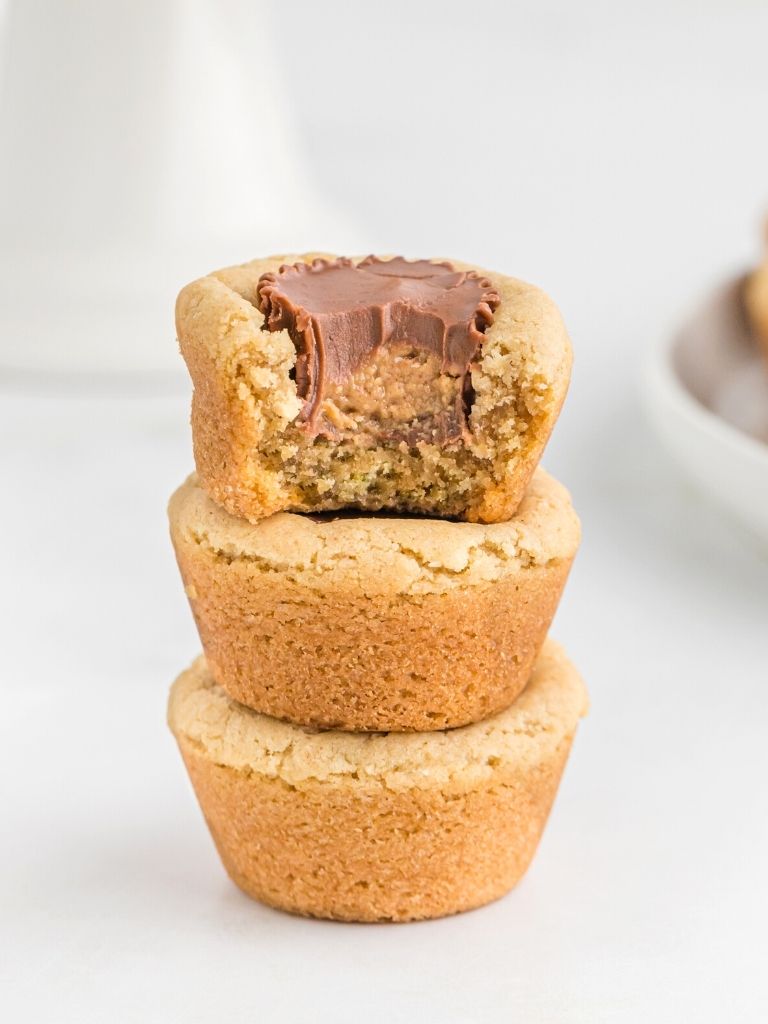 Variation & Substitution Ideas
There a few ways to change up this recipe when making it. Here are some things I've done and them some suggestions. 
Switch Up the Peanut Butter Cup : This is the most common one that I do each time I make this recipe. There are so many varieties of the Reese's miniature peanut butter cups! One our favorites is to use the Reese's Pieces stuffed miniature peanut butter cups in this recipe. The white chocolate peanut butter cups are yummy too, they have a new pretzel stuffed peanut butter cup that sounds amazing in these cookie cups, or stick with the classic. 
Decoration : For even more peanut butter goodness or to add a little pretty to the cookie cups. Warm some peanut butter in the microwave and then drizzle it over the peanut butter cookie cups. Use a fork to make it easy or put the peanut butter into a ziploc bag and snip the corner off to drizzle pretty and even lines. You can sprinkle some finely chopped peanuts over the drizzle if wanted.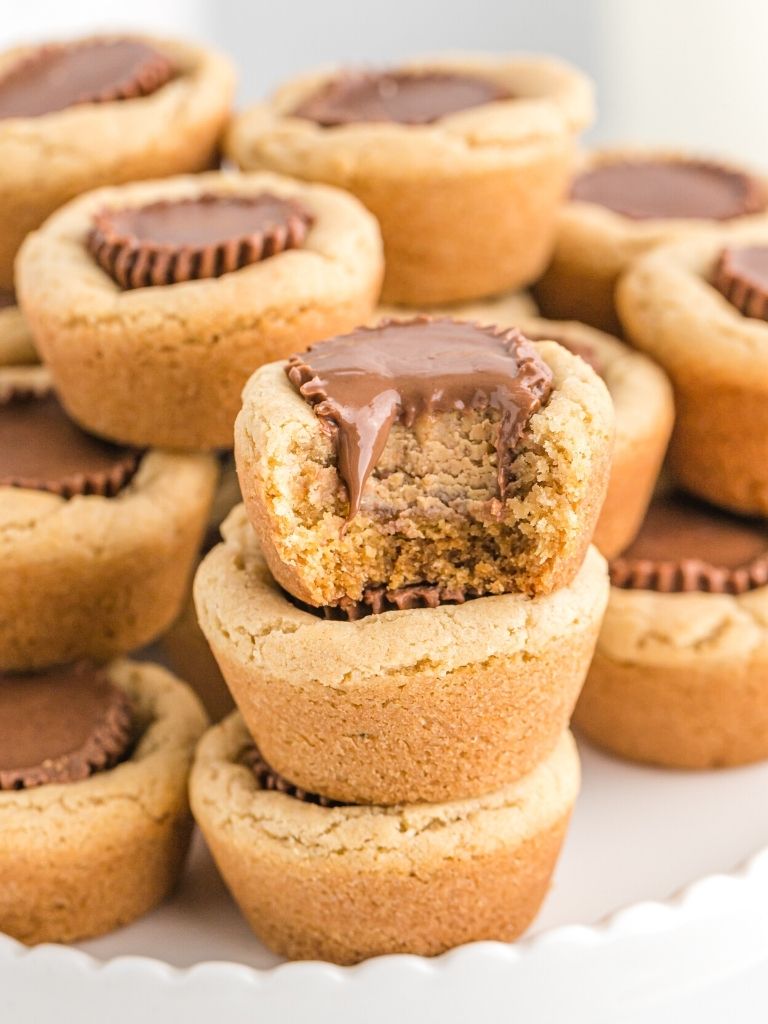 Can I Freeze Cookie Cups?
Yes you can freeze these Reese's peanut butter cookie cups!
Let them cool to room temperature and then place them inside a freezer-safe container or Ziploc bag and freeze for up to 1 month. 
When ready to eat, you can just let it sit out at room temperature for a bit or put it in the microwave to warm it up. 
How To Store Leftovers
Leftovers will store well, at room temperature, in an air-tight container for up to 4 days. 
Eat it as is or the best way to eat leftover baked goods is to warm it up in the microwave for a short time (like 10 seconds). Yum!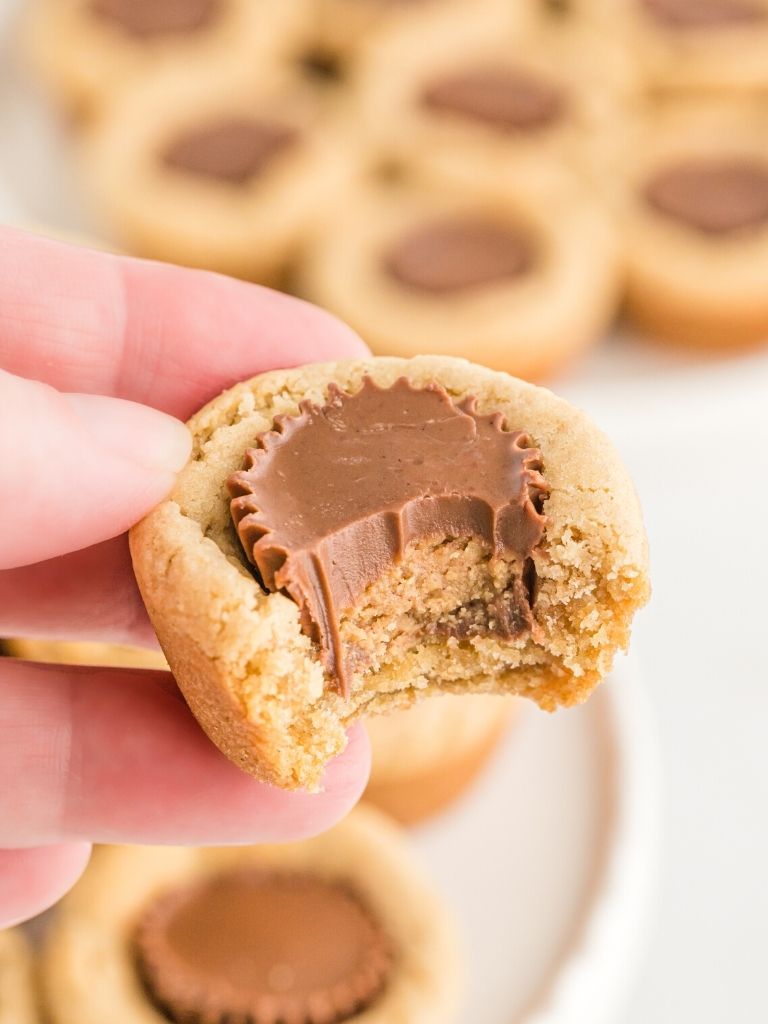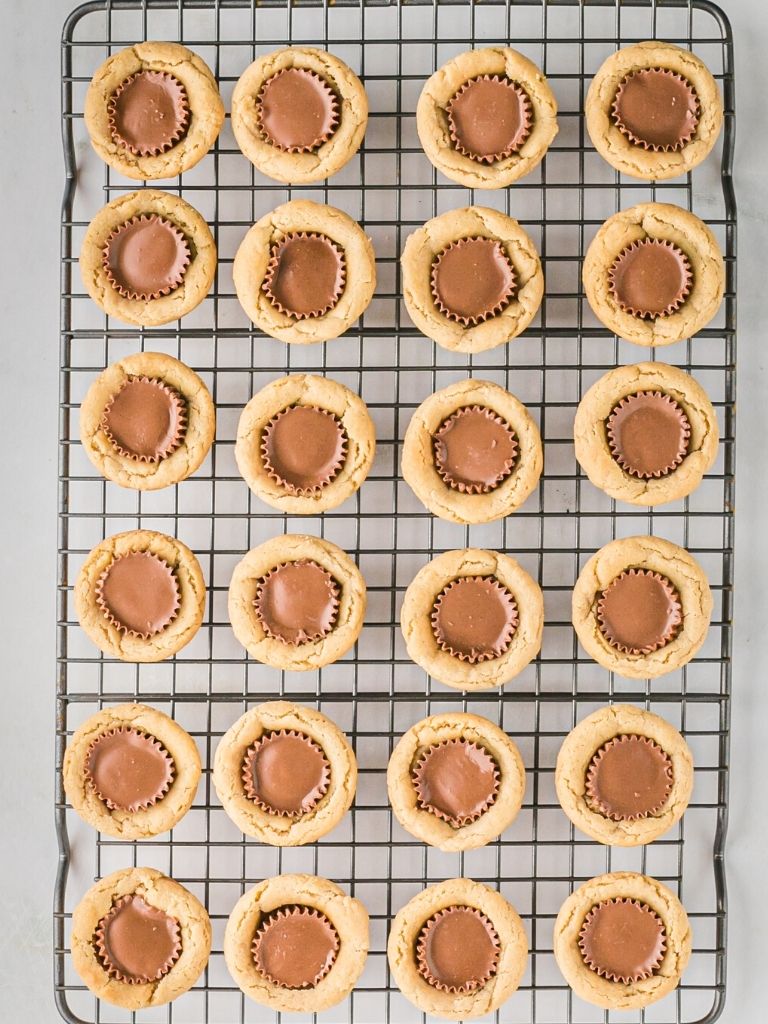 More Chocolate + Peanut Butter Dessert Recipes You'll Love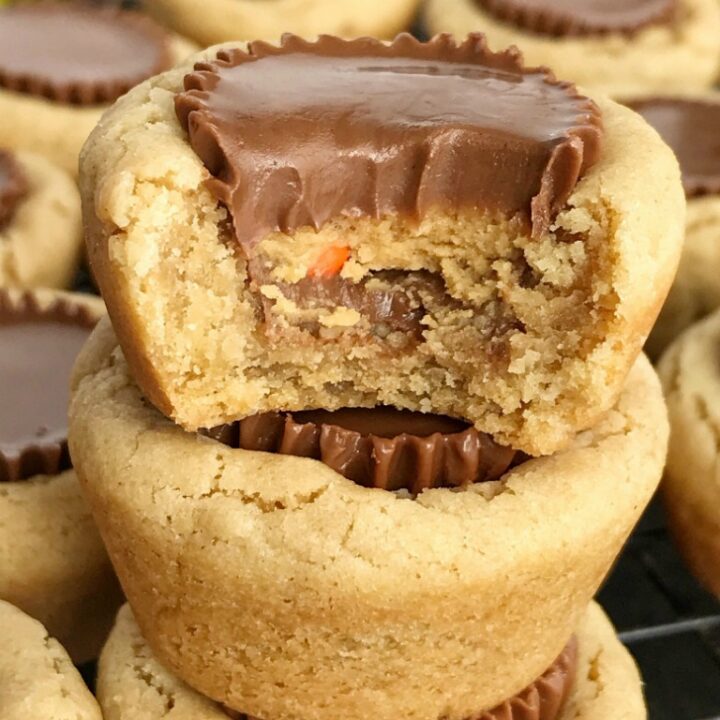 Reese's Peanut Butter Cookie Cups
Peanut Butter Cookie Cups are made in a miniature muffin tin and filled with a Reese's chocolate peanut butter cup stuffed inside a peanut butter cookie cup. The perfect & best treat for the chocolate + peanut butter lover. 
Ingredients
1¾ cups all-purpose flour
1 teaspoon baking soda
½ teaspoon salt
1/2 cup (1 stick) butter softened
1/2 cup granulated sugar
1/2 cup brown sugar
1/2 cup creamy peanut butter
1 large egg
1 teaspoon vanilla extract
2 tablespoons milk
36 unwrapped Reese's miniature peanut butter cups
Instructions
Heat oven to 375 degrees. Prepare a miniature muffin tin pan and spray with cooking spray. Set aside.

In a small mixing bowl, add the flour, baking soda, and salt. Stir with a whisk to break up any clumps. Set aside.

In a larger mixing bowl, cream together the butter, granulated sugar, brown sugar, and peanut butter. Beat for 1-2 minutes until lighter in color and fluffy looking.

Add vanilla, egg, and milk. Beat until combined. Stir in the dry ingredients and mix by hand, with a wooden spoon just until combined.

Roll the cookie dough into 1" dough balls and place one in each miniature muffin tin. Cook for 7-8 minutes. Cookie cups will look puffy and lighter in color, but should NOT be browned at all on the sides.

Immediately after taking cookie cups out of the oven, gently press an unwrapped miniature Reese's peanut butter cup into the center of each one. Let cool in the pan for 10-15 minutes and then transfer to a wire rack to cool completely. 
Notes
I like to use a higher fat milk in this recipe. I usually always have some half-and-half milk in the fridge so that's what I use. I would suggest using 2% or higher.  The serving size is 1 peanut butter cookie cup = 127 calories
Nutrition
Calories: 127kcal | Carbohydrates: 15g | Protein: 2g | Fat: 7g | Saturated Fat: 3g | Cholesterol: 12mg | Sodium: 130mg | Potassium: 61mg | Fiber: 1g | Sugar: 9g | Vitamin A: 90IU | Calcium: 13mg | Iron: 1mg
This recipe has been updated with new pictutes and more helpful text in April 2022. Recipe is the same.