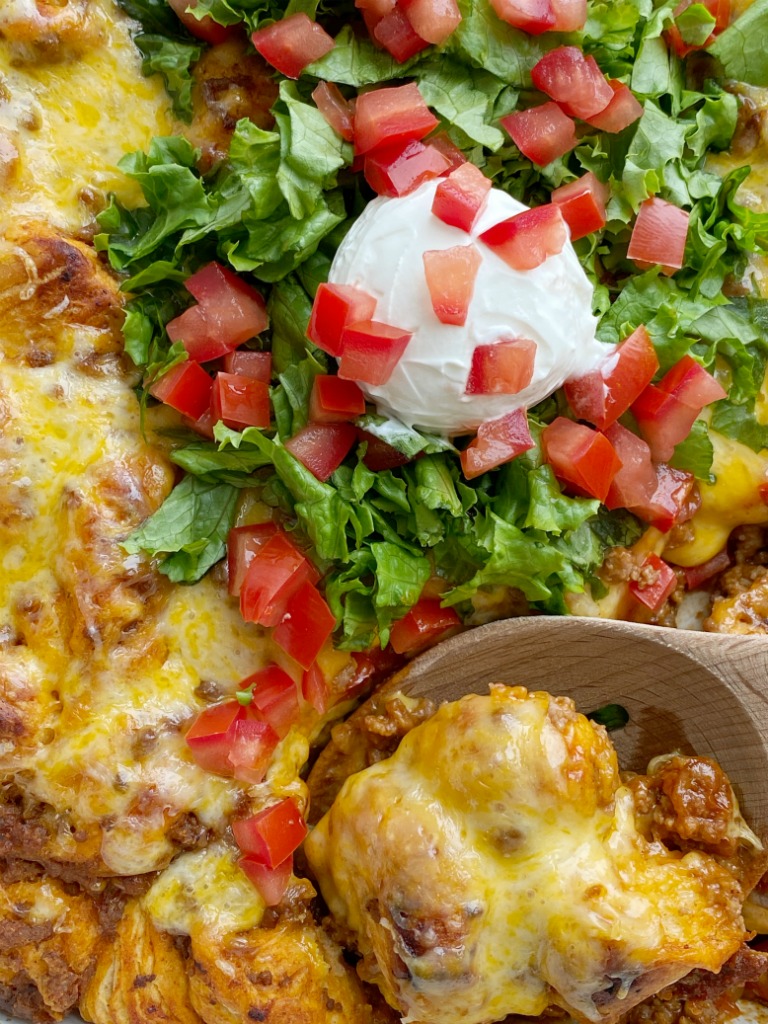 TACO BISCUIT BAKE
I am sure everybody has a few dinner recipes that you can always count on. You know the ones I am talking about? Where the kids will actually eat it! Easy prep and minimal ingredients. 
This taco biscuit bake is one of my tried & true dinner recipes along with this creamy beef noodle bake, these shortcut easy chicken flautas and this super easy & creamy 20 minute garlic parmesan pasta.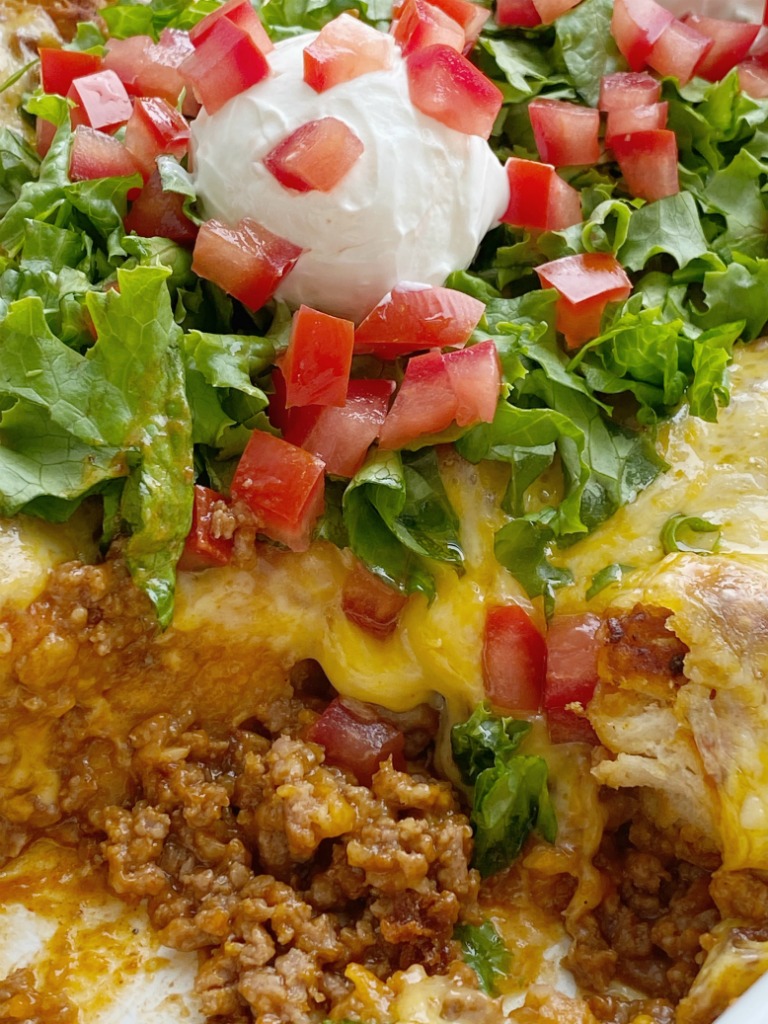 My favorite part of this taco biscuit bake are those soft buttery biscuit pieces. No matter how many "fancy" foods I try or how bad someone says those biscuits are for you, I will always love those flaky biscuits. 
I find myself, and my kids, picking through this just to find those soft pieces of biscuit.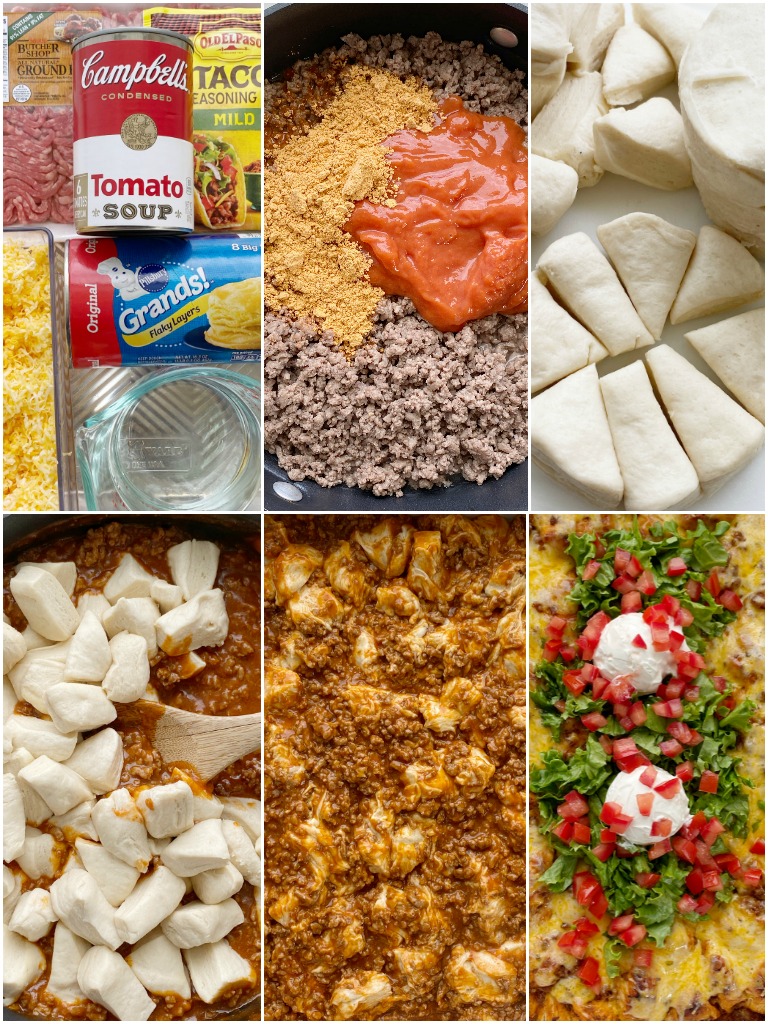 HOW TO MAKE TACO BISCUIT BAKE WITH REFRIGERATED BISCUIT DOUGH
Ground Beef – I always cook with lean ground beef (93/7) but feel free to use whatever you prefer as you'll be draining the meat anyways.
Flaky Buttermilk Biscuits – This is the larger roll that comes with 8 biscuits inside. I always get the flaky kind but any of them will work just fine in this recipe. Just make sure the can size is the same as what is called for.
Condensed Tomato Soup
Taco Seasoning – I always use a packet of mild taco seasoning but feel free to use whichever one you prefer. 
Water
Shredded Cheese – Any cheese you love will work great in this recipe. For some heat use shredded Pepper Jack cheese. I always stick with Colby Jack cheese. 
Taco Toppings – The best part! I serve this with shredded lettuce, sour cream, and chopped tomatoes. There are so many different taco topping options so serve with what you love. Black olives, chopped cilantro, jalapeños, salsa, guacamole, avocado slices are some good ones.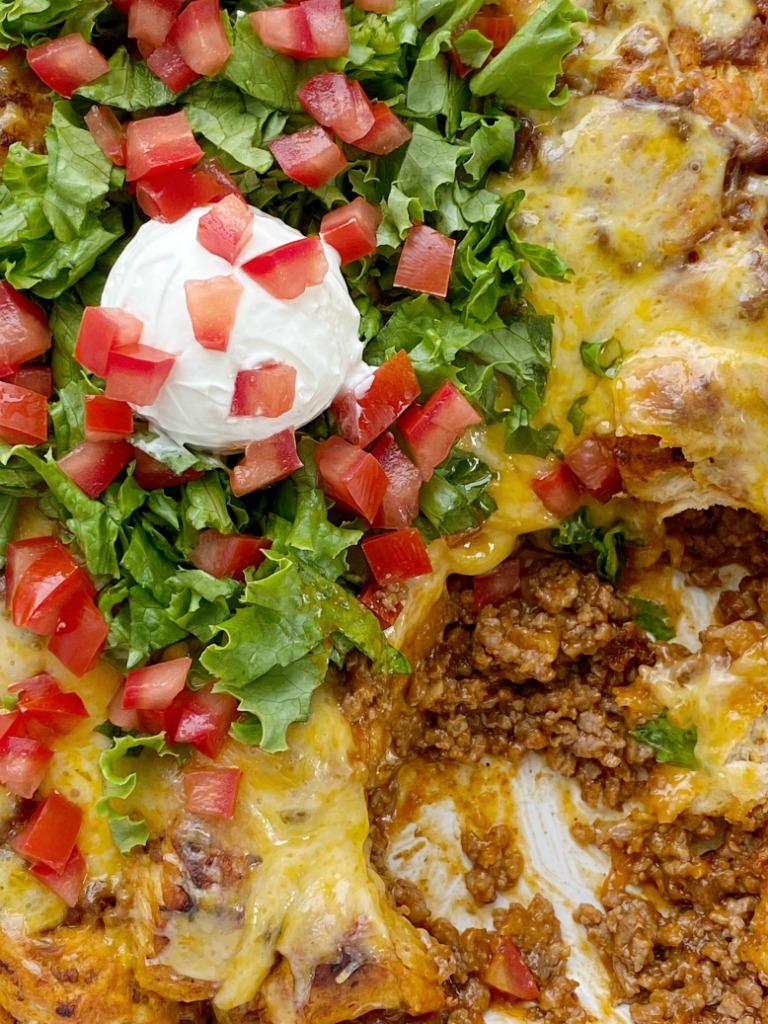 MY TIPS FOR THIS DINNER RECIPE
– An easy way to get kids excited about dinner is to have something that they can do on their own to prepare their plate of food. I always lay out the toppings in bowls on the table and then everyone can top their taco biscuits with whatever they choose. 
– This is not a spicy dish as I am cooking for 4 kids. If you want spice and heat then it's very easy to adapt. Add some cayenne pepper in with the taco seasoning. Use a packet of hot taco seasoning. Add a can of diced green chilies. Top with slices of jalapeno peppers. 
– Lots of people who have made this have added a can of drained and rinsed beans in with the biscuits. You could also add a can of drained corn.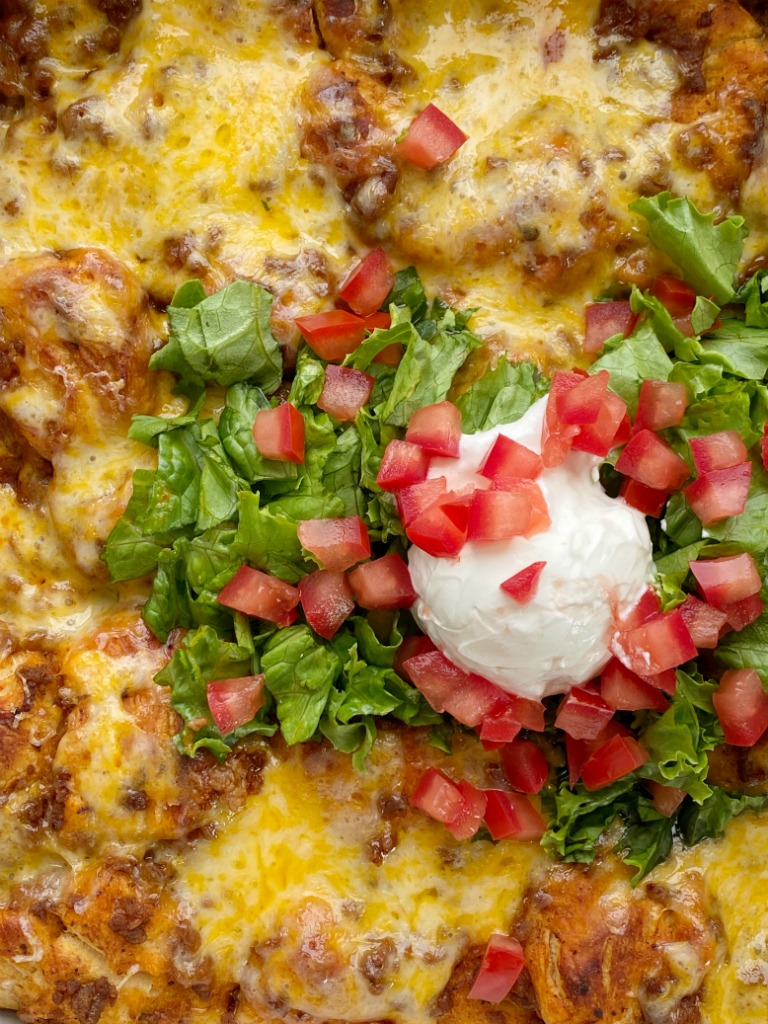 TRY THESE OTHER BISCUIT DINNER RECIPES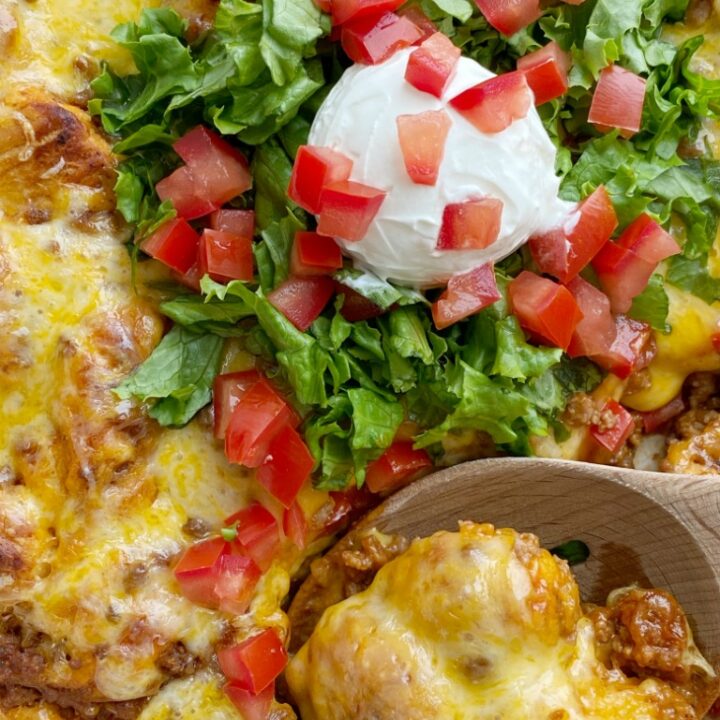 Taco Biscuit Bake
Taco Biscuit Bake is an easy & simple dinner recipe with puffed up refrigerated biscuits smothered in a beefy taco mixture and topped with shredded cheese. Customize with your favorite taco toppings for a dinner that the entire family will love.
Ingredients
1 lb lean ground beef
1 can (10.75 oz) condensed tomato soup
1 packet taco seasoning
3/4 cup water
1 tube (16.3 oz) refrigerated Pillsbury buttermilk biscuits
2 cups shredded cheese
Taco Toppings
shredded lettuce
diced tomato
avocado
sour cream
Instructions
Preheat oven to 375°. Prepare a 9x13 baking dish and spray with cooking spray. Set aside.

In a skillet pan, over medium-high heat, cook ground beef until no longer pink. Break up the meat into crumbles as you cook it. Drain any grease.

Add tomato soup, water, and taco seasoning into the ground beef. Stir together and let it simmer for about 5-10 minutes so the flavors can come together and it can thicken slightly.

While meat is simmering chop each biscuit piece (8 biscuits total in can) into 8 small pieces. Add all biscuit pieces into the beef mixture and stir together to combine.

Dump into the prepare 9x13 baking dish. Cook for 20 minutes. Meat mixture will be bubbly and the biscuits will be a light golden brown.

Sprinkle the cheese on top and cook for an additional few minutes until cheese is melted.

Let the pan cool for 5 minutes to let the extra liquid thicken up. Serve with your favorite taco toppings.
Notes
To cut each biscuit in 8 pieces: cut biscuit in half and then cut each of the halves into 4 pieces. You will have 8 pieces total when done. Use any cheese you want. I always use Colby-Jack cheese because that is our favorite.  This recipe was originally published June 2015. It has been republished and updated with new pictures June 2020. The recipe is the same. 
Nutrition
Calories: 395kcal | Carbohydrates: 34g | Protein: 22g | Fat: 19g | Saturated Fat: 6g | Cholesterol: 58mg | Sodium: 962mg | Potassium: 551mg | Fiber: 1g | Sugar: 5g | Vitamin A: 421IU | Vitamin C: 5mg | Calcium: 179mg | Iron: 4mg