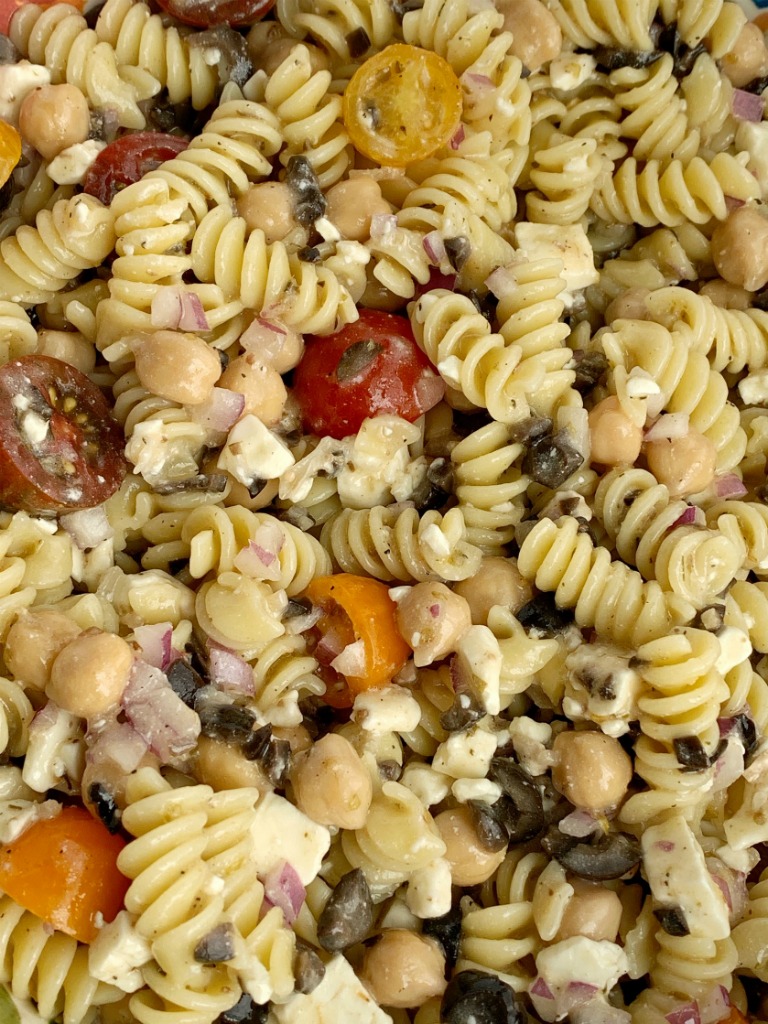 GREEK PASTA SALAD
Here I go with another pasta salad recipe. This time it's an easy greek pasta salad.
If you love Greek flavors then I know this will be a hit. Bonus is that's it's so simple to make because it uses prepared Greek salad dressing.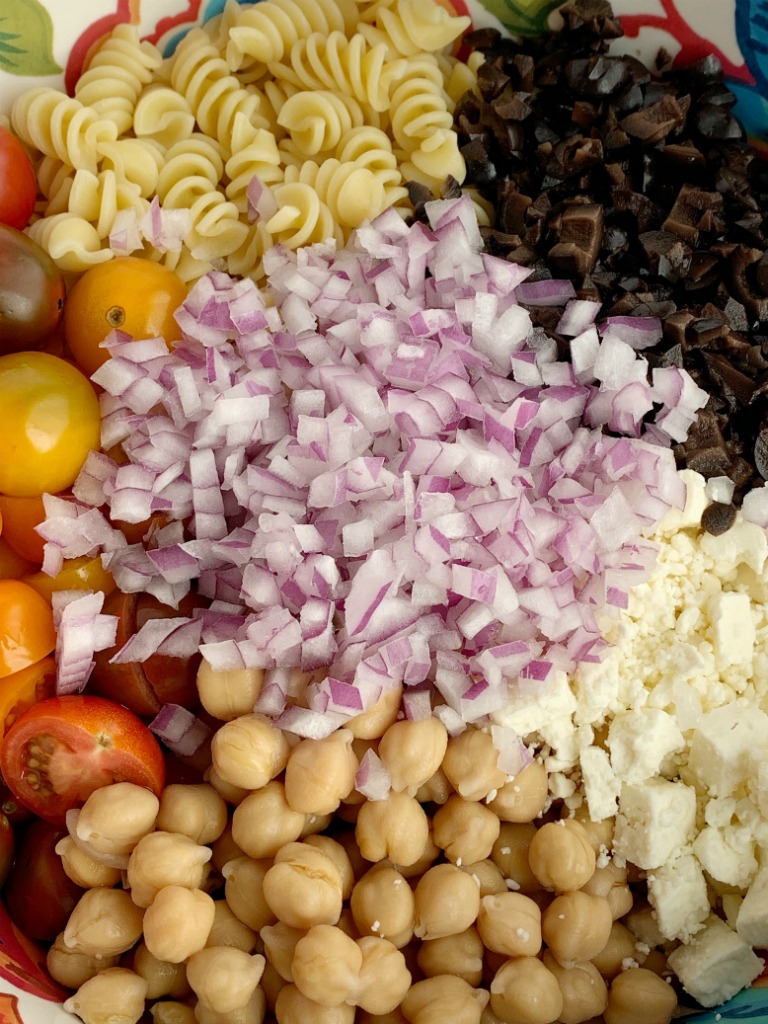 Boil up some noodles and then drain and rinse them in cold water.
Chop up some cherry tomatoes, and a small red onion.
Combine the cooled noodles into a large mixing bowl along with the feta cheese, chopped olives, halved cherry tomatoes, red onion , and 1 can of drained and rinsed chickpeas.
Pour some prepared Greek vinaigrette salad dressing and mix it all together.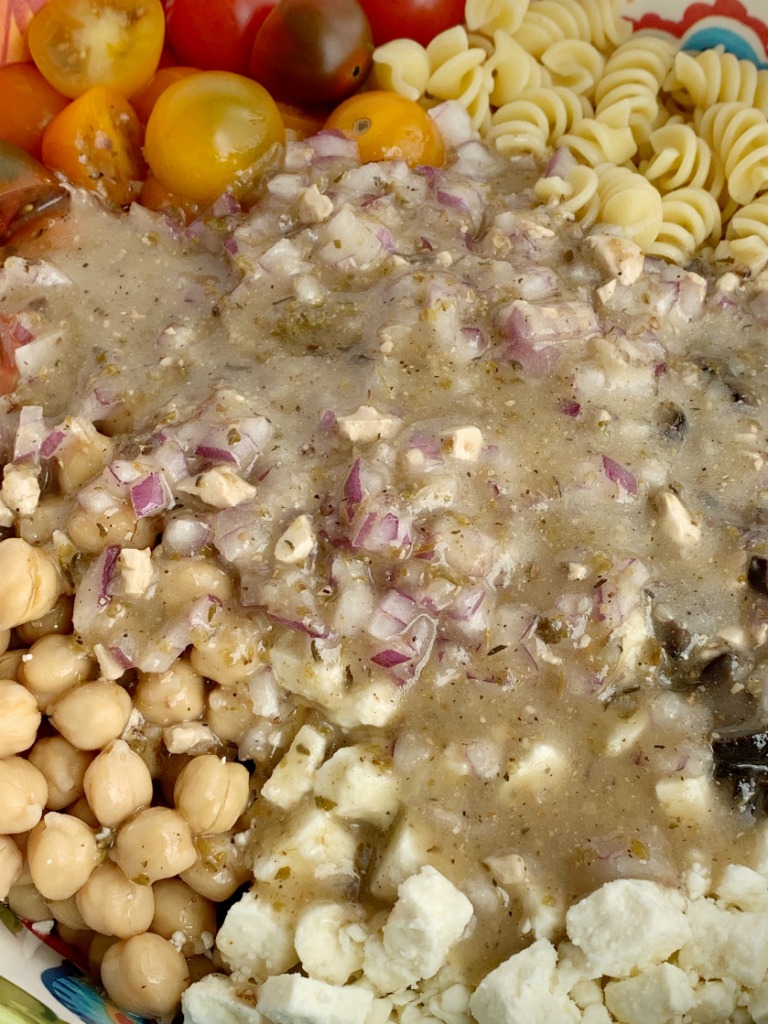 WHAT DO I NEED TO MAKE THIS RECIPE
Rotini Pasta Noodles – I have found these to be the best in pastas salads. They are the perfect size and all the nooks and crannies of the spiral just soak up that dressing. You can substitute any small pasta for the rotini if wanted.
Feta Cheese – I always buy the small container of crumbled feta cheese from the deli section of the grocery store. It's by the other specialty cheeses in the refrigerated area of the produce section. 
Chopped Black Olives – If you can't find the chopped version then get a can of sliced olives and chop them yourself into smaller pieces. Or you can just add the sliced olives into the salad without chopping them. I prefer the chopped olives because then you get olives in every bite….. which is a really good thing if you ask me 🙂 
Cherry Tomatoes – I always use the tri-colored cheery tomatoes. It's a pack that comes with red, orange, yellow, and purplish colored tomatoes. I love the flavor and I love the added colors they bring to this salad. You can also just use red cherry tomatoes. 
Red Onion – Yes, you need the onion! So many try to leave out onion but it's what brings the flavor, crunch, and a slight sweetness to this salad. With that said, feel free to only use a small amount of onion instead of 1 whole onion (a small onion that is). It really is adaptable as to how much onion you want to add. 
Chickpeas – Not entirely sure if these are a 'Greek' food but I love them in this salad. Feel free to just leave these out if you don't like them, if they're not Greek, and/or of you just don't want beans in your pasta salad. 
Greek Vinaigrette Salad Dressing – I use the Kraft brand of this but any kind will do. Feel free to add less or more than what the recipe calls for. Everyone likes a different amount on their pasta salad so use the amount that you like.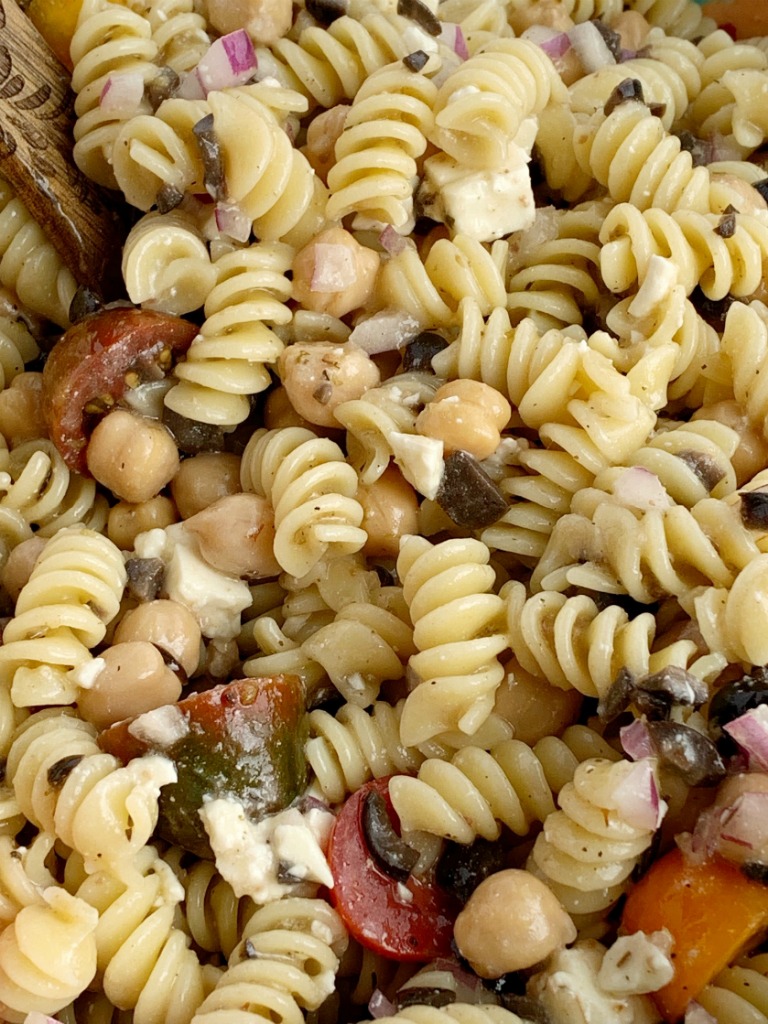 TRY THESE OTHER PASTA SALAD RECIPES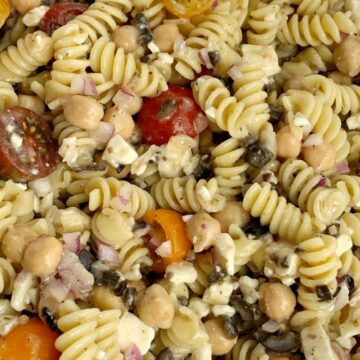 Greek Pasta Salad
Easy Greek Pasta Salad with tender spiral pasta, feta cheese, black olives, cherry tomatoes, red onion, and chickpeas with a easy dressing of Greek Vinaigrette salad dressing.
Ingredients
1 box (16 oz) rotini pasta
2 cups halved cherry or grape tomatoes
1 can (4.25 oz) chopped black olives
1 small red onion, finely chopped more or less to preference
1/3 cup crumbled feta cheese
1 can (15 oz) chickpeas drained and rinsed
1 1/2 cups Greek Vinaigrette salad dressing more or less to preference
Instructions
Boil noodles according to the package instructions. For best taste be sure and salt the boiling water before adding the pasta noodles. About 1 teaspoon salt.

Drain and rinse cooked pasta in cold water.

Combine drained and cooled pasta into a large mixing bowl, add in the halved cherry tomatoes, olives, red onion, chickpeas, and feta cheese. Pour the desired amount of Greek Vinaigrette dressing over the salad and stir everything together to combine well.

Can be served right away but for best results refrigerate the salad for 2-3 hours (or more) before serving. If wanted, you can add 1 cup of the dressing and then reserve the 1/2 cup to stir into the salad right before serving (after the refrigeration time).
Notes
The Greek Vinaigrette salad dressing already has feta cheese in it. If you don't love feta cheese or don't want an overwhelming feta flavor then leave out the feta cheese in the salad. I love feta cheese so I always add the feta cheese in addition to what is in the dressing.  Recipe was made with Kraft Greek Vinaigrette dressing.  Any pasta noodle can be used in place of the rotini. Just make sure it's roughly the same size. I love the rotini because it soaks up all the sauce and the little spirals keep all the food bits so each bite is amazing.  If you can't find chopped black olives then buy sliced black olives and chop them roughly before adding. Or you can leave them sliced if that's your preference. 
Nutrition
Calories: 318kcal | Carbohydrates: 40g | Protein: 9g | Fat: 14g | Saturated Fat: 3g | Cholesterol: 4mg | Sodium: 140mg | Potassium: 256mg | Fiber: 5g | Sugar: 4g | Vitamin A: 256IU | Vitamin C: 4mg | Calcium: 53mg | Iron: 2mg
DON'T FORGET TO PIN THIS RECIPE TO PINTEREST