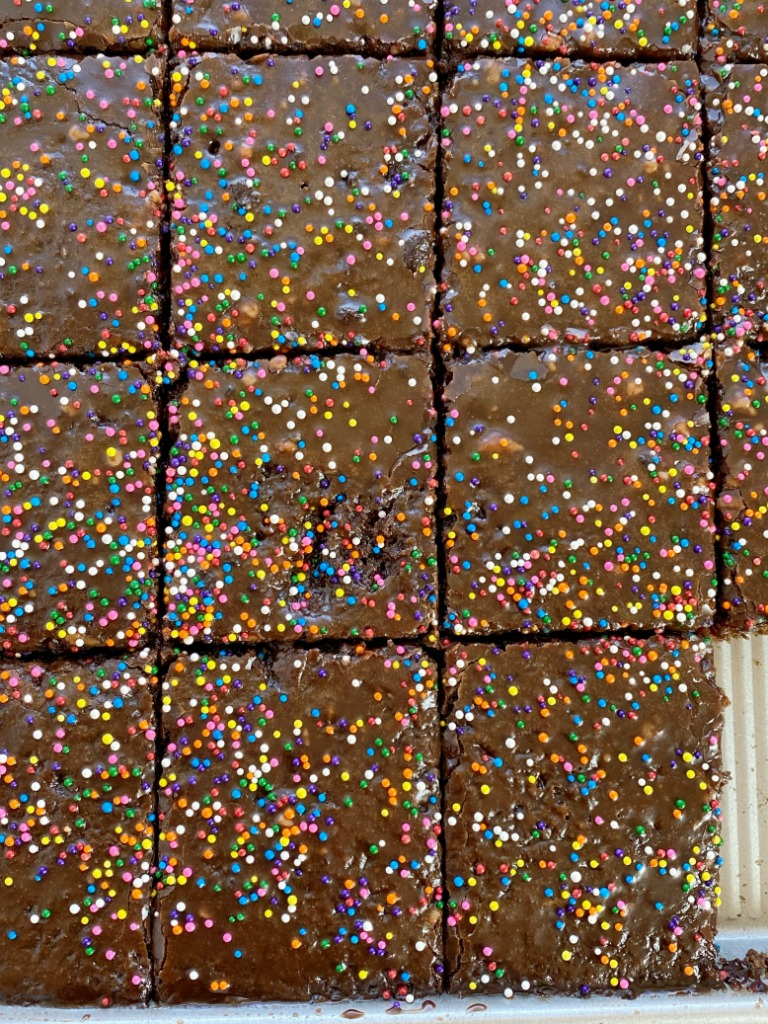 CHOCOLATE SHEET CAKE RECIPE
This chocolate sheet cake has been known to be the most requested birthday cake in my house. My girls are chocoholics so this is always their favorite thing to eat for dessert. 
We make it extra special by letting the birthday kid choose their sprinkles on top!
It's also perfect to make for a family gathering or a potluck. The recipe bakes in a sheet pan which means there is plenty for everyone and chocolate cake is always a crowd pleaser. 
HOW TO MAKE CHOCOLATE CAKE IN A SHEET PAN
The steps to making this chocolate cake are a bit different so be sure and read through the instructions first. You will need easy, normal baking ingredients for this recipe. 
All- Purpose Flour
Granulated Sugar
Cocoa Powder
Butter
Buttermilk
Eggs
Vanilla Extract
Baking Soda
Powdered Sugar
Whole Milk
Chopped Pecans OR Sprinkles
MY TIPS FOR THIS SHEET PAN DESSERT RECIPE
– Allow enough time for the cake to sit at room temperature for 1-2 hours before serving. This is not a cake that you serve it right when it has cooled slightly. The frosting will harden up as it sits at room temperature and the cake cools. 
– It's important to sift or whisk the powdered sugar before adding it into the frosting. Whenever I try to take a shortcut and not do this, I end up with chunks of powdered sugar in the frosting.
– We love this chocolate cake both ways with the sprinkles and the pecans. If it's for a birthday then we will usually add sprinkles to it. If I am making it to take somewhere I will normally add the pecans to the frosting. The salt crunch of the pecans is such a nice flavor and texture contrast to the soft chocolate cake. 
TRY THESE OTHER SHEET PAN DESSERT RECIPES
Perfect Chocolate Sheet Cake
Chocolate Sheet Cake is a perfectly moist chocolate cake topped with a milk chocolate fudge frosting that just melts into the cake.
Ingredients
Chocolate Cake
2 cups all-purpose flour
2 cups granulated sugar
1/4 teaspoon salt
1/4 cup unsweetened cocoa powder
1 cup (2 sticks) salted butter
1 cup boiling water
1/2 cup buttermilk
2 large eggs beaten with fork
1 teaspoon baking soda
1 teaspoon vanilla extract
Chocolate Frosting
1/2 cup (1 stick) salted butter cubed
1/3 cup cocoa powder
6 tablespoons whole milk
1 teaspoon vanilla extract
3 ½ cups powdered sugar sifted or whisked well
1/2 cup finely chopped pecans optional
Instructions
Heat oven to 350°. Prepare a cookie sheet/sheet pan (12"x18" or 13"x17") and spray it with cooking spray. Set aside.

In a large mixing bowl whisk together the flour, sugar, and salt. This will break up any clumps in the flour.

In a saucepan, over medium high heat, melt the butter and cocoa powder together. Once melted, add the boiling water and let the mixture boil for about 30 seconds. Turn off heat. Immediately pour into the flour mixture in the mixing bowl. Stir together until everything is combined well.

In a small bowl, whisk together the buttermilk, beaten eggs, baking soda, vanilla extract. Pour into the chocolate & flour mixture and stir everything together well. Pour into the prepared sheet pan.

Cook in the preheated oven for 20 minutes.

While cake is baking make the frosting : Add butter, cocoa powder, and milk to a medium saucepan. Cook over medium heat, stirring constantly, until butter has melted. Remove from heat and immediately stir in vanilla extract and powdered sugar.** It's important to first sift or whisk the powdered sugar before starting the frosting so you can just dump it right in. Sifting or whisking breaks up the powdered sugar clumps which means you will end up with no chunks of powdered sugar in your frosting. ** If you are adding pecans to the frosting, add them in along with the powdered sugar.

Immediately pour the frosting over the cake when it comes out of the oven. Use a spatula to spread it out if needed. Top with sprinkles of choice and let sit at room temperature for 1-2 hours to allow the frosting to harden up and the cake to cool.
Nutrition
Calories: 308kcal | Carbohydrates: 44g | Protein: 3g | Fat: 15g | Saturated Fat: 8g | Cholesterol: 48mg | Sodium: 190mg | Potassium: 71mg | Fiber: 1g | Sugar: 34g | Vitamin A: 406IU | Calcium: 22mg | Iron: 1mg