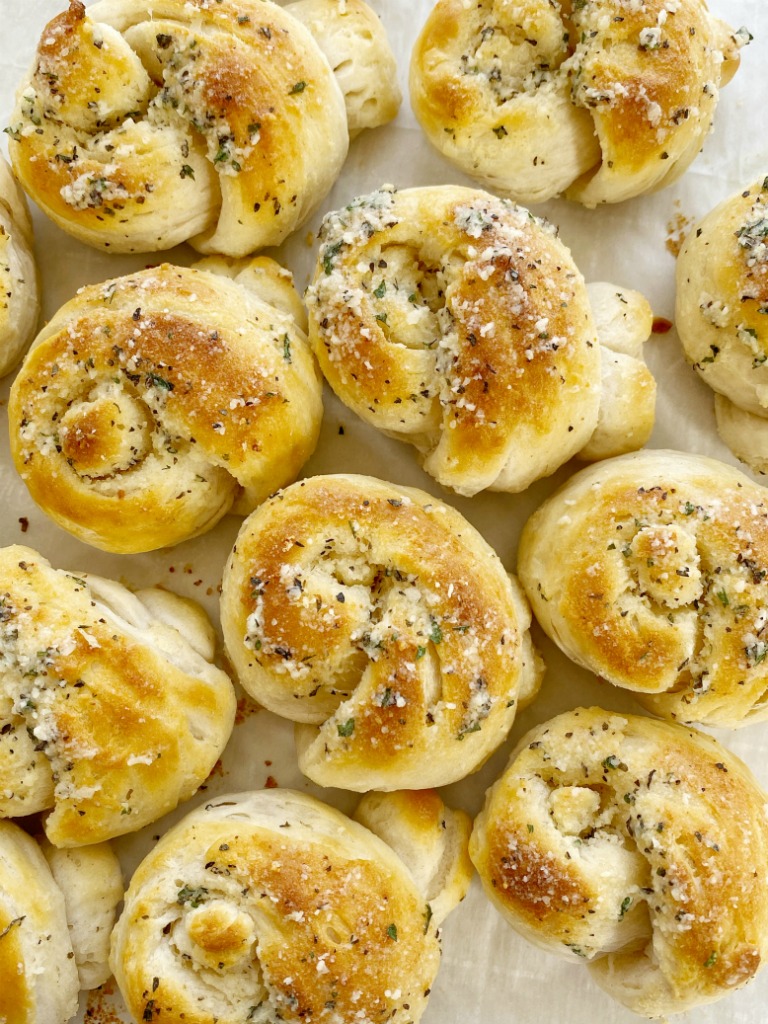 EASY PARMESAN GARLIC KNOTS
These easy parmesan garlic knots are one of the recipes that I have been making for over a decade now! I've been married now for 13 years and I still remember being in my teeny tiny kitchen (like really small!) making these deliciously soft & fluffy garlic parmesan knots. 
They're made with refrigerated biscuit dough which makes them so quick and easy to make.
HOW TO MAKE EASY PARMESAN GARLIC KNOTS FROM BISCUIT DOUGH
Refrigerated Biscuit Dough – You know the cans that pop when you open them (and scare me each time!)? That's what you want for this recipe. You can use any version of it you like, the flaky biscuits, butter biscuits, or original. Just make sure it's the larger can of biscuits which is the 16.3 oz size. 
Melted Butter – This recipe has been tested and made for years with salted butter. You can use unsalted butter but you may have to add a bit of salt (just taste and see). 
Grated Parmesan Cheese – The cheap grated parmesan cheese in the can is what's best for this recipe. You can use fresh shredded parmesan cheese but it burns easily in the oven so I don't care to use it. 
Garlic Salt, Garlic Powder, Dried Basil, Dried Parsley – I love using the garlic powder + garlic salt combo but if you are more sensitive to garlic and salt then just don't use the garlic salt. But for sure use garlic powder!
WHAT TO SERVE WITH GARLIC PARMESAN KNOTS
We love these easy garlic knots with soup. Especially this tomato vegetable hamburger soup ,this creamy chicken wild rice soup or this healthy and satisfying vegetable soup.
They are also great to serve alongside any pasta recipe like this insanely popular perfect instant pot baked ziti ,this super simple garlic parmesan pasta, baked spaghetti casserole, or this family favorite homemade spaghetti meat sauce. 
You can also serve them as an appetizer. They work well for this because they are small, almost bite-sized bread knots that are perfect for small plates. 
TRY THESE OTHER GARLIC PARMESAN RECIPES
Easy Parmesan Garlic Knots
Easy Parmesan Garlic Knots are so simple to make with biscuit dough, melted butter, and seasonings! So buttery, flaky, fluffy, and soft. They can be ready in only 15 minutes.
Ingredients
1 (16.3 oz) tube refrigerated biscuit dough
4 tablespoons salted butter melted
2 tablespoons grated parmesan cheese
1/2 teaspoon garlic powder
1/2 teaspoon dried basil
1/2 teaspoon dried parsley
1/4 teaspoon garlic salt
Instructions
Heat oven to 400°. Prepare a baking sheet by lightly spraying with cooking spray OR line with parchment paper or silpat.

Cut each biscuit in half. You will end up with 16 half circle pieces. Roll each piece into a 6" rope. Tie into a knot and tuck in the ends. Place on baking sheet.

In a small bowl, combine the melted butter, parmesan cheese, garlic powder, basil, parsley, and garlic salt. Mix together and brush each knot. You will not use all the butter for this, only about half. The other half is for when they're done baking.

Cook for 8-10 minutes until light golden brown and puffy. Immediately after taking them out of the oven brush each knot with some additional butter.

Serve warm and store leftovers at room temperature in a covered container or Ziploc bag.
Nutrition
Calories: 91kcal | Carbohydrates: 10g | Protein: 2g | Fat: 5g | Saturated Fat: 3g | Cholesterol: 8mg | Sodium: 240mg | Sugar: 1g | Vitamin A: 93IU | Calcium: 8mg | Iron: 1mg