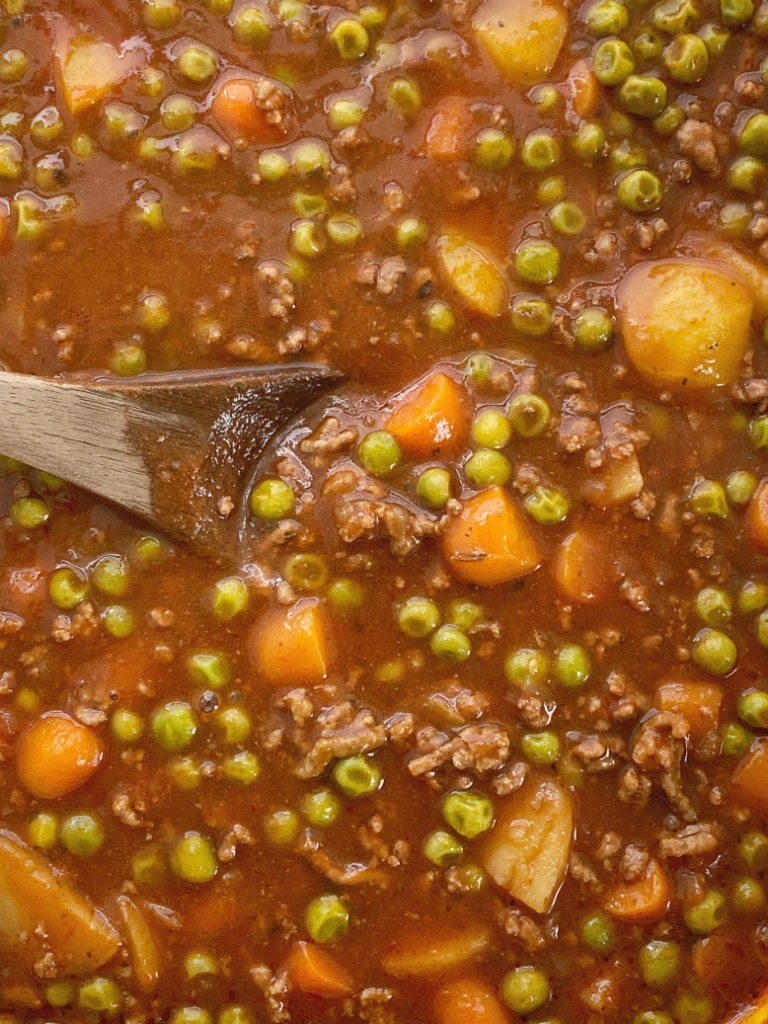 GROUND BEEF STEW
This ground beef stew is one of my family's favorite ways to eat stew! It cooks right in the slow cooker, all day long, and it will make your house smell absolutely amazing. 
Sometimes the large chunks of beef in stew can be hard for kids to eat which is why this stew recipe with ground beef is a family favorite. All your favorites about stew but with easier, and cheaper, ground beef in a seasoned tomato beef broth base and loaded with fresh veggies.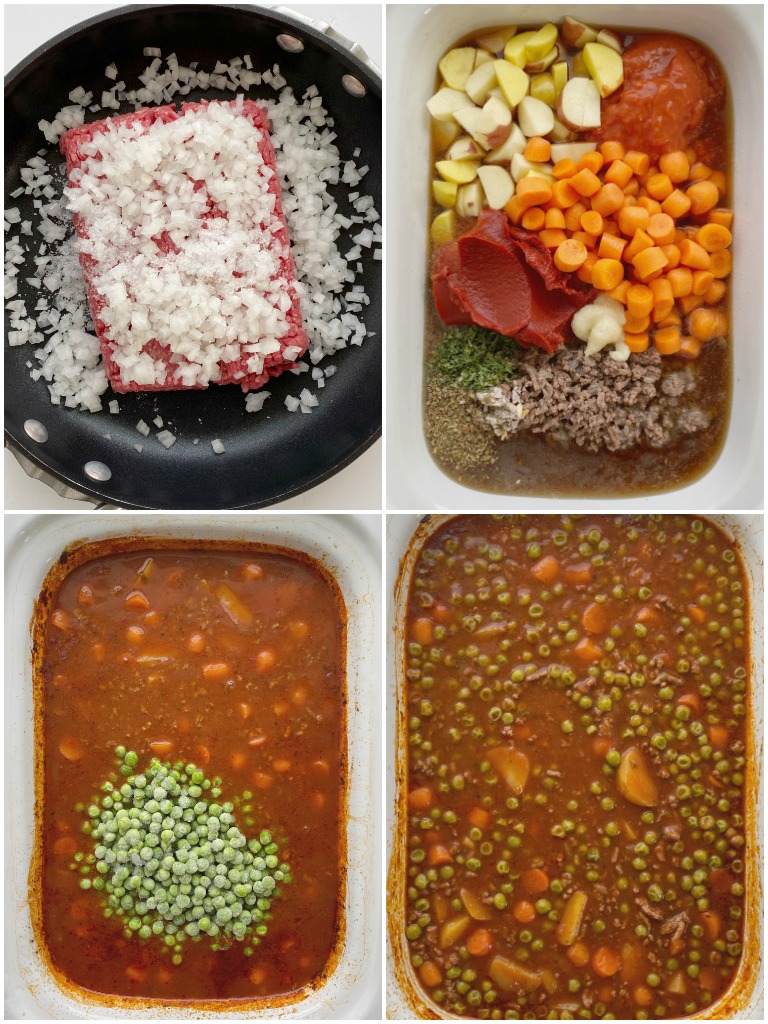 SLOW COOKER STEW RECIPE WITH GROUND BEEF
Ground Beef
Onion
Salt
Reduced-Sodium Beef Broth
Tomato Soup
Tomato Paste w/ Italian Herbs (garlic, oregano, basil)
Garlic
Lipton Beefy Onion Soup Mix (just the dry soup mix, DO NOT prepare)
Parsley & Italian Seasoning
Frozen Peas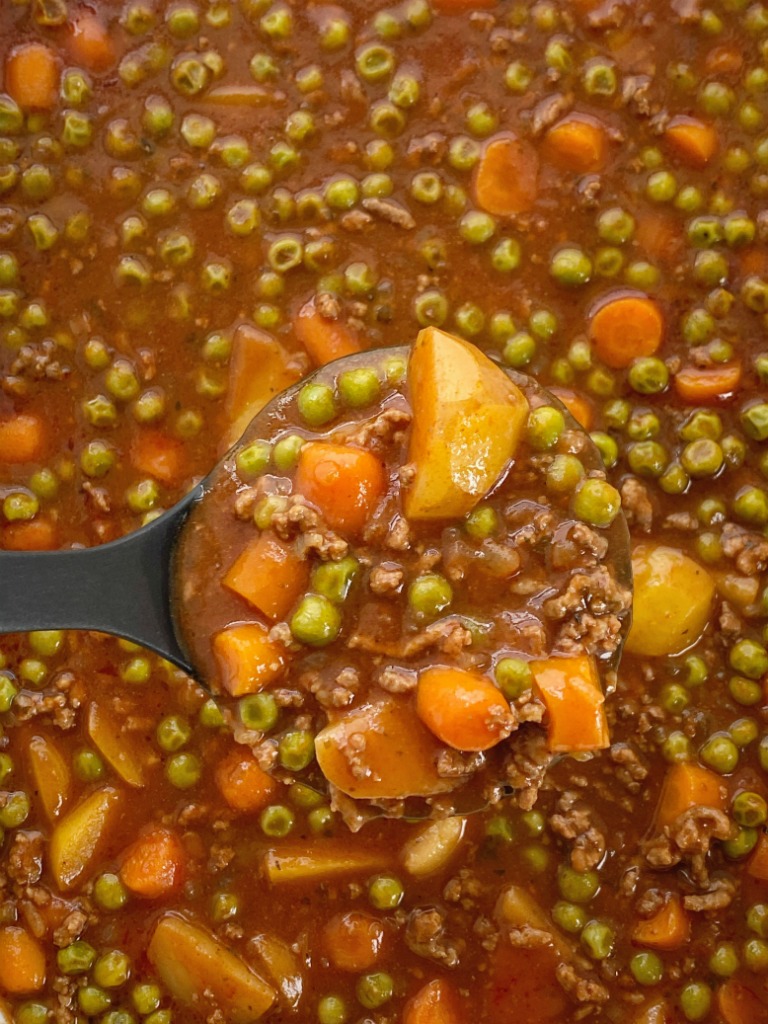 HELPFUL TIPS FOR THIS STEW RECIPE
Can I freeze this recipe? Yes this stew will freeze perfectly. Portion into gallon-sized (or quart-sized depending on your serving amounts) Ziploc bags and freeze. Reheat in pot on the stove top until warmed through. You may have to add some additional water or beef broth, if needed. 
What do I serve with stew? I love to serve this with my one hour soft & fluffy rolls. Buy some frozen rolls and heat them up according to package instructions. It's really good with cornbread as well. I also like to buy a bag of frozen crusty rolls, they heat up in the oven for just a few minutes, they have a yummy crispy outside with a soft bread center. Garlic bread is another great option. 
Do I need to peel the potatoes? It is totally up to you! If you prefer to have the skin off then peel the potato. Or leave it on if you like it or don't mind it. I do half and half. I peel the bad parts off and leave some skin on the rest of the potato. 
What if I can't find the Lipton Beefy Onion Soup Mix? It is a pretty important part of the flavor in this stew. It is very common and you should have no problem finding it in the store. Look in the soup aisle for it. It comes in a box with two packets inside of it. You will only use 2 tablespoons from inside of 1 packet. If you can't find it, maybe look up a recipe for DIY onion soup mix and use that.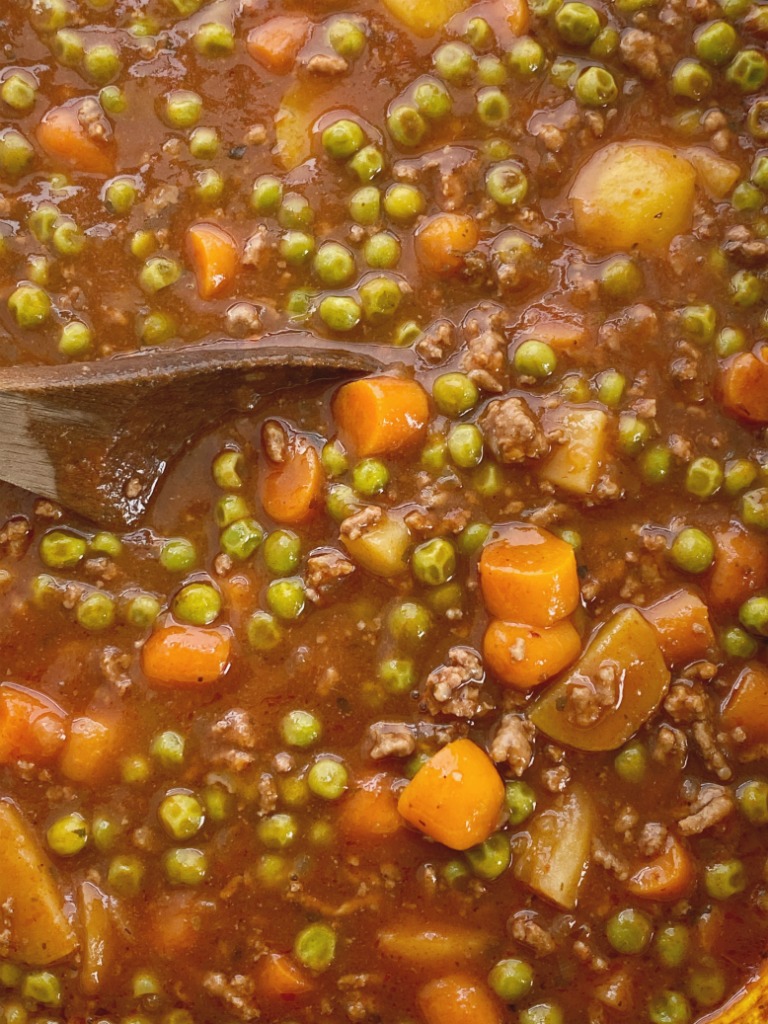 TRY THESE OTHER STEW RECIPES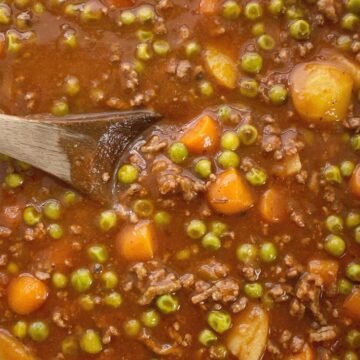 Slow Cooker Ground Beef Stew
Ground Beef Stew is made in the slow cooker and it will make your house smell amazing! Kid friendly ground beef, potatoes, carrots in a richly seasoned tomato beef broth base. Serve with rolls or bread to soak up all the goodness.
Ingredients
1 lb lean ground beef
1 sweet onion finely diced
1 teaspoon salt
1½ cups chopped Yukon gold or red potatoes peeled or unpeeled, about
1½ cup chopped baby carrots cut each baby carrot into 3-4 pieces
3 cups reduced sodium beef broth
1 can (10 oz) tomato soup
1 can (6 oz) tomato paste w/ garlic, oregano, basil
3 cloves garlic
2 tablespoons Lipton Beefy Onion Soup Mix
1 teaspoon dried parsley
1 teaspoon dried Italian seasoning
1½ cups frozen peas
Instructions
Spray the insert of the slow cooker with cooking spray.

In a skillet pan, over medium-high heat, brown and crumble the ground beef, onion, and salt. Once beef is no longer pink, drain the excess grease, and add it into the slow cooker.

Add the chopped potatoes & carrots, beef broth, tomato soup, tomato paste, garlic, beefy onion soup mix, parsley, and Italian seasoning. Stir everything together.

Put the lid on the slow cooker and cook on LOW heat for 7 hours. 1 hour before the cook time is done, add the frozen green peas. Let cook for the remaining cook time.

* The stew may seem like it's not thick enough, but as it sits after cooking (even after a few minutes) it will thicken up really nicely. ** If you will be gone all day and will not be able to add the peas in 1 hour before the cook time you have two options. Add the peas in at the beginning with everything else. Yes the peas will be softer, but I don't think it's a huge deal, and my kids like the softer peas anyways. Or you can get some microwaveable green peas, microwave them according to package instructions, and then add those into the stew right before serving.
Notes
Onion : You can use any onion you want to or whatever you prefer, but after making this for years I have found that the sweet Vidalia onion really makes a big difference and is the best to use in this recipe.  Garlic : Feel free to use fresh garlic cloves that you mince or press. Use chopped garlic from the jar. Or use garlic paste from the tube.  Beefy Onion Soup Mix : The soup mix comes in a box with two packets inside. You will only use 2 tablespoons of one packet. There will be extras so save it for when you make this again.  Beef Broth : If you use the full salt beef broth then this stew will be really salty. Unless you love salt, use the 50% reduced-sodium beef broth.  Carrots : You can use regular carrots. I prefer the baby carrots because there is no need to peel them and all you have to do is slice them into 3-4 pieces and you're done. A 1 pound bag of baby carrots is enough for this recipe. You will almost use the entire bag. 
Nutrition
Calories: 247kcal | Carbohydrates: 30g | Protein: 23g | Fat: 4g | Saturated Fat: 2g | Cholesterol: 47mg | Sodium: 1295mg | Potassium: 1394mg | Fiber: 6g | Sugar: 14g | Vitamin A: 5308IU | Vitamin C: 32mg | Calcium: 67mg | Iron: 4mg