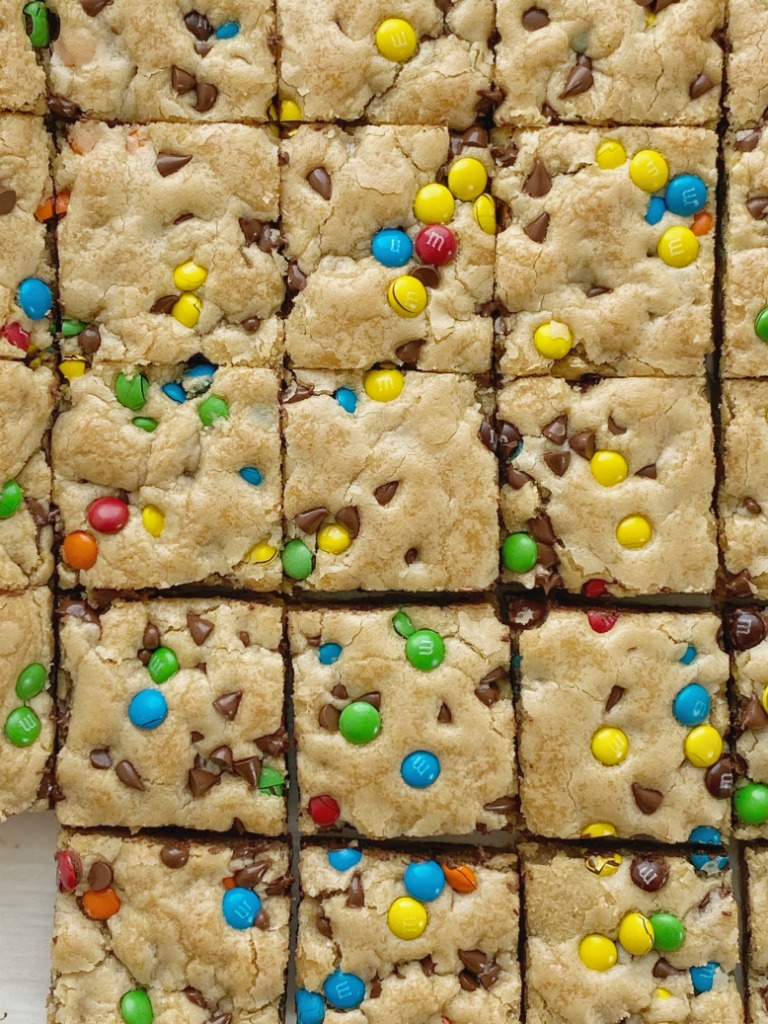 CHOCOLATE CHIP COOKIE BARS RECIPE
Chocolate Chip Cookie Bars are a classic treat! I love making these bars because you just dump the dough into one pan and bake it. No more doing several batches of cookies on a cookie sheet. 
These bars are thick, chewy, soft-baked and basically just the perfect cookie bar. Add some M&M's (our favorite!), add chopped up candy bar pieces, use only chocolate chips, use a mixture of different chips, or even add some chopped pecans for a salty crunch. You can really add anything you want!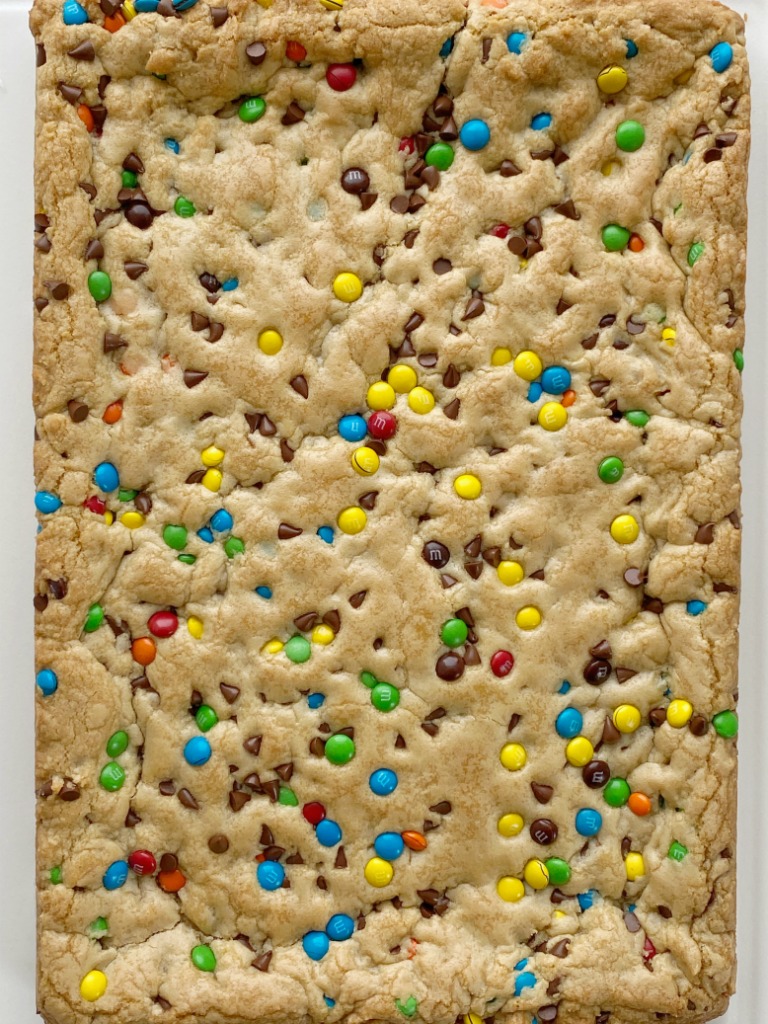 HOW TO MAKE THICK, CHEWY, SOFT-BAKED CHOCOLATE CHIP COOKIE BARS
All-Purpose Flour
Baking Soda & Salt
Cornstarch – This is the "secret ingredient" that makes these cookie bars so thick, chewy, and soft-baked all at once. Don't leave it out. It's a small amount but definitely noticeable if you don't add it. 
Add all the dry ingredients into a small bowl and stir together with a wire whisk. Stirring with a whisk helps to break up any clumps from the flour. It's like sifting, but you don't have to buy or get out a special sifter, just use a whisk. 
Melted Butter
Brown Sugar – I always use light brown sugar but if you like the stronger molasses taste of dark brown sugar then go ahead and use it. 
Granulated Sugar
Large Eggs
Vanilla Extract
Mini Chocolate Chips – You can really use whatever you want for this recipe. I normally do half semi-sweet miniature chocolate chips + half mini m&m's. You can add in chopped up candy bars, a mix of milk chocolate chips + white chocolate chips (or peanut butter chips or butterscotch chips). The point is that these bars are versatile and you can make them different each time by adding what you have. I've added some chopped pecans before and it's delicious that way too!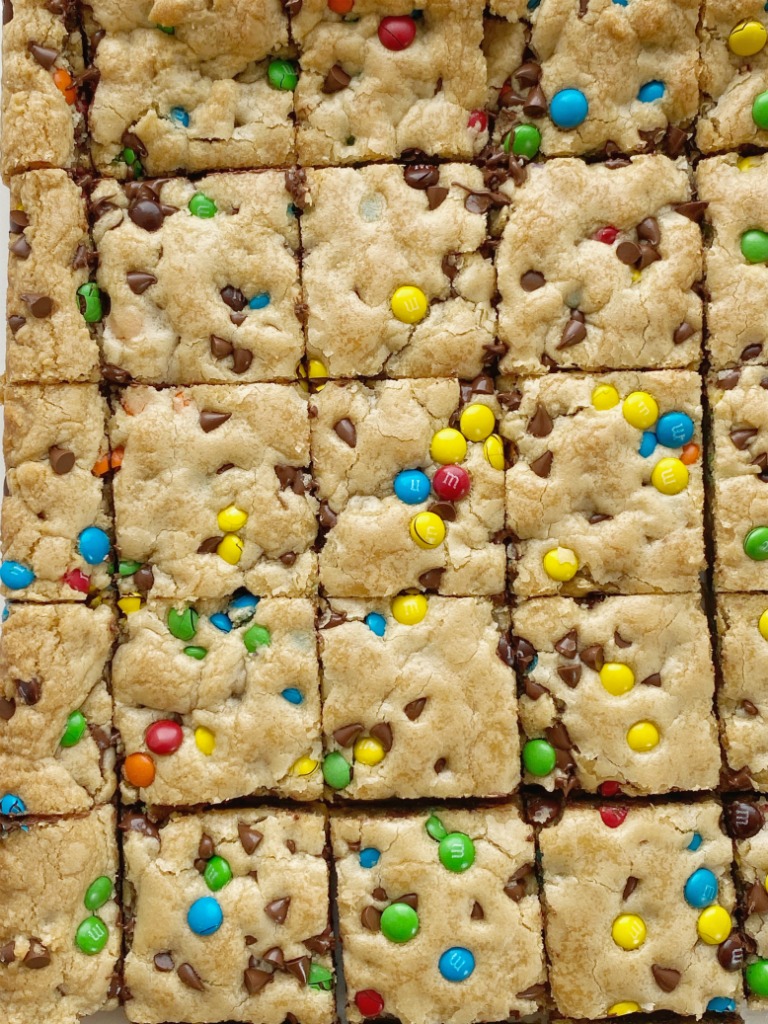 HELPFUL TIPS FOR THIS RECIPE
Can I freeze chocolate chip cookie bars? Yes you can. I like to place a few into a Ziploc freezer bag and then pull them out as we need them. Let them thaw at room temperature or pop it in the microwave to thaw it. 
Can I make this chocolate chip cookie bar recipe as cookies? I have never tried making this recipe into cookies. With that said, this bar recipe has all the ingredients needed for cookies so I would imagine making this recipe into cookies would work just fine. If you want my favorite recipe for cookies then be sure and try these amazing chocolate chip cookies.
Can I half this recipe? Yes! That is a great option if you are not feeding a family or if you just don't want all the cookie bars around. Half all the ingredients and then bake it in an 8×8 baking dish. 
Can I add other mix-ins? Yes you totally can! I have used all kind of things but mostly stick to half chocolate chips and half mini m&m's. Another good combo is milk chocolate chips + chopped pecans. Or you can add some chopped up candy bar pieces. 
TRY THESE OTHER BAR RECIPES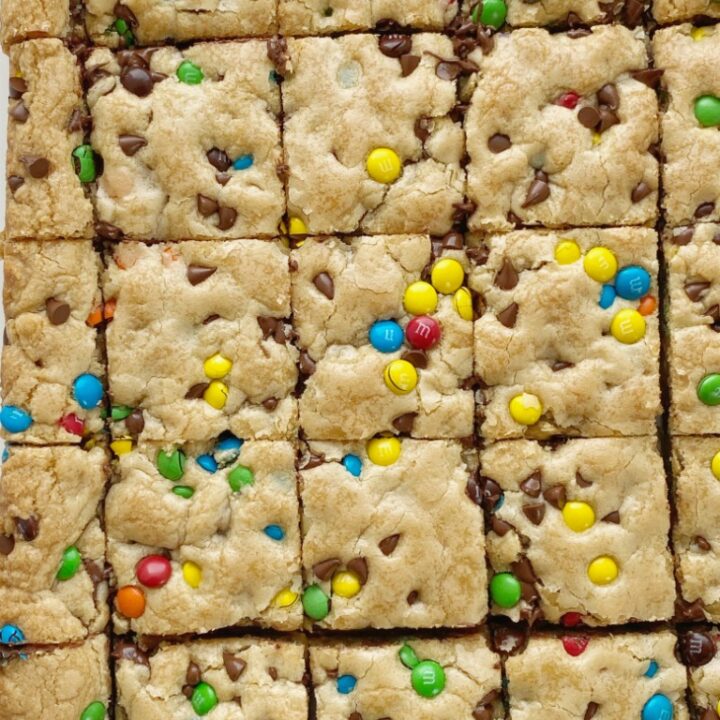 Chocolate Chip Cookie Bars
Chocolate Chip Cookie Bars are thick, chewy, soft-baked and bake up in one pan. Load them up with anything you want; chocolate chips, m&m's, chopped candy bar pieces, and even some pecans.
Ingredients
3 cups all-purpose flour
2 teaspoons cornstarch
1 teaspoon baking soda
¼ teaspoon salt
1 cup (2 sticks) salted butter melted & slightly cooled (see notes)
1½ cups light brown sugar
½ cup granulated sugar
2 large eggs
2 teaspoons vanilla extract
2 cups miniature chocolate chips (or whatever mix-ins you want)
Instructions
Preheat oven to 350°. Line a 9×13 inch baking pan with foil, parchment paper, or just spray it with cooking spray.*If I use foil I still like to spray it lightly with cooking spray just to be sure. Parchment paper is just fine as is. No need to spray that.

In a small mixing bowl combine flour, cornstarch, baking soda, and salt. Stir with a wire whisk to break up any clumps.

In a larger mixing bowl with a handheld mixer, or use the bowl of a stand mixer with the paddle attachment, add the melted butter, brown sugar, and sugar. Beat for 1-2 minutes until lighter in color and creamy.

Add the eggs and vanilla extract. Blend together just until combined. Add the flour mixture, half at a time, beating on low speed after each addition.

Add the chocolate chips and mix just until combined. *I like to reserve some of the chocolate chips to sprinkle on top of the bars before baking. This is optional. It just makes the bars look prettier when they're done baking.

Dump the dough into prepared pan and spread it out. The dough is really soft and not sticky so it should be fairly easy to work with and spread. *Sprinkle reserved chocolate chips (or candy pieces) on top.

Bake for 23-28 minutes. Edges should be slightly pulled away from the pan, bars should be lightly golden brown and puffy looking, and a toothpick inserted in the middle should come out dry or with moist crumbs on it. *Mine are perfectly cooked and soft baked right at 23 minutes. But all ovens differ so watch closely. Remember that the bars will continue to cook slightly while cooling.

Let cool in the pan for 20-30 minutes before cutting into bars. *This is also the reason I prefer parchment paper because then you can just grab the bars out of the pan (with the overhang of the parchment paper) and slice them nicely.
Notes
How do I melt & slightly cool butter? The best way is to place the unwrapped butter sticks into a microwave-safe bowl (I use a 2 cup glass measuring cup). Cook in the microwave for about 45 seconds. The butter will be half melted and then the other half will be soft chunks. Take a fork and stir it all together until all the butter is melted together. This way you end up with melted butter that is slightly cooled at the same time. Salted Butter : If you use unsalted butter, which is fine, you may want to increase the salt to 1/2 teaspoon (or more depending on taste preference). Chocolate Chips : Use any kind you want. Miniature or regular work just fine. We just love the cute small size of the miniature chips so that's what I always use. We prefer the semi-sweet chips but again use whatever you prefer.  
Nutrition
Calories: 276kcal | Carbohydrates: 40g | Protein: 3g | Fat: 12g | Saturated Fat: 7g | Cholesterol: 38mg | Sodium: 158mg | Potassium: 43mg | Fiber: 1g | Sugar: 27g | Vitamin A: 292IU | Vitamin C: 1mg | Calcium: 36mg | Iron: 1mg