Easy Garlic Parmesan Pasta is a family favorite 20 minute dinner recipe! This is my family's most loved & requested recipe. Pasta noodles covered in a creamy garlic parmesan white sauce. Perfectly hearty and filling as a meatless dinner or serve it as a side dish.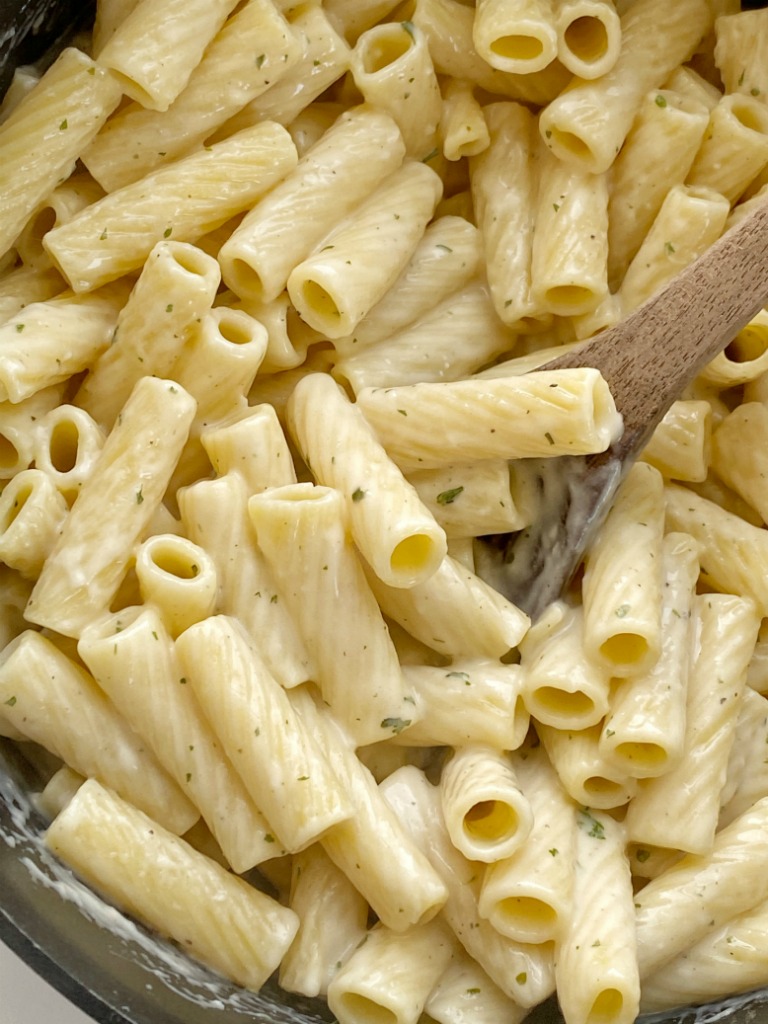 EASY GARLIC PARMESAN PASTA
This 20 minute easy garlic parmesan pasta is without a doubt the one recipe I make the most at my house. My kids eat the entire pound of pasta when I make this. Pair it with a green salad that's loaded with their favorite veggies and I am one happy momma cause they actually eat without a fight. 
I always add a box of pasta and a wedge of parmesan cheese to my grocery list because if I just don't feel like making dinner, or we're running short on time, then this easy parmesan pasta recipe will be made.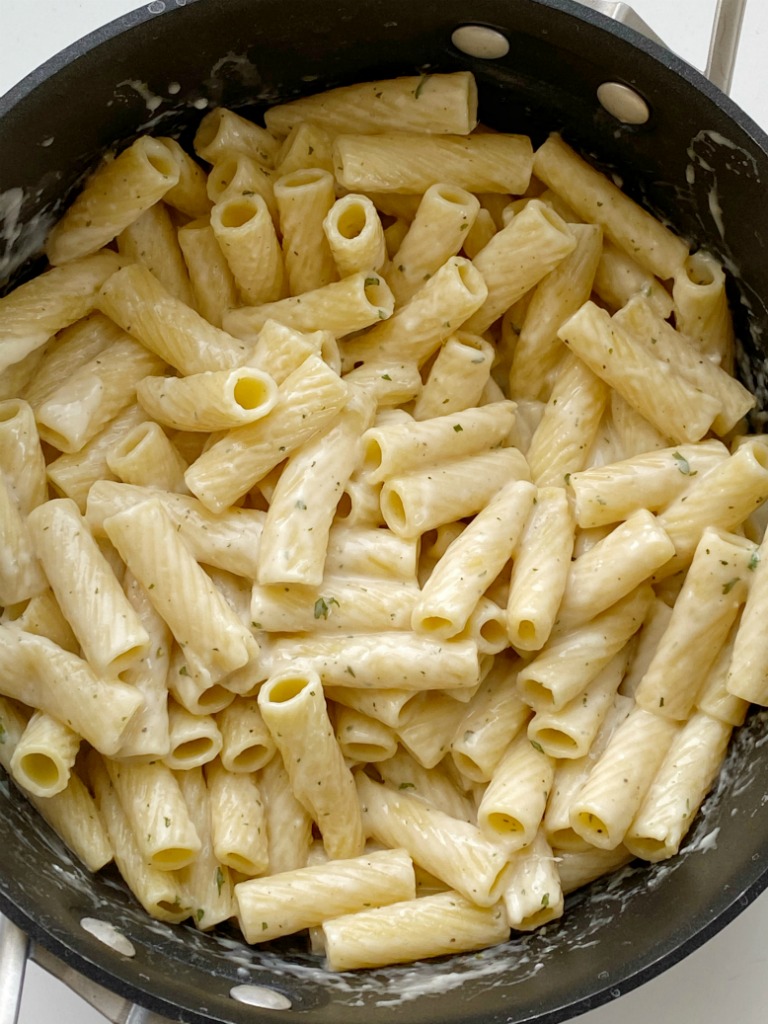 HOW TO MAKE GARLIC PARMESAN PASTA
Pasta Noodles – It's best to use a larger, tube shaped pasta like ziti, rigatoni, or penne. But any pasta will work. My kids love the rotini spiral pasta noodles so I use that a lot. The larger tube shaped pastas work best because they soak up all that sauce and get inside the pasta. 
Butter 
Garlic – Use any kind of garlic you like. Fresh cloves garlic that you mince or press. Chopped garlic from a jar. Or my personal favorite is to use garlic pasta from a tube.
All-Purpose Flour – This is what forms the roux (or a thickener) to help thicken the milk and chicken broth when it's added.
Salt & Pepper
Chicken Broth – I use reduced sodium chicken broth.
Whole Milk – I have used all milks from skim milk to half & half milk. Any milk will work but just note that the lower the fat percentage is than the longer it will take the sauce to thicken. Which is why I mention whole milk in the recipe. Because it's yummy, makes it so creamy, and it has enough fat to help the sauce thicken quickly. 
Dried Parsley
Fresh Shredded Parmesan Cheese – Buy a wedge of parmesan cheese and shred it yourself for best results. I have experimented using the pre-shredded parmesan cheese and it leaves the sauce kind of gritty and not smooth. The cheaper, grated parmesan cheese is just too salty and does not produce a smooth sauce.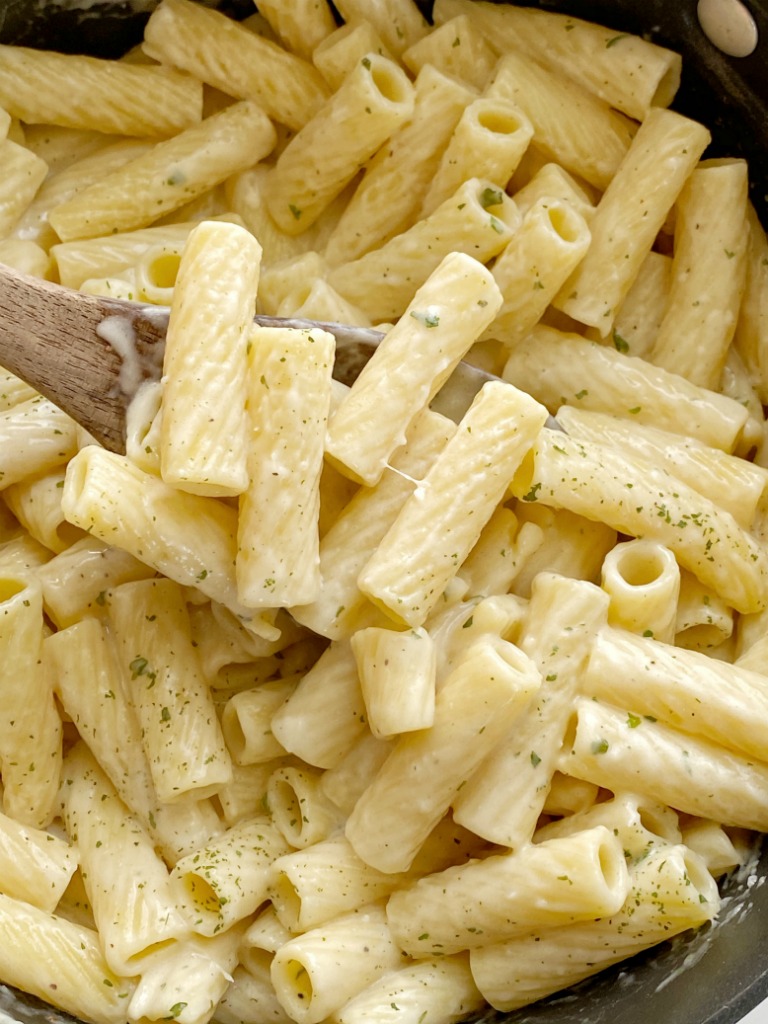 MY TIPS FOR MAKING THIS EASY PASTA RECIPE
– While the pasta is cooking prepare the creamy white sauce. When the pasta is done you just combine them together and dinner is ready. 
– Use any pasta you want! I will say that the larger pastas do much better in this dish. Like rigatoni pasta, rotini pasta, penne pasta. I usually always use rigatoni or penne pasta because my kids love the shape of it and it's large so it holds all the sauce well. Rotini is another one we use often. 
– I always use the garlic paste that comes in the tube. You'll find it in the refrigerated produce area of the grocery store. Super easy because you don't have to get a cutting board out to peel garlic. Just squeeze it in and you're done. 
– I have made this with all milks. Skim milk all the way to half & half milk. They all work fine. The higher the fat percentage is, the faster the sauce will thicken up. Which is why I recommend using whole milk. So you can use the milk that you prefer or whatever is in the fridge.
– PLEASE use a parmesan cheese wedge and shred it yourself. It makes a huge difference. I would not recommend getting the pre-shredded parmesan cheese as it does not melt nicely into the sauce. You end up with a gritty sauce that is not smooth. A wedge of parmesan cheese is about the same price as the pre-shredded bagged stuff, so buy the wedge. 
– This is definitely filling enough as a meal. Add a green salad and maybe some garlic bread and you're set. It also makes a really great side dish too. Maybe with some steak or chicken.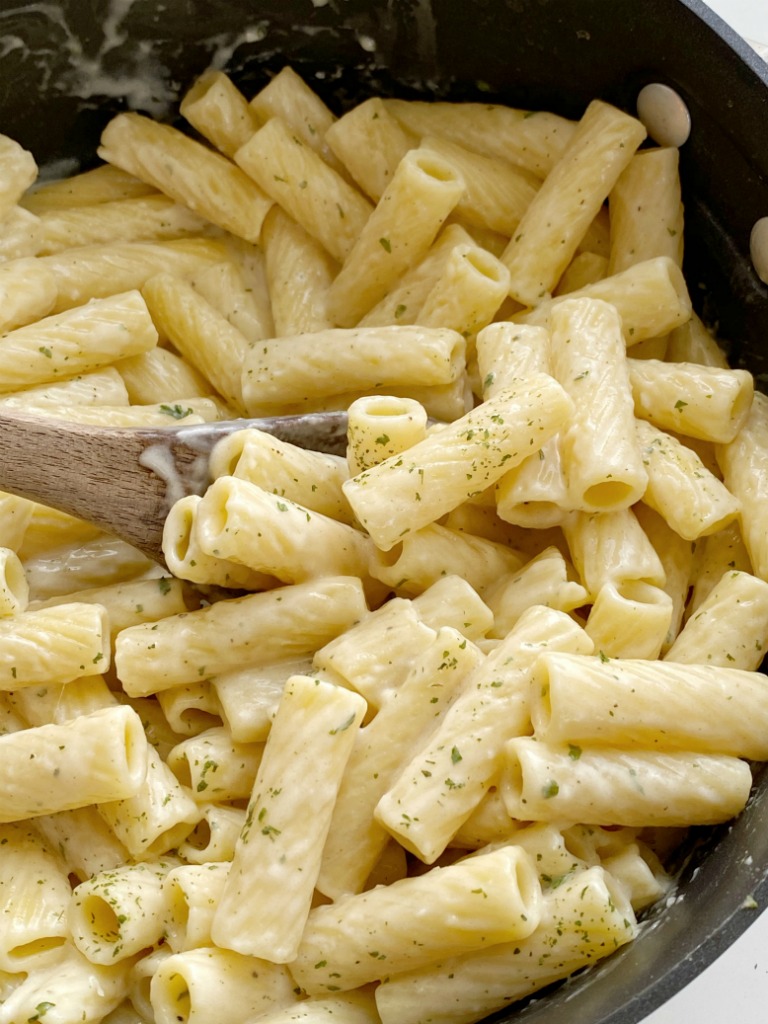 I love having some meatless dinner options because meat is expensive, increases the grocery bill, and not all of my kids love meat all the time (they get that from me 🙂 ). I love this easy pasta recipe because it's filling, everyone loves it, and when you pair it with some garlic bread and green salad it's a full meal and you won't even miss the meat. 
If you love meat and need it with every meal (hello to my husband) then this pasta is really good with some grilled chicken on top, rotisserie chicken mixed in, or cook up some ground Italian sausage and add that in. You can easily add some meat to this pasta if that's what you prefer. 
TRY THESE OTHER EASY PASTA RECIPES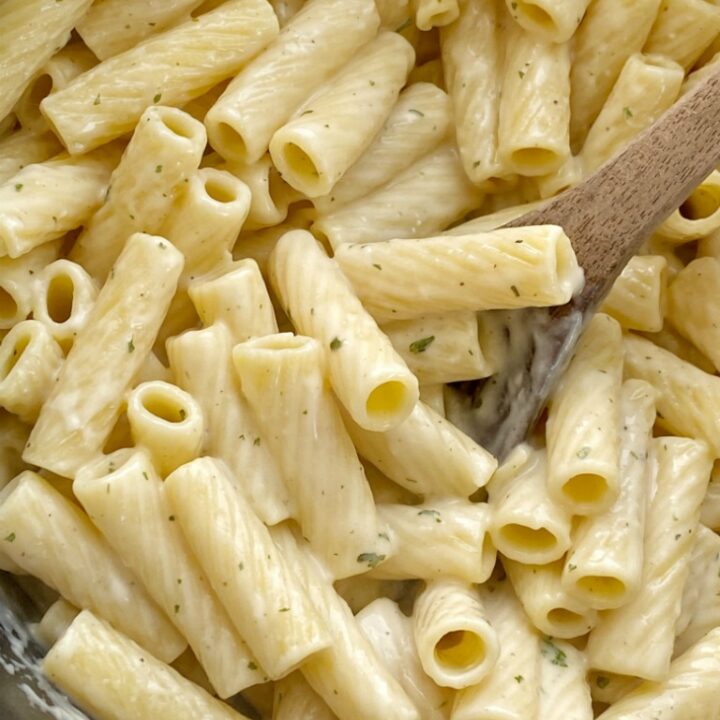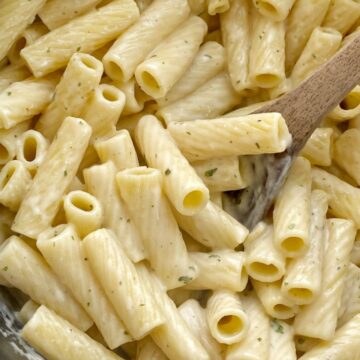 Easy Garlic Parmesan Pasta
Easy Garlic Parmesan Pasta is a family favorite 20 minute dinner recipe! This is my family's most loved & requested recipe. Pasta noodles covered in a creamy garlic parmesan white sauce.
Ingredients
1 box (16 oz) large tube-shaped pasta (rigatoni, penne, ziti)
3 tablespoons butter
4 cloves garlic (minced/press, chopped from a jar, or garlic paste)
3 tablespoons all-purpose flour
1 cup reduced-sodium chicken broth
1 cup whole milk
½ teaspoon salt
¼ teaspoon pepper
2 teaspoons dried parsley
1½ cup shredded parmesan cheese grated from a wedge
Instructions
Cook pasta according to package directions. Salt the water so you don't have bland pasta. I add about 1 teaspoon salt into the boiling water with the pasta.

In a sauce pan, over medium heat, melt the butter. Add the garlic and cook and stir for 30 seconds. Add the flour and stir with a whisk for 30 seconds. It will be a thick paste. That's ok.

While whisking, slowly add in the chicken broth, milk, salt, and pepper. Stir and cook for several minutes until mixture has thickened. Careful not to let this boil and burn. Lower the heat if needed. You don't have to stir constantly, but you should stir very often.

Once sauce is thickened, take off the heat and add in the dried parsley and shredded parmesan cheese. Let melt and then stir together to combine.

Drain the pasta but DO NOT rinse it. Add the creamy sauce to the cooked pasta and stir together. Serve!
Notes
TIP BEFORE YOU START : It helps a lot to have everything ready to go before you start making the sauce. It does go pretty quickly. Measure out the flour, spices, and combine the liquid together into a 2 cup glass measuring cup, and have the parmesan cheese already shredded. That way everything is ready to go. PARMESAN CHEESE : I don't really ever measure the parmesan cheese. It's ok if you add slightly less than 1 1/2 cups (like closer to 1 cup). I like the higher amount but anywhere from 1 cup plus is ok. For best results, and the creamiest sauce, shred your own parmesan cheese. Using the pre-shredded parmesan cheese results in a grainy sauce.  MILK : I have made this recipe with all kinds of milk (from skim milk up to half & half milk), any milk can be used but just know that the higher the fat percentage than the faster the sauce will thicken. I prefer the whole milk for taste, thickness, and speed of thickening which is why it calls for that in the recipe.  (I got this recipe years ago from a friend who found it on Pinterest via www.lilluna.com)
Nutrition
Calories: 472kcal | Carbohydrates: 63g | Protein: 21g | Fat: 15g | Saturated Fat: 9g | Cholesterol: 36mg | Sodium: 822mg | Potassium: 265mg | Fiber: 3g | Sugar: 4g | Vitamin A: 436IU | Vitamin C: 1mg | Calcium: 363mg | Iron: 1mg