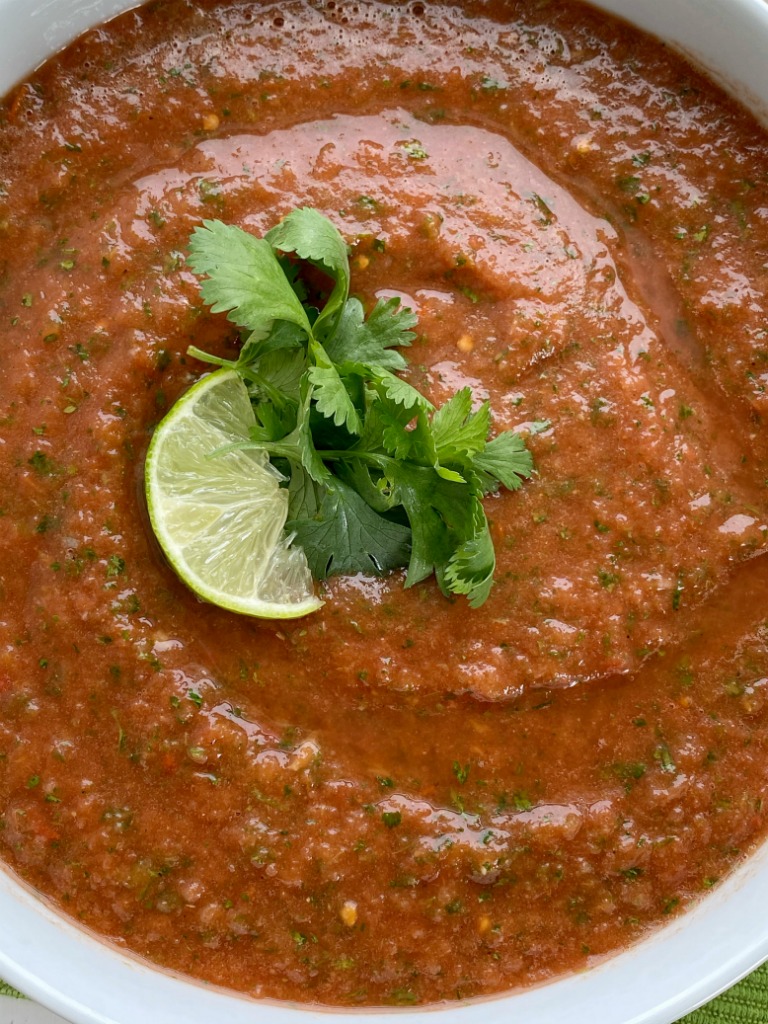 HOMEMADE SALSA RECIPE
Homemade salsa is one thing that I love making myself instead of buying jarred salsa. It's so easy to make at home, uses simple and inexpensive ingredients like canned tomatoes, and you can customize it to your spice level.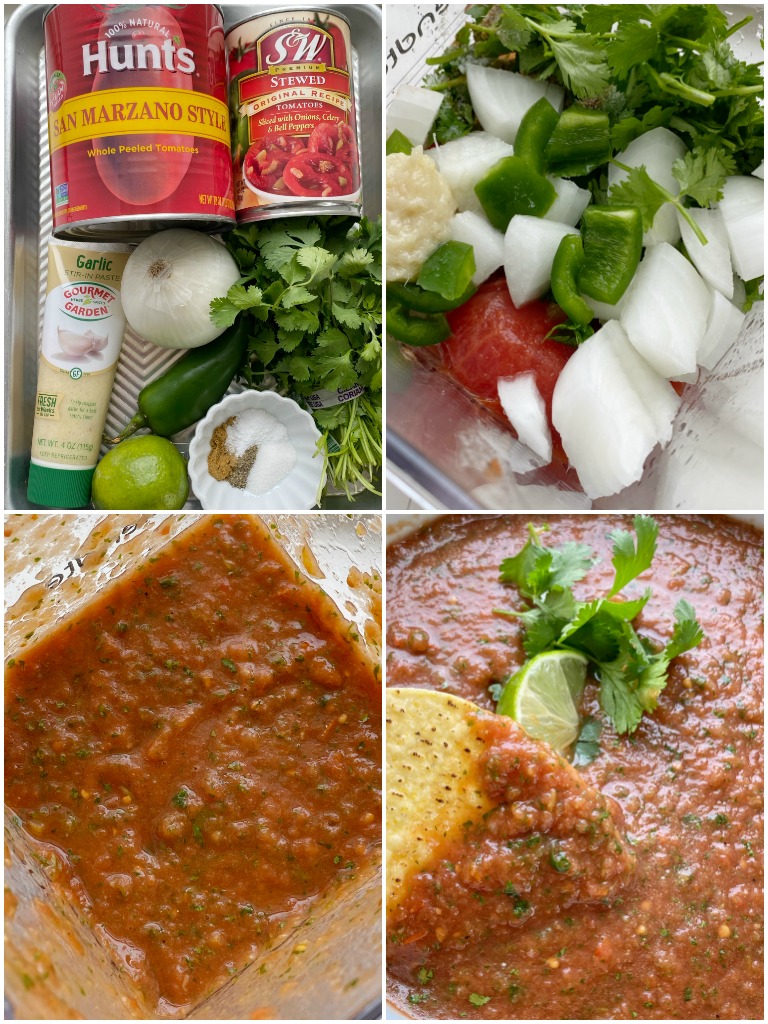 HOW TO MAKE HOMEMADE SALSA
Canned San Marzano Style Whole, Peeled Tomatoes - I love using the San Marzano style canned tomatoes in salsa. It's a type of plum tomato that has fewer seeds in it. Of course, if you can't find the San Marzano Style then just use a can of whole, peeled tomatoes. 
Stewed Tomatoes - I am realizing how flavorful these are! I use them in my taco soup recipe (blended up because they are larger chunks of tomato) and it gives so much flavor. They are stewed tomatoes with onion, pepper, and celery and they make such a difference in homemade salsa compared to regular diced tomatoes.
Onion - Use whatever kind you want like yellow, white, red, or a sweet onion. I will typically use a white onion. A red onion adds lots of flavor too.  
Cilantro - One bunch of cilantro is what you will need. I rip off the leafy part of the cilantro bunch and throw that in. Be sure and wash cilantro as it tends to have lots of dirt in it. No need to chop the leafy part from the stem. Just throw the stem and leaf part into the food processor. 
Jalapeno - For more heat just roughly chop the jalapeno and throw everything in. For less heat, take out the seeds and white membrane from inside the jalapeno. Roughly chop just the green skin part of the jalapeno. I use one jalapeno with the seeds and white membrane out and it provides mild heat to the salsa. My kids even eat it no problem. 
Garlic - Use fresh garlic that has been minced or pressed. Use garlic paste from a tube. Or use some jarred chopped garlic. Anything will work!
Fresh Lime Juice
Salt, Pepper, Cumin, Sugar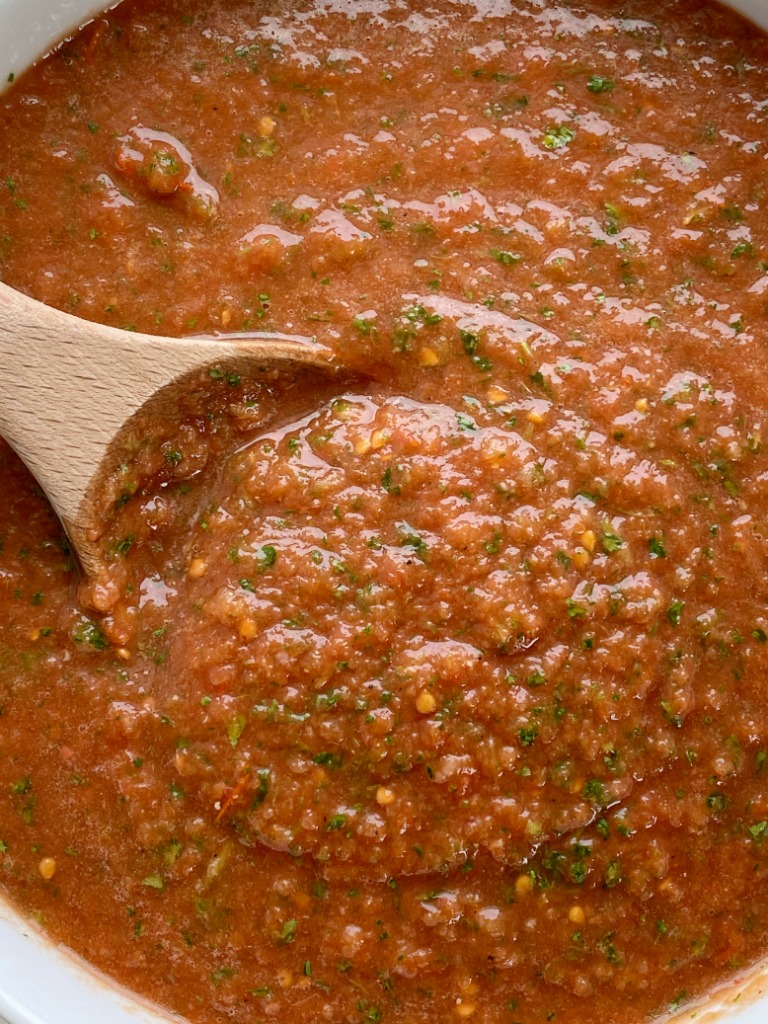 MY TIPS FOR MAKING HOMEMADE SALSA
- Pulse as much or as little as you want. I don't like chunky salsa so I pulse about 7-8 times. This provides a smoother salsa with small chunks or hardly any chunks. 
- The salsa is best eaten after it's refrigerated for a few hours. The salsa will thicken slightly and the flavors come together and it tastes amazing cold!
- If you can't find the San Marzano Style canned tomatoes that's ok! Instead, just use a can of whole, peeled tomatoes. 
- If you don't have a food processor or something with the pulse function then try out my 10 minute blender salsa recipe.
- There are plenty of ways to make this homemade salsa spicier. Use two jalapenos (including the seeds), add some cayenne pepper in with the seasonings, add a can of diced green chilies (mild, medium, or hot). 
TRY THESE RECIPES THAT USE SALSA AS AN INGREDIENT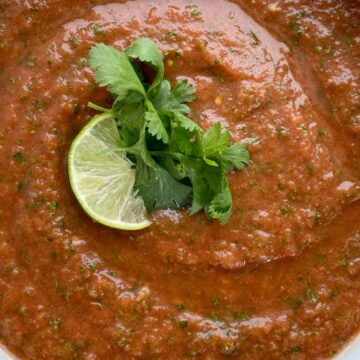 The Best Homemade Salsa
Homemade Salsa with canned whole tomatoes, stewed tomatoes, onion, garlic, jalapeno, cilantro, and seasonings. So simple to make, inexpensive, and it tastes better than anything you'll get at the restaurant or buy in the store. Mild enough for kids but can easily be made spicy!
Ingredients
1

can (28 oz)

San Marzano Style whole peeled tomatoes

drained

1

can (14.5 oz)

stewed tomatoes

drained

1

bunch

cilantro

1

onion

chopped

1

jalapeño

chopped, take out seeds and white membrane for less spice

3

cloves

garlic

juice of 1 lime

¾

teaspoon

salt

I use kosher salt, use more or less to taste

½

teaspoon

ground cumin

½

teaspoon

granulated sugar

¼

teaspoon

black pepper
Instructions
Add all salsa ingredients into a food processor or a blender (like a blendtec) that has the pulse function.

Pulse for 1-2 seconds at a time until it reaches the consistency you want.

It's best if you let it refrigerate for 2-3 hours before serving. The salsa will thicken slightly as it refrigerates and the flavors blend together. Salsa will keep well for several days, covered, in the refrigerator.
Notes
400 calories is for the entire recipe of 4 cups of salsa. It's hard to determine serving size for salsa. If you divide the recipe by 8 (½ cup serving size) then each serving is 50 calories. 
Nutrition
Calories:
400
kcal
Carbohydrates:
25
g
Protein:
4
g
Fat:
1
g
Saturated Fat:
1
g
Sodium:
1212
mg
Potassium:
833
mg
Fiber:
5
g
Sugar:
13
g
Vitamin A:
910
IU
Vitamin C:
44
mg
Calcium:
139
mg
Iron:
4
mg