AVOCADO DIP
This avocado dip recipe is the perfect party dip, game day dip, or really anytime! If you love avocados (and lots of them!) then you will love this avocado dip.
It has 6 whole avocados, black beans, corn, red onion, and then it's covered in salsa verde. 5 ingredients is all you need for the best dip recipe. 
DOES AVOCADO DIP TURN BROWN?
-Yes, it will eventually turn brown just like anything with avocado does. But, the good news is that the salsa verde helps prevent this avocado dip from turning brown right away!
-Avocado Dip will last in the fridge, covered with saran wrap, for 1-2 days. I love this dip cold so I always make it a few hours before I need it and then let it refrigerate until I am ready for it. 
-I would not make this dip a day ahead of time. While it won't necessarily brown, it is much tastier when it's freshly made, or within 2-4 hours of making it. 
-With that said, I am not one to turn down day 2 leftovers of this avocado dip 🙂 Even if it is beginning to brown.
HOW DO YOU MAKE AVOCADO DIP?
Avocados – This recipe calls for 6 avocados and sometimes it can be hard to find 6 ripe avocados at the same time! I have found good luck when I buy the bag of 6 avocados from Costco. They usually all ripen at the same time which makes it easy to make this dip recipe. 
Black Beans – Make sure to drain the beans well! If you don't like black beans then use something else like pinto beans. Or leave the beans out completely. 
Corn – Use any canned corn you like. There is fire-roasted corn, yellow & white corn, white corn, or just regular canned yellow corn. Or again, just like the beans, leave out the corn if that's what you prefer. 
Red Onion – I have found red onion to be the best in this dip as it provides tons of flavor. Yes you can substitute with another onion like white or yellow, or even a sweet onion. 
Salsa Verde – Recipe calls for 1 cup of salsa verde but use more or less depending on what ingredients you left out and depending on how soft your avocado is. Start with 1/2 cup and go from there.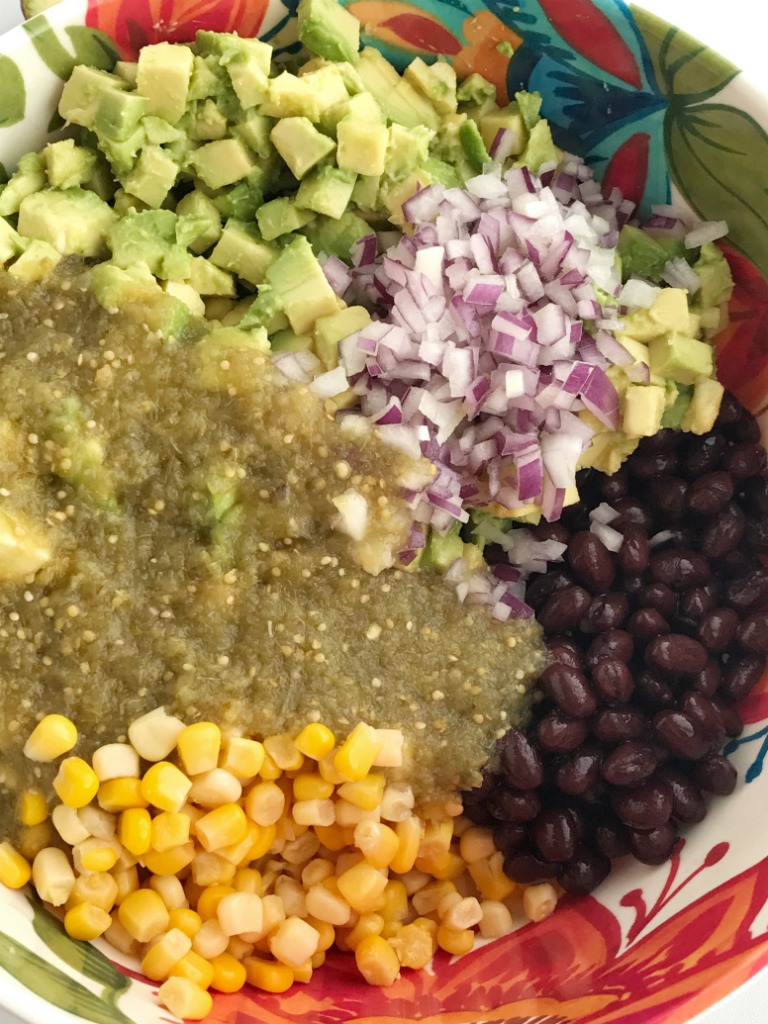 HOW DO YOU SERVE AVOCADO DIP?
Tortilla Chips
A spoon 🙂 
Serve over grilled chicken
Use as a topping for these turkey taco burrito bowls 
Add to your salad
Taco topping
Nachos
Super Bowl Party
As an appetizer – I like to use the tortilla scoops chips and then place a small amount of avocado dip inside each scoop chip. A fun appetizer idea!
Serve with vegetable dippers – bell pepper strips or cucumber slices are good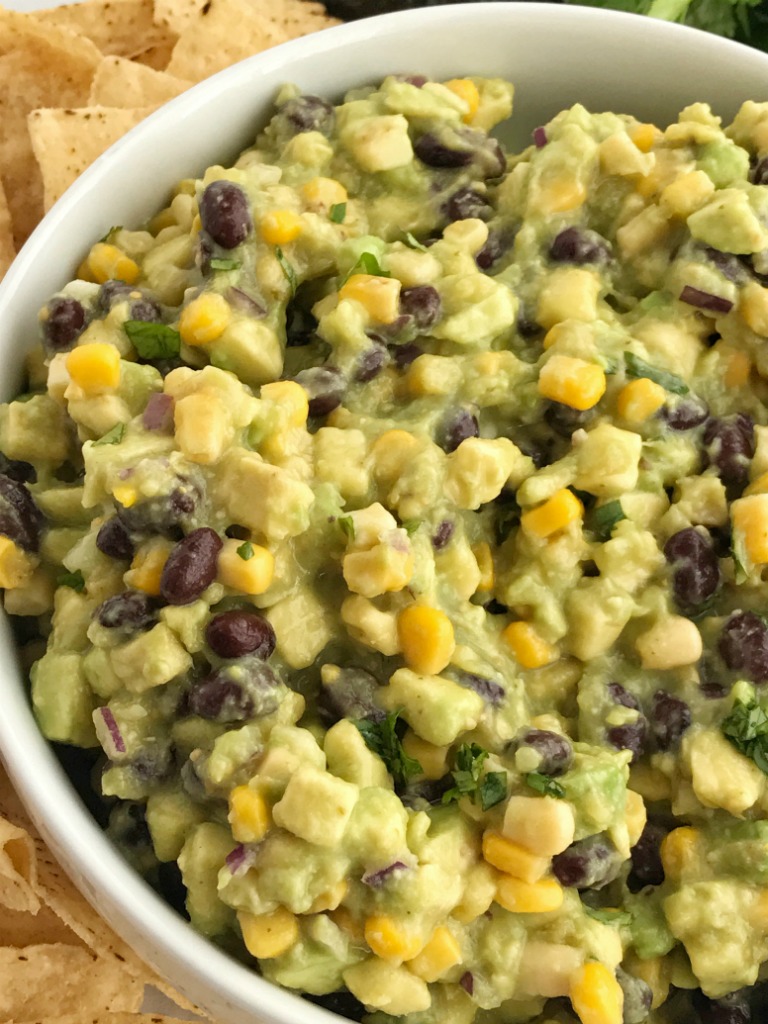 TRY THESE OTHER AVOCADO RECIPES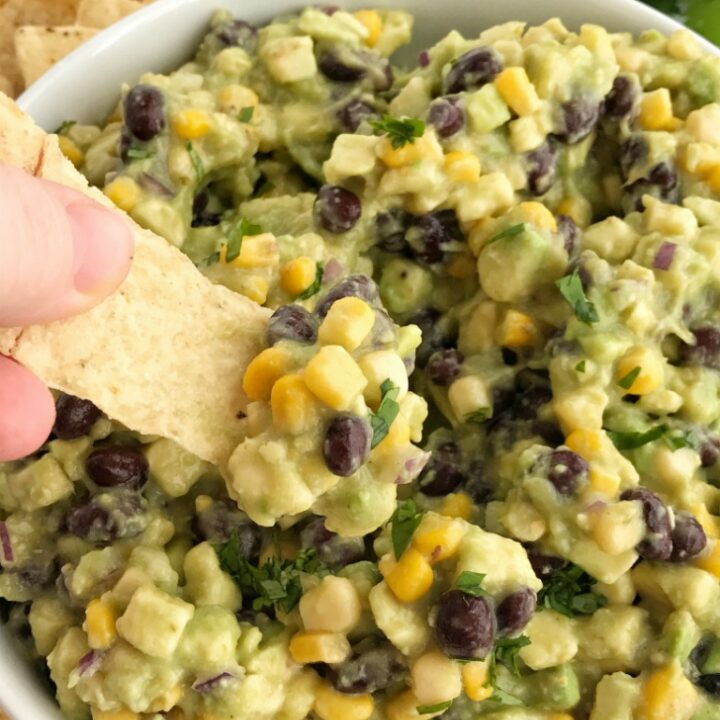 Avocado Dip
Avocado Dip is packed full with chunky avocados, corn, black beans, red onion, and salsa verde. So easy to make you only need 5 ingredients.  
Ingredients
6 avocados (peeled, pit removed, and chunked small)
1 can (15 oz) corn (drained well)
1 can (15 oz) black beans (drained & rinsed)
1/4 cup finely chopped red onion
1 cup salsa verde
Instructions
Combine all ingredients into a mixing bowl and gently stir together.

Serve right away or let chill in the fridge for 1-3 hours.
Notes
NOTE : Depending on how soft your avocado is and what ingredients you omit (corn or beans) you may need less salsa verde. Start with 1/2 cup and go from there. I can only find the salsa verde in a 7 oz can (which is just short of 1 cup, I use that can).    This dip will last 1-2 days in the fridge before it will start turning brown. I would not make it the day before, but rather a few hours before you need it if you want to make it ahead of time.    Feel free to add chopped cilantro and/or chopped jalapenos for more spice and flavor!
Nutrition
Calories: 171kcal | Carbohydrates: 10g | Protein: 2g | Fat: 15g | Saturated Fat: 2g | Sodium: 143mg | Potassium: 531mg | Fiber: 7g | Sugar: 2g | Vitamin A: 264IU | Vitamin C: 11mg | Calcium: 12mg | Iron: 1mg