Avocado dip is packed full with chunky avocados, corn, black beans, red onion and then drizzled with easy & convenient canned salsa verde. So much flavor with very little effort. Avocado dip is the best game day appetizer, chip dip, and party food. 
pictures & recipe updated January 2017
If you're here for this crazy good avocado dip then don't worry, you are still in the right place! This avocado dip has been crazy popular since posting it. I can see why too! It's creamy, the perfect party dip, game day dip, and it's basically a bowl full of avocados. Which is pretty much perfection for me.
I have updated the original post with pretty new pictures. Enjoy friends and thanks for being here!
I hope you all enjoyed your 4th of July celebrations! We're still visiting family so we had lots of fun with cousins and of course there was plenty of food to be eaten!
One of the things I made was this Avocado Dip. It comes together in minutes so it's perfect to make for a BBQ, picnic, get together, and a game day football party. It can be made ahead of time too. I actually prefer this dip after it's had time to refrigerate for about 1-2 hours.
The two questions I get asked all the time about this dip : 
Does it brown? The short answer is, YES, eventually it does brown just like anything with avocado. But, thanks to the salsa verde which is full of acidity with lime and tomatillos, it stays pretty for at least a day and a half. After that it starts looking a little sketchy but it is still delicious. I would definitely plan on making this for a party, game day get together, etc when you know that people will eat it.

How do you get 5 or 6 ripe avocados at one time? haha, this question is very common. There is no secret but I will say that I have had good luck with buying the bulk pack (5 or 6 avocados per bag) of avocados from Sam's Club and Costco. I feel like they are all about at the same ripeness so they are all ready to go around the same time. I only make this dip 1-2 times per year because let's be honest, avocados are expensive and so temperamental 🙂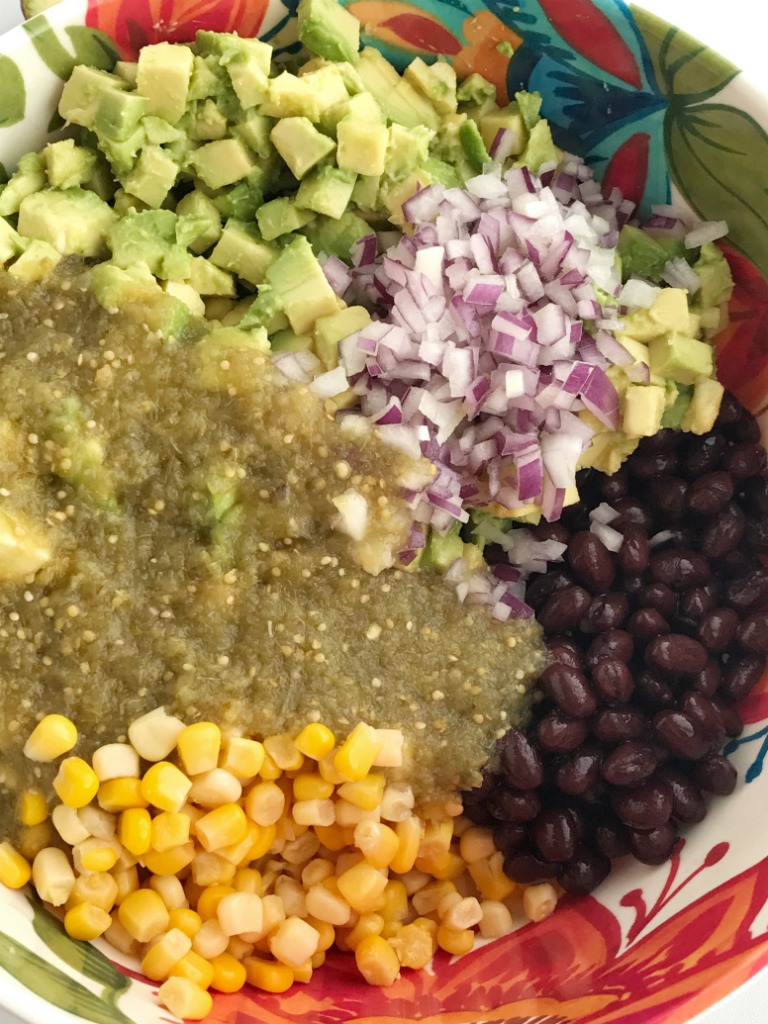 Simply combine 5 INGREDIENTS into a mixing bowl and stir together. Either eat right away or let it refrigerate for 1-3 hours before serving. 
Serve up with some tortilla chips and watch it disappear. I couldn't help but sneak several bites of this after I made it. It was so good! Plus, you have to taste test, right…… just be careful to not eat it all before the party arrives or event. Trust me, it's harder to stop than you might think 🙂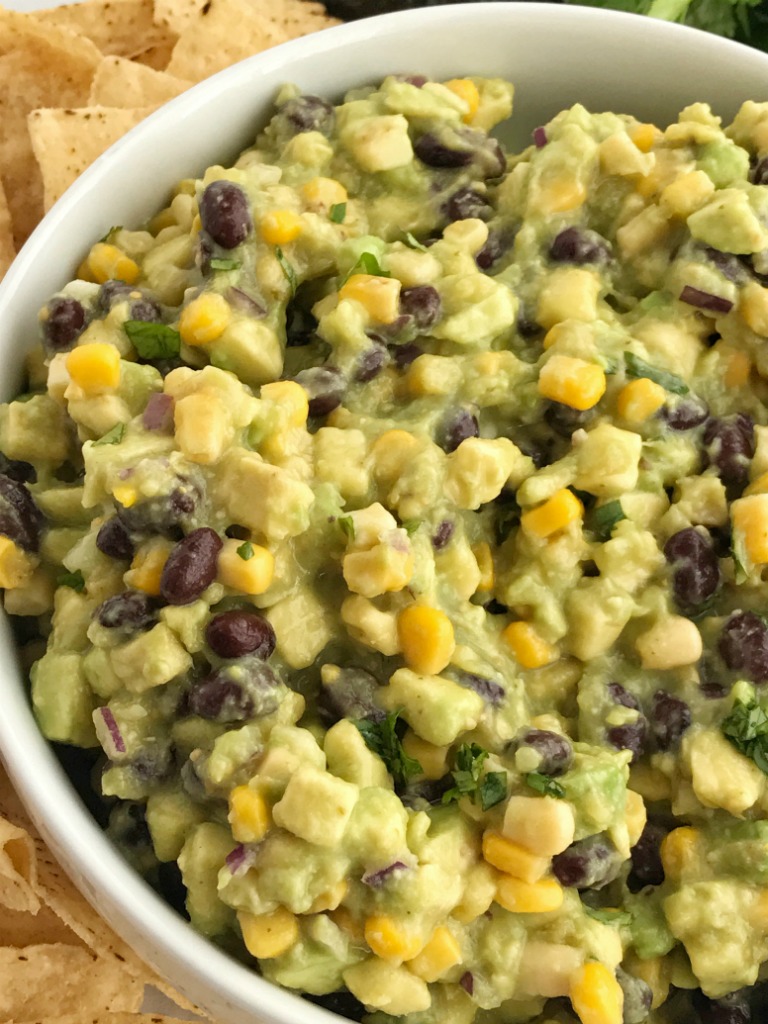 NOTE :: I can either find canned salsa verde in a 24 oz jar or a small 7 oz can. The recipe calls for 1 cup (which is 8 oz) but I always just use the cheaper, 7 oz can and call it good. I'm a cheap-o with my grocery budget and don't like spending the extra few dollars to get the remaining 1 oz. 
You can find the canned salsa verde by the salsas or by the Mexican/International food area. It's pretty common so it should be really easy to find.
I also want to add that this recipe is very adaptable and versatile. If your avocados are softer and creamier then you may want to use less salsa verde. If you only have 5 ripe avocados then just use 5. I would not use any less than 5. Just FYI. If you want some spice then add some chopped jalapeno or chopped cilantro.
If you love avocados then try these other recipes 
Avocado Dip
Avocado dip is loaded with 6 avocados, corn, beans, red onion, and then drizzled with easy canned salsa verde. This is the best dip ever and so easy to make!
Ingredients
6

avocados

peeled, pit removed, and chunked small

1

can (15 oz) corn

drained

1

can (15 oz) black beans

drained & rinsed

1/4

cup

finely chopped red onion

or more to taste

1

cup

salsa verde

or less to taste
Instructions
Combine all ingredients into a mixing bowl and gently stir together.

Serve right away or let chill in the fridge for 1-3 hours.
Recipe Notes
Start with 1/2 cup salsa verde and then go from there. I don't always use the full 1 cup of salsa verde. 
 Save this recipe for later and PIN IT to PINTEREST