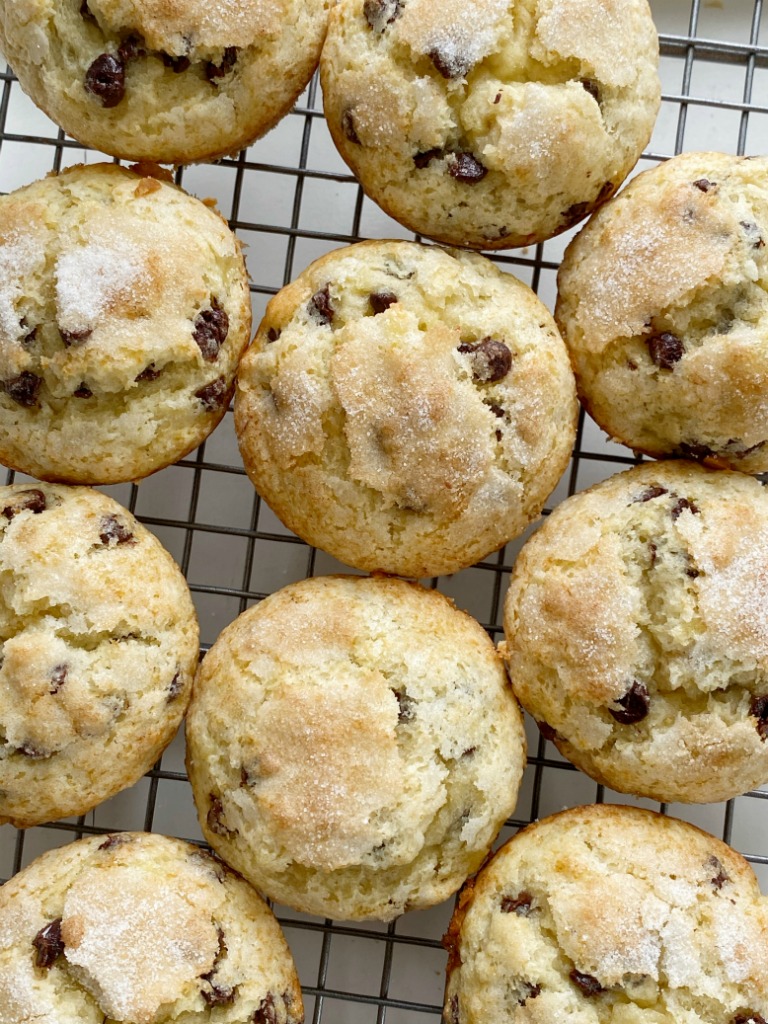 CHOCOLATE CHIP BANANA MUFFINS RECIPE
These cinnamon banana bread muffins have been going crazy these past few weeks during this no-school-quarantining-social-distancing time of life. Y'all must be like me and baking lots! 
I love making muffins and quick breads especially when we're home all day. It gives the kids something yummy to snack on and it's a snack that they can just grab themselves instead of asking me every 2 seconds for something to eat 🙂 Anyone else dealing with that too?! I am pretty sure kids home from school never get full!
I knew it was about time to add a recipe for banana muffins with chocolate chips. These muffins are so soft, fluffy, bake up perfectly round, and studded with chocolate chips and a sugar topping.
HOW TO MAKE CHOCOLATE CHIP BANANA MUFFINS
Combine all the wet ingredients into a mixing bowl. You will need mashed banana, granulated sugar, milk, canola oil, and a large egg. No mixer needed! Just get a whisk and mix it.
Add in the dry ingredients in the same bowl. No separate bowl needed for this recipe. All-purpose flour, baking powder, salt, and mini chocolate chips are all you'll need. Stir together with a wooden spoon or spatula.
Divide the batter evenly between 12 muffin cups. Each one will be about halfway full. Sprinkle 1/2 teaspoon of sugar on top. Bake for 12-16 minutes.
MY TIPS FOR THIS MUFFIN RECIPE
The muffins should look done and not look wet or underdone. If you gently press the top of a muffin it should spring back. Or a sure way to test if a muffin is baked all the way is to insert a toothpick in the middle and it should come out clean. 
If the muffins are getting too browned for your liking, go ahead and loosely lay a piece of tin foil over the top for the last 5 minutes of bake time. They turn out just fine without the tin foil, but it's an option if you want them less browned on the outside. 
Miniature chocolate chips are preferred but you can use regular chocolate chips if wanted. I love the miniature chips in muffin and cookie recipes because they are smaller and you get more chocolate through out the muffin. 
TRY THESE OTHER MUFFIN RECIPES
Chocolate Chip Banana Muffins
Chocolate Chip Banana Muffins bake up perfectly tall and round, soft-baked banana muffins, with chocolate chips and a sprinkle of sugar on top. You will love how soft these banana muffins are!
Ingredients
1 cup mashed bananas (about 2-3 bananas)
1/2 cup granulated sugar
1/3 cup milk (I use whole milk)
1/4 cup vegetable or canola oil
1 large egg
1 1/2 cups all-purpose flour
2 1/2 teaspoons baking powder
1/2 teaspoon salt
1/2 cup miniature chocolate chips
granulated sugar (1/2 teaspoon for top of each muffin)
Instructions
Heat oven to 400°. Spray a 12-cup muffin pan with cooking spray. Set aside.

In a mixing bowl, combine mashed bananas, sugar, milk, oil, and egg. Beat with a whisk until combined. Add the flour, baking powder, salt, and miniature chocolate chips. Stir with a wooden spoon or spatula just until combined.

Divide batter evenly among the muffin cups. Each should be about half full. Sprinkle the top of each muffin with 1/2 teaspoon of sugar.

Bake 12-16 minutes or until a toothpick inserted in the middle comes out clean OR you can gently press on the tops of the muffins and they should spring back and not look wet/underdone.** If the tops of the muffins are getting to browned, loosely lay a piece of tin foil over top the muffins for the last 5 minutes of bake time.

Let cool in pan for 5-10 minutes and then remove to a cooling rack to cool completely. Or eat one warm!
Notes
Any milk will work in this recipe. I always like to bake with whole milk so that's what I use. But you can use whatever you have in your fridge.   The sprinkle of sugar on top makes these muffins so yummy! Please don't skip it. You can if you want to, but the sugar gets a little crisp in the oven and it gives such a nice contrast to the soft muffins. It's only 1/2 teaspoon of sugar sprinkled on top the muffins OR you could even do less if wanted.     
Nutrition
Calories: 196kcal | Carbohydrates: 30g | Protein: 3g | Fat: 7g | Saturated Fat: 2g | Cholesterol: 17mg | Sodium: 112mg | Potassium: 183mg | Fiber: 1g | Sugar: 16g | Vitamin A: 62IU | Vitamin C: 2mg | Calcium: 58mg | Iron: 1mg