Baked Spaghetti Casserole is a family favorite dinner that's filled with pasta, cheese, and an easy semi-homemade ground beef meat sauce. This gets gobbled up even by the pickiest eaters when I make it for dinner. Serve with a salad and garlic bread for a delicious and heart family dinner.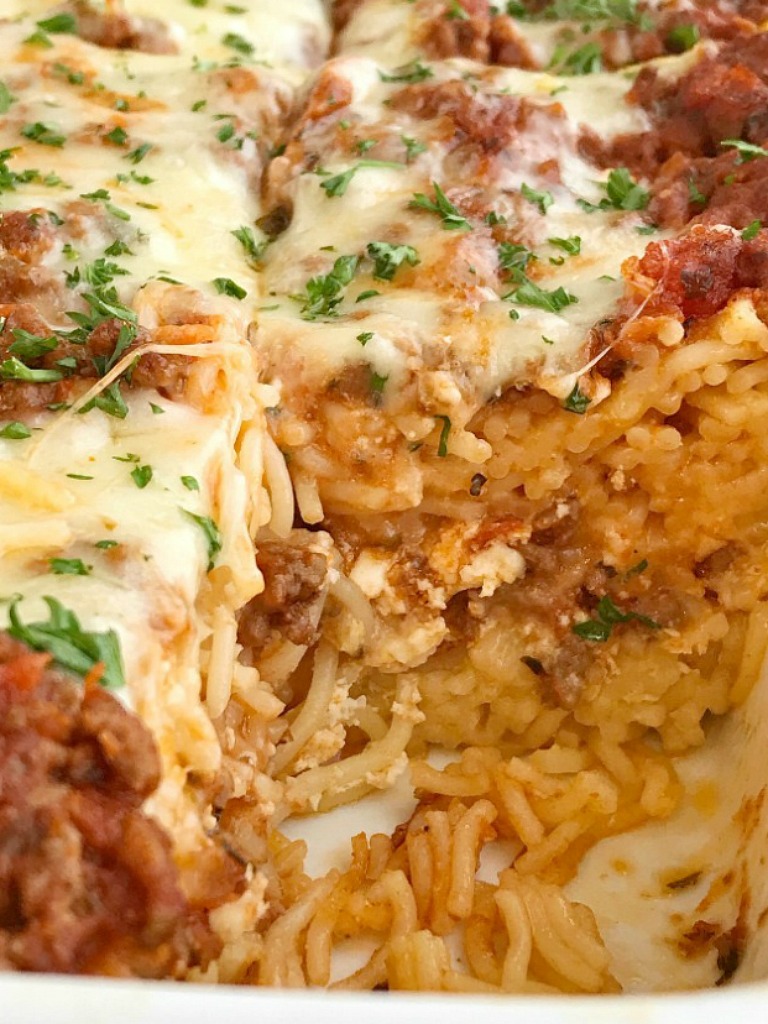 SPAGHETTI CASSEROLE
If you want a tried & true dinner recipe that everyone will gobble up then you must make my spaghetti casserole recipe. Thin spaghetti noodles, an easy semi-homemade ground beef pasta sauce, and lots of cheese make this spaghetti casserole a family favorite. 
It does require a few different pans to make the meat sauce, boil the noodles, and then the baking dish that it all bakes in. But I will pretty much do anything for all my kids to eat dinner willingly every night. So I am ok with a few extra dirty dishes!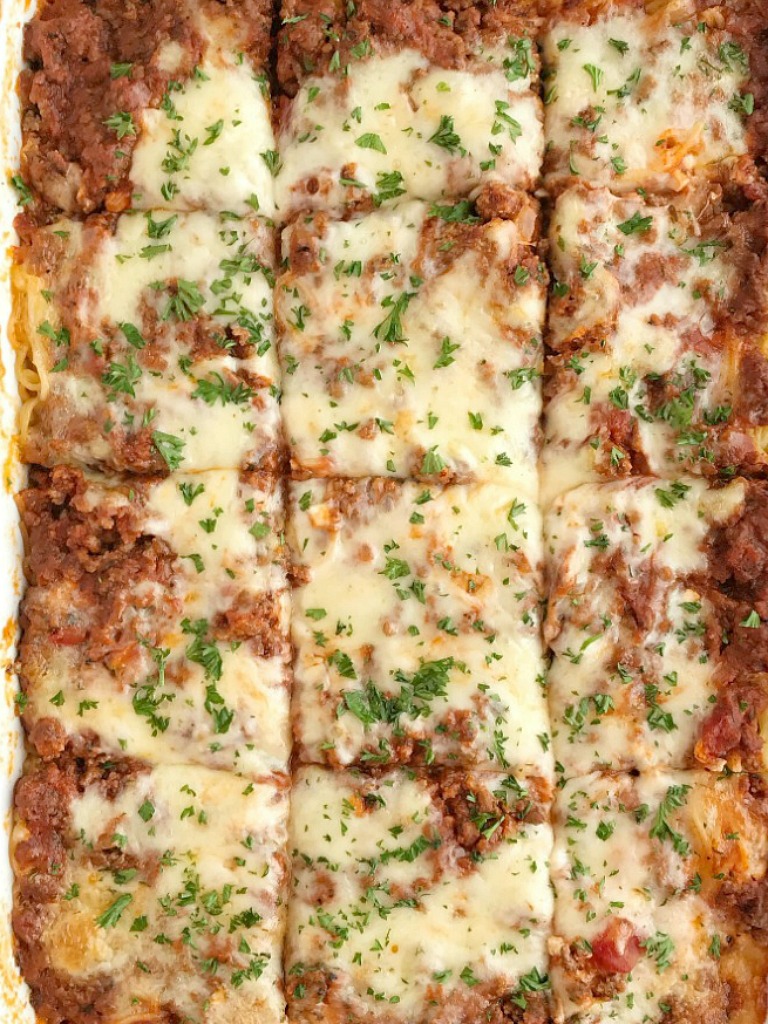 HOW TO MAKE SPAGHETTI CASSEROLE
Thin Spaghetti Noodles OR Angel Hair Pasta – Cook the noodles according to package instructions. I prefer softer noodles so I cook the longest time on the box. Be sure to add some salt (about 1-2 teaspoons) the boiling water so it gives the noodles some flavor. 
Ground Beef
Onion
Salt, Seasoned Salt, Garlic Powder
Tomato Basil Pasta Sauce
This is the semi-homemade ground beef meat sauce for the spaghetti casserole. Brown and crumble the ground beef with the onion and salt. Add the jarred spaghetti sauce, seasoned salt, and garlic powder. Let it simmer. I like to let it simmer while I cook the pasta and mix up the cheese mixture. 
Large Eggs
Shredded OR Grated Parmesan Cheese – You can use freshly grated parmesan cheese that you shred yourself, use pre-shredded, or the cheaper grated parmesan cheese from the can. Either one works just fine. 
Melted Butter – Yes, trust me! It's amazing and helps the casserole form together with help from the eggs. 
Cottage Cheese – For best taste and texture use the whole fat cottage cheese. 2% cottage cheese or 4% cottage cheese will work the best. I would suggest not using the low-fat cottage cheese. 
Mozzarella Cheese – Shred your own from a block. It makes a huge difference in the taste and the way it melts in the casserole. Spaghetti Casserole is not diet food 🙂 so use the full 4 cups.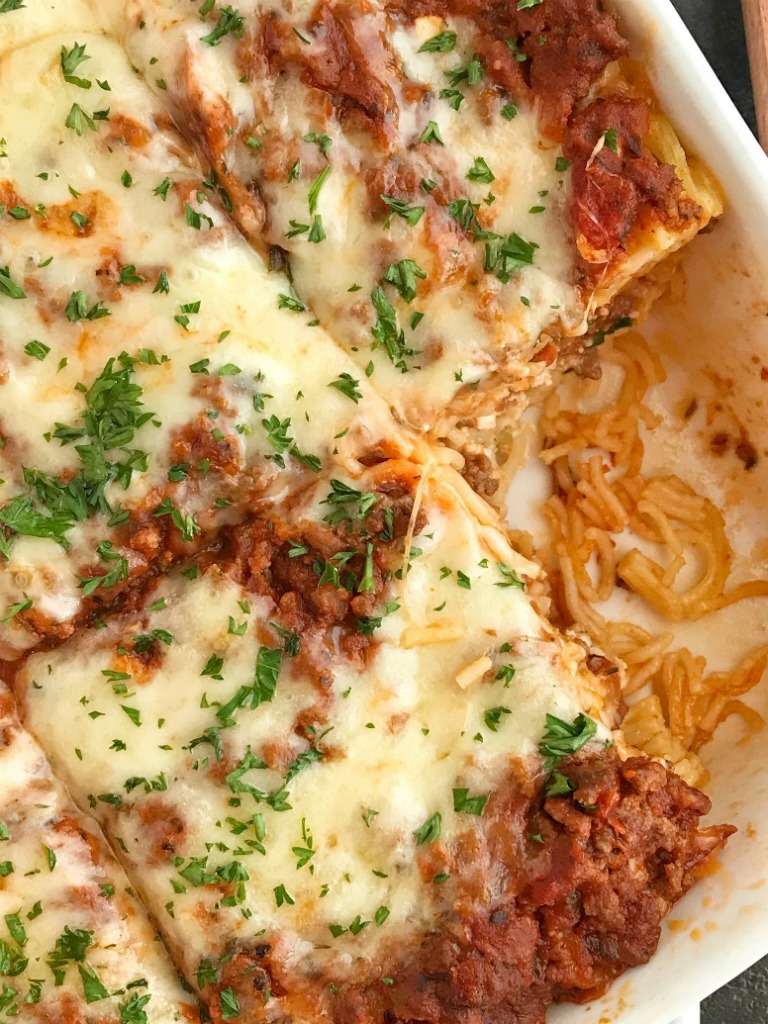 TIPS & HELPFUL HINTS FOR MAKING BAKED SPAGHETTI CASSEROLE
Shredding your own cheese makes a big difference. The bagged shredded cheese contains a powder coating to prevent the cheese from sticking together. Therefore, it makes it not melt as smooth. For best results, buy a block of mozzarella cheese and shred it yourself on a cheese grater. 
Don't forget to spray the underside of the tin foil (the side that will be touching the casserole) with cooking spray. This will prevent the top of the casserole from sticking to the tin foil. 

What do I serve with spaghetti casserole?

We love it served with a side salad. I normally buy a Caesar salad in the bag that comes with everything you need. It's prepare and we all love it. We also love garlic bread with this casserole. 

How long will leftovers last?

We always have leftovers when I make this. I will put individual servings inside a small Tupperware with a lid and store it in the fridge for 3-4 days. It reheats well in the microwave. 

Can I freeze spaghetti casserole?

This is just up to personal preference. I do not like to freeze anything with lots of dairy so I don't freeze it. But you can freeze it just fine.
YOUR FAMILY WILL LOVE THESE OTHER SPAGHETTI DINNER RECIPES
Homemade Spaghetti Meat Sauce – If you want the best, slow simmered spaghetti meat sauce then this is it! Serve over pasta noodles for a delicious spaghetti dinner. 
Slow Cooker Spaghetti & Meatballs – Frozen meatballs make this super simple to make. Let it cook all day in spaghetti sauce, stewed tomatoes, and seasonings. Serve over pasta noodles for dinner. 
Cheesy Taco Spaghetti Casserole – This spaghetti casserole has a tex-mex twist to it! Tomatoes, beans, and Velveeta cheese make this stand out from the rest. Don't let the Velveeta scare you! It's surprisingly so good.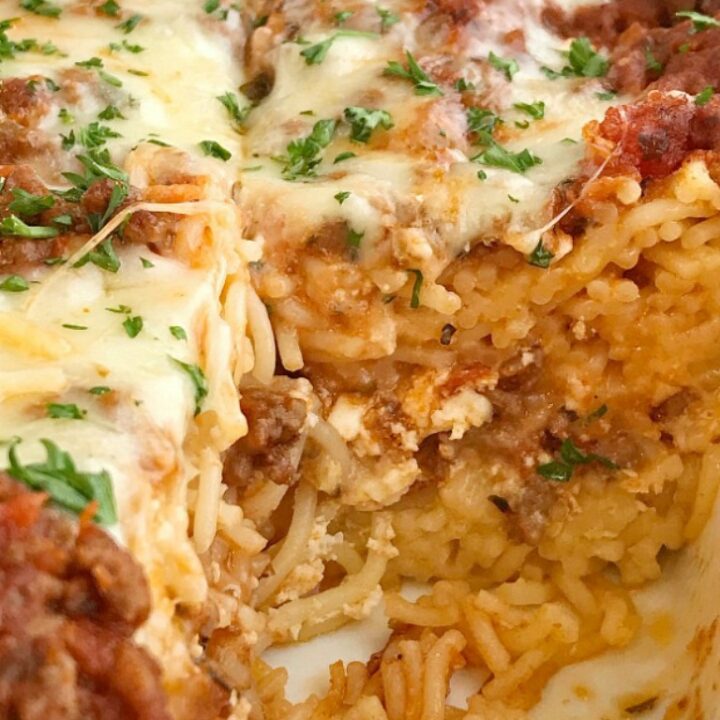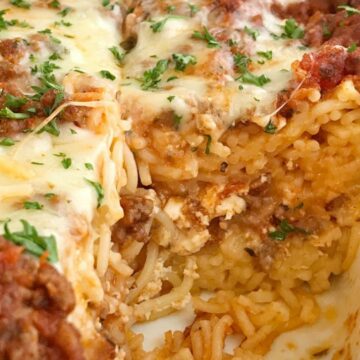 Baked Spaghetti Casserole
Baked Spaghetti Casserole is a family favorite dinner that's filled with pasta, cheese, and an easy semi-homemade ground beef meat sauce. This gets gobbled up even by the pickiest eaters when I make it for dinner. Serve with a salad and garlic bread for a delicious and heart family dinner. 
Ingredients
1 box (16 oz) angel hair pasta
1 lb lean ground beef
1 onion finely diced
½ teaspoon salt
1 jar (24 oz) tomato basil pasta sauce
½ teaspoon seasoned salt
½ teaspoon garlic powder
2 large eggs
1/3 cup shredded or grated parmesan cheese
5 tablespoons butter melted
2 cups whole-fat cottage cheese (a 16 oz container)
4 cups shredded mozzarella cheese
Instructions
Heat oven to 350°. Prepare a 9x13 baking dish by spraying with cooking spray. Set aside. 

Cook pasta according to package directions. When done cooking, drain the pasta and return to pot. * The pasta will cook slightly more during the oven bake time. Cooking to al dente on the instructions is usually good. Or cook slightly longer if you want softer pasta.

In a skillet pan, over medium high heat, combine the ground beef, onion, and salt. Cook and crumble until the meat is no longer pink. until no longer pink. Add the pasta sauce, seasoned salt, and garlic powder. Stir and reduce heat to low. Let it simmer until ready to assemble casserole. 

In a small mixing bowl, combine eggs, parmesan cheese, and melted butter. Stir together and pour over the hot, cooked pasta. Mix well to make sure all noodles are coated.

ASSEMBLE THE CASSEROLE : Place half the pasta mixture in the baking dish, top with half the cottage cheese mixture, half the meat sauce, and half the mozzarella cheese. Repeat layers one more time.

Spray one side of a piece of tin foil and cover the baking dish. Cooking spray side down. Cook for 40 minutes. Uncover and cook an additional 15-20 or until cheese is melted and lightly golden brown.

Let cool for about 5 minutes and then cut into squares and serve.
Notes
Serving Size : Serving size listed is for 8 people, along with the nutrition information, and each serving is large so if you are feeding kids then you can easily get 10 servings from this casserole. Pasta : Remember to add some salt to the boiling water before adding your pasta. I use about 1-2 teaspoons of salt for the 1 pound of pasta noodles.  Mozzarella Cheese : For best taste please shred your own cheese from a block with a cheese grater. I know buying the already shredded cheese is tempting cause it's easy, but it makes a difference when you shred it yourself. But if needed, yes you can use already shredded cheese, it won't ruin the casserole at all. 
Nutrition
Calories: 631kcal | Carbohydrates: 52g | Protein: 42g | Fat: 28g | Saturated Fat: 15g | Cholesterol: 156mg | Sodium: 1467mg | Potassium: 739mg | Fiber: 3g | Sugar: 8g | Vitamin A: 1139IU | Vitamin C: 7mg | Calcium: 416mg | Iron: 4mg