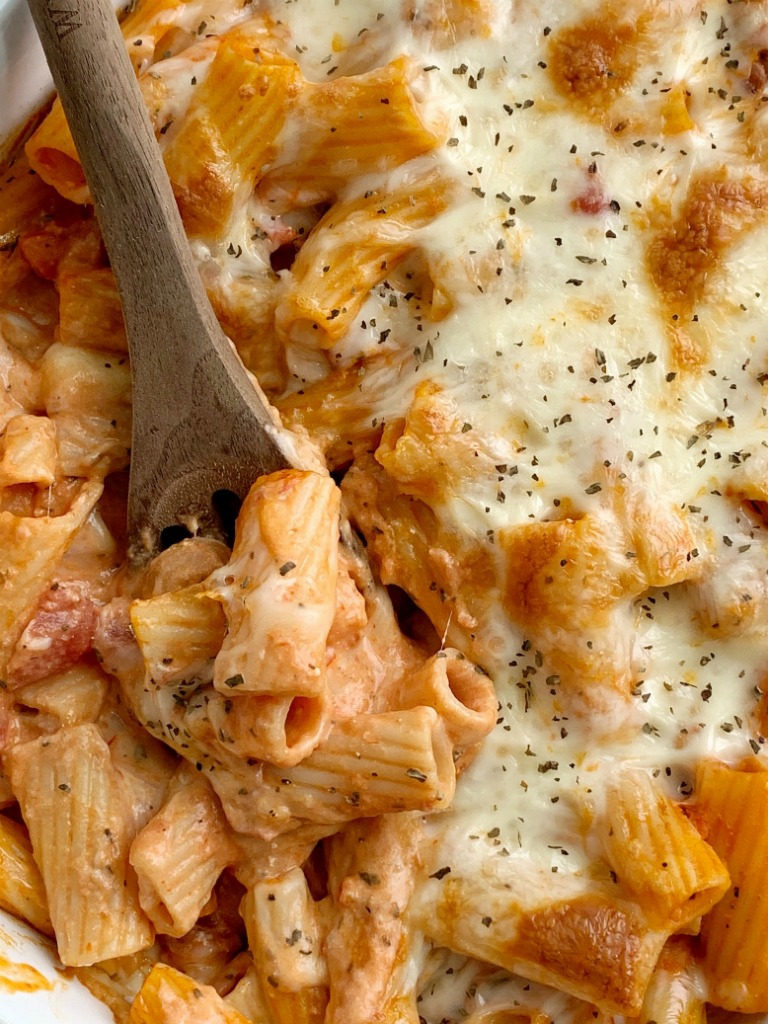 PASTA BAKE
This cheesy ziti pasta bake might not look like much but it just happens to be one of my kids' favorite dinners. I love it because it comes together so easily, uses things that I normally have in my pantry, and it's so inexpensive to make. 
We also love this Instant Pot Ziti Pasta or this One Pot Chicken Alfredo Pasta.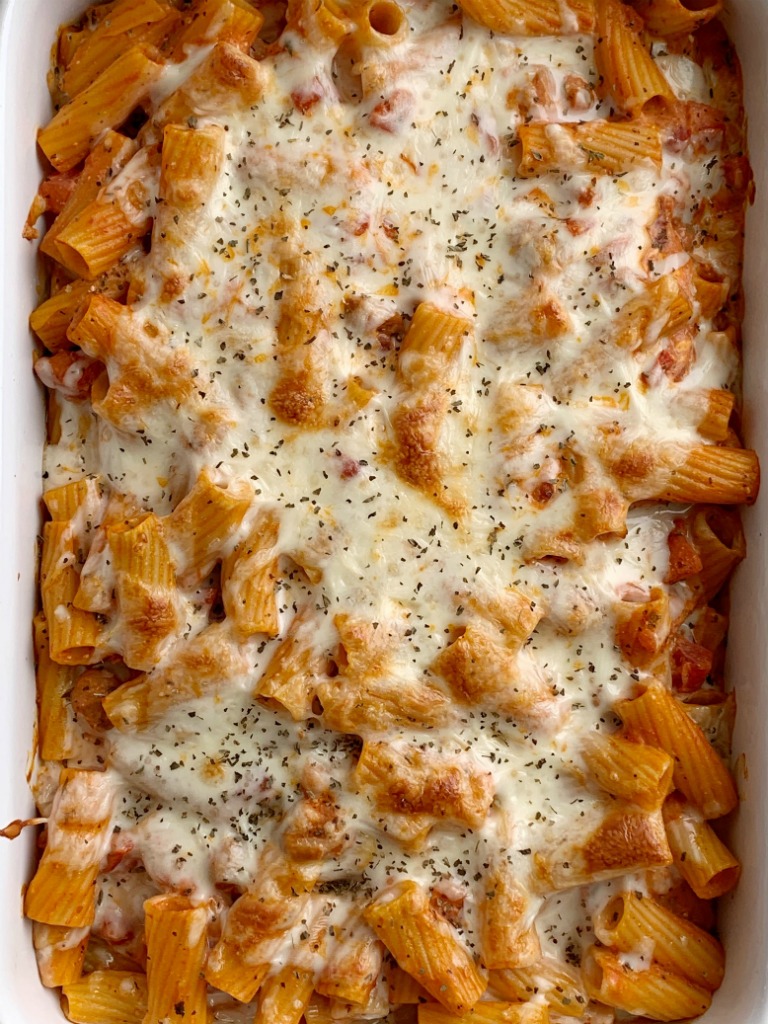 This casserole is also very adaptable which means you can add or substitute (or replace) basically every single ingredient!
Use Italian style diced tomatoes (diced tomatoes with garlic, oregano, and basil) instead of regular diced tomatoes. 
Hate sour cream? Simply leave it out then or substitue with riccotta cheese or cottage cheese. 
Reduced-fat cream cheese works great in this recipe if wanted.
Ziti or Rigatoni pasta is the preferred but feel free to use any box of pasta you want.
Add parmesan cheese or use provolone cheese instead of mozzarella or a little of both!
Use any flavor of jarred pasta sauce you want.
I always love having meatless dinner recipes on hand but if you must have meat then add 1 pound of cooked ground beef or sausage into the spaghetti sauce mixture. I would season the meat with salt & pepper, and maybe a little Italian seasoning while cooking. Be sure to drain the meat well!
You get the idea. There really is no way to mess this recipe up. We love it as is but feel free to do your thing and leave me a comment letting me know what you tried.
HOW TO MAKE THIS EASY PASTA BAKE RECIPE
Boil a pot of water with some salt in it. You want the salt so that you don't end up with flavorless pasta noodles. I add about 2 teaspoons or so. I never measure it, I just add some in.
While the pasta noodles are cooking to package instructions, combine spaghetti sauce, diced tomatoes, and very softened cream cheese into a mixing bowl.
Drain the pasta and add it into the bowl. Stir until all the noodles are coated.
Layer half the noodles in the baking dish and then spread the sour cream and half the shredded cheese.
Top with the other half of noodles and finish off with the remaining shredded cheese. 
If you're looking for more easy pasta casserole recipes then try my macaroni & cheese ham casserole, this kid favorite pepperoni pizza biscuit casserole, this perfect comfort food creamy chicken pot pie casserole, this delicious million dollar ravioli casserole or this instant pot chicken pasta casserole.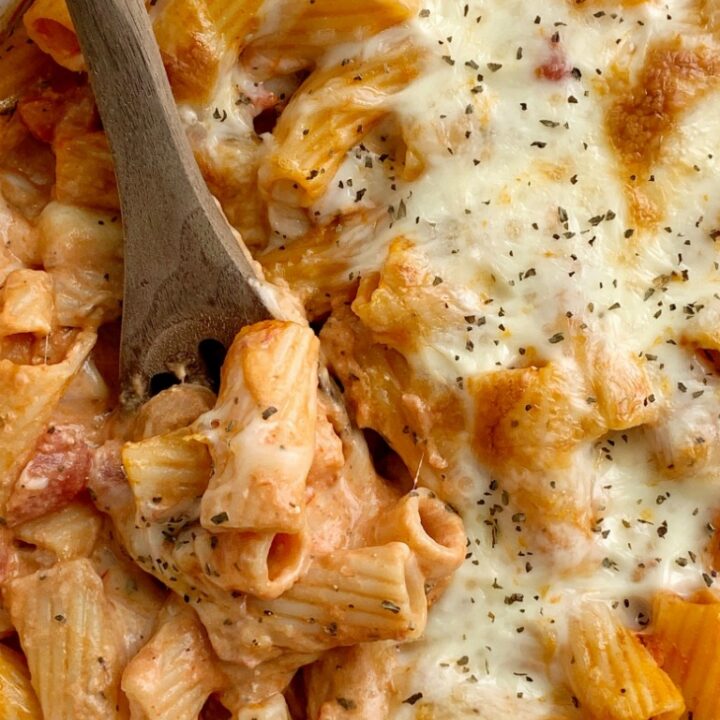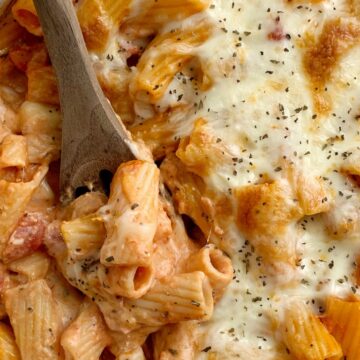 Ziti Pasta Bake
Pasta Bake with ziti pasta noodles, mozzarella cheese, cream cheese, jarred spaghetti sauce, diced tomatoes, and seasonings. Comes together in just minutes and it's a quick & easy dinner that's perfect for busy weeknights.
Ingredients
1 box (16 oz) ziti pasta noodles
1 jar (24 oz) spaghetti sauce
1 can (14.5 oz) petite diced tomatoes (do not drain)
1 bar (8 oz) cream cheese (softened)
1 teaspoon dried basil
1 teaspoon dried parsley
1 teaspoon garlic powder
1/2 cup sour cream
2 cups shredded mozzarella cheese (or more if wanted)
Instructions
Heat oven to 375°. Prepare a 9x13-inch baking pan and spray with cooking spray. Set aside.

Cook pasta according to package directions. Remember to add salt to the water to help flavor the pasta.

While pasta is cooking, combine the spaghetti sauce, diced tomatoes, softened cream cheese, basil, parsley, and garlic powder in a large mixing bowl. Stir together until combined. ** You want the cream cheese very softened before adding it so it mixes in smooth with no chunks. Place unwrapped cream cheese bar on a microwave-safe plate and cook for 1 minute. This will get the cream cheese very softened.

When pasta is done cooking drain it and then add it into the spaghetti sauce mix. Stir together until the pasta is coated.

Pour half of the pasta into the baking dish. Spread the sour cream over top and then sprinkle half of the mozzarella cheese over the sour cream. Top with the other half of pasta and finish off with the remaining shredded cheese.

Bake, uncovered, for 15-20 minutes. Serve hot! If you don't want that 'baked pasta' on top then cover the baking dish with tin foil.
Nutrition
Calories: 459kcal | Carbohydrates: 52g | Protein: 16g | Fat: 10g | Saturated Fat: 6g | Cholesterol: 30mg | Sodium: 704mg | Potassium: 603mg | Fiber: 4g | Sugar: 8g | Vitamin A: 757IU | Vitamin C: 11mg | Calcium: 200mg | Iron: 3mg