Cream Cheese Chicken Soup cooks up in one pot on the stove and it's the perfect creamy comfort food. Fresh vegetables, cooked chicken, and seasonings simmer in a creamy milk & chicken broth base. Your family will just love this creamy soup recipe!
If you want more creamy soup recipes then be sure and make my creamy chicken wild rice soup and my creamy potato soup.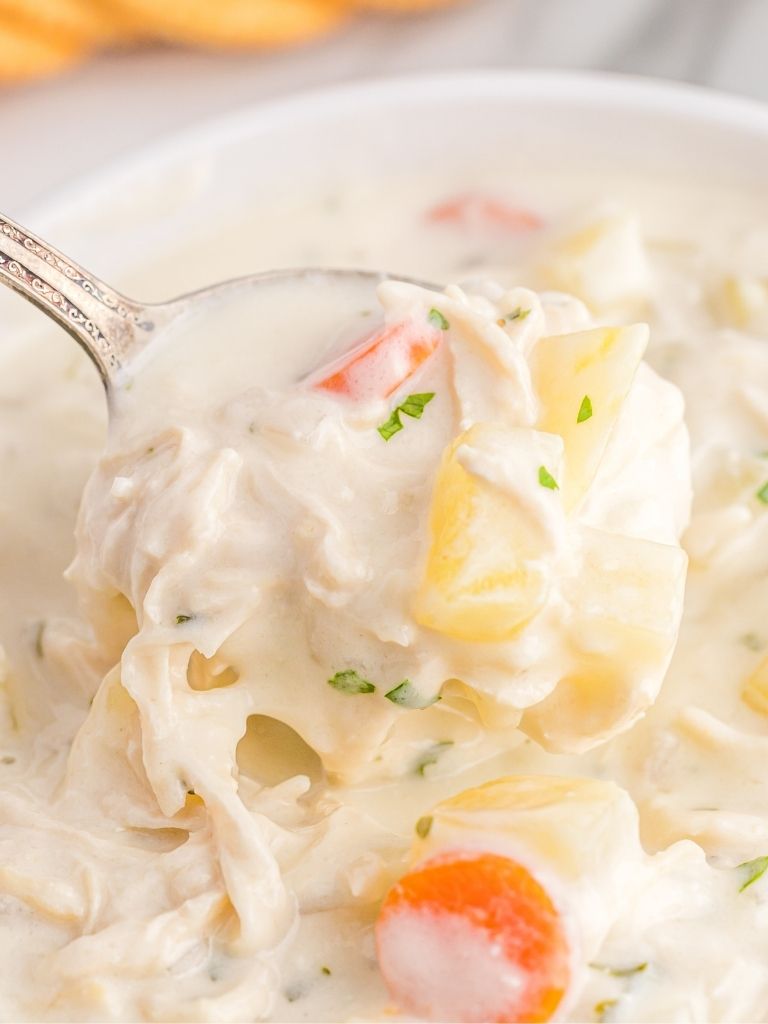 Cream Cheese Chicken Soup Recipe
This cream cheese chicken soup was one of the very first recipes I ever posted. It's still made all the time at my house even after all these years. One pot and about 30 minutes is all you need for this delicious cream cheese chicken soup recipe with fresh vegetables.
The recipe uses already cooked chicken so it's a great use of leftover chicken or make it easy and buy a Rotisserie chicken. This is usually what I do because it saves so much time and it's already seasoned.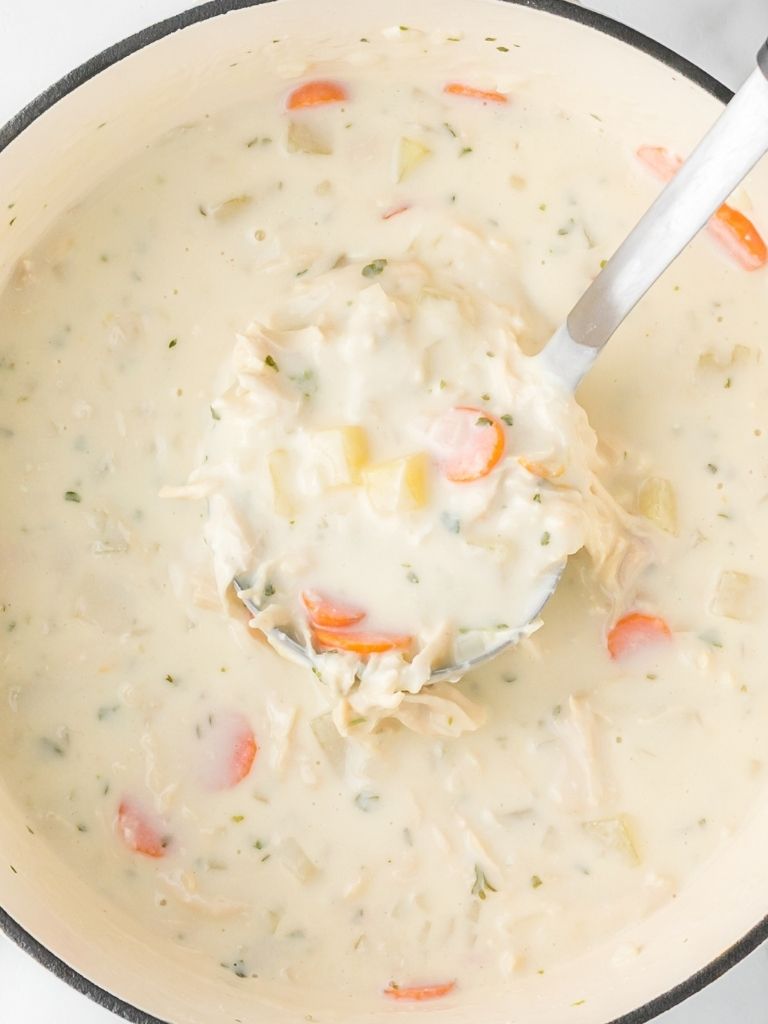 What You'll Need
The ingredient list may look long but it all comes together quickly. Besides some prep work needed to chop the vegetables, this soup is still a really quick meal. Below are the ingredients that you need to make cream cheese chicken soup. I also share some of my tips for the ingredients and what works best. 
Butter
Onion – Use whatever kind you prefer. I always use a white onion or a yellow onion. 
Sliced Carrots – Remember to slice these thin so they will cook in the given cook time. I always use baby carrots because they're already peeled and they are small, which means you just have to slice them and that's it! Baby carrots are my "Secret weapon" for any soup recipe that calls for sliced carrots. 
Potatoes – I use either red potatoes or yukon gold potatoes because we prefer the taste. I also always peel the potatoes but do as you prefer. 
Chicken Broth – Full-salt or the reduced salt chicken broth will both work in this recipe. Just taste the soup and add a touch more salt if needed, depending on which chicken broth you use. 
Cooked Chicken – Use up some leftover chicken (shredded or chunked), buy a rotisserie chicken or bake some in the oven or skillet pan on the stove top. My preferred way to cook chicken is to add it into a slow cooker with a can of chicken broth and let it cook on LOW for 6-7 hours. Then I just shred it up with two forks and use it in this recipe. It literally falls apart at the touch of the fork!
Cream Cheese – Recipe calls for a bar of cream cheese. I prefer the taste of full-fat cream cheese, but the 1/3 reduced-fat cream cheese can be used if wanted. 
Milk + Flour – This thickens the soup so well. I always use whole milk but any milk should work. I would just stay away from skim milk as it has no fat in it.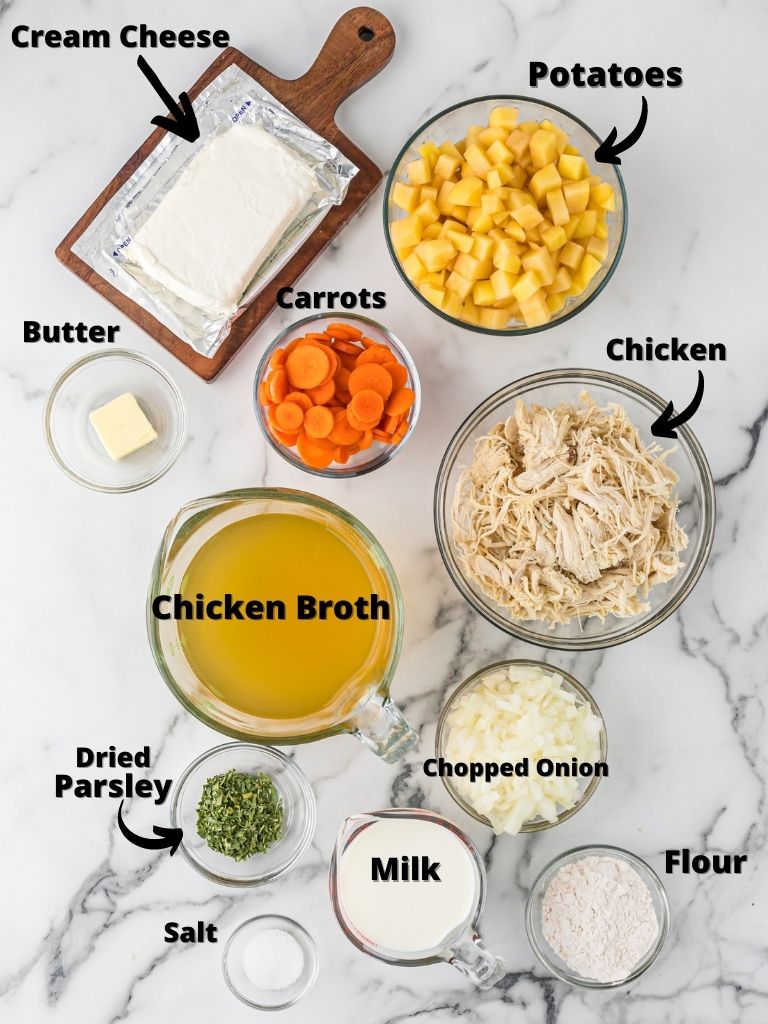 How To Make Cream Cheese Chicken Soup on The Stove
See how easy it is to make this soup. For the full recipe and instructions just scroll down below to the recipe card. 
Sauté Onion : Add the butter and minced onion into the pot. Cook for 3-5 minutes or until the onion is softened and translucent. 
Broth + Veggies : Add in the carrots, potatoes, chicken broth, and salt. Bring to a boil. Once boiling, reduce heat to medium-low and cover with a lid. 
Chicken : Add cooked chicken and dried parsley. Stir and let it heat through. 
Thicken : In a small bowl stir together the milk and flour. Pour this into the soup pot. Add the softened cream cheese and stir. 
Simmer : Let the soup simmer and cook for about 5 minutes or until the cream cheese is smooth and incorporated well into the soup.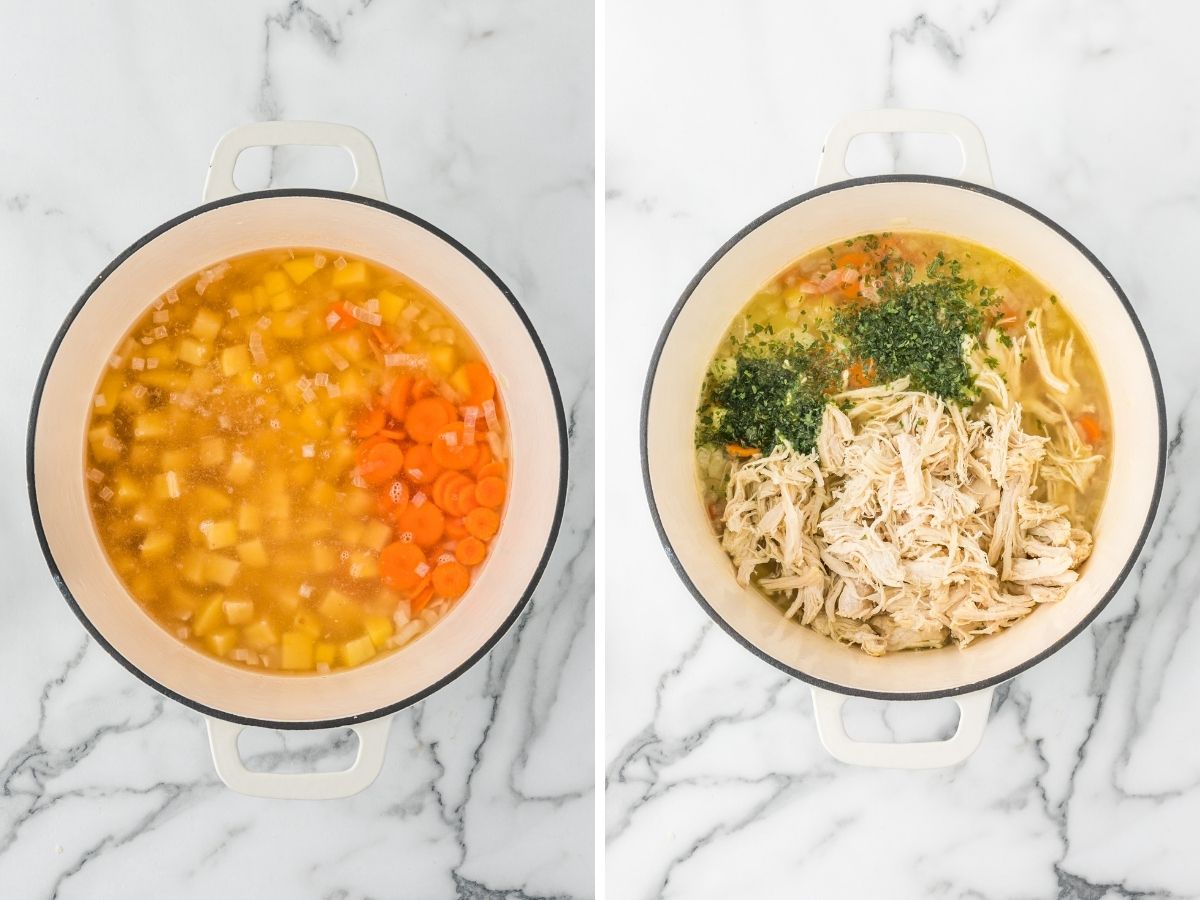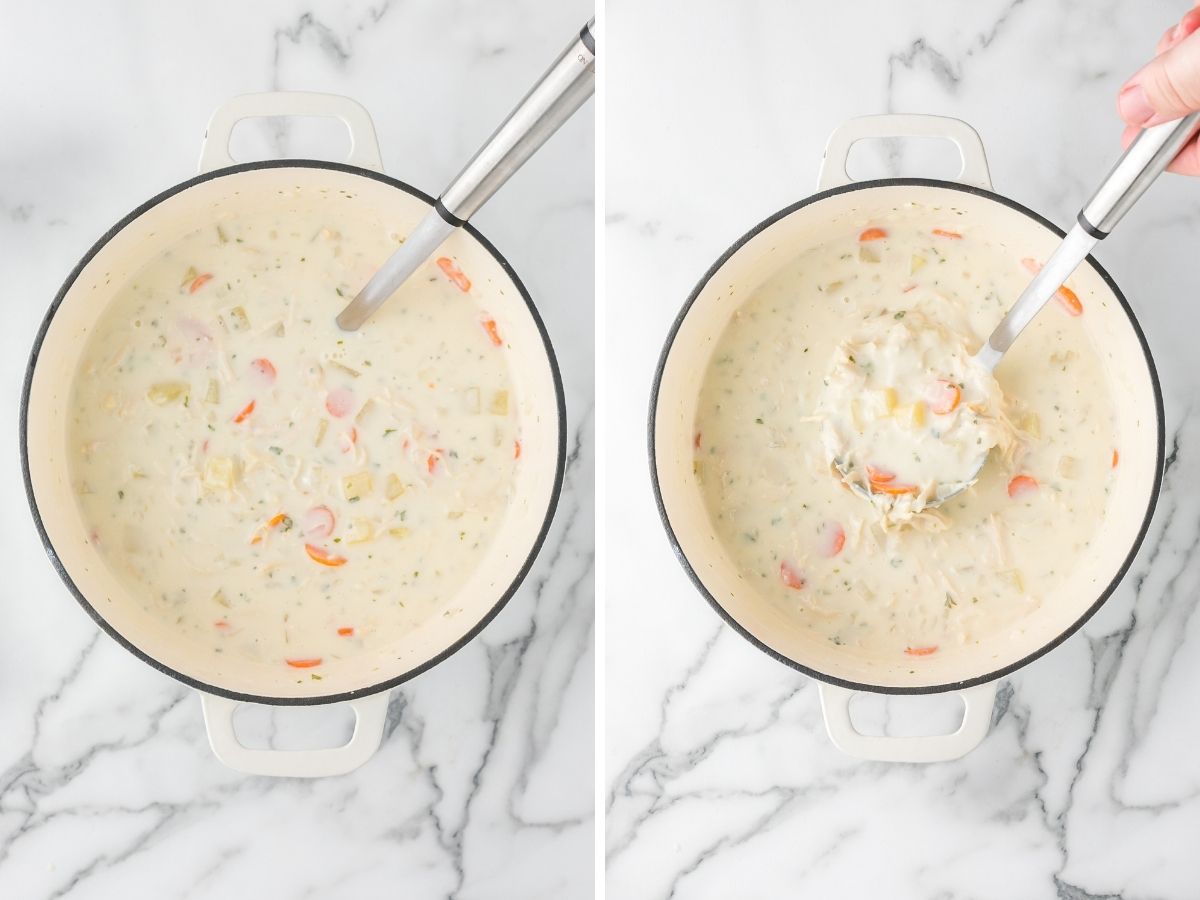 Tips For Success
Here are a few tips I have that will help make this soup recipe a hit in your own kitchen.
Full-Fat Dairy Products : For the best taste and thickness, I recommend using whole milk and full-fat cream cheese. The lighter version have less fat, not as much flavor (especially the reduced-fat cream cheese), and there is more water in the product which takes away from the rich and creamy taste. 
Potatoes : I always use Yukon Gold Potatoes, also called yellow potatoes, in this recipe. They are soft and buttery and really pair well the soup. You can peel the skin off or leave it on.
Chicken Broth : I use full-salt chicken broth but if you want more control of the salt then low-sodium chicken broth works just as well. Add additional salt if needed.
Chop Vegetables Small : Be sure and chop the potatoes, carrots, and onions into small pieces. The larger they are, the longer it takes them to soften and cook in the first step. I use baby carrots because there is no need to peel them, and they're already small so all you have to do is slice thinly. I aim to cut the onion the same size as the carrots, and then the potatoes into about 1/2-inch chunks.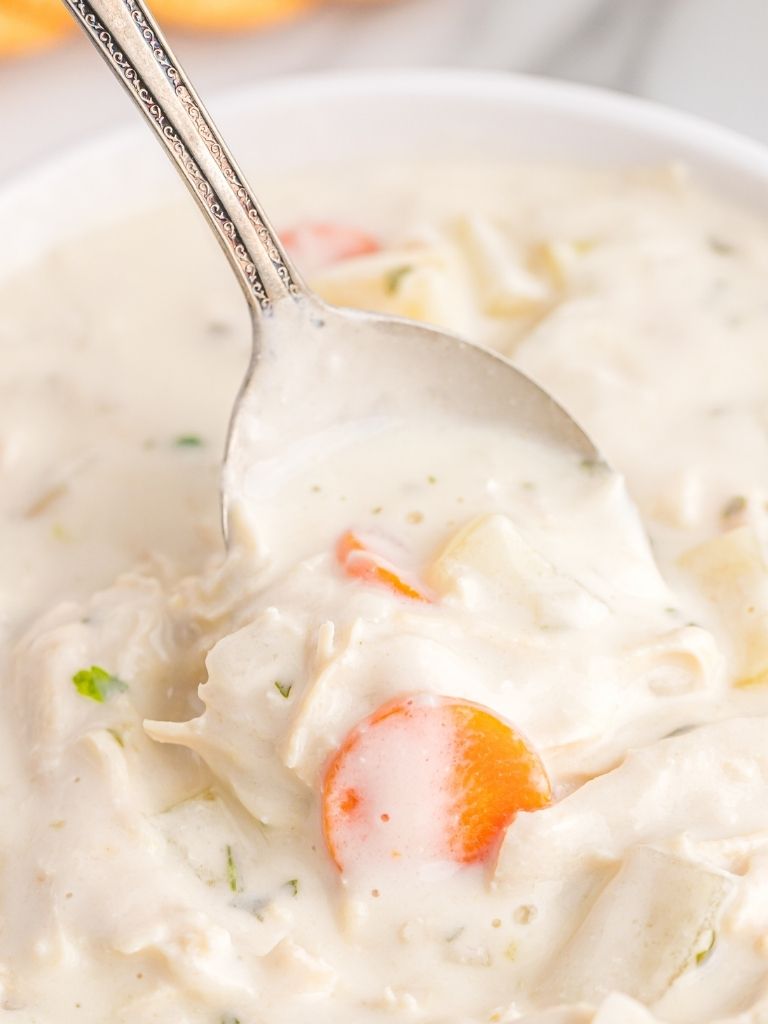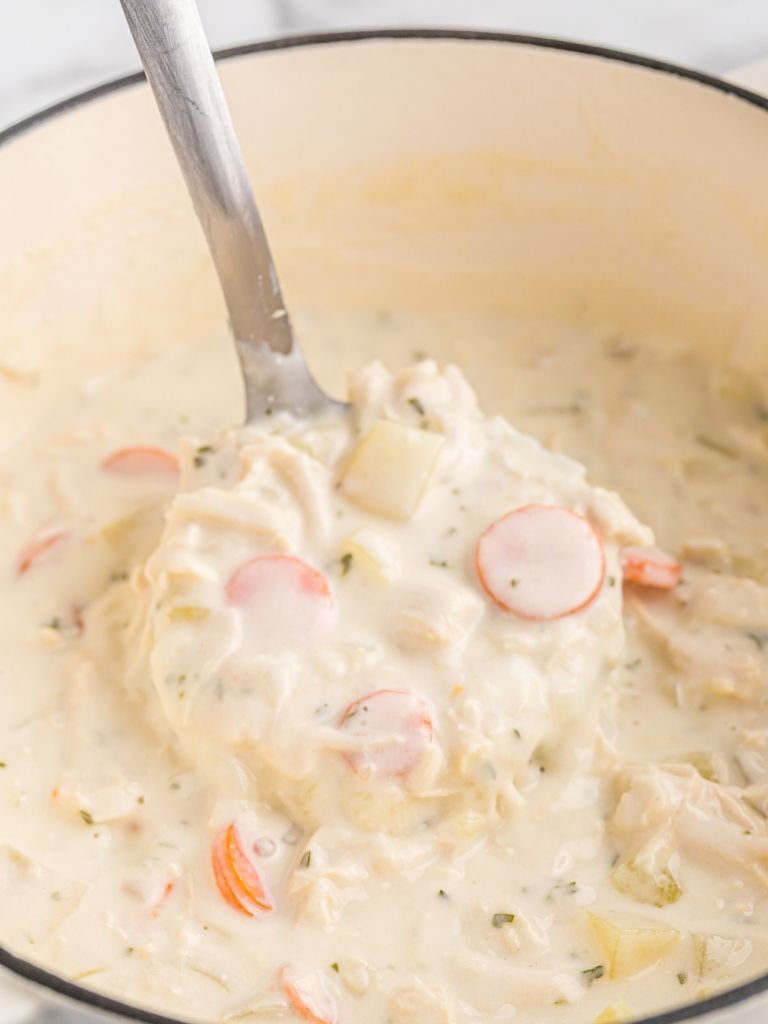 Variation & Substitution Ideas
There are a couple ways to switch up this recipe. Here are a few things that you can try if you want. 
Cream Cheese – There was one time where I did not have cream cheese in my fridge but I was already in the process of making this soup. I found a tub (8 oz) of onion and chive cream cheese so I used that. It was delicious! It adds some more flavor so that is always an option you can try. I know there are other flavored cream cheese like garden vegetable and a garlic one. 
Make It Lighter – This recipe can be made lighter if that what you prefer. Use 1% milk (I would not use fat-free) and used reduced-fat cream cheese.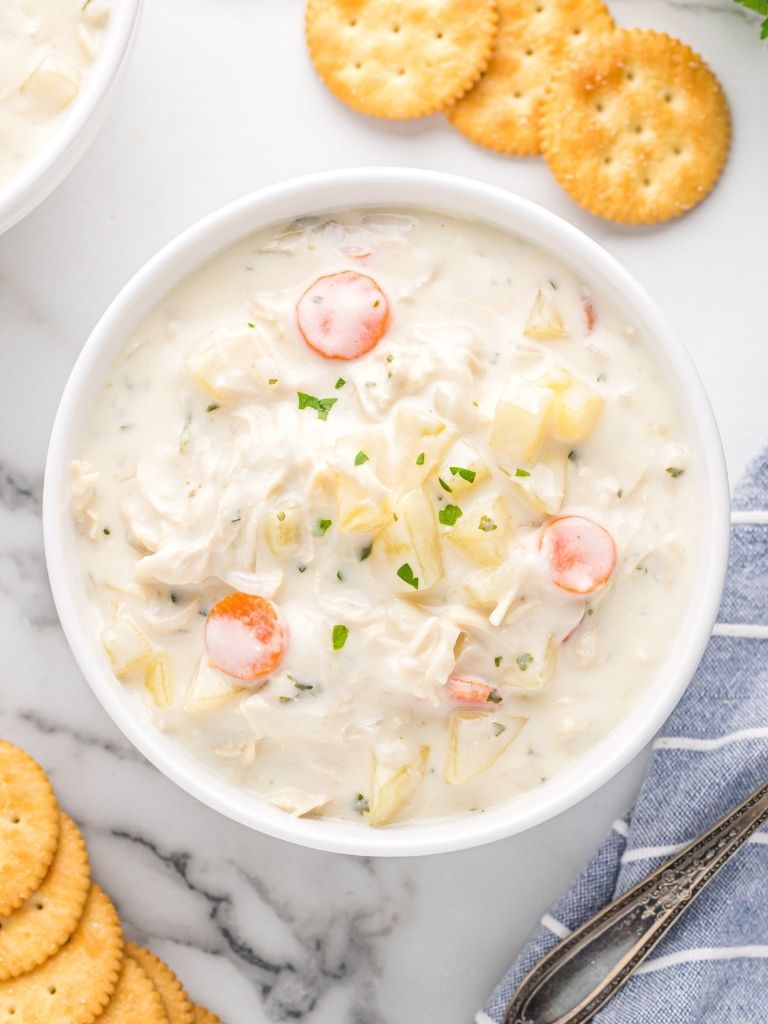 Cream Cheese Chicken Soup FAQ's
Can I Freeze a Creamy Soup?

I would recommend not freezing this cream/milk based soup recipe. When dairy products, like the whole milk and cream cheese, are frozen and then thawed, they take on a grainy texture and separate and appear curdled from the rest of the ingredients.

How To Store Leftovers

Leftovers will keep well, in an air-tight container, for 3-4 days in the fridge. Either warm up it up in the microwave or on the stove top. You may have to add additional milk or broth when reheating because the soup will thicken quite a bit as it sits in the fridge. 

Serving Suggestions

I love to make my buttery soft one hour rolls. They are perfect for soaking up all that creamy broth!
You can make it even easier and buy some frozen rolls at the store. Either the ones where you let them rise or the quick bake ones that you pop in the oven frozen.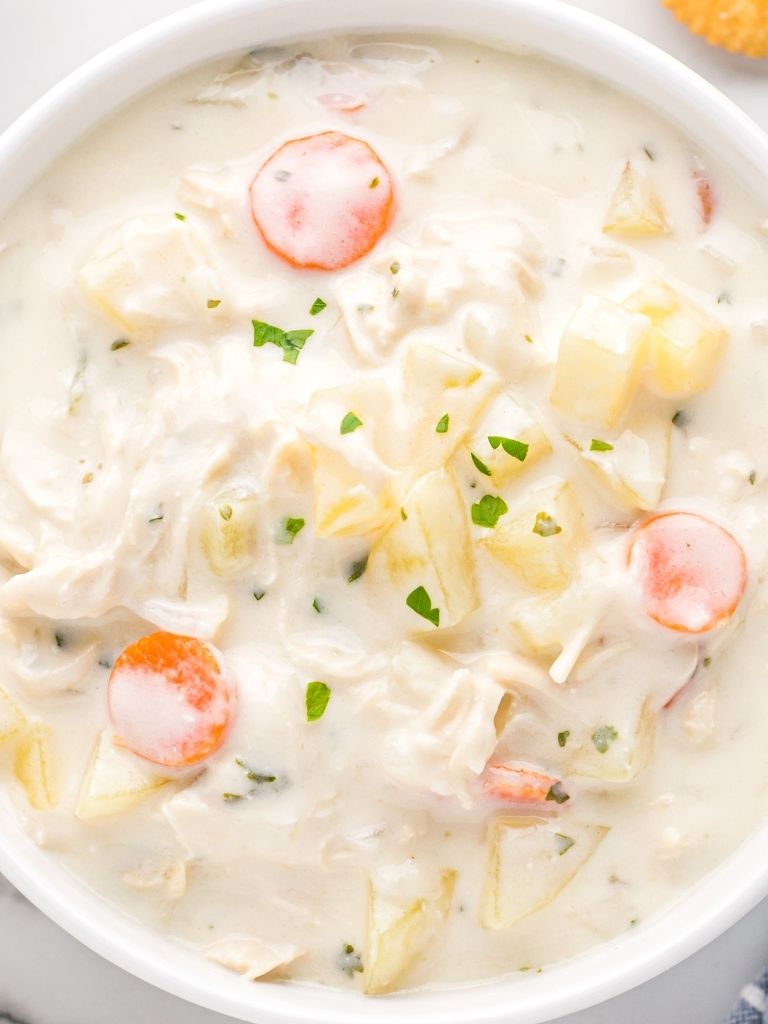 Supplies Needed
Here are a couple supplies that you will need to make these easy ground turkey tacos. These are an affiliate link, meaning that if you purchase, I will make a very small percentage from the sale. As always, I appreciate the support for the free recipes I post. I will only recommend things that I personally own and love! Promise.
Soup Pot : I love these enabled soup pots. I own this brand and then the more expensive (Le Creuset brand) and I have to say, I find myself using this Lodge one more! I love this white/cream eggshell color. I love these pots for soup recipes because they heat really evenly. 
Soup Ladle : If you cook soup a lot then I think a soup ladle is important. 
Liquid Measuring Cups : I love these stackable, and heavy-duty plastic, angled measuring cups. I use them all the time!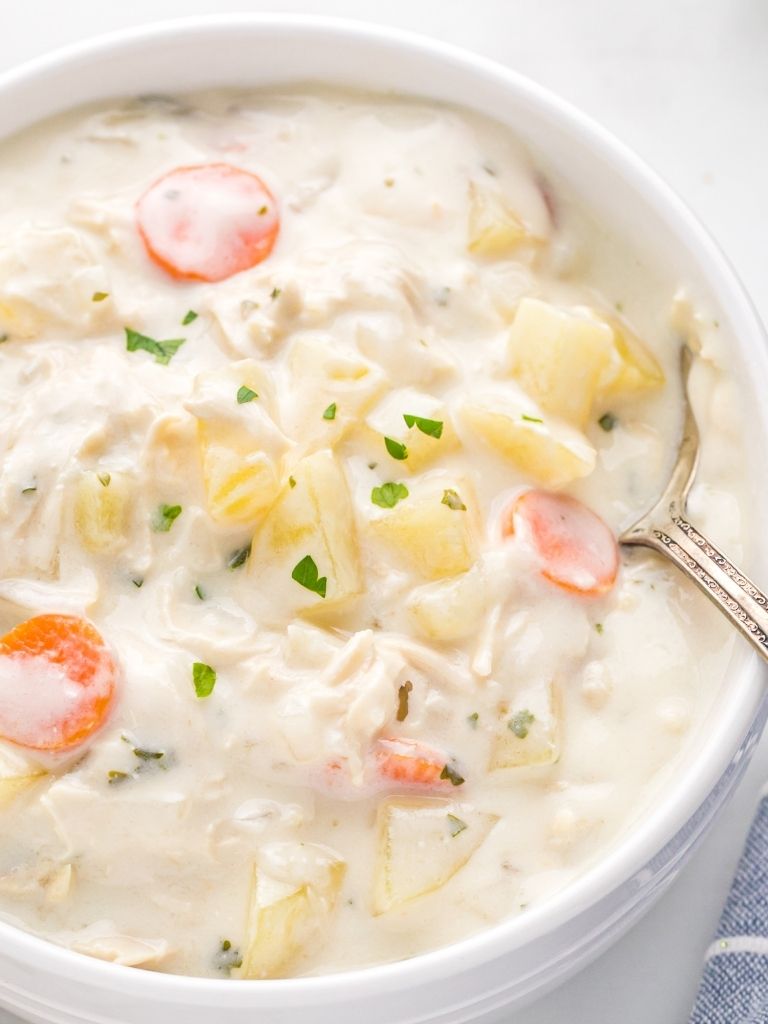 More Soup Recipes You'll Love
Creamy Chicken Noodle Soup : Chicken noodle soup with a creamy base.
7 Can Chicken Taco Soup : One of the most popular recipes ever! 7 cans is literally all you need + some seasonings.
Minestrone Soup : Tons of fresh veggies like tomatoes, spinach, carrots, tomatoes, and small shell pasta inside a perfectly seasoned tomato and broth base. 
Creamy Tomato Basil Parmesan Soup : Made in the slow cooker with canned tomatoes! 
Chicken Tortilla Vegetable Soup : The best of both worlds; chicken tortilla soup + vegetable soup. This one is so yummy!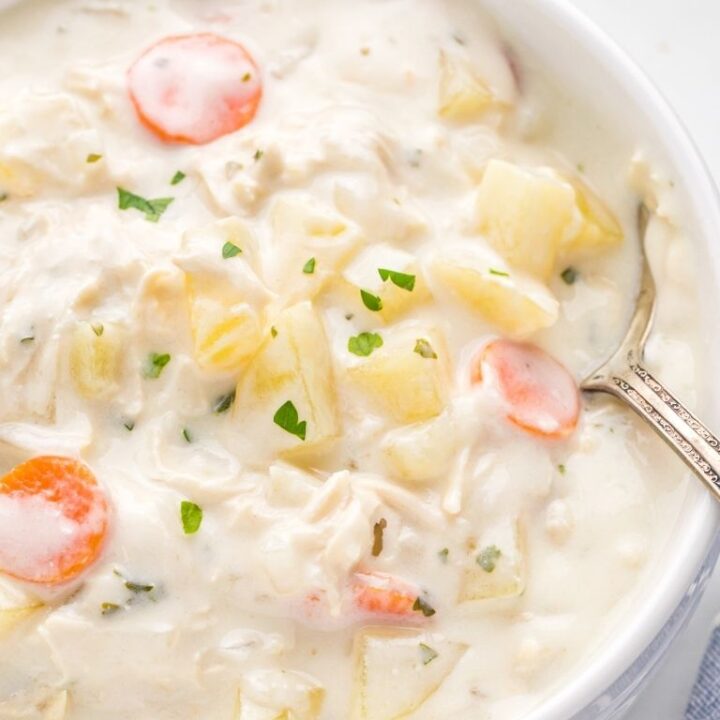 Cream Cheese Chicken Soup
Cream Cheese Chicken Soup cooks up in one pot on the stove and it's the perfect creamy comfort food. Fresh vegetables, cooked chicken, and seasonings simmer in a creamy milk & chicken broth base. Your family will just love this creamy soup recipe!
Ingredients
1 tablespoon butter
1 small onion finely diced
1 cup thinly sliced carrots
2 cups peeled and chopped potatoes (I use Yukon Gold potatoes)
3 cups chicken broth
½ teaspoon salt
2 cups cooked chicken chunks or shredded
1 tablespoon dried parsley flakes
1/4 cup all-purpose flour
1 cup milk (I use whole milk)
1 bar (8 oz) cream cheese softened well
Instructions
In large pot (with a lid) melt butter over medium-high heat. Add in the onion and sauté for 3-5 minutes or until tender.

Add carrots, potato, chicken broth, and salt. Stir to combine. Bring to a boil. Once boiling, cover with lid and reduce heat to medium-low. Cook for 15 minutes.

Add in the chicken and parsley. Stir together and let heat through.

In separate bowl combine flour and milk and mix together until combined. Pour into the soup. Stir.

Add the chunks of cream cheese into the soup and let it cook for about 5 minutes or until the cream cheese is completely melted into the soup and the soup is thick and creamy. * To ensure no cream cheese chunks, place the unwrapped bar of cream cheese onto a microwave-safe plate, and cook for 40 seconds.

Leftovers keep well in the fridge for 3-4 days. I warm them up in the microwave or on the stove top. You may have to add additional broth or milk when reheating.
Notes
Tip : Cut the potatoes and carrots the same size (very small bite-sized pieces) so that they will cook in the times given. If they are larger chunks then you will have to cook the soup longer.  Potatoes : We love the taste of Yukon Gold potatoes so that's what I use. I have used red potatoes and russet potatoes as well. They all work well so use whichever you prefer. I peel the skin off but if you prefer the skin can be left. Just make sure to wash it good before chopping if leaving the skin on.  Milk : I use whole milk in this recipe. Any milk you have will work just fine but I would for sure stay away from fat-free milk.   Cream Cheese : Make sure the cream cheese is softened well, I cook it in the microwave for 40 seconds, before adding it into the soup. If the cream cheese is too cold it will not incorporate well and there will be chunks of it in the soup.  Chicken Broth : I use full salt chicken broth in this recipe but reduced-sodium chicken broth can be used just as well. Taste at the end and add additional salt if needed. 
Nutrition
Calories: 259kcal | Carbohydrates: 26g | Protein: 22g | Fat: 7g | Saturated Fat: 3g | Polyunsaturated Fat: 1g | Monounsaturated Fat: 2g | Trans Fat: 1g | Cholesterol: 49mg | Sodium: 980mg | Potassium: 792mg | Fiber: 3g | Sugar: 6g | Vitamin A: 3738IU | Vitamin C: 26mg | Calcium: 216mg | Iron: 2mg
Recipe has been updated with better pictures and more helpful text in November 2021.
Old recipe photo before. Recipe has not changed, just the photos have.
Recipe was found and adapted years ago from Taste of Home.