Minestrone soup is a healthy soup recipe full of fresh veggies like tomatoes, celery, carrots, onion, zucchini, beans, and spinach in a perfectly & richly seasoned tomato sauce vegetable broth base.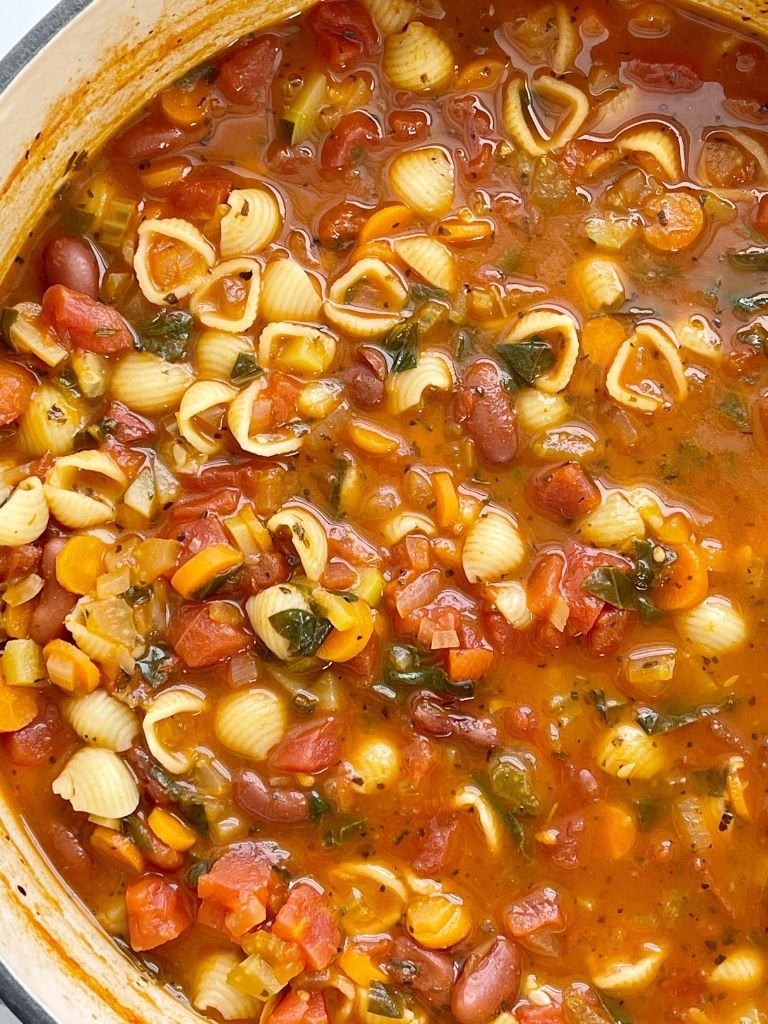 MINESTRONE SOUP
This minestrone soup recipe has been a reader favorite for years! A hearty, filling soup that cooks in one pot on the stove top and it's so healthy with all the fresh vegetables. I can almost always get my kids to eat vegetables if they are cut up small, softened, and hidden in soup. So this recipe for minestrone soup is a perfect way to get your kids to eat some veggies while still being delicious for the adults too. 
Also be sure to try my recipe for instant pot minestrone soup too! Dump everything into the Instant Pot and let it cook.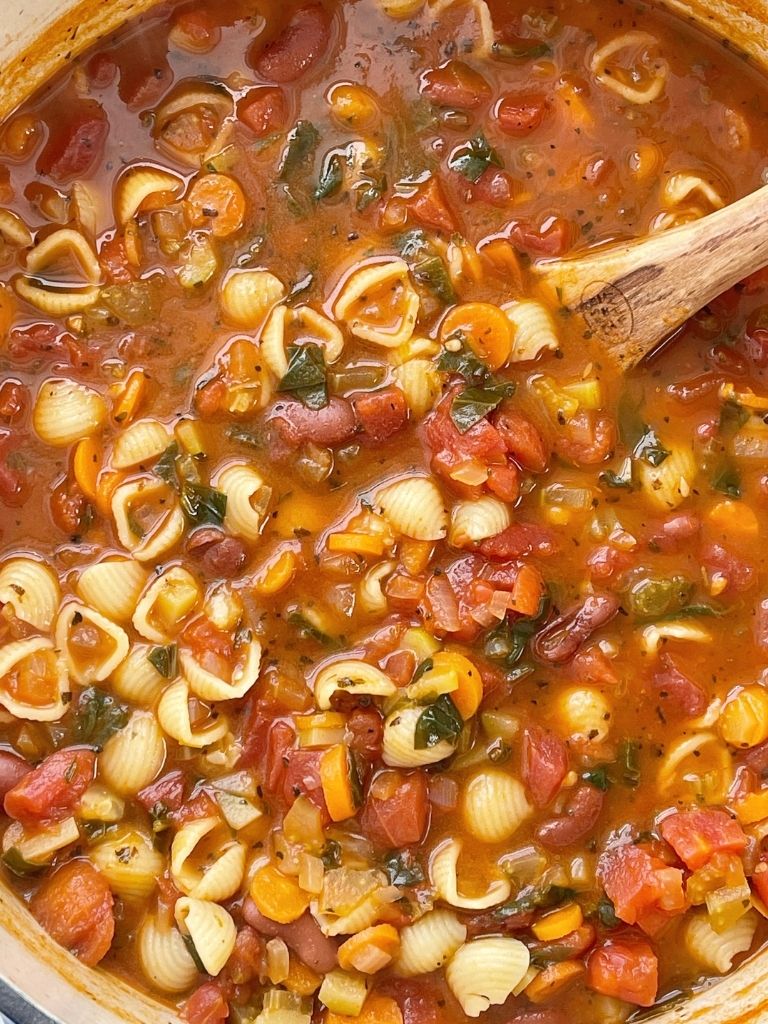 INGREDIENTS NEEDED TO MAKE MINESTRONE SOUP
Butter & Olive Oil – I love the combination of both butter and olive oil for softening the vegetables but feel free to use all olive oil if you prefer. 
White Onion – I have always used a white onion for this recipe but any onion will work like a yellow onion or even a sweet Vidalia onion. 
Carrots 
Celery 
Zucchini
Petite Diced Tomatoes
Tomato Sauce
Kidney Beans – I use light kidney beans but dark kidney beans will also work. 
Vegetable Broth
Basil, Parsley, Oregano, Salt, Black Pepper
Spinach
Small Shell Pasta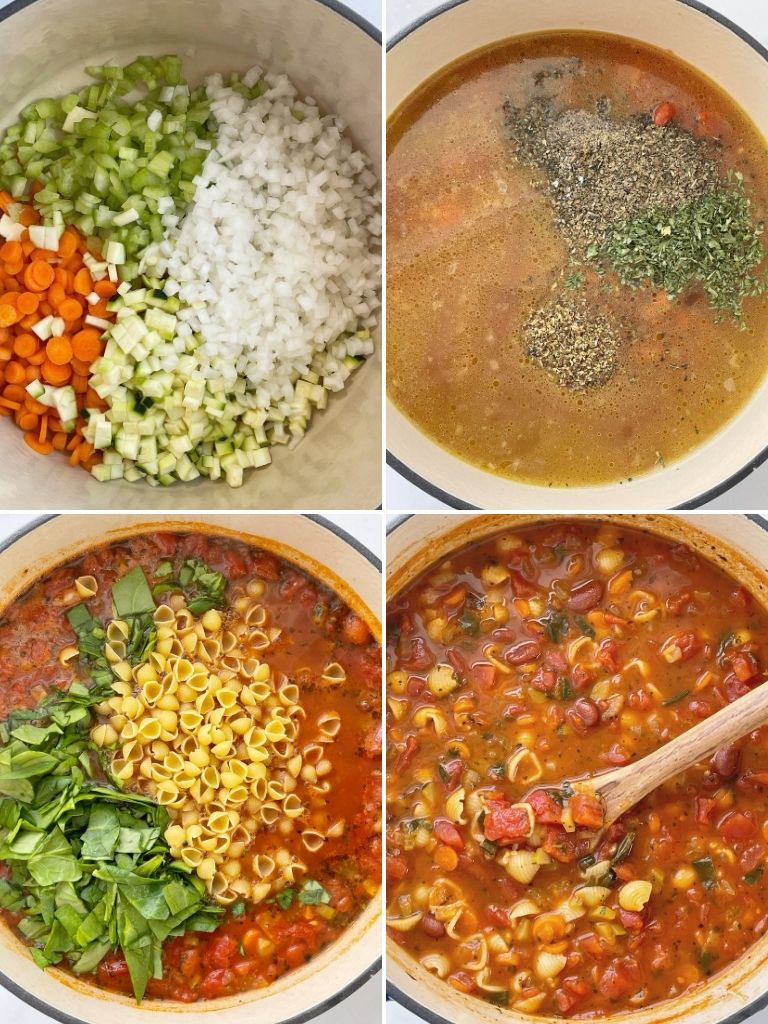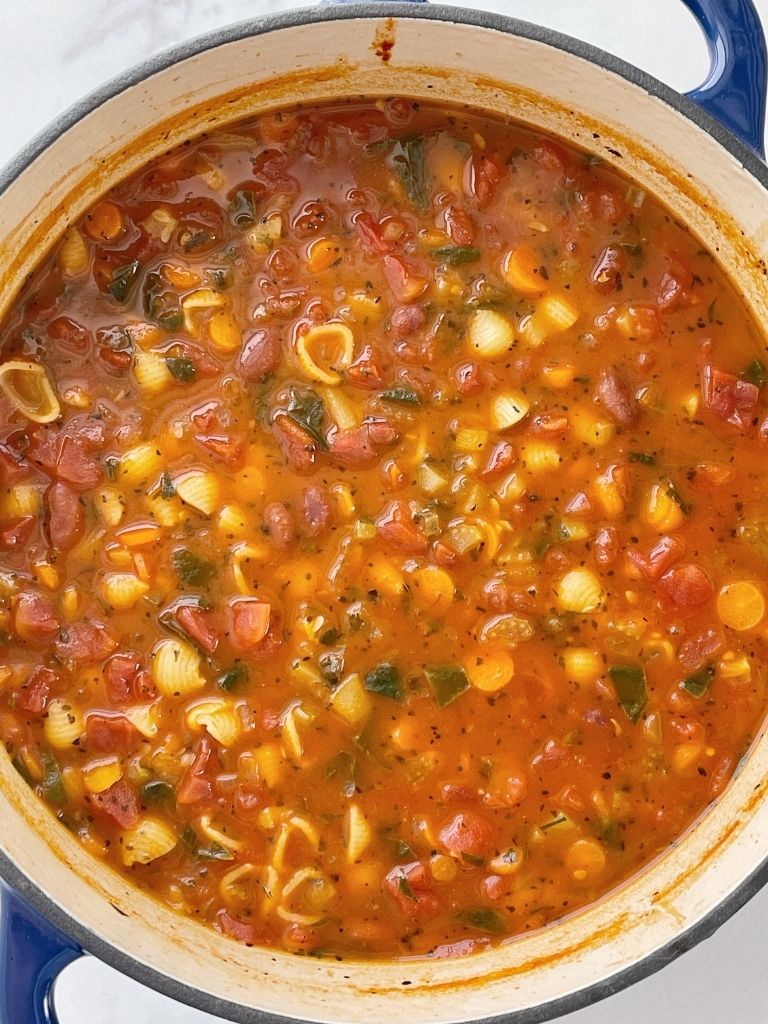 HELPFUL TIPS & HINTS FOR MINESTRONE SOUP RECIPE
How long will minestrone soup last in the fridge?

Since minestrone soup does not have any meat in it, it can last in the fridge for 3-4 days. The longer it sits in the fridge the more the pasta will soak up all the sauce, which also means the pasta will get soft and almost soggy-like the longer it it's in the fridge. We always have leftovers when I make this for dinner and I still love eating the leftovers for lunch for 2-3 days after. Delicious!

Do I have to use kidney beans in this soup?

The answer is no you do not have to use kidney beans. I would use beans as that is what minestrone soup is (a hearty bean and vegetable soup). Feel free to substitute with white navy beans, white cannellini beans, or even garbanzo beans. I like using light red kidney beans so that's what I have made this soup with for years. 

My soup is too thick…

This can happen. The longer it sits on the stove top simmering, the thicker it will become. Especially once you add the pasta which will soak up that broth pretty quickly. If you prefer a thinner soup then go ahead and use 4 cans of vegetable broth instead of 3 cans (which the recipe calls for). 

How do I reheat leftovers?

I reheat leftovers in the microwave but you can also use the stove top. You may want to add some additional water when reheating leftovers as the pasta tends to soak up any broth. 

The vegetables are crunchy. What did I do wrong?

This is an easy fix. First, be sure that you cut the vegetable really small. I like to also use baby carrots in this recipe because they are easier to cut and slice thinly. Or just make sure you simmer the vegetables longer in the butter and olive oil. My kids won't eat crunchy vegetables so I always make sure they are really softened before adding all the other stuff into the soup pot. And again, cutting the vegetables really small and very thinly will help a lot too. 

How do I serve minestrone soup?

We love to sprinkle some freshly grated parmesan cheese over the top of each serving. Keep in mind that parmesan cheese is salty so you probably won't want to add additional salt (other than what's called for in the recipe). I also always serve some buttery one hour rolls or I will just buy some crusty frozen rolls and heat them up. Dipping some bread in that hearty, flavorful broth is one of the best parts about eating soup, right?!

Can I use a different pasta in this soup recipe?

For best results use small shell pasta. Once you add the pasta into the soup it will soak up a lot of the broth and if you use a larger pasta I am afraid it may soak up too much of the broth. Small shell pasta is easily found in any grocery store. This recipe has been tested, and has proven results with hundreds of readers who have made it, with the small shell pasta.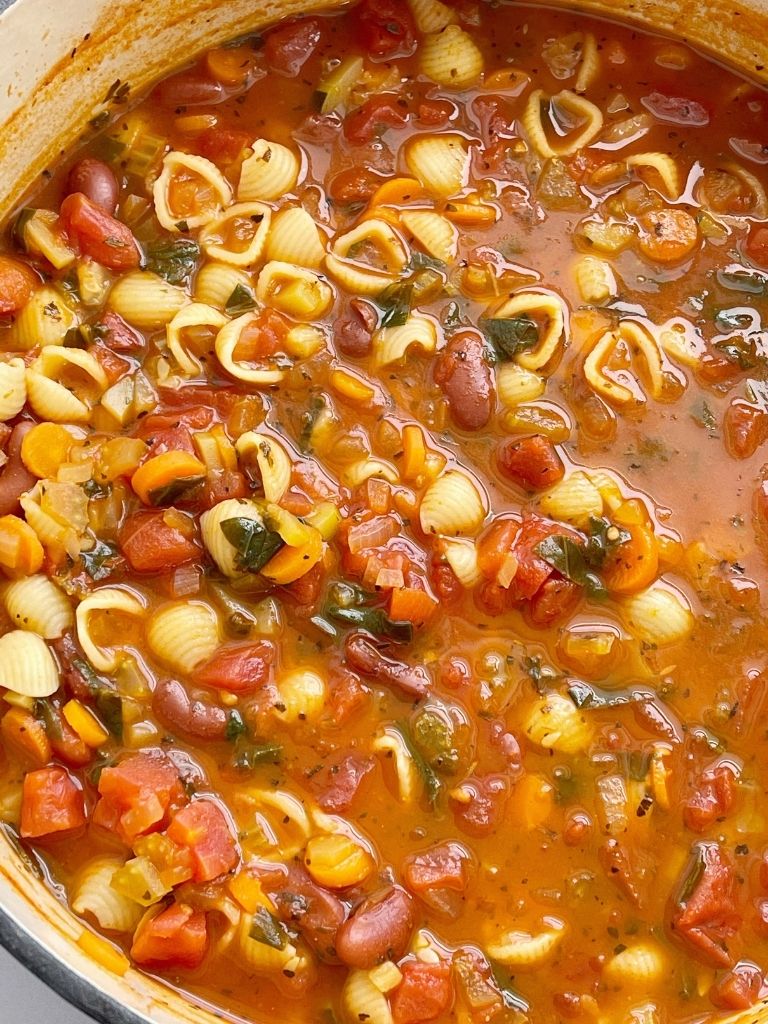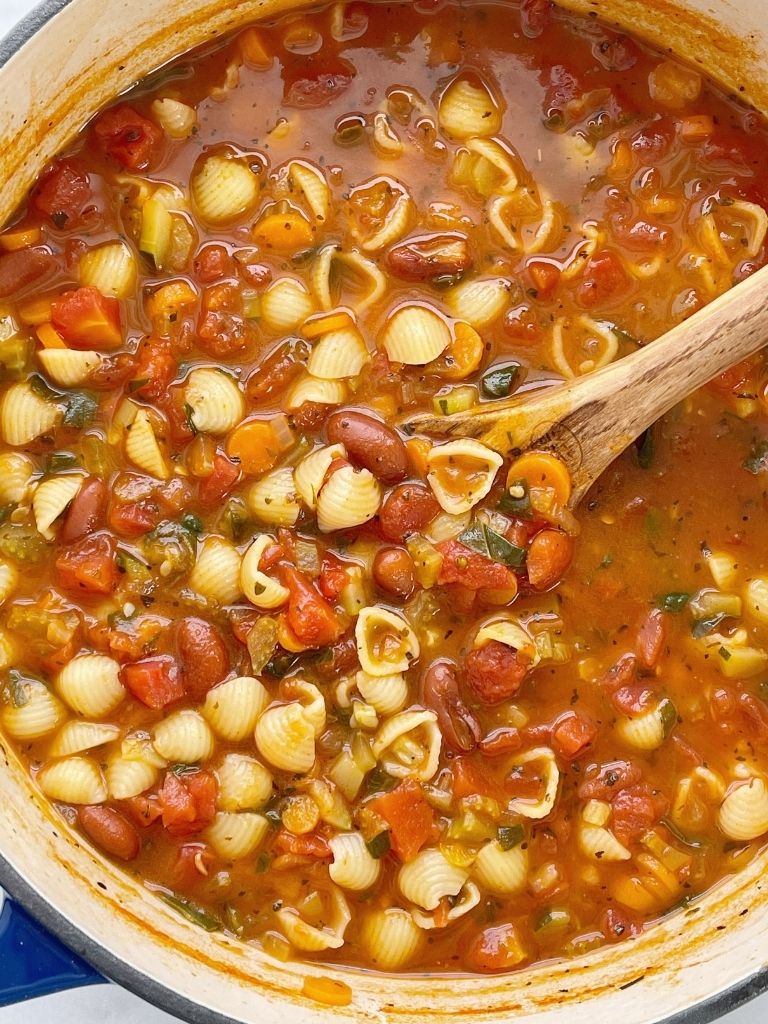 TRY THESE OTHER SOUP RECIPES
Pasta Fagioli Soup – This is my copycat version of the famous restaurant soup! Full of beans, vegetables, seasonings, and the secret ingredient of pasta sauce. Trust me, it's so delicious and adds tons of flavor.
Cream Cheese Chicken Soup – Probably one one of my very favorite soup recipes. Uses leftover chicken and it cooks up in one pot with a cream cheese chicken broth base. 
Slow Cooker Chicken Wild Rice Soup – Rich, creamy soup with wild rice, vegetables, and shredded chicken that cooks all together in the slow cooker. 
The Best Soup Recipes – This is the ultimate collection of all my best soup recipes.
Vegetable Soup – This vegetable soup just might change your mind about vegetable soups 🙂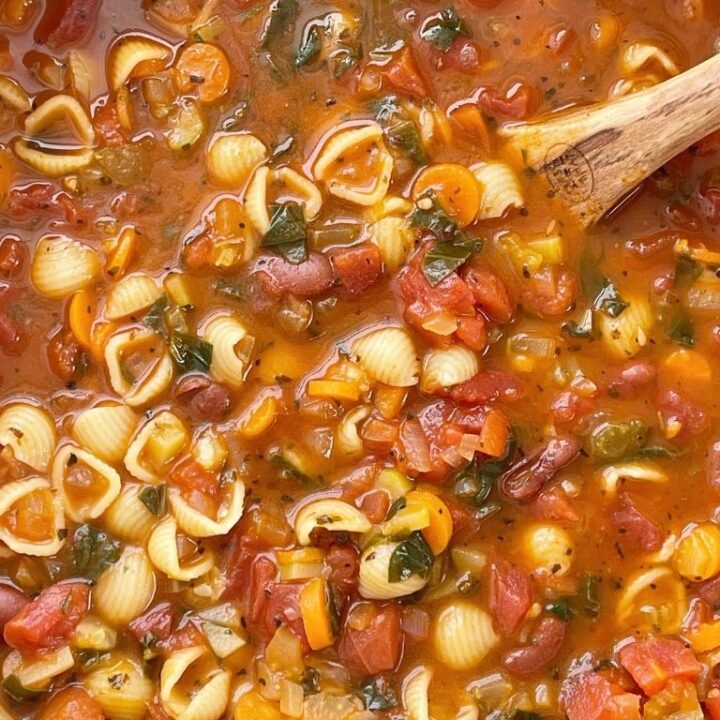 Minestrone Soup
This really is the best Minestrone Soup! A hearty soup with a vegetable broth tomato base and then loaded with fresh vegetables, beans, and tender small shell pasta. It simmers in one pot on the stove top for a delicious and healthy dinner. 
Ingredients
1 tablespoon butter
2 tablespoons olive oil
1 white onion finely chopped
1 cup sliced carrots
1 cup sliced celery
1 cup peeled & chopped zucchini about 1 zucchini
½ teaspoon salt
1 can (28 oz) petite diced tomatoes undrained
1 can (15 oz) kidney beans drained & rinsed
1 can (15 oz) tomato sauce
3 cans (14.75 oz each) vegetable broth
1 tablespoon dried basil
2 teaspoons dried parsley
1 teaspoon oregano
1 teaspoon salt
½ teaspoon pepper
1 cup chopped spinach leaves about 2 small handfuls
1 ½ cups small shell pasta
Instructions
Melt butter and olive oil in a large stock pot over medium-high heat. Add the onion, carrots, celery, zucchini, and 1/2 teaspoon salt. Let cook for 8-10 minutes until tender, stirring occasionally.

Add the diced tomatoes, beans, tomato sauce, vegetable broth, basil, parsley, oregano, salt and pepper. Stir together and let come to a low boil. Once boiling, turn down the heat to low and let simmer for 15 minutes.

Turn heat back up to medium and add the chopped spinach and dry pasta. Let cook until pasta is done, about 10 minutes.* Stir the soup frequently to make sure the pasta is not sticking to the bottom of the pan

Serve with a sprinkle of freshly grated parmesan cheese on top. Leftovers will keep in a covered contaner in the fridge for 3-4 days. You will probably want to add additional water when reheating leftovers. 
Notes
SOUP TOO THICK? If you want a thinner soup then use 4 cans of vegetable broth instead of 3. I love a soup that is not super brothy so I use 3 cans. The soup does thicken up once you add the pasta and after it sits (after cooking) so leftovers will not have much broth. Add water or additional broth when reheating.  OREGANO TIP : Dried oregano can be overpowering and almost "spicy" in flavor. Not heat wise but it has a kick of flavor to it. Cut down the dried oregano to 1/2 teaspoon if you are more sensitive to that.  VEGETABLE TIP : Cut and chop the veggies really small and all the same size to ensure that they will soften in time. I love to use baby carrots because there is no need to peel them and they are already small so all you have to do is slice them very thinly. For the celery stalk I cut each stalk into 3 thinner & longer pieces and then I chop them small.  DON'T LIKE KIDNEY BEANS? Feel free to substitute with any bean you prefer. Other great choices are garbanzo beans, white cannellini beans, or navy beans. I prefer to use light red kidney beans when I make this recipe.  This recipe has been updated with new pictures and more helpful information in the post in February 2021. Recipe is the same. 
Nutrition
Calories: 195kcal | Carbohydrates: 32g | Protein: 6g | Fat: 6g | Saturated Fat: 2g | Trans Fat: 1g | Cholesterol: 4mg | Sodium: 1518mg | Potassium: 645mg | Fiber: 5g | Sugar: 9g | Vitamin A: 3522IU | Vitamin C: 15mg | Calcium: 72mg | Iron: 3mg