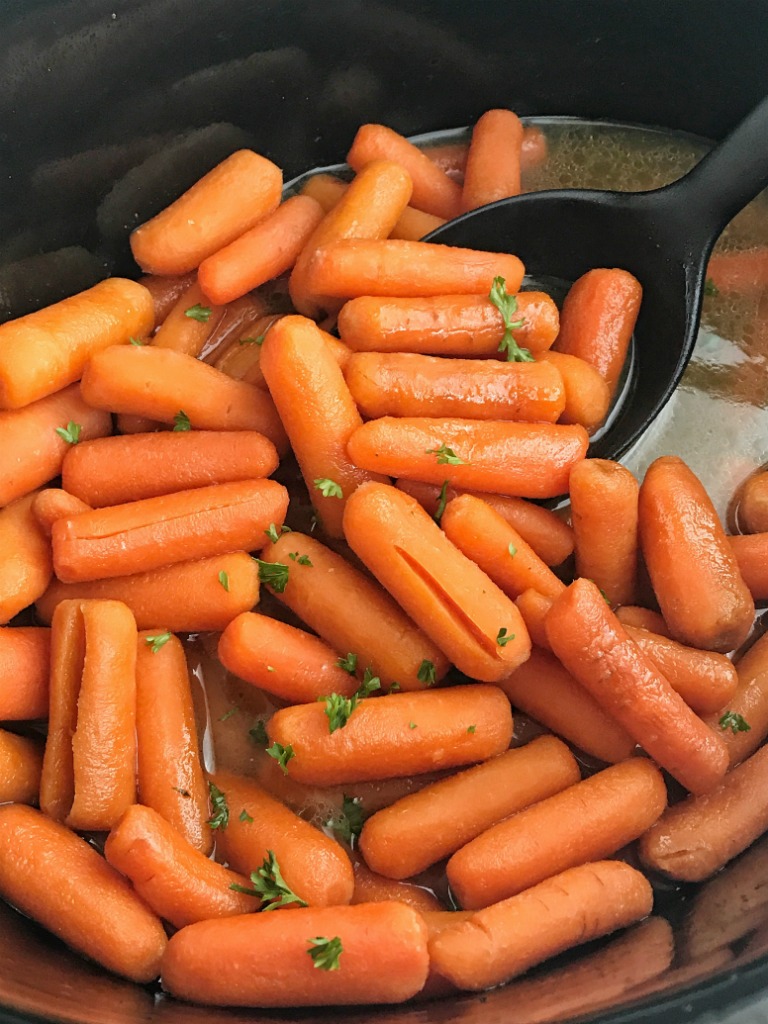 SWEET CARROTS RECIPE
I am no good when it comes to side dishes for dinner. Most the time my family is lucky to even get a main dish for dinner 🙂 But on those days where I am feeling like super mom, these slow cooker sweet carrots will get made. 
They taste like candy so it's a guarantee that my kids will eat them with no problems. 
And these carrots could not easier to make. Throw 5 ingredients into the slow cooker and let it cook for a few hours. It's an easy way to get a healthy & delicious side dish at the dinner table. Or at a Holiday dinner. I always make these sweet carrots for Thanksgiving along with this honey glazed ham recipe.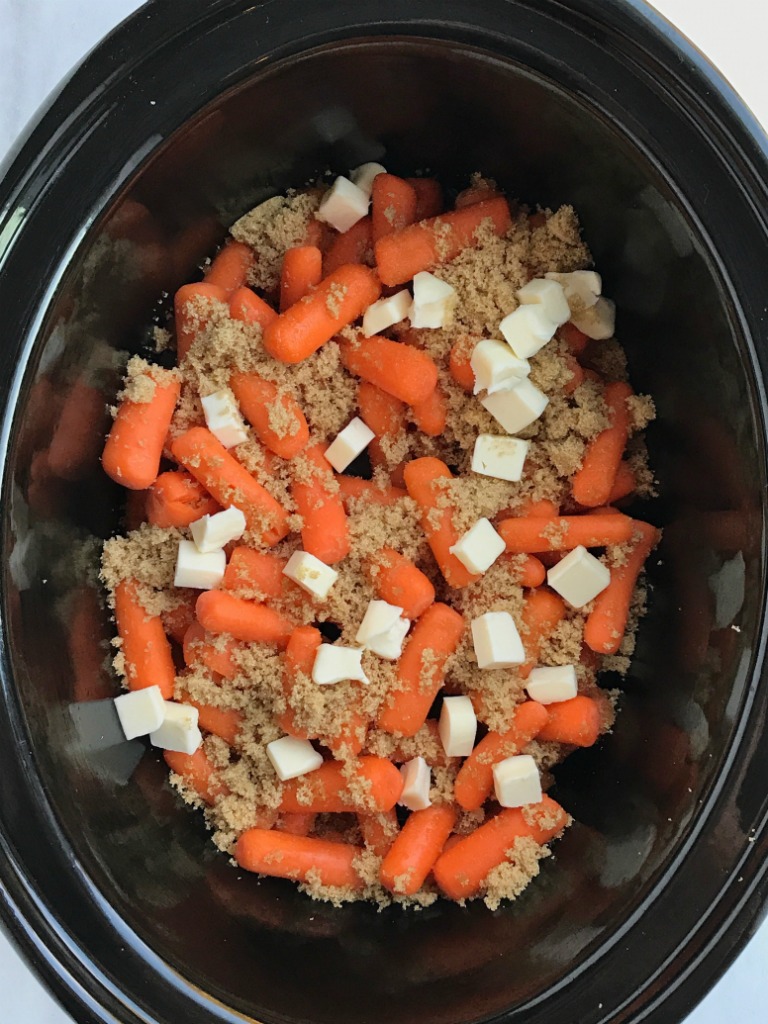 HOW DO I MAKE SWEET CARROTS IN THE SLOW COOKER?
2 lb bag baby carrots – Make sure to get a bag of the baby carrots in the 2 lb bag. Or you can also use 2 (1 lb) bags of baby carrots. 
Chicken Broth – Chicken broth provides some additional flavor and it's the perfect way to infuse the carrots with some flavor as they cook for hours. You can use the full-salt chicken broth or reduced-sodium chicken broth. Whichever one you prefer. 
Salt – Nothing fancy but some salt! I use kosher salt because I love the flavor of it but regular old table salt will work just as well. 
Brown Sugar – This is what gives the carrots that sweet glaze. You don't want to leave this out, trust me! The recipe does call for 1/2 cup, which may seem like a lot, but it's not like you're drinking the liquid. Instead you are just eating the carrots out of the liquid. So not each carrot has tons of sugar. If that makes sense 🙂 
Butter – Cut some butter into small cubes.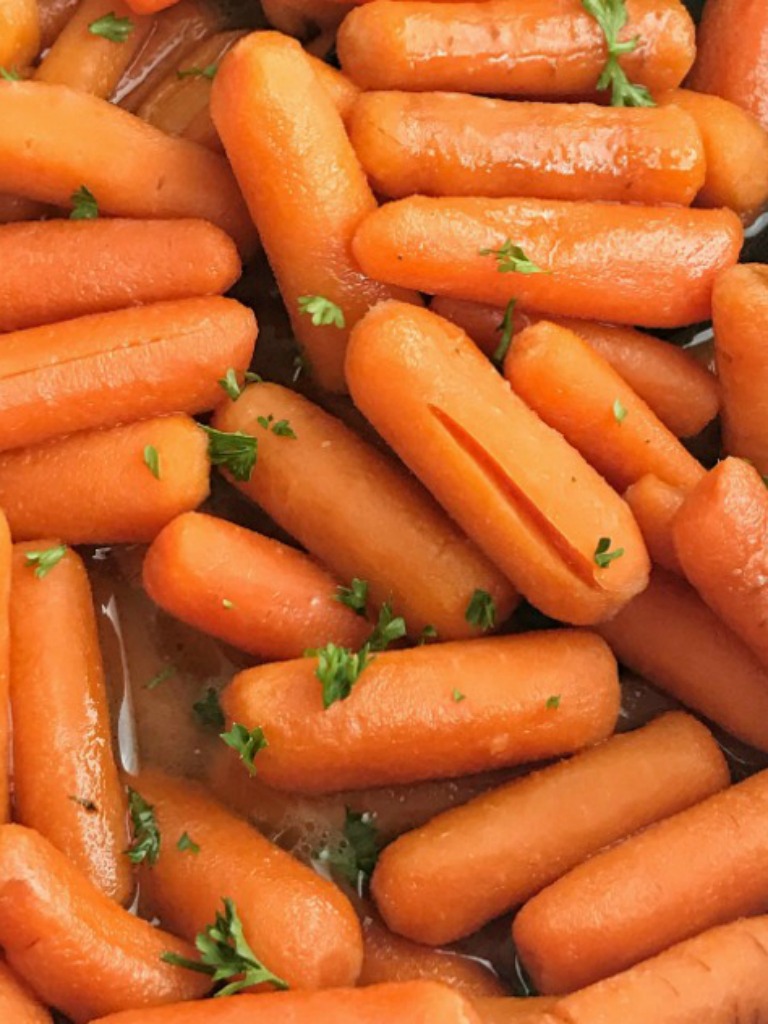 HOW TO MAKE CARROTS AS A SIDE DISH
Pour the chicken broth into the insert of the slow cooker
Dump the carrots in and spread them out
Sprinkle salt and brown sugar over top
Lay the butter squares over the sugar mixture
Cover with the lid and cook
I like to scoop these carrots into a serving bowl and drizzle some of that sweet glaze from the slow cooker over top. Then I sprinkle with just a touch of salt & black pepper before serving. 
The carrots will dry out as they sit out so be sure and reserve some of the sweet glaze from the sow cooker, if wanted, for serving.
TRY THESE OTHER SIDE DISH RECIPES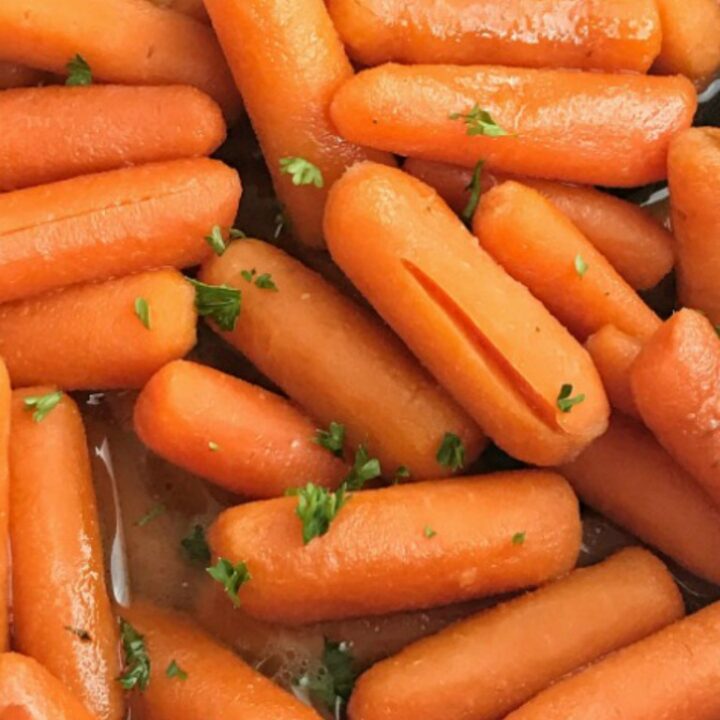 Slow Cooker Sweet Carrots
Sweet Carrots are made in the slow cooker with only 5 ingredients! Baby carrots simmer in a sweetened chicken broth and butter all day for the best, most tender, and delicious sweet carrots. Perfect side dish for dinner or fancy enough for a Holiday meal. 
Ingredients
1/2 cup chicken broth
1 bag (2 lbs) baby carrots
½ teaspoon salt
1/2 cup light brown sugar
3 tablespoons butter cut into small chunks
Instructions
Spray the insert of the slow cooker with cooking spray. Pour the chicken broth in and then dump the carrots into the slow cooker.

Sprinkle the salt and brown sugar over the carrots. Place the small chunks of butter evenly over top.

Cover with the lid and cook on LOW heat for 5-7 hours.

I like to serve the carrots with some of the sweet sauce in the slow cooker to keep them moist.
Notes
It's best to cook these carrots on LOW heat. High heat is too hot and you'll end up with burnt and really ugly looking carrots.  The carrots may appear "ugly" when the cook time is up but that's normal. Just give it a good stir and they will get that sweet glazed coating on them and look much better.  Serve with an additional sprinkling of salt & pepper (if wanted) and additional butter.  If you plan on doubling this recipe, make sure that your slow cooker is large enough and watch the cook time because it may need an additional 1 hour or so. 
Nutrition
Calories: 155kcal