Peaches n' Cream Cinnamon Roll Casserole only needs 4 ingredients! Frozen peaches, cream cheese, powdered sugar, and refrigerated cinnamon rolls combine to create the best sweet breakfast treat.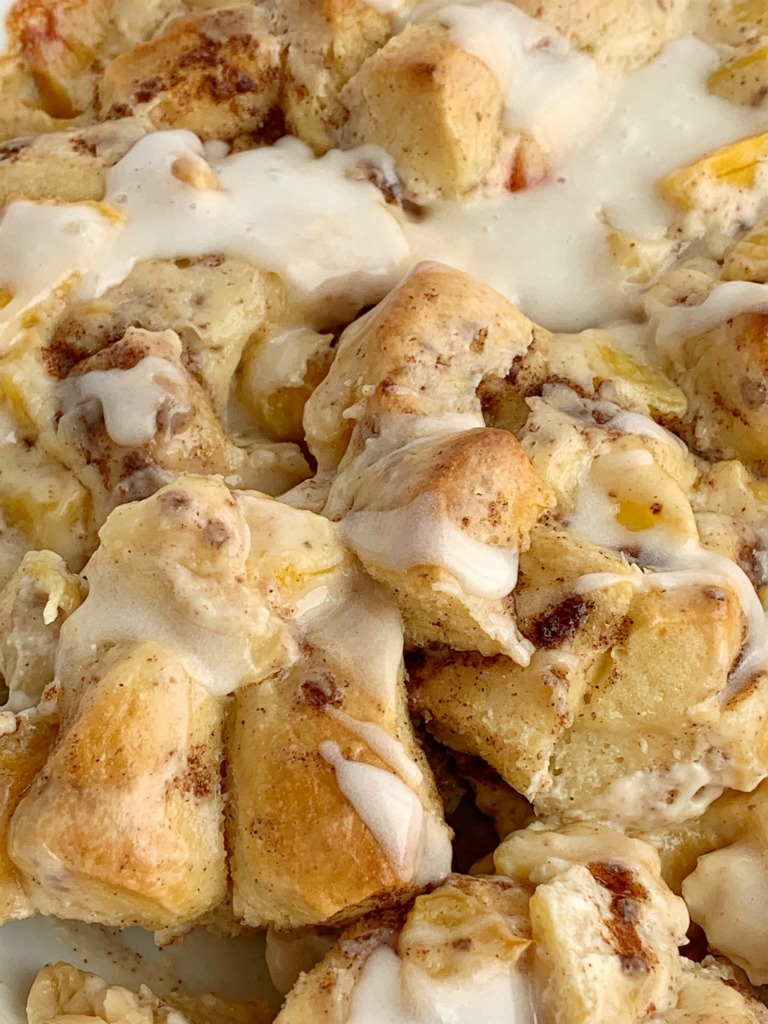 CINNAMON ROLL CASSEROLE
Is it desert? Breakfast? All I can say is I can basically eat this peaches n' cream cinnamon roll casserole anytime! 
Frozen peaches make this easy to make, cream cheese sweetened with powdered sugar, and chunked cinnamon rolls.
This peaches n' cream cinnamon roll casserole only requires 4 ingredients and it's a delicious sweeter breakfast recipe. 
If you're looking for a classic cinnamon roll casserole recipe then try this easy cinnamon roll casserole. No add-ins just classic cinnamon roll flavor. Or try these overnight caramel pecan cinnamon rolls that use frozen bread dough as the cinnamon roll.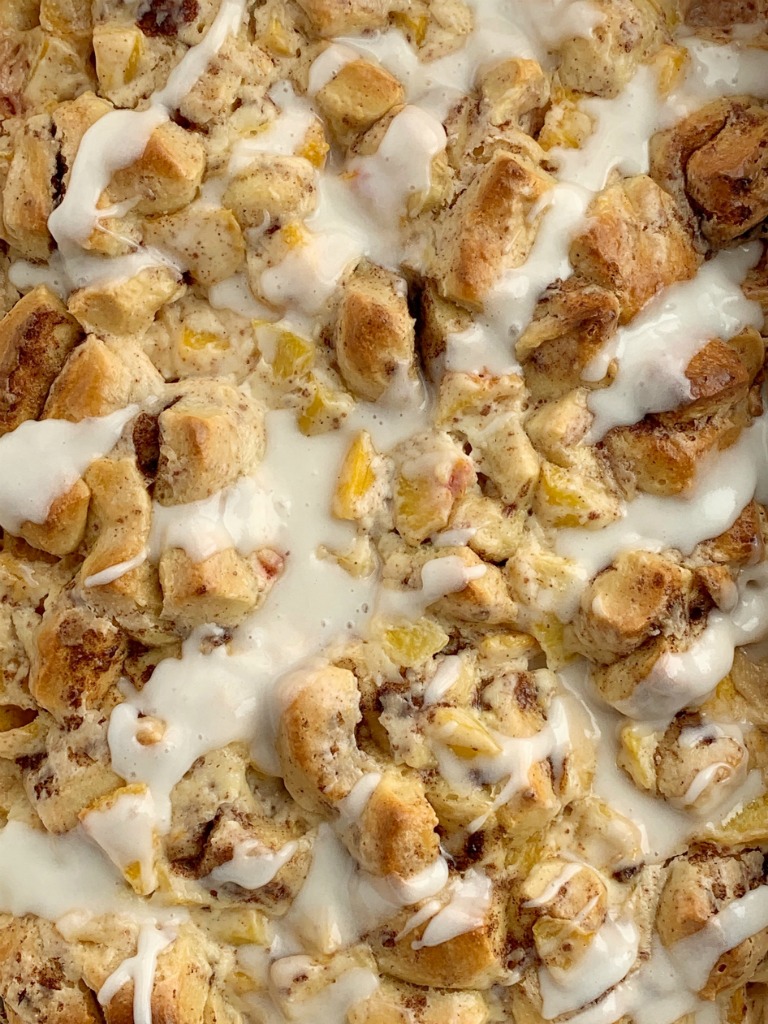 INGREDIENTS NEEDED TO MAKE CINNAMON ROLL CASSEROLE WITH PEACHES
Frozen Sliced Peaches – I love using frozen fruit in recipes. It's all ready to go in the freezer, pull it out when you need it, and there is no waiting for it to maybe someday ripen on the counter. You will need 1 bag (16 oz) for this recipe. It equals 3 cups of chopped frozen peaches. So if you are using a larger bag of frozen fruit then just chop it and then measure out 3 cups. 
Cream Cheese – I am guessing you would be just fine using the reduced-fat cream cheese. I prefer the real stuff because it tastes better and it makes this breakfast casserole so creamy and delicious. But feel free to use the lighter cream cheese to reduce fat and calories.
Powdered Sugar – This just sweetens the cream cheese mixture making it not so sour for the 'cream' part of the peaches n' cream.
Pillsbury Grands Cinnamon Rolls – These come in a 5 count package + a pack of icing. Cut each cinnamon roll round in half, and then cut each half into 3 small pieces. A total of 6 pieces per cinnamon roll. The cinnamon swirl will fall apart and crumble, and that's ok, just make sure you get it all into the bowl. You don't want to lose those cinnamon swirls!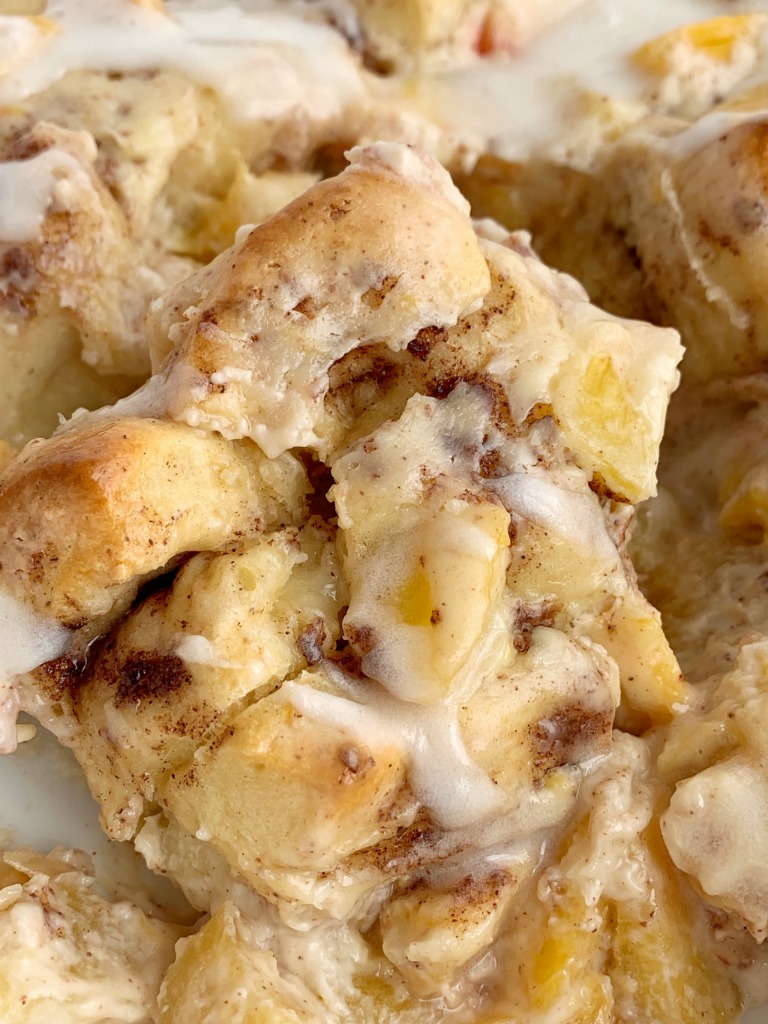 MY TIPS FOR MAKING CINNAMON ROLL CASSEROLE RECIPE
I have only ever used frozen peaches in this recipe but feel free to substitute with any frozen fruit. The key is to make sure that whatever you use is in 1″ chunks (or smaller). I tend to cut mine smaller just to ensure that they cook through during the cook time. 
Make sure you are cutting each cinnamon roll into the smaller pieces as called for in the recipe. If the chunks are too big then they will not cook in the allotted time. 
Mix it together well before adding into the baking dish. It will be thick and slightly hard to mix, but just keep doing it to ensure that everything is combined. Once I pour it into the dish I like to use my fingers and just spread all the biscuits around making sure that biscuits are spread out nicely.
TRY THESE OTHER BREAKFAST RECIPES
Peaches n' Cream Cinnamon Roll Casserole
Peaches n' Cream Cinnamon Roll Casserole only needs 4 ingredients! Frozen peaches, cream cheese, powdered sugar, and refrigerated cinnamon rolls combine to create the best sweet breakfast treat. 
Ingredients
1 bar (8 oz) cream cheese
1/2 cup powdered sugar
3 cups frozen sliced peaches, thawed & cut into 1" pieces (equal to 16 oz bag of frozen sliced peaches)
1 can (17.5 oz) Pillsbury Grands Refrigerated Cinnamon Rolls
Instructions
Heat oven to 350°. Spray a 9x13 baking pan with cooking spray.

In large microwavable bowl, microwave cream cheese and powdered sugar for 1 minute. Stir until smooth and creamy. Add in the chopped frozen peaches and stir together.


Separate cinnamon roll dough into 5 pieces; set aside the icing. Cut each cinnamon roll in half, and then cut each half into 3 smaller pieces. One roll will yield 6 pieces. Add the chopped cinnamon rolls into the bowl of cream cheese and peaches. Stir together well to combine.

Evenly spread out the mixture into the baking dish. Cook for 32-40 minutes. Top of the casserole will be golden brown and a toothpick inserted into the middle should come out clean. * If it comes out with wet batter then that means it's not done. Leave it in the oven for longer until cinnamon rolls are cooked through. If the top is getting too browned then loosley cover it with a piece of tin foil. I have never had to cook this longer than the time called for. Just make sure that each cinnamon roll is cut into 6 small pieces.

Immediatley after taking it out of the oven, spoon icing (that came in the Pillsbury tube) into a Ziploc bag. Cut the corner with scissors and drizzle the icing over the casserole. Serve warm.
Notes
Thaw Frozen Peaches : To thaw the frozen peaches, place them on the counter for 30 minutes or so before making the recipe. I have even made this before where I forgot to thaw the frozen peaches, and it still turned out great. It will have to cook for a few extra minutes if peaches are not thawed.  How to Lighten Up This Recipe : Use reduced fat cream cheese and/or reduced fat Pillsbury cinnamon rolls. I have not seen these everywhere but if you can find them then they're a good option to reduce the calories and fat (if wanted). We like it as is!
Nutrition
Calories: 340kcal