Our family favorite Sugar Cookie Recipe is one that I make over and over again. Soft-baked, thick, and perfectly soft and chewy sugar cookies topped with almond cream cheese frosting and decorated with colorful sprinkles. The perfect sugar cookie recipe that holds it's shape and requires no chilling time!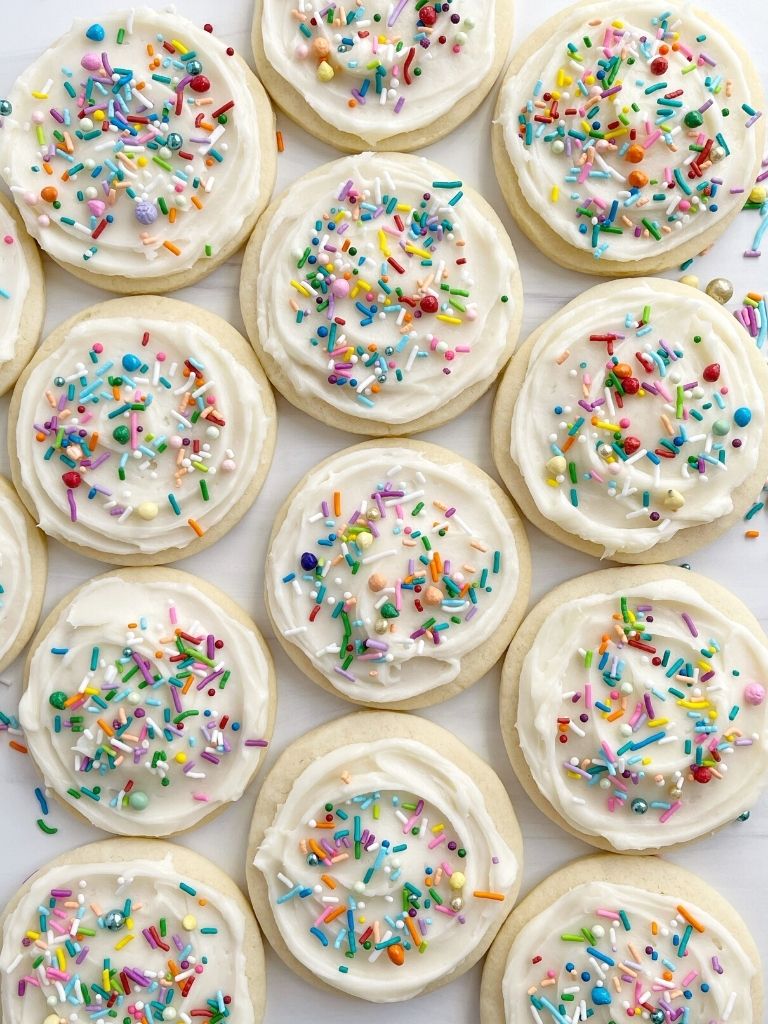 SUGAR COOKIE RECIPE
This sugar cookie recipe is a family favorite recipe that I make over and over again. Sugar cookies just happen to be my favorite dessert! And because of that I have lots of versions of the classic recipe like these sugar cookie bars, cream cheese sugar cookies, or these easy cake mix sugar cookies. 
I have so many tips and tricks so you can create the most perfect sugar cookies too. My #1 tip for making this recipe is to not let them over-bake at all. When you pull the cookies out of the oven they should still be pale, puffy looking, and the middle should not look wet (which means it's not done). So basically no color on the cookies at all.
Top these cookies with a delicious almond cream cheese frosting and don't forget to decorate them with sprinkles. That's the best part!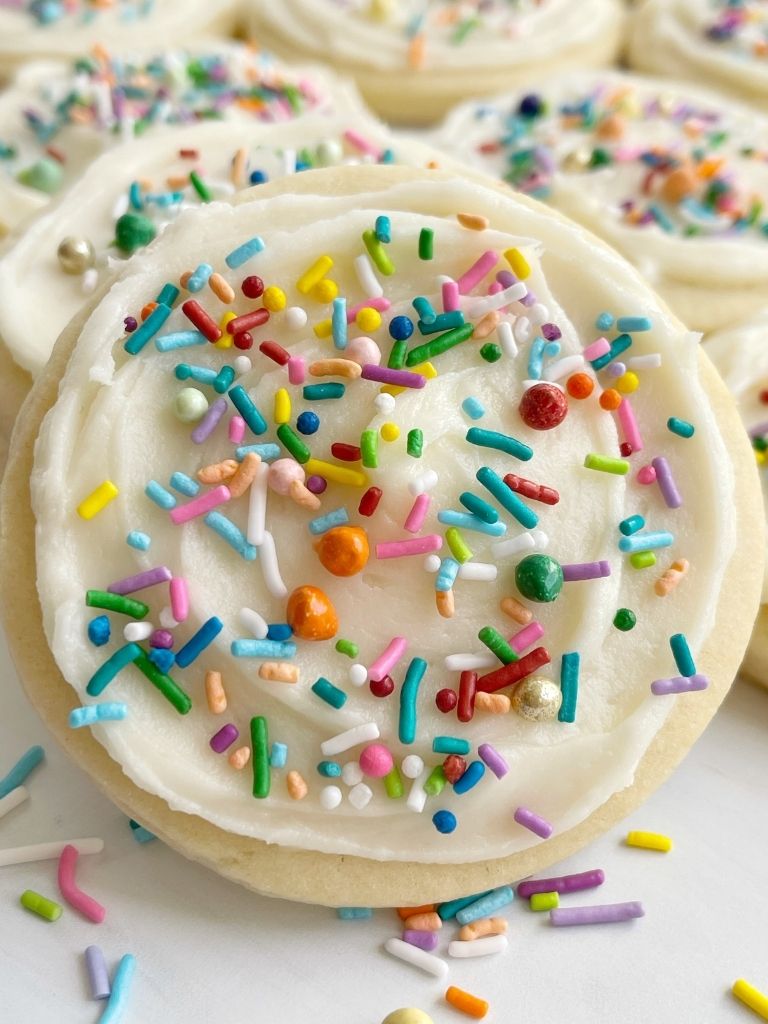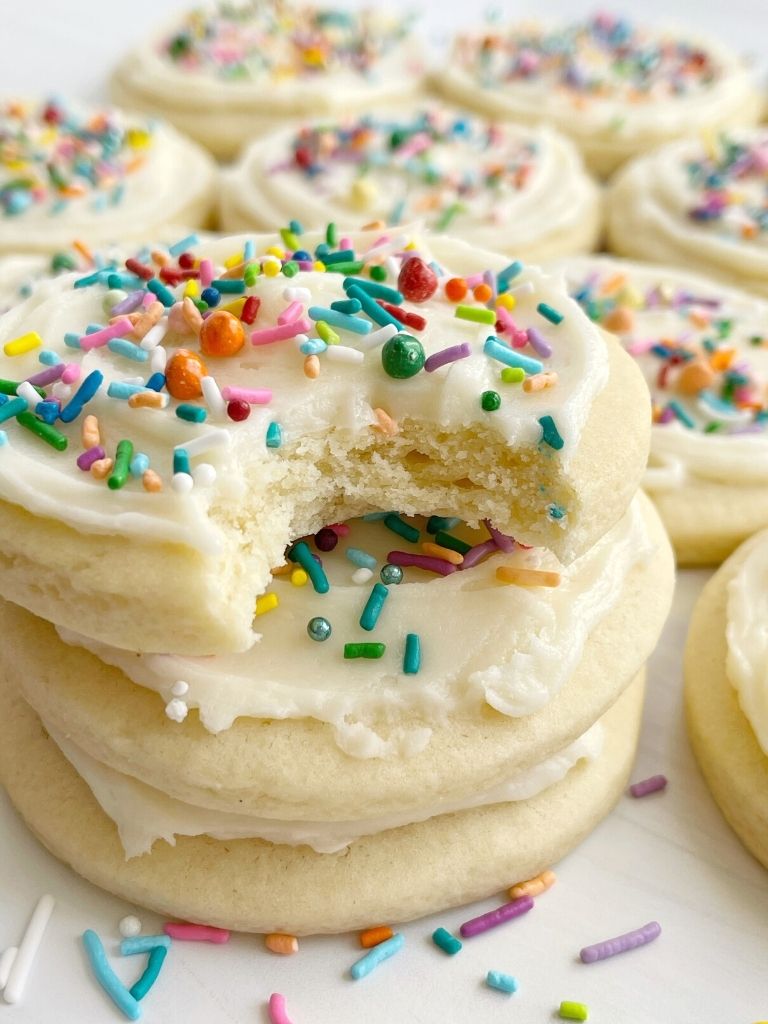 HOW TO MAKE THE BEST SUGAR COOKIES
Salted Butter – I soften the butter in the microwave. Place the sticks in the microwave for about 40 seconds. Every 5 seconds stop the microwave and turn each butter stick to a different side. Cook for 5 more seconds and then turn the sticks over again to another side. Repeat until softened. This softens the butter perfectly without melting it. 
Granulated Sugar
Powdered Sugar
Large Eggs
Vanilla & Almond Extract
All-Purpose Flour
Baking Powder
Salt
Cream Cheese – I think it's best to use full fat cream cheese but you can also use lite cream cheese if you prefer. 
Heavy Cream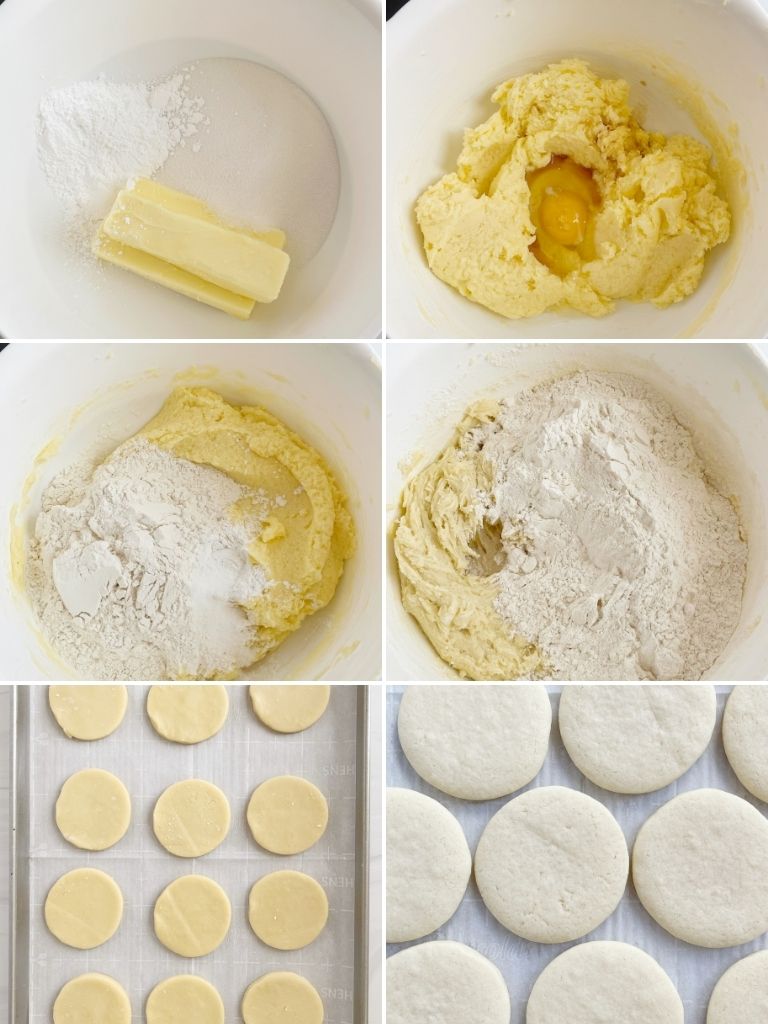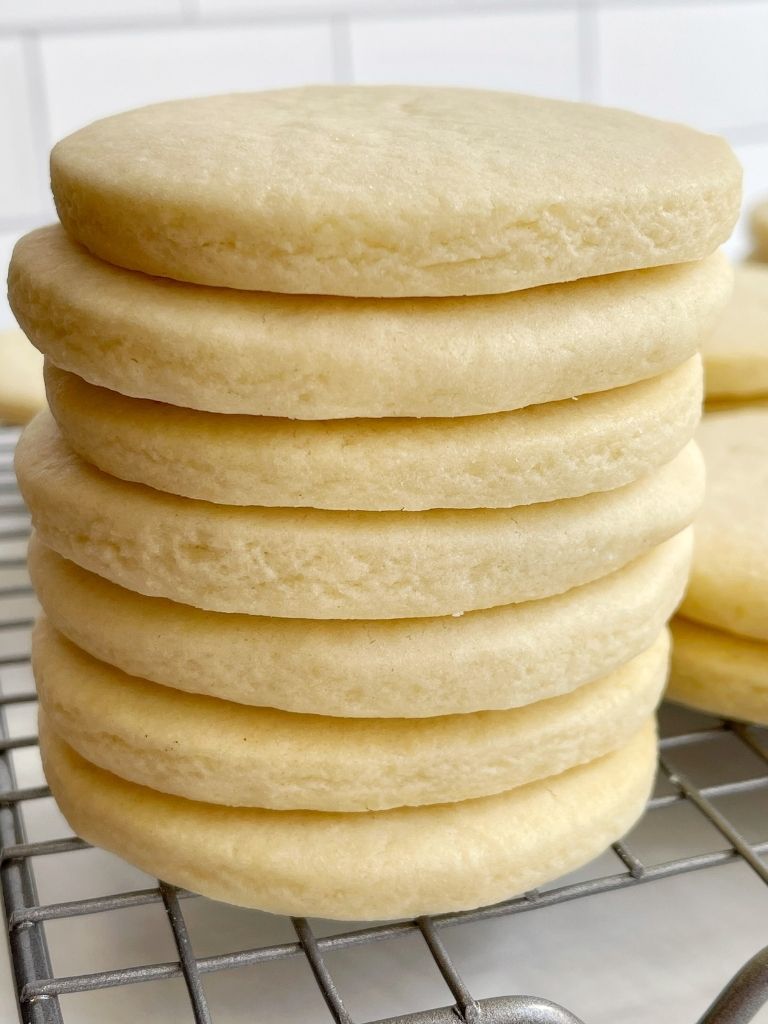 MY TIPS & HELPFUL HINTS FOR THIS SUGAR COOKIE RECIPE
Roll the sugar cookie dough out thick!

This is one of my top tips for making sugar cookies. If you roll the dough out thin and then cut your shapes, you will end up with thin and crispy sugar cookies. If you want the thick, soft sugar cookies then you have to roll the dough out thicker. I don't measure, but you want to aim for about 1/4 inch to 1/2 inch when rolling out the dough. Somewhere in-between is perfect. 

Use almond extract in this sugar cookie recipe

Almond extract is like the magic ingredient for the best sugar cookies. Trust me! If there is an allergy or if you just don't like it then go ahead and use vanilla extract in its place. 

How do I store sugar cookies?

Store the frosted sugar cookies covered at room temperature. If you prefer them cold then go ahead and store them in a covered container in the fridge. If you are planning on having leftovers for awhile it's best to store the frosted sugar cookies in the fridge because of the cream cheese in the frosting. 
You can also freeze them too. Freeze them unfrosted or frosted. I would not freeze these cookies with sprinkles on them as they will probably bleed into the frosting as they are thawing.  

My best baking tips

Do not wait for the cookies to be lightly browned before pulling them out of the oven. You want the cookies to be very pale still with no brown anywhere on them when you pull them out of the oven. 
Roll the dough out thick. This is what gives you that thick, soft sugar cookie that we all love. Not too thick because then it will take longer to bake. Aim for about 1/4 inch to 1/2 inch thick. 
Use any cookie cutter shape you want!
Use letter cookie cutters to cut out someone's name out or to say 'happy birthday'. I have done this before and everyone loves it! I put the frosting inside a Ziploc bag and then cut the corner off and spread the frosting on that way when I do letters. 
For the best creamy frosting use the heavy cream! 
I highly recommend using almond extract as called for in the recipe but if you don't want to then feel free to just replace it with vanilla extract.

Do I use salted butter or unsalted butter in this sugar cookie recipe?

I use salted butter for everything! I think it adds flavor and helps balance out sweetness in recipes. Especially desserts and baked goods. 
With that said you can use unsalted if you prefer or if that's what you have in your fridge. You may need to adjust the salt to your liking. 
The recipe was developed for using salted butter. 
If you want to be able to control the salt then use unsalted butter in recipes.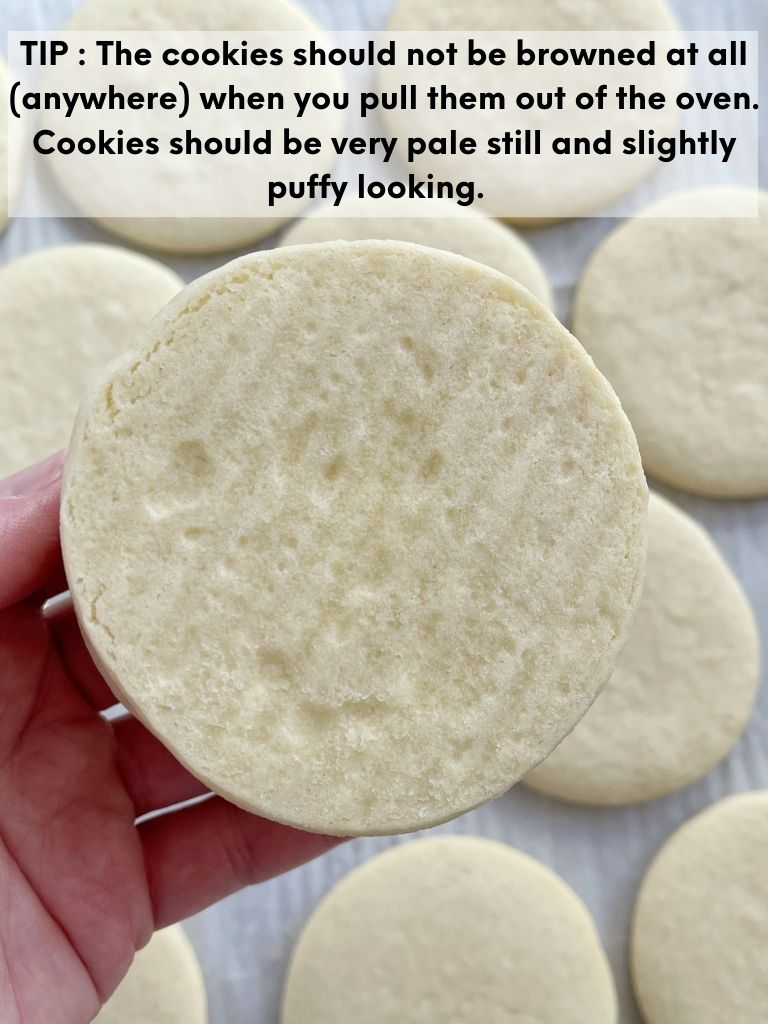 TRY THESE OTHER FAMILY FAVORITE COOKIE RECIPES
No Flour Monster Cookies – Monster cookies loaded with oats, peanut butter, m&m's, and chocolate chips with no flour in them! Perfect gluten-free cookie using gluten-free oats. 
Cream Cheese Chocolate Chip Cookies – Chocolate chip cookies with no egg! They use cream cheese and it makes the softest, thickest chocolate chip cookies ever.
Thick Soft-Baked M&M Cookies – Big, puffy, thick m&m cookies that just make you happy. 
Muddy Buddy Cookies – Peanut butter cookie topped with milk chocolate and dusted with powdered sugar. Just like the classic popular snack mix but in a cookie. 
Chocolate Reese's Cookies – Chocolate cookies loaded with chopped Reese's candy and peanut butter chips.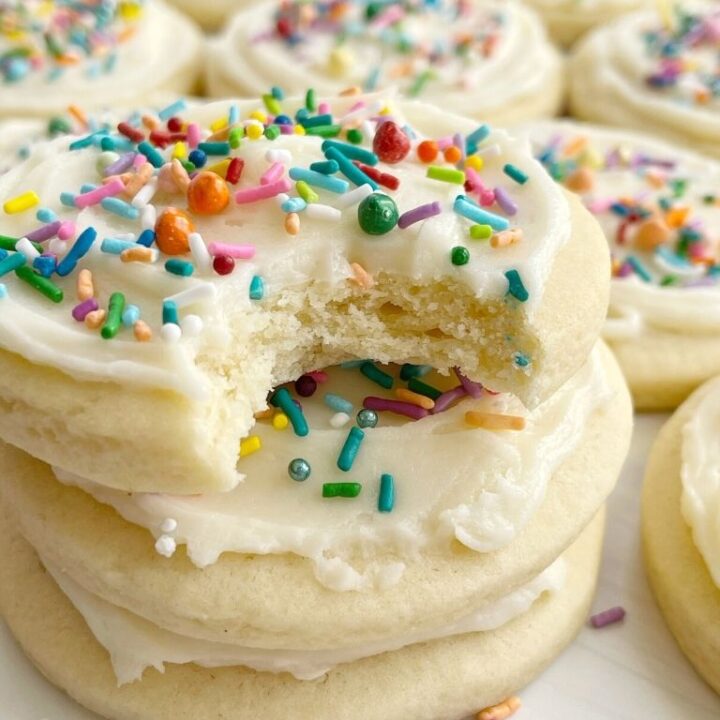 Family Favorite Sugar Cookie Recipe
Our family favorite Sugar Cookie Recipe is one that I make over and over again. Soft-baked, thick, and perfectly soft and chewy sugar cookies topped with almond cream cheese frosting and decorated with colorful sprinkles. The perfect sugar cookie recipe that holds it's shape and requires no chilling time.
Ingredients
Sugar Cookies
1½ cups (3 sticks) salted butter softened
1½ cups granulated sugar
1/2 cup powdered sugar
4 large eggs
1 teaspoon vanilla extract
½ teaspoon almond extract
5½ cups all-purpose flour
2 teaspoons baking powder
¾ teaspoon salt
Frosting
1 bar (8 oz) cream cheese softened
1/2 cup (1 stick) butter softened
4 cups powdered sugar
1 tablespoon heavy cream
½ teaspoon almond extract
Instructions
Preheat oven to 400°. Prepare a cookie sheet by lining with parchment paper, use a silpat liner, or spray with cooking spray. * If you have several cookie sheets then prepare 2 or 3 of them so you can have a tray ready to go as soon as the other one is done.

In a large bowl with a handmixer, or use the bowl of a stand mixer with the paddle attachment, beat together the butter, granulated sugar, and powdered sugar until lighter in color and fluffy looking. This will take about 2 minutes of mixing.

Add in the eggs, one at a time, mixing well after each egg.

Add the vanilla extract and almond extract. Mix until combined.

Add 2 cups of flour, baking powder, and salt. Mix on low speed, increasing speed as needed, just until the flour is incorporated.

Add the remaining flour (3½ cups) and mix on low speed, increasing speed as needed and sraping down the sides of the bowl as needed.

Spray the countertop lightly with cooking spray and dust with flour to prevent sticking. Using a rolling pin, roll the dough out to about ¼-½ inch thickness. Cut into preferred shape and place 12 per cookie sheet (or less depending on the size of your cookie cutter).

Bake for 6-9 minutes. You do not want the cookies to have any brown on them when you pull them out of the oven. The cookie should still be pale and slightly puffy but not browned anywhere. If the edges are slightly browned then that means you cooked them for too long. The middle should also not look wet, but rather puffy looking but still pale. I have found that about 6½ - 7 minutes is perfect for my oven.

Let the cookies cool on the cookie sheet for about 5-10 minutes and then remove them to a cooling rack to cool completely before frosting.

MAKE THE FROSTING : Beat butter and cream cheese in a mixing bowl until creamy and combined. Add the powdered sugar, heavy cream, and almond extract. Beat together until combined and creamy. If you want to add color to the frosting add a few drops of food coloring (I prefer the gel food color) at the end and then mix together until combined.

Frost each cookie and sprinkle the top with sprinkles. Change up the sprinkles and/or frosting color for any Holiday or celebration.
Notes
Almond Extract vs. Vanilla Extract : Almond extract in sugar cookies is like the "magic ingredient" that just makes them taste amazing. I would highly suggest using the almond extract in the sugar cookies. But if wanted, you can use vanilla extract in the frosting depending on preference.  Heavy Cream : For the best, creamiest frosting use heavy cream. If you use anything other then heavy cream then start at 1-2 teaspoons. You will need less because any other milk will have less fat in it, which means it's thinner and you won't need as much of it for the frosting.  Flour : I use unbleached all-purpose flour. I would not recommend using wheat flour or white wheat flour in this recipe. You can use gluten-free flour as long as it's a 1:1 ratio. Meaning 1 cup gluten-free flour is equal to 1 cup all-purpose flour in a recipe.  Fun Variation : I love to use letter cookie cutters and spell out someone's name for their birthday OR spell out happy birthday using letter cookie cutters. You can also do numbers as well. I made these for my oldest son's 1st birthday and used a '1' cookie cutter. If you do letter or numbers, I put the frosting inside a Ziploc bag and snip the corner. I then pipe it on the number or letter. Then add sprinkles. 
Nutrition
Calories: 258kcal | Carbohydrates: 34g | Protein: 3g | Fat: 12g | Saturated Fat: 7g | Trans Fat: 1g | Cholesterol: 51mg | Sodium: 169mg | Potassium: 57mg | Fiber: 1g | Sugar: 21g | Vitamin A: 404IU | Vitamin C: 1mg | Calcium: 23mg | Iron: 1mg