Pineapple Teriyaki Chicken Stir Fry is a one pan dinner recipe with seasoned strips of chicken, broccoli, carrots, red pepper, and pineapple in a delicious homemade pineapple teriyaki sauce. Serve over rice and garnish with green onions for a family favorite dinner recipe. 
PINEAPPLE TERIYAKI CHICKEN STIR FRY RECIPE
This one pan pineapple teriyaki chicken stir fry recipe is so much better than any take-out you will get.
We've always had really bad luck with Chinese restaurants. Every time I order I am always disappointed! Which is why I love recipes that you can make at home that taste better than any restaurant like these teriyaki chicken meatballs, this one pan teriyaki chicken, or this skillet cashew chicken. 
HOW TO MAKE PINEAPPLE TERIYAKI CHICKEN STIR FRY
This recipe has three different parts to it. It all cooks in the same pan which makes it really simple but you want to make sure you have everything prepared and ready to go before starting. 
Olive Oil
Boneless, Skinless Chicken Breasts – Cut the chicken into long, thin strips or into chunks. Either way will work just fine. 
Salt & Pepper
Cornstarch – The chunked chicken will get coated in the cornstarch, salt, and pepper before it cooks in the pan. 
After the chicken is done cooking you will want to move it to a plate to rest while you cook the vegetables. 
Olive Oil
Pineapple Chunks – Be sure and reserve the juice when you drain!
Broccoli
Carrots
Red Bell Pepper
Reserved Pineapple Juice – From earlier when you drained the pineapple chunks.
While the chicken is resting, cook all the vegetables in the remaining olive oil until tender. This will take about 10-15 minutes. To speed up this process you can cover the pan with a lid which will get the vegetables softer faster. When the vegetables are done add the chicken back in along with the easy homemade pineapple teriyaki sauce. 
Reserved Pineapple Juice
Low-Sodium Soy Sauce
Molasses – Trust me here! It sounds like a strange ingredient for a stir fry but it's so good. If you don't have molasses you can substitute with honey, or additional brown sugar, but I really recommend using the molasses. 
Brown Sugar
Rice Vinegar
Garlic – Use freshly minced or pressed garlic. Chopped garlic from a jar. Or use garlic paste from the tube. 
Fresh Ginger or Ground Ginger – I use ginger paste from a tube. You can also get a knob of fresh ginger and grate it OR use ground dried ginger if that's all you have. 
Cornstarch
All the sauce ingredients get mixed up in a bowl and poured into the pan along with the cooked chicken. Let this simmer for about 5-10 minutes and dinner is ready. We love this served over white rice.
MY TIPS & HELPFUL HINTS FOR THIS RECIPE
Cut the chicken into very thin pieces or into small chunks

This way the chicken will cook so quickly once it's in the pan. Of course the chicken can be any size you want it to be, but the larger it is the longer it will take to cook.

How do I serve this?

We love this served over white rice and then garnished with green onions and sesame seeds.
You can also serve this over brown rice, cauliflower rice, or eat it just as a stir fry with no carb on the bottom. 

Cut all the vegetables the same size

I hate it when a stir fry has huge chunks of one thing and then really small chunks of something else. Make sure all the vegetables are roughly the same size so each bite gets a little something of everything. 
This also helps the vegetables cook in the same amount of time. If some are much larger they will need longer to cook. 

Use baby carrots

I always use baby carrots when a recipe calls for sliced carrots. No need to peel them and they are already small so all you have to do is slice them thin. 
You could also use a bag of pre-shredded matchstick carrots as well in this recipe. 

How long will leftovers keep?

Store leftovers in a covered container for up to 4-5 days. Once chicken is cooked it can be kept in the fridge for several days, but after about 4-5 days it needs to be thrown out. 
I heat up leftovers with some rice in the microwave.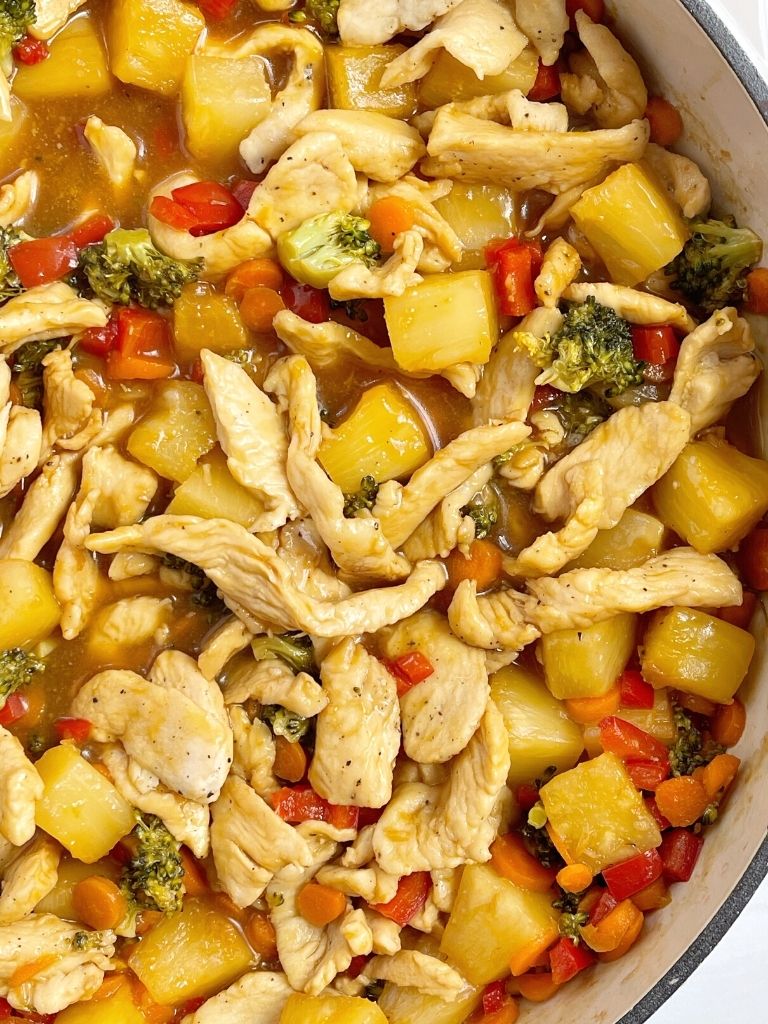 TRY THESE OTHER CHINESE & ASIAN INSPIRED DINNER RECIPES
Pineapple Teriyaki Chicken Stir Fry
Ingredients
Chicken Stir Fry
3 tablespoons olive oil (divided)
3 boneless, skinless chicken breasts
1 tablespoon cornstarch
1 teaspoon salt
½ teaspoon pepper
1 can (20 oz) pineapple chunks (drained & reserve the juice)
2 cups fresh chopped broccoli
1 cup chopped carrots
1 red bell pepper
1/4 cup reserved pineapple juice
Pineapple Teriyaki Sauce
1/2 cup reserved pineapple juice
1/3 cup low-sodium soy sauce
1 tablespoon molasses
2 tablespoons brown sugar
1 tablespoon rice vinegar
2 cloves garlic
1 teaspoon fresh ginger (or 1/2 teaspoon dried ginger)
2 teaspoons cornstarch
Instructions
Thinly slice the chicken breasts into very thin 1/4" pieces or small chunks. Add the sliced chicken, cornstarch, salt, and pepper into a bowl (or gallon sized Ziploc bag) and mix together until the chicken is coated.Let the chicken sit for 10-15 minutes while you prepare the vegetables and sauce. 

MAKE THE SAUCE : Combine all the pineapple teriyaki sauce ingredients together in a bowl or liquid measuring cup and whisk until smooth. PREPARE THE VEGGIES : Cut the broccoli, carrots, and red bell pepper into small bite-sized chunks making sure that they are all roughly the same size. Drain the pineapple chunks remembering to reserve the drained pineapple juice.

Heat 2 tablespoons of olive oil in a large 12-inch nonstick skillet over medium-high heat until hot. Add the chicken to the hot skillet and let it cook until nicely browned on both sides and cooked through. Use a wooden spoon to stir and flip the chicken as it cooks. Drain the excess liquid/oil and remove the chicken to a plate and set aside.

In the same skillet pan, add the remaining 1 tablespoon olive oil along with the broccoli, carrots, red pepper, and pineapple chunks. Cook the vegetables until softened, about 10 minutes, stirring occassioanlly as it cooks.Add 1/4 cup of reserved pineapple juice into the skillet, cover with a lid, and let it simmer for about 5 minutes until the vegetables are crisp-tender or softened to your preference.

Add the cooked chicken and pineapple teriyaki sauce back into the skillet with the vegetables. Simmer for about 5 minutes just until thickened slightly and enough time for the flavors to combine.

Serve immediately over white rice and garnish with green onions if wanted.
Notes
Molasses :If you don't have molasses you can replace it with honey, or use additional brown sugar. Or just don't add it at all. The molasses gives the stir fry an amazing, unexplainable flavor. So I highly recommend using it if you can.  Garlic & Ginger : I use the tubes of garlic paste and ginger paste that you can find in the refrigerated part of the produce area in the grocery store. Super easy and provides so much fresh flavor. You can also use chopped garlic from a jar or mince/press fresh garlic cloves.  Pineapple : The drained juice from the 20 oz can will be enough for the reserved pineapple juice needed in the recipe.  Chicken : You need 3 chicken breasts for this recipe which is about 2 pounds of chicken. Nutrition Information : This is for one serving of the pineapple teriyaki chicken stir fry. It does not include the rice. Each serving is about 3/4 cup of the stir fry which makes for a total of 8 servings. 
Nutrition
Calories: 221kcal | Carbohydrates: 14g | Protein: 26g | Fat: 7g | Saturated Fat: 1g | Trans Fat: 1g | Cholesterol: 73mg | Sodium: 798mg | Potassium: 657mg | Fiber: 1g | Sugar: 9g | Vitamin A: 3142IU | Vitamin C: 37mg | Calcium: 37mg | Iron: 1mg