You will love this easy French Toast Recipe for the best homemade French toast of your life! No soggy bread with this classic breakfast recipe, just a perfectly flavored and crisp outside and a soft bread center. Serve with powdered sugar, maple syrup, and fresh fruit. You'll also learn the best bread to use for French toast.
For more classic breakfast recipes that your family will love, try my French Toast Casserole and these amazing Buttermilk Waffles. 
Best French Toast Recipe
I always try to make a hot breakfast on the weekends for my kids. The weekdays are so hard with the busy school mornings, but I love making a delicious breakfast on the weekends when we have lazy mornings and no where to be. 
Classic French toast has always been a favorite at my house. Over the years I have perfected this recipe and have lots of tips and suggestions so that you can make the best French Toast in your own kitchen for your family. 
French Toast Ingredients
Making french toast at home is easier than ever with simple ingredients. 
Whole Milk – This is the best milk to use for this recipe. You want the thicker, higher fat, and creamy milk. The lower-fat milks are thinner which can lead to a soggy and wet french toast. You can use half & half milk if that's what you have. 
All-Purpose Flour – Not your normal ingredient, I know. But the flour helps the bread have this thick exterior coating, which will help the bread cook up perfectly crisp on the outside but still soft (not soggy!) on the inside. 
Large Eggs
Granulated Sugar – You have to add some sweetness to the batter! This may seem like a lot, but it's really yummy, and if you're concerned about it then you can try and experiment with adding less sugar. 
Vanilla Extract
Ground Cinnamon
Texas Toast Bread – This is the #1 must-have ingredient for the best French toast. Texas toast is a thicker bread, it's a more sturdy bread, which holds up nicely to the wet batter. 
How to Make Homemade French Toast
With only a few steps needed, this recipe is easy enough for anyone to make at home. 
French Toast Batter : Mix together the ingredients for the French toast batter. You can do this in a mixing bowl with a whisk or add everything into the blender and blend until smooth. Pour this into a shallow plate with sides, like a pie dish or something similar. 
Cook : Take one piece of Texas Toast bread and dip both sides of it in the wet batter. Make sure that you cover all the bread and saturate it well. Don't soak it in there for a long period of time, instead just dip and make sure it's all covered in the batter. Cook on a griddle, or in a pan on the stove top, until lightly browned and cook through. You will end up cooking each side of the bread for 3-4 minutes. 
Serve : Spread some butter on one side of each French Toast piece and serve with powdered sugar, maple syrup, and fresh berries if wanted. 
Tips For Success
Here are some tips that will hopefully help you make this recipe a success in your own kitchen. 
Use Texas Toast : The recipe specifically calls for this type of bread and it is important that you use it. You will find it with the other sliced breads and the package will specifically be labeled as 'Texas Toast'. This is a thicker and sturdier bread that holds up really well to the wet batter. 
Heat Up Maple Syrup : This is an easy trick that I always tell people. Take your maple syrup, it can be the cheaper pancake maple syrup or it can be pure maple syrup, and place some syrup into a microwave-safe dish. I use a 2 cup glass measuring cup. Heat in the microwave for about 1 minute. The syrup will be hot and it tastes so much better when it's warmed. 
Butter : I love to spread some butter on the French toast once I turn it. You can also just set out butter and each person can spread their own on. 
Use a Griddle : I love using this griddle (affiliate link) for making French Toast because I can cook all 8 at one time. 
Keep It Warm : If you won't be serving this right away there are a couple ways to keep French toast warm. Place the cooked pieces on a plate and cover with tin foil. Add more cooked pieces of toast as they're ready. You can also heat the oven to 200 degrees and place the cooked French toast slices on a cookie sheet and keep them warm in the oven until time to serve. 
Serving Suggestions
There are so many ways to serve classic French Toast. Try out some of these ideas. It's fun to set out lots of different toppings and then everyone can create their own. 
Classic : The traditional way of serving with a dusting of powdered sugar and maple syrup. 
Berries & Cream : Top the French Toast with whipped cream, from the can or homemade, and then top with fresh berries of your choice. We love to use chopped strawberries and blueberries. 
Monkey French Toast : Spread peanut butter on the French toast and then top with some sliced bananas and sliced almonds. You can eat it like this or you can also drizzle some syrup on top. 
Fruit : Use a fruit syrup like raspberry syrup or boysenberry syrup. You can find these at most grocery stores. You can also add fresh fruit that matches the fruit syrup (raspberry syrup + fresh raspberries).
Nuts : Add some chopped pecans or sliced almonds to the French toast along with some maple syrup. 
Syrup : Switch up the syrup and make some buttermilk syrup, brown sugar butter syrup, cinnamon cream syrup, or homemade pancake syrup.
Complete Breakfast : You can also make it a big breakfast and serve with scrambled eggs and bacon or sausage.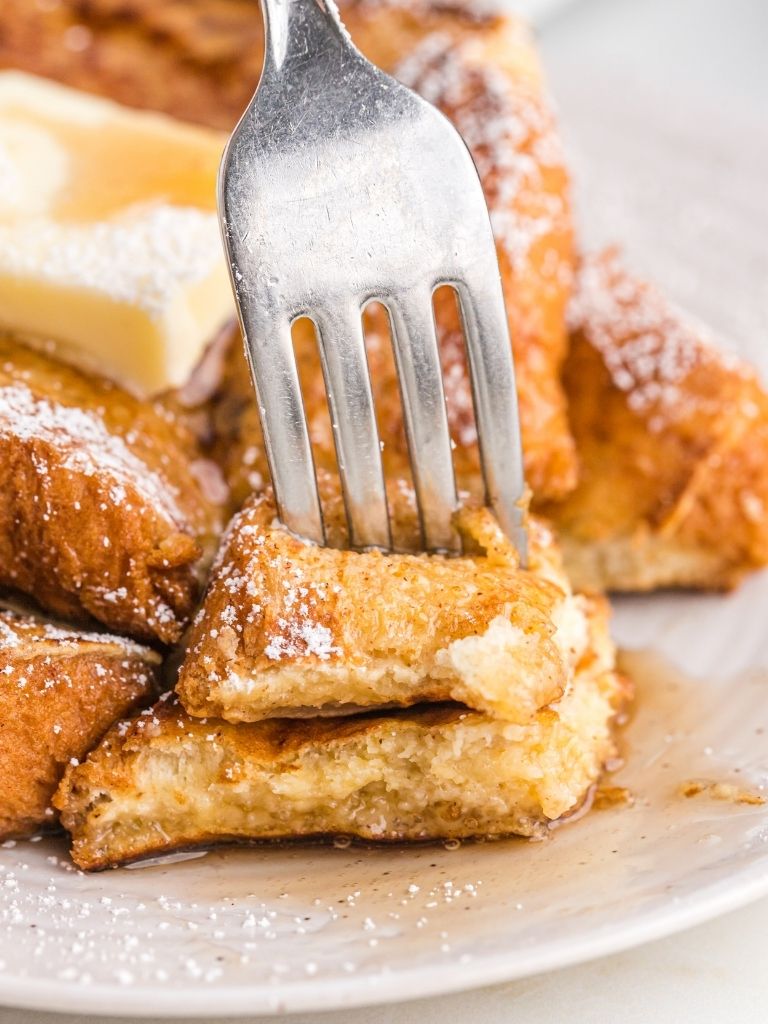 French Toast FAQ's
What is The Best Bread for French Toast?

The best bread to use when making French toast is Texas Toast. It's a thicker, heartier, and studier bread that holds up nicely to the wet batter. It really is the only bread I recommend using.

Why Is My French Toast Soggy?

There are a couple reasons your French toast could be soggy. 

Using a different bread : If you use regular sandwich bread, which is much thinner, that can result in soggy French toast. This is why it's best to use thicker bread like Texas Toast.
Heat on low : You want to cook the French toast at 350 degree heat, or medium-high on the stove top. If you cook it on low, or at a lower heat, the bread won't get that nice crisped and browned exterior. 

Can I Freeze French Toast?

Yes you can freeze this French toast. 
Cook as normal, following the recipe and instructions below. Let cool until room temperature and then store in freezer-safe Ziploc bags. 
Let thaw in the fridge or at room temperature for a few minutes. 
You can heat it up in the microwave or throw a slice into the toaster for a bit. 

What Should I Cook French Toast On?

It is easiest to cook French toast on a griddle. You can cook all the slices at once using a griddle and it's just so convenient. 
If you don't have a griddle, feel free to use a skillet pan on the stove top to cook the French toast. 
You'll Love These Other Breakfast Recipes
Easy Cinnamon Roll Casserole : Simple to make with canned cinnamon rolls!
Overnight Caramel Pecan Cinnamon Rolls : Our favorite weekend breakfast treat. This recipe uses frozen bread dough loaves and it's an overnight recipe so you can prep it ahead of time. 
Egg Muffin Cups : Healthy breakfast recipe with red pepper, spinach, cheese, and eggs that bake up in a muffin pan. 
Sausage Breakfast Casserole : Ground sausage, hash browns, eggs, and cheese make this a delicious and hearty breakfast casserole recipe. 
Orange Peach Smoothie : Kids will love this smoothie with orange juice, peach yogurt, frozen peaches, and some honey for sweetness. 
French Toast Recipe
You will love this easy French Toast Recipe for the best homemade French toast of your life! No soggy bread with this classic breakfast recipe, just a perfectly flavored and crisp outside and a soft bread center. Serve with powdered sugar, maple syrup, and fresh fruit.
Ingredients
2/3 cup whole milk
1/3 cup all-purpose flour
4 large eggs
1/2 cup granulated sugar
2 teaspoons vanilla extract
1 teaspoon ground cinnamon
8 slices Texas Toast bread
Instructions
Heat griddle to 350° or you can cook the French toast in a skillet pan over medium-high heat. Spray the griddle or skillet pan with non-stick cooking spray.

In a mixing bowl add the milk and flour. Stir with a whisk until combined well.

Add in the eggs, sugar, vanilla extract, and ground cinnamon. Stir well with a whisk until combined. Pour into a shallow dish like a pie plate or something similar. * The ground cinnamon tends to chunk up in the wet batter, that's fine, just mix it as well as you can. The cinnamon might not be fully incorporated and smooth in the mixture but that's ok.

Working one piece of bread a time, fully submerge the bread in the wet batter, making sure that all the bread is covered in the batter.

Place on the hot griddle or skillet pan and cook one each side for about 3-4 minutes, or until lightly browned.* If wanted, spread one side with butter after you flip it.

Serve with maple syrup and a dusting of powdered sugar.
Notes
Use a Griddle : It's worth it to buy a griddle, especially if you make pancakes and French toast a lot. You can cook all 8 pieces at the same time on the griddle. Blender : If wanted, add all the ingredients (not the bread!) into a blender and blend until smooth and combined.  Sugar : The sugar can be reduced depending on preference. We love the recipe as is, but it can be adapted to what you prefer.  Texas Toast : Please don't try and use regular sandwich bread or any other bread. You will find Texas Toast by the other bread and it's specifically labeled as 'texas toast' on the package. 
Nutrition
Calories: 259kcal | Carbohydrates: 35g | Protein: 7g | Fat: 10g | Saturated Fat: 3g | Polyunsaturated Fat: 1g | Monounsaturated Fat: 1g | Trans Fat: 1g | Cholesterol: 95mg | Sodium: 254mg | Potassium: 70mg | Fiber: 1g | Sugar: 16g | Vitamin A: 169IU | Vitamin C: 1mg | Calcium: 40mg | Iron: 7mg